VIETNAM NEWS HEADLINES MAY 12
Vietnam sees 30 new COVID-19 cases, all in quarantine sites
Vietnam recorded 30 new COVID-19 cases on May 12 afternoon, with all in quarantine areas and no new outbreaks detected, according to the Health Ministry.
Among the new cases, 20 were reported in Da Nang city, seven in Hanoi, two in Bac Giang, and one in Phu Tho.
To date, the country has documented 2,180 domestically-transmitted infections and 1,443 imported cases.
Additional 18 COVID-19 patients were given the all-clear in the afternoon, raising the total number of recoveries to 2,636.
Among those still under treatment, 19 have tested negative for the coronavirus SARS-CoV-2 once, 18 others twice, and 25 thrice, said the ministry's Department of Medical Service Administration.
There are 70,693 people under quarantine nationwide at present./.
Deputy PM stresses prevention of COVID-19 transmission in IPs
Deputy Prime Minister and head of the National Steering Committee on COVID-19 Prevention and Control Vu Duc Dam has asked localities to do their best to prevent the COVID-19 pandemic from spreading in factories, especially at industrial parks (IPs).
During an online meeting with permanent members of COVID-19 prevention and control steering committees and leaders of Bac Ninh and Bac Giang provinces and Da Nang city on May 12, Dam hailed their efforts in responding swiftly and responsibly to the pandemic.
The Deputy PM noted that Vietnam is now home to 369 IPs and nearly 30 border gates and processing zones with 3.8 million workers, and around 700 industrial clusters with 600,000 workers. Since early on, the National Steering Committee on COVID-19 Prevention and Control has required strict enforcement of pandemic prevention in those areas, he said, pointing out that if IPs are hit by the pandemic, production and supply chains would be disrupted, putting negative effects on the national economy.
He stressed that all localities nationwide must quickly direct enterprises, factories, and IPs to periodically update their anti-pandemic work on the COVID-19 safe living map at http://antoancovid.vn.
The health ministry has been assigned to step up the licensing of new testing technologies and to issue specific guidelines to localities on how to use testing methods in different cases and in areas with varying degrees of risk.
Cities and provinces nationwide must popularise prevention and control regulations to enterprises with many workers, particularly those at IPs. Businesses must also actively join in periodic virus screening to ensure safe production.
The Deputy PM ordered quarantine facilities to be kept ready to prevent cross-infection in poor conditions in quarantine. He also directed the Minister of Industry and Trade to work closely with the Ministry of Health to hold a nationwide training conference to ensure safe industrial production, especially at IPs./.
Additional 19 local COVID-19 infections recorded in Vietnam
Twenty-two new cases of COVID-19, including 19 local infections and three imported, were recorded in Vietnam in the last six hours to 12:00 on May 12, according to the Ministry of Health.
The imported cases were quarantined upon their arrival in the south central coastal province of Ba Ria-Vung Tau.
All of the locally infected patients are found in quarantined sites or sealed-off areas, and there are no new hotbeds.
The COVID-19 tally in Vietnam stood at 3,593 as of 12:00 on May 12.
So far, up to 2,618 patients have recovered. Among those still under treatment, 25 have tested negative for the coronavirus SARS-CoV-2 once, 17 others twice, and 25 thrice, said the ministry's Department of Medical Service Administration.
There are 67,877 people under quarantine nationwide at present./.
Covid-19 infections found among Samsung Vietnam staff 
Bac Ninh is home to some Samsung plants and other affiliates with total investment of roughly US$10 billion.
Shortly after two workers at Samsung Electronics Vietnam (SEV) were confirmed positive for SARS-CoV-2, authorities in Vietnam's northern province of Bac Ninh took tests for coronavirus on May 11 night.
Chairman of the Bac Ninh People's Committee Nguyen Huong Giang told local media that testing was taken for the whole night.
Testing was carried out on people in both direct and indirect contact with the confirmed workers who are all linked to a Covid-19 hotspot in Thuan Thanh District, Bac Ninh.
However, as the infected workers stayed home since the resurgence of Covid-19 outbreaks, risk of transmission within SEV remain low.
During the night, Bac Ninh's police conducted contact tracing while health authorities are responsible for testing.
According to Bac Ninh Department of Health, the province has reported 123 Covid-19 cases in six out of eight districts.
SEV plant is located in Yen Phong District, Bac Ninh, costing an investment of US$2.5 billion. It employs approximately 40,000 workers.
In a meeting with Vietnam's PM Nguyen Xuan Phuc in August 2020, Samsung Vietnam's CEO Choi Joo Ho said Covid-19 didn't affect its production and the export targets had been maintained.
In 2019, Samsung Vietnam and its affiliates earned total export values of US$59 billion, contributing 22% to Vietnam's total exports.
Half of Samsung's mobile phones and tablets are made in Vietnam.
Vietnam to arrange 110 million doses of Covid-19 vaccine this year
The Ministry of Health is planning to arrange a total of 110 million doses of the Covid-19 vaccine for the next large-scale vaccination this year.
Speaking at a meeting with voters in Vinh Long Province's Binh Tan District today, May 11, Minister of Health Nguyen Thanh Long said that the large number of doses, including the doses that previously arrived in Vietnam, would be used for the largest-ever Covid-19 inoculation in 2021.
The vaccine is considered a key solution to stop the spread of Covid-19, the disease caused by the coronavirus, so the Government issued Resolution 21 on February 26 on the use and purchase of the Covid-19 vaccine, said Long.
Long said that Vietnam had negotiated with many countries and international organizations to access the vaccines. Accordingly, the country will be provided with some 40 million doses by the COVAX Facility and some 30 million doses of the AstraZeneca vaccine that were ordered last year.
Besides, the ministry is planning to buy 31 million more doses of the Pfizer vaccine and other vaccines, said the minister.
In related news, as of 12.00 p.m. today, Vietnam had 2,701 locally-infected Covid-19 cases, with 501 cases reported since April 27.
Indian coronavirus variant found in COVID-19 cases linked to Hanoi-based hospital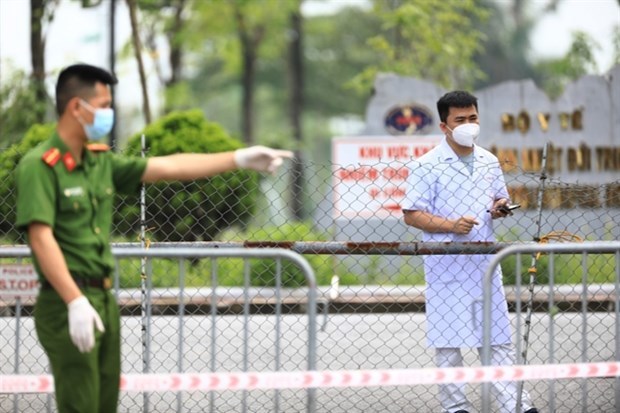 Barriers and police-managed checkpoints were set up around the Kim Chung facility of the National Hospital for Tropical Diseases in Dong Anh district, Hanoi, on May 6 as the hospital was locked down after a dozen COVID-19 infections were found.

Seven COVID-19 patients linked to the Hanoi-based National Hospital for Tropical Diseases' cluster are infected with the variant of coronavirus first reported in India.
The National Institute of Hygiene and Epidemiology on May 11 announced the results of the genetic sequencing for eight samples taken from COVID-19 patients submitted by four northern provinces – two from Vinh Phuc, two from Bac Ninh, two from Lang Son, and one from Nam Dinh – and the Indian strain showed up in seven.
The variant B1.617, which the World Health Organization (WHO) classified on May10 as a "variant of concern," has demonstrated higher spreading capabilities among humans, according to some preliminary studies, but further research is still needed to explore the variant's transmissibility, disease severity and whether it could make existing COVID-19 vaccines less effective.
An official from the National Hospital for Tropical Diseases – its second facility in Dong Anh district currently under lockdown – said the origin of its current outbreak could come from the COVID-19 treatment ward, infecting patients in other faculties and patients' family relatives who came to take care of them from many northern localities.
Earlier this month, the institute's genome probe also indicated the outbreak related to Sunny Club in Vinh Phuc, which is caused by two visiting Chinese experts who in turn have likely contracted the disease from another group of Indian experts during the time they stay at the same quarantine hotel in Yen Bai province, is of Indian variant.
The other sample from a COVID-19 patient in Hai Duong who has illegally entered Vietnam from Laos showed the B1.1.7 variant which was first reported in the UK./.
Prolonged heatwave to end next week
Both northern and central regions of Vietnam are likely to experience the current heatwave with temperatures rising up to 40 degree Celsius until next week, according to the National Centre for Hydro-Meteorological Forecasting.

The centre says due to a low heat pressure occurring in the West and extending to the Southeast, coupled with the impact of Foehn wind, both regions are set to be hit by highs of between 35 and 38 degrees Celsius, or even 40 in some localities.
The extreme nature of this weather pattern will see temperatures remain above 35 degrees Celsius for between 12 and 17 hours each day, whilst humidity will fall to between 45% and 60%.
Furthermore, the hot weather combined with a strong south-western wind could potential bring about the high risk of fire due to an increase in electricity demand and additional forest fires breaking out in the central region.
Most notably, Hanoi capital will experience extremely hot weather on May 12, with highs of up to 37 degrees Celsius.
Meanehile, localities from Da Nang to Binh Thuan are poised to be hit by a fierce heat wave, along with periods of intermittent showers and thunderstorms.
The Central Highlands and southern regions are also braced for the impact of the strong heat wave during the daytime, with highs reaching 36 degrees Celsius.
The National Centre for Hydro-Meteorological Forecasting has also warned localities of the risk of whirlwinds and lightning occurring in these localities.
Danang industrial zone locked down after over 30 new Covid-19 cases
An industrial zone in Danang was locked down on May 11 after 30 more people tested positive for SARS-CoV-2.
All of the new cases are related to a confirmed patient who is an employee at Truong Minh DVTM Company in An Don Industrial Park. The employee is in Danang and the authorities haven't been able to find out where and when he was infected.
The industrial park was locked down overnight.
The police set up checkpoints around the park and the local health sector immediately arrived at the park to take test samples from over 500 employees at the industrial park and 200 people living nearby. Hoang Cong Thanh, vice chairman of Son Tra People's Committee, said as of 11.30 pm on May 11, they had collected 150 samples.
According to Son Tra District People's Committee, 19 out of 30 confirmed cases live in Son Tra, and the rest are from different districts in Danang.
As of May 11, Danang recorded a total of 59 community cases. Of which 41 cases are related to the outbreak at Amida Beauty Spa and 16 cases are related to the outbreak at New Phuong Dong Bar.
Hotels required to use QR codes as part of COVID-19 measures
Hotels and guesthouses must place QR codes in their reception areas to allow tourists to check the safety level before they make use of their services.

During a virtual meeting held on May 11, the Ministry of Culture, Sports, and Tourism said it will also help visitors monitor COVID-19 prevention efforts via the "Vietnam safe travel" app.
The application has been designed by the Vietnam National Administration of Tourism in co-ordination with the Vietnam Directorate of Market Surveillance in order to help tourists find safe destinations.
Travelers can therefore easily check upon the safety level of each destination, whilst also checking digital maps for safety warnings, along with searching for information about services such as restaurants and hotels via the app.
Furthermore, when using the services, visitors can use the app to check whether the facility is able to fully comply with safety standards.
During the meeting, the Ministry also proposed that the administration of centrally-run cities and provinces direct lodging operators nationwide to regularly register, update, and self-assess COVID-19 safety measures on the website https://safe.tourism.com.vn.
Those establishments that temporarily shut down or halt operations are also required to register and select the "Establishment's operation suspended" through the system.
The Ministry also recommended local authorities strictly punish establishments that fail to follow COVID-19 prevention regulations.
Five Vietnamese fishermen from sunken ship off Thai coast set to return home
The Embassy of Vietnam in Thailand is doing everything possible to bring home five Vietnamese fishermen found adrift at sea and rescued by Thai seafarers after their ship sank off Vietnam's coast last week.
They were aboard a squid fishing vessel that set out from An Thoi Port in Kien Giang province's Phu Quoc Island. The boat was at anchor in waters adjacent to Thailand and Cambodia early May 7 when its gas tank became leaky and exploded, causing the boat to sink.
The fishermen, having survived the explosion, were adrift until they were rescued by Thai fishermen at around 2pm on the same day. They were later handed over to police in Rayong province.
Two of the fishermen are receiving treatment at a hospital in Rayong, according to the embassy. One suffered burns while the other has a leg injury. Doctors said they will be discharged in one or two weeks.
The three other crewmen are staying at the Rayong police headquarters while they wait for a COVID-19 test.
The Vietnamese embassy has reported the accident to the ship's owner and the fishermen's families. It has been also working with the Ministry of Foreign Affairs' Consular Department and relevant authorities to complete necessary procedures to bring them back to Vietnam on a flight scheduled in late this month.
The embassy safely brought home four fishermen involved in a similar incident two years ago./.
Hanoi closing beer clubs to fight COVID-19
Vietnam confirmed 76 new COVID-19 infections on May 11, of which 71 were recorded in locked-down areas and five were imported cases, taking the national tally to 3,537.

In the latest move, Hanoi shut down all beer clubs under a decision released on May 11, as part of its efforts to combat the ongoing COVID-19 outbreak.
All beer clubs will be closed until further notice, while temporary street markets and vendors will be removed from outdoor areas to prevent the spread of the coronavirus.
Since late last month, Hanoi has suspended the operations of a number of non-essential establishments, including sidewalk eateries, karaoke parlours, bars, cinemas, gyms, spas, and stadiums, in response to the new COVID-19 outbreak.
In a related developments, the same day, Deputy Prime Minister Vu Duc Dam reiterated the need to strictly follow current COVID-19 prevention and control measures, especially given the scarcity of COVID-19 vaccines around the world.
At a meeting with the press, Dam said that Vietnam has spared no effort to quickly gain access to vaccine sources for mass inoculation, but due to a global shortfall the Ministry of Health will only be able to import a small number of doses by the end of the year, making it impossible for the country to reach herd immunity.
Vietnam has been among the best countries in combating COVID-19, he said, adding that it ranks 214th out of 220 countries and territories in terms of the number of confirmed cases per 1 million people./.
33 new local COVID-19 infections recorded, all in quarantined, sealed-off areas
Thirty-four new cases of COVID-19, including 33 local infections and one imported, were recorded in Vietnam in the 12 hours as of 6am on May 12, according to the Ministry of Health.
The imported case, a 24-year-old Vietnamese man returning from Russia, has been quarantined upon arrival in the central city of Da Nang.
Among the domestic cases, four are at the Hanoi-based National Hospital for Tropical Diseases, 13 in Vinh Phuc province, seven in Da Nang, six in Bac Giang province, and one in Lang Son province, Hanoi, and Nam Dinh province each.
All the locally infected patients are in quarantined sites or sealed-off areas, and there are no new hotbeds.
The COVID-19 tally in Vietnam stood at 3,571 as of 6am on May 12.
So far, up to 2,618 patients have recovered. Among those still under treatment, 25 have tested negative for the coronavirus SARS-CoV-2 once, 17 others twice, and 25 thrice, said the ministry's Department of Medical Service Administration.
There are 67,877 people under quarantine nationwide at present.
On May 11, an additional 20,732 people in 36 provinces and cities were vaccinated against COVID-19, raising the total getting the jabs to 887,705 as of 4pm on the day.
HCM City steps up COVID-19 preventive measures
There have been no more cases of COVID-19 in Ho Chi Minh City since one person was diagnosed with it at Tan Son Nhat Airport in February, but the city Centre for Disease Control and Prevention and Department of Health said the risk of an outbreak remains high.
The risk is from a number of different sources, according to the centre.
HCM City has many major hospitals that admit patients from other provinces and cities who cannot be treated in their hometown, and so they are crowded with patients and their relatives.
Cho Ray Hospital, for instance, admits nearly 6,000 patients from elsewhere each day.
Speaking at a meeting with a city inspection team led by Chairman of the People's Committee Nguyen Thanh Phong on May 10, the hospital's director Dr Nguyen Tri Thuc said Cho Ray faced a high risk of COVID transmission.
The biggest threat was in its emergency ward which admits around 350 patients daily, he said.
To ensure safety, the hospital tests all patients who have symptoms related to the respiratory tract like cough and fever for COVID.
Those coming without relatives are presumed to be COVID patients, and the medical staff strictly comply with preventive measures.
The hospital also requires everyone to fill an online health declaration form when entering.
It has nearly 200 staff standing in for patients' relatives to give care, and they are also regarded as a transmission risk, and the management keeps them under close surveillance and tests them for COVID.
Phong instructed the hospital to prepare scenarios for admitting a large number of very sick patients simultaneously.
People's Hospital 115, another major medical centre, admits nearly 3,000 patients daily. It has set up a COVID screening area well away from the rest of its facilities to reduce the risk of transmission.
Quarantine areas
Speaking at a meeting of the city Steering Committee for COVID-19 Prevention and Control on May 10, Phong said the risk of transmission in the city's numerous quarantine facilities is very high, and threatens community spread if preventive measures are not carried out scrupulously. "People there should strictly comply with protocols to prevent transmission."
Authorities should monitor the health of people who have returned from quarantine facilities since they could still spread infection despite testing negative for COVID three times, he said.
"Each district needs to maintain one quarantine area with at least 20 beds expandable to 50 beds within 24 days."
Pointing out the city has more than 19,000 community-based COVID-prevention teams, he said local health officials should utilise them to detect illegal immigrants and contact trace people who come into close contact with patients.
High risk at ports
Speaking at a meeting between the Department of Health, Maritime Administration of HCM City and other relevant agencies last week, Dr Nguyen Tri Dung, head of the city Centre for Disease Control and Prevention, said the transmission risk at ports is not unlike at the airport.
The city has one airport and nearly 60 ports.
Foreign ships that arrive after docking in other countries could have infected crew members, he warned.
Ships should be regarded as quarantine areas, and there should be strict surveillance of people entering and leaving them, and all people should comply with preventive measures and fill health declaration forms, he added.
Ngo Quang Hung, deputy director of the Maritime Administration of HCM City, said close collaboration between agencies and enterprises operating at ports and border guards is imperative to keep an eye on people embarking and disembarking from ships.
Ports that fail to adopt COVID prevention measures should not be allowed to dock ships, he said.
Nguyen Tan Binh, head of the department, said three crew members of the MD SUN that docked at Phuoc Long Depot No.5 in Nha Be district tested positive for the disease.
Phong said COVID prevention teams should strengthen communication to help limit contacts between ship crews and people living around ports and depots.
He instructed the Department of Health to build field hospitals with 5,000 beds to prepare for a scenario where 30,000 are infected as required by Prime Minister Pham Minh Chinh.
The city has sufficient test kits for 15,000 samples within 24 hours if needed.
The city has modelled various COVID scenarios, and four more quarantine areas with a total of more than 10,000 beds are being built now./.
Vietnam moves closer to Futsal World Cup
Vietnam are due to take on Lebanon on May 23 and May 25 in a two-legged tie played in the UAE, its final bid to advance to the 2021 FIFA Futsal World Cup finals in Lithuania in September.
"I am glad to know Lebanon will be our opponent in the playoffs. But I also know that the team has made great progress recently. They even beat Thailand at the Asian championship in 2018," said national coach Pham Minh Giang.
"I think it is a chance is for both sides. If we could manage our opportunities the door will be wide open for us," he added.
Echoing his coach's view, skipper Tran Van Vu said it is a 50-50 chance and the winner is the one having more determination and making fewer mistakes.
The team consider winning the qualification round their biggest goal of the year and are excited to engage in the upcoming playoffs with Lebanon, Vu noted.
The Vietnamese players are currently gathering in Ho Chi Minh City for a training camp. The squad will take on Thai Son Nam-Sahako in a friendly game on May 14 to select 18 players for the final lineup.
They will then fly to the UAE the following day and face Iraq in a friendly game on May 17 as part of the team's preparations for the play-off round.
The Asian Futsal Championship, which is a qualifier of the World Cup, was cancelled due to the COVID-19 pandemic. As a result, organisers decided Japan, Iran and Uzbekistan got automatic places in the final based on results in recent tournaments. Four other teams will compete for two remaining berths.
Iraq will face Thailand, while Vietnam will play Lebanon, with the respective winners of the two-legged games to advance to the September 12-October 3 tournament in Lithuania.
Vietnam currently rank 44th in the world, four places below Lebanon. They have not yet met each other in any competition./.
Multi-sensory experiences with "Xam" singing genre
Multi-sensory experiences with "Xam" singing genre will be offered to visitors at the Vietnam National Institute of Culture and Arts Studies (VICAS) Art Studio in Hanoi from May 16-22.
Carried out by the "Cheo 48h" group, these activities comprise a painting exhibition, an installation artwork, experimental music events and an online talk shows.
On showcase will be a painting depicting three expressions of "Xam" performers, a portrait of Meritorious Artist Ha Thi Cau (1917-2013), and a documentary about young people learning the "Xam" singing art.
An installation artwork in the shape of an eye put together by 200 musical instruments used in the art aims to call on the audience to view "Xam" in different dimensions in a bid to discover its charms.
The events are part of a project entitled "Cultural and Creative Hubs Vietnam 2018–2021", which receives financial support from the European Union and is jointly implemented by the British Council and VICAS.
"Xam" is a centuries-old singing style of the Vietnamese people, which has long been recognised as an important piece of the nation's cultural heritage.
Like "ca tru" (ceremonial singing), the singer can play musical instruments at the same time. While "ca tru" singers beat castanets while singing, "Xam" singers often play Dan bau (monochord) or dan nhi (two-string fiddle).
The singing is mainly found in the countryside and is mostly performed by poor artists who sing for a living, expressing optimism, humour and philosophy about life. The performances stem mostly from northern regions. In the past, most of "Xam" performers were blind.
During the war time and the early 20th century, crowded trams, markets and street corners were turned into stages for buskers./.
HCM City ensures safety for upcoming election
HCM City Election Commission has instructed authorities in Thủ Đức City and 21 city districts to take preventive measures against COVID-19 when organising conferences and meetings before the upcoming election of deputies to the 15th National Assembly and People's Councils for the 2021-26 tenure.
Attendees at the conferences and meetings must keep a safe distance.
The authorities of Thủ Đức City and the 21 district have been encouraged to organise online conferences and meetings to contact voters.
They should also work with local health officials to conduct SARS-CoV-2 tests for attendees before and after conferences and meetings.
Nguyễn Hữu Hưng, deputy head of the city Department of Health, told Sài Gòn Giải Phóng (Liberated Sài Gòn) newspaper that the department has taken preventive measures against COVID-19 during the election to avoid transmission.
The city has chosen voting sites with large areas disinfected before, during and after the election. Doors of voting sites will be opened where fans will be installed.
Hand sanitisers, infrared thermometers to measure body temperature, masks, health declaration forms, and other items will be put at voting sites.
The voting sites will have a room for temporary quarantine for voters who have symptoms of fever or cough or are suspected of having COVID-19.  
Tables and chairs at the voting sites for voters will be arranged at least one metre apart.
If there is a COVID outbreak, the election will be organised in areas with social distancing or lockdown.
Voting in these areas will be done at a fixed time. Distances between voters must be at least two metres. Conferences and meetings with voters before the election will not be held with more than 20 attendees.
Staff of election teams will use protective clothing and wear masks when they are on duty. If voters have a fever or cough, they will be brought to quarantine rooms. All staff of election teams and voters must monitor their health for at least 14 days.
Mobile ballot boxes will be put in COVID-19 quarantine and treatment establishments. Each district will set up an address to store these boxes and have officials to check ballots.
Health officials will be arranged in election teams in districts and Thủ Đức City.
Election teams at Củ Chi Field Hospital, Cần Giờ COVID-19 treatment Hospital, and quarantine establishments in districts and Thủ Đức City will be set up.
Election team staff will go to hospitals and hotels that have their own quarantine areas to bring mobile ballot boxes to voters quarantined there.
Other staff of election teams will visit the elderly or ill voters and people with disabilities.
All mobile ballot boxes will be under seal, and disinfected and transported by vehicles used by hospitals to the city's site that is used to check ballots.
During election day, the city 115 Emergency Aid Centre will respond to emergency aid and transport voters who have health problems to hospitals.
Courts ramp up measures against COVID-19
Courts in administrative units under social distancing due to COVID-19 will suspend all trials and the settlement of legal cases from May 12-31, except in emergencies, according to a document issued by the Supreme People's Court on May 11.
Such emergencies include cases that are near deadlines and those relating to disputes in connection with the list of voters for the upcoming elections, COVID-19 prevention and control work.
When trials are held, it is a must to follow the Ministry of Health's 5K message - khau trang (face masks), khu khuan (disinfection), khoang cach (distancing), khong tu tap (no gatherings), and khai bao y te (health declarations), and maintain physical distancing of at least 2 metres.
Courts will also suspend the reception of lawsuits and citizen reception at their headquarters, and staff members should shift to working from home. Online trials can be held where conditions allow.
Vietnam documented 528 domestically-transmitted cases of COVID-19 by 6pm May 11 during the latest resurgence of COVID-19 that began on April 27.
The number of recovered patients reached 2,618 out of the total 3,537 cases confirmed so far./. 
Tourism and farming go hand in hand in Hà Nội
Nguyễn Thu Nga, living in Hoàng Mai District, Hà Nội and her family had a two-day agricultural experience tour to Ba Vì and Phúc Thọ districts over the recent four-day holiday.
"Within just 60 minutes we drove from home to Ba Vì and my family, especially the children, enjoyed many activities," Nga said.
"My children were immersed with nature, freely explored, learned about the farmer's life, how to take care of and harvest vegetables, feed chickens, pigs and cows, while my mother bought many safe agricultural products."
Ba Vì is home to several agricultural tourism-educational experience models.
Đỗ Mạnh Hưng, Chairman of the Ba Vì District People's Committee, said: "By 2020, the local tourist sites brought the revenue of tens of billions of đồng including selling agricultural products (mainly milk and ostrich meat)."
"Selling milk to tourists has significantly contributed to stabilising the output for cow farmers in Vân Hòa and Tản Lĩnh communes during the difficult period when local businesses could not purchase all the output."
Nguyễn Thị Tuyến, the owner of the Sang Tuyến dairy shop in Tản Lĩnh Commune, said more than 90 per cent of her family's dairy products were sold to tourists.
"When tourists visit the cow farm,  they will experience activities like a cow farmer, such as cutting grass and feeding cows," she said.
"They will trust and use more Ba Vì dairy products."
Besides localities with strengths in agricultural-tourism and experiential education such as Ba Vì, Sóc Sơn and Long Biên districts, some new areas like Mỹ Đức, Chương Mỹ, Ứng Hòa, Phú Xuyên and Yên Mỹ (Thanh Trì) have developed this model.
Yên Mỹ Commune, Thanh Trì District has been emerging recently as a leading home of agricultural-tourism experience education models.
Trần Quang Khánh, Chairman of Yên Mỹ Commune People's Committee, said: "We are taking advantage of the land, local people have been forming many agricultural tourism models, typically, Văn An School-model Farm, Hải Đăng Experience Tourist Site.
The 4ha Phúc Thọ Hoa Bay Ecological Garden, located on the edge of the Đáy River in Tam Hiệp Commune, Phúc Thọ District, is known as a park of flowers, with its picturesque valley, surrounded by safe vegetable areas and rice fields attracting a large number of tourists.
Nguyễn Thị Thúy, the garden's manager, said: "We collaborate with local farmers to build safe agricultural-experience tourism experiences such as harvesting clean asparagus, planting vegetables and grapefruit picking". 
Nguyễn Văn Chí, head of the Rural Development Division of the city's Department of Agriculture and Rural Development, said: "The development of agricultural experience models is not only meaningful to tourism but also has a positive impact on the development of agricultural production and farmers' lives."
Agriculture creates conditions to make tourism products, while tourism contributes to promoting and consuming agricultural products, creating jobs and increasing income for farmers, according to Chí.
"The development of agricultural tourism is contributing strongly to the transition from production to business thinking for farmers," he said.
"This is the right direction of Hà Nội authorities in restructuring the agricultural sector towards ecological sustainability."
Director of Hà Nội Department of Agriculture and Rural Development, Chu Phú Mỹ, said the city with tens of thousands of hectares of alluvial land has large areas of fertile agricultural land, making conditions suitable condition for agricultural tourism.
"Therefore, in the city's restructuring plan of the agricultural sector, the main direction is to promote localities to develop sustainable agriculture," he said.
"The agricultural sector will continue to support these areas in infrastructure and irrigation works for environmental landscape."
Children's fine arts contest launched
The culture ministry's Fine Arts, Photography and Exhibition Department has announced the launching of the Việt Nam Children Fine Arts Contest 2021.
The contest is open to children from age five to 15, who can send paintings about love for their homeland or country, daily life, love of children for President Hồ Chí Minh, their grandparents, parents and family, their views on environment protection or hope for a world with peace and happiness.
The biennial contest aims to educate view on beauty among children. Photo thethaovanhoa.vn 
Entries should be on paper sizes A3 or A2, using various materials like powder colour or collage, however works drawn in black pencil will be ineligible.
Entries should be sent to Fine Arts, Photography and Exhibition Department, 38 Cao Bá Quát Street, Ba Đình District, Hà Nội. The entries can be sent between May 25 and July 5.
The organisers plan to give three first prizes, six seconds, 10 thirds, 20 consolation and 10 prizes to 10 collectives with the best entries. They will also seek sponsors for additional prizes.
Some 400 short-listed entries will be displayed at an exhibition in Hà Nội later this year.
The biennial contest aims to encourage children to compose fine arts works to educate them in the truthful, the good and the beautiful in life.
Major hospitals asked to improve Covid-19 testing
The national steering committee for Covid-19 infection prevention and control has written to hospitals nationwide asking them to strictly practice social distancing and improve Covid-19 testing to curb the spread of the virus.
Due to the complicated development of Covid-19, the disease caused by the coronavirus, several hospitals have been locked down. Hospitals are places to receive and treat patients and if a Covid-19 patient is not discovered at the hospital, serious consequences will ensue, according to the national steering committee.
Apart from practicing social distancing and conducting tests on employees, patients and caregivers, the hospitals were told to make a list of patients, classify them according to their health conditions and consider discharging or transferring them if they test negative.
Besides, the hospitals were also asked to restrict admitting patients who do not need emergency treatment and to set up a buffer zone for medical examination and treatment for patients who receive emergency surgery while waiting for Covid-19 test results.
At a working meeting with HCMC Chairman Nguyen Thanh Phong on May 10, Dr Nguyen Tri Thuc, director of Cho Ray Hospital, voiced his concerns over the source of Covid-19 infections from patients who are admitted for emergency treatment.
Doctors occasionally focus on treating patients in critical conditions as quickly as possible, while forgetting to adopt basic anti-virus measures, the local media reported, citing Thuc.
Besides, the hospital is facing difficulties in controlling the risk of infections from service providers, including medicine and food deliverymen, and ambulances without business licenses, said Dr Thuc.
Addressing the meeting, HCMC Chairman Phong asked the municipal Department of Transport to work with the local authorities and the hospital to handle unlicensed ambulances.
Phong also said that Cho Ray Hospital should form a quick response team to fight Covid-19 infections.
At the meeting, People's Hospital 115 also proposed providing it with Covid-19 test kits, ventilators and medical equipment so that it can cope with the disease in case many Covid-19 cases are detected.
As of 4.00 p.m. on May 10, the country had seen 892,454 people, mainly medical workers, police officers and soldiers, get vaccinated against Covid-19.
New Zealand donates VND800 mln for protecting, planting forest in Ninh Thuan
The Foundation for Supporting and Development of Sustainable Living Community (the Song Foundation) and the Embassy of New Zealand in Hanoi announced a donation of VND800 million (NZD48,000) or (US$34,787) from New Zealand for the Forest Symphony Project in Ninh Thuan Province.
The Forest Symphony Project was launched by the Provincial Department of Agriculture and Rural Development of Ninh Thuan, the Thuan Nam District Coastal Protective Forest Management Board and the Foundation for Supporting and Development of Sustainable Living Community.
This project responds to the Prime Minister's call on the implementation of the initiative to plant one billion trees in the period 2021-2025.
Through the project, Ninh Thuan Province will plant over 20,000 trees on ten hectares of protective forest along the coastal area of Thuan Nam District, contributing to the increasing survival rate of newly-planted forests and forested area of Ninh Thuan Province, maintaining groundwater resources, reducing erosion, wind and sand shielding, natural disaster prevention and forest cover maintenance.
The project will be implemented within five years. 
Ba Ria- Vung Tau Province proposes soon upgrade for Con Dao airport
The People's Committee of Ba Ria - Vung Tau Province proposed the Ministry of Transport (MoT) to soon approve the planning and implementing investment and upgrade project of Con Dao airport in the period 2021-2022.
Earlier, the Ministry of Transport issued a document directing the Civil Aviation Authority of Vietnam to soon complete and submit the project dossiers to the Ministry of Transport before November 25, 2020 for appraisal and approval.
On December 16, 2020, MoT also sent a letter to the Ministry of Defense about the proposal of adjusting defense land related to the planning of Con Dao airport.
On March 31, 2021, the ministry continued to propose the Ministry of Defense to promptly approve the planning as well as area of defense land for the project approval. The Prime Minister has approved the project implementation in the medium-term public investment plan.
Strong propositions inquired for run-down apartment buildings in HCMC
Run-down apartment buildings in HCMC have been receiving only minor renovation works due to administrative problems, and HCMC officials are calling for stronger methods to have them rebuilt entirely.
Leaders of HCMC on May 10 led by Mr. Nguyen Van Nen, Member of the Politburo, HCMC Party Secretary had a meeting with the Standing Party Committee of District 5 concerning run-down apartment complexes in the area.
There are 212 old apartments in District 5, 45 out of which are already categorized as the low-tier type C and one as the bottom-tier type D.
Chairman of District 5 People's Committee Pham Quoc Huy listed a series of administrative roadblocks preventing authorities from reconstructing the buildings, namely not getting a turnout of 100 percent on votes for the proposition and private investors walking away from the lack of financial prospects.
What's more, District 5 has the highest ratio of old apartments in HCMC with uneven distribution, making it wasteful to construct new buildings in place of each old one.
At the meeting, Mr. Nguyen Van Nen expressed deep concerns with the temporary renovation of apartment buildings, calling for new mechanisms and drastic political reforms even at the cost of the traditional apparatus.
In response, leaders of the HCMC Department of Construction suggested building a number of large apartment buildings in place of the small clusters.
In addition, District 5 leaders requested municipal authorities to issue preferential policies for the difficult works, especially when it comes to fire protection systems and sanitation, as well as removing administrative roadblocks for run-down apartments in the long run.
Meanwhile, Deputy Director of the HCMC Department of Planning and Architecture Nguyen Dinh Hung attributed the difficulties to lack of urban space in District 5 with 14 hospitals and multiple university buildings. He suggested the development of underground space and advanced logistics services around hospitals.
Education sector organizes tests to suit to present situation
The Ministry of Education and Training requested schools to adjust their plan for teaching and learning and test schedule to suit to each locality's present situation with the aim to keep teachers and students safe from the coronavirus.
In his urgent letter, the Minister of Education directed departments of education and training; universities, institutes, universities, pedagogical schools on strengthening the implementation of measures against Covid-19.
Accordingly, in the development of the Covid-19 epidemic, the Ministry of Education and Training requested directors of department of education across the country and heads of educational institutions to thoroughly implement the directions by the Prime Minister and the steering committees for Covid-19 prevention and control in each localities, the Ministry of Health's guidance as well as of the local authorities.
Personal responsibility must be raised. Education sector in each locality must closely coordinate with local authorities to proactively formulate scenarios and solutions to be ready to respond to possible outbreaks of the pandemic in schools. Moreover, the system of epidemic prevention and prevention equipment in schools must be preparatory to the possible clusters of Covid-19.
Teaching staffs, parents and schoolers' awareness must be improved and disinfection of classrooms, toilets in schools must be done as per the regulations.
Some schools planned online tests for the second semester examination because some cities and provinces have allowed students to stay at home to prevent Covid-19. Currently, Covid-19 spread forces a number of localities leave students out of school while the second semester exam has not been completed. Some schools consider options for students to take the exam online.
From May 10, students of the University of Foreign Languages and the Hanoi National University will take the second semester exam in internet. As for Math, Literature and Foreign Languages 1, school will announce the test schedule and format later depending on the development of Covid-19 and direction of related competent agencies; students may take the test through the MS Teams software.
Hanoi to ensure successful general elections in any Covid-19 circumstances: Party chief 
Election committees are responsible for planning protection measures to ensure full safety for all constituencies, including those in high-risk areas, quarantine and isolation zones.
Hanoi is committed to successfully hosting elections for deputies of the 15th National Assembly and all-level People's Councils for the 2021-2026 period under any Covid-19 situation.
Secretary of the Hanoi Party Committee Dinh Tien Dung stressed the view at an online meeting on May 10 discussing the city's preparation process for the event, saying this is to ensure election day as a great occasion for every citizen.
Dung called for greater responsibilities and determination from public servants in mapping out various scenarios for the election, scheduled to take place nationwide on May 23.
Meanwhile, the Hanoi's Party chief requested local authorities to continue raising public's awareness on the significance of the election, along with citizen's rights and responsibilities during the process.
"Meetings between voters and candidates should be held combining face-to-face and online formats to stay in line with anti-Covid-19 regulations," Dung noted.
Dung urged election committees at all levels to review protection measures, ensuring full safety for all constituencies, including those in high-risk areas, quarantine and isolation zones.
Going in detail of the preparation process, Director of the Hanoi's Department of Internal Affairs Vu Thu Ha said the progress is being on track, adding that a conference for candidates of deputies for the National Assembly is set to hold online on May 14, and a similar one for deputies of the Hanoi People's Council will take place right this week.
At constituencies with higher-than-expected number of voters, including in the K Hospital – Tran Trieu facility – one of Hanoi's major pandemic's hotspot, Ha noted the department would draw up specific plans for to keep no more than 4,000 voters at each constituency by moving voters to nearby voting places.
"There would be more personnel mobilized to support the voting process at Tan Trieu branch of K hospital, which is estimated to have a turnout of more than 3.000 voters," Ha said.
On May 23, 2021, voters nationwide go to the polls to elect members of the 15th National Assembly and the People's Councils at all levels for the term 2021 - 2026.
Hanoi, the city of roughly 10 million people, including children, has around 5.8 million voters.
Hanoi mayor outlines high risk of virus spread over coming days  
Hanoi mayor stressed the increasing number of asymptomatic people that can contribute to the virus spreading faster.
The capital city is at high risk of further novel coronavirus outbreaks, given the hourly confirmed cases in the city and pandemic-hit neighboring localities.
Chairman of the Hanoi People's Committee Chu Ngoc Anh has stated at the working visit to Kim Son commune in Gia Lam district, where new Covid-19 cases linked to the outbreak in Thuan Thanh district in northern province of Bac Ninh have been confirmed.
The Hanoi mayor requested highest warning level amid the increasingly serious evolution of Covid-19 in the city.
He said that although Hanoi has stepped up prevention efforts, the Covid-19 pandemic is dangerously evolving with three risks that could increase the number of cases in the time ahead. 
The first risk is from more than 1,500 people who have made close contact with Covid-19 patients and have been put under quarantine while waiting for coronavirus sample testing.  
The second one comes from the two Covid-19 epicenters in the city at the moment, including the Hanoi National Cancer Hospital K3 in Thanh Tri district and the Hospital for Tropical Diseases 2 in Dong Anh district, where having many patients tested positive for the coronavirus.
The third risk group is Covid-19 patients from pandemic-hit localities coming to Hanoi. The city has recorded many new cases linked to coronavirus patients in neighboring provinces of Ha Nam and Vinh Phuc. Some are related to the beach city of Danang, where nearly 20,000 Hanoi's people returned after holidays of the Reunification Day (April 30) and Labor Day (May 1). 
In his remarks, Ngoc Anh briefed the Covid-19 situation both globally and domestically, with the increasing number of asymptomatic people that can contribute to the virus spreading faster.
The municipal leader warned of the risk of virus transmission via places such as shops, bus stations and industrial zones.
"The disease situation will worsen as Hanoi is a populous area with a high proportion of older people and a high density of traffic. With the virus spreading faster, all residents must remain vigilant and redouble efforts to contain the outbreak in the city," emphasized Mayor Ngoc Anh.
At the time of writing, Hanoi has recorded 38 local Covid-19 infections in over a week.
Vietnam is currently experiencing its fourth wave since last week with community transmission in major cities of Hanoi, Danang and Ho Chi Minh City and the provinces of Ha Nam, Vinh Phuc, Hung Yen, Quang Nam, Dong Nai, Hai Duong and Yen Bai.
Vietnam ranks lowest in Southeast Asia Covid-19 inoculation 
Vietnam has a long way to go to get the herd immunity amid the thin supply of Covid-19 vaccines.
The number of people who have received at least one dose of Covid-19 vaccines in Vietnam is lowest among Southeast Asian nations, less than 1 shot (0.98) per 100 people.
Statistics by Vietnam's Ministry of Health showed that the Covid-19 vaccine has so far been administered to nearly 955,000 people, or nearly 1% out of 98 million people in the country.
In comparison, as of May 10, the figure in the Philippines is 2.27, Thailand 2.57, Myanmar 2.79, Laos 3.77, Brunei 4.29, Malaysia 5.54, Indonesia 8.12, Cambodia 17.46, and Singapore 54.44, according to Our World in Data. 
Vietnam currently uses AstraZeneca Covid-19 vaccine for the inoculation program that has begun since March 8.
The country has got 811,000 doses of Covid-19 vaccine under the global vaccine sharing COVAX Facility and 117,000 imported by Vietnam Vaccine JSC (VNVC).
According to Health Minister Nguyen Thanh Long, Vietnam might get an amount of 4.1 million doses from the COVAX Facility in May.
To secure the population immunity, the country needs 150 million doses, Long said, adding that the ministry is working with foreign vaccine suppliers to procure the volume while developing domestic production.
In the latest move, Deputy Minister of Health Tran Van Thuan on May 5 said that by early 2022, Vietnam is expected to get roughly 102 million doses, including 39 million doses of AstraZeneca vaccine under the global vaccine-sharing COVAX Facility, 30 million doses of AstraZeneca bought by VNVC, two million doses donated by some organizations and countries, and 31 million doses in deals signed between the ministry and some suppliers.
Japan is among some countries having pledged to transfer Covid-19 vaccine production technology to Vietnam.
Vietnamy is rushing to complete the third phase of human trial of home-grown Nano Covax for emergency use.
To reach herd immunity, recent estimates by international scientists suggested that 70% to 90% of the world's population would need to be inoculated.
ASEAN supports Czech Republic in COVID-19 fight
The ASEAN Committee in the Czech Republic on May 11 presented face masks to a district in Prague capital city in response to a call of local authorities to help disadvantaged people to surmount COVID-19.
The handover ceremony saw the attendance of ambassadors and representatives of six embassies of ASEAN nations in the Czech Republic, namely Indonesia, Malaysia, Myanmar, the Philippines, Thailand and Vietnam.
The aid is part of activities joint held by the embassies to show solidarity between ASEAN and the Czech Republic in fighting the ravaging pandemic.
Receiving the aid, Mayor of Prague 6 district Ondrej Kolar voiced his gratitude to the embassies of ASEAN countries for their support for local authorities and residents in the fight against COVID-19.
Efforts in battling the pandemic have proven effective in the European nation, especially after a vaccination drive since March, he said, adding that more than 30 percent of the country's population has been inoculated.
For his part, Vietnamese Ambassador to the Czech Republic Thai Xuan Dung took the occasion to thank the Czech government, relevant agencies and frontline workers for providing treatment and helping foreigners infected with COVID-19, including Vietnamese living in the country.
The diplomat reiterated that the embassies of ASEAN members always attach significance to and hope to promote the ASEAN-Czech Republic friendship and cooperation./.
New COVID-19 infections decrease in Laos, Cambodia
The COVID-19 pandemic in Laos has been gradually controlled with new infection cases falling, especially in major cities.
The Lao Health Ministry on May 11 announced that there were 35 new infections in the past 24 hours, including nine in Vientiane, five imported in Champasak and 20 in Tonpheung district of Bokeo province bordering China.
So far, Laos has recorded 1,362 infections, 297 of them have recovered and one death.
Meanwhile, the Cambodian Health Ministry reported that the number of new cases decreased on the third consecutive day, reaching 480 on May 11, raising the total to 20,223. Of which, 8,170 have been given all-clear from the virus.
Earlier on May 10, Australia signed an agreement with the United Nations Development Programme (UNDP) to provide an additional aid of 3.15 million USD to help Cambodia mitigate the impacts of the pandemic.
Also on May 11, Cambodia received the third batch of Sinovac vaccine with 500,000 doses from China.
The nation has so far received more than 4 million doses of vaccines, including 1.7 million doses of Sinopharm aided by the Chinese Government, 2 million Sinovac doses bought from China and 324,000 AstraZenica through COVAX Facility.
To date, more than 1.8 million Cambodians have been vaccinated against COVID-19./.
Border guard force presents medical supplies to Cambodia
The Border Guard High Command of the southwestern province of Tay Ninh on May 11 held a ceremony to hand over medical supplies for COVID-19 prevention and control presented by the Vietnam Border High Command to Cambodia.
The medical supplies, including 250,000 medical masks and 15,000 protective suits, aim to support the military and public security forces of Cambodia as well as Cambodians of Vietnamese origin in the neighbouring country in fighting the COVID-19 pandemic.
According to Colonel Le Hong Vuong, Commander of the Tay Ninh Border Guard High Command said that the assistance shows the solidarity and friendship between the Vietnamese border guard force and the border management and protection force of Cambodia, helping ease difficulties of Cambodia in pandemic prevention and control.
He encouraged the Vietnamese community in Cambodia to actively coordinate with local authorities to overcome the pandemic.
Tay Ninh shares 240 km of borderline with Cambodia. Currently, border, military and public security forces are running 136 checkpoints and maintaining collaboration with the Cambodian side to prevent illegal border crossing as part of efforts to prevent the spreading of COVID-19 pandemic./.
NA Chairman works with Party Committee's Standing Board of Hai Phong city
National Assembly (NA) Chairman Vuong Dinh Hue on May 11 had a working session with the municipal Party Committee's Standing Board of the northern port city of Hai Phong.
After hearing the city's report on the results of implementing tasks in the first four months of this year and preparations for the upcoming general elections, the top legislator lauded the effective leadership of the city's Party Committee in all areas.
Hue hailed Hai Phong's efforts in COVID-19 prevention and control and well preparations for the upcoming elections with the timely issuance of guiding documents and organisations of three rounds of consultative conferences.
Holding that the success of the conferences is one of the important factors deciding the success of the elections, the NA leader acknowledged that Hai Phong has finished major preparations for the elections, while properly dealing with complaints and requests related to the elections.
As of May 11, Hai Phong has completed the organisation of meetings with voters for 15 candidates running for seats in the 15th NA.
According to the report presented by Deputy Secretary of the Hai Phong Party Committee and Chairman of the municipal People's Committee Nguyen Van Tung, in the first quarter of this year, gross regional domestic product (GRDP) of Hai Phong expanded 13.22 percent, three times higher than the country's average.
The city's budget collection reached over 30.25 trillion VND, equivalent to 39.2 percent of the yearly target. Meanwhile, foreign direct investment in the four months hit 1.12 billion USD, four times higher than that in the same time in 2020. Ports in Hai Phong handled more than 44 million tonnes of cargo, up 13 percent year on year.
Hue lauded Hai Phong's successes in both ensuring social security and boosting socio-economic development, which contributing to the country's achievements in implementing the twin target of preventing the COVID-19 pandemic and facilitating economic growth at the same time.
He asked the city to associate the implementation of the resolution adopted at the city's Party Congress and the Politburo's resolution on the development and construction of Hai Phong to 2030 with a vision to 2045.
The top legislator said that the NA Party Delegation and the Government will focus on removing bottlenecks and overlapping in the legal system related to planning, land use, while guiding the enforcement of the Investment Law, asking Hai Phong city to actively review obstacles in the field.
The NA leader noted that through meetings with candidates, voters in Hai Phong pay great attention to the building of new-style rural areas, urban economic development and infrastructure building.
In order to maintain a growth rate of 13-14 percent per year, the city must focus on upgrading infrastructure system serving production, he said, asking the city of optimise advantages in land, transport, and port system, while expanding trade villages and the one commune-one product (OCOP) programme.
Regarding the preparations for the elections, Hue asked the city to once again review residents in the city by May 14 to finalise the list of voters, while organising training courses on election activities and preparing voting areas to ensure convenience for voters in line with regulations on COVID-19 prevention and control.
Hai Phong should hold early elections in Bach Long Vi island district, while stepping up communications on the elections, he said, adding that the National Election Council will soon issue a document guiding the organisation of the elections amid the COVID-19 pandemic.
The same day, Hue attended a ground-breaking ceremony for three buildings belonging to Hoang Huy Commerce project that covers 26,308 sq.m in Kenh Duong and Vinh Niem wards of Le Chan district. The project has a total cost of nearly 5 trillion VND (216.91 million USD).

In the first phase, three 39-storey buildings with 2,496 high-end apartments will be built. The project is expected to completed and become operational in the fourth quarter of 2023./.
Hanoi Party leader presents eight-point plan of actions
Politburo member and Secretary of the Party Committee of Hanoi Dinh Tien Dung presented his eight-point plan of actions as a candidate for the upcoming election of deputies to the 15th National Assembly at a virtual meeting with voters on May 11.
Dung is among five candidates of Constituency No.4 of Hanoi, which comprises Hoang Mai and Gia Lam districts.
The Hanoi Party leader said if elected to the 15th legislature, he will use experience accumulated throughout his career to work for the interest of voters as a representative of the people.
He pledged to strive for strides forward in administrative reform and the building of a clean and strong  Party organisation, administration and political system of the capital city.
He said he will work to create a favourable business environment, attract investment, enhance the city's competitiveness and promote its socio-economic development.
Dung also vowed to implement strong measures to improve local people's quality of life, narrow the gap in living standards between urban and rural areas, and promote sustainable development.
The other candidates, including Most Venerable Thich Bao Nghiem, Vice Chairman of the Vietnam Buddhist Sangha (VBS) Executive Council and Chairman of the Hanoi Buddhist Sangha's Executive Council; Vu Thi Luu Mai, standing member of the NA's Committee on Financial and Budgetary Affairs; Luu Hong Quang, vice secretary of the Ho Chi Minh Communist Youth Union of the Hanoi Construction Planning Institute; and Nguyen Thi Phuong Thuy, deputy principal of the Dai Mo A kindergarten in Nam Tu Liem district, also presented their plans on the work they will do if elected to the NA.  
Voters  applauded the plans of actions of the candidates, and asked them to closely follow and propose solutions to matters of voters' concern./.
Minister emphasies resolve to absolutely ensure security, safety for elections
Minister of Public Security General To Lam has stressed the need to absolutely ensure security and safety for the upcoming elections of deputies to the 15th National Assembly and all-level People's Councils for the 2021-2026 tenure.
In his recent article, Lam said the elections are a political event that is of great significance to the country and each locality.
Therefore, absolutely safeguarding security and safety for the elections, consolidating a safe and healthy environment, and creating optimal conditions for the organisation of the event have remained a key task of the public security force from late 2020 to the end of the elections, he said.
The ministry on July 30, 2020 issued a directive which puts forth 11 groups of major tasks, along with a plan assigning tasks to specific units and local police during the elections.
A sub-committee for security and safety has been established and led by a leader of the ministry, Lam said, adding that the sub-committee is in charge of instructing the security and safety work during the event.
The public security force has kept a sharp lookout for internal political security, as well as information-communications, cyber and social security, and plots and activities of hostile forces and reactionary elements that aim to spoil the elections.
Hundreds of reports have been presented to the Party, the State, the National Election Council and all-level election committees, offering consultations in the issuance of decisions and policies on national security and interests.
The force has also played a role in settling issues relating to the selection and nomination of candidates, and the election work, and in beating plots that aim to take advantages of the personnel process to violate national security and safety, and sabotage the Party and the State, helping to maintain political stability and creating a peaceful and favourable environment for the elections.
Police have coordinated with competent agencies in detecting, preventing and handling activities of spreading complex information and illegal campaigning, while joining efforts in addressing complaints and denunciations regarding the elections.
The ministry has also issued a thematic plan on the communication work in order to promote efforts in ensuring safety and security for the elections, and mobilise the public security force nationwide in popularising relevant guidelines and policies of the Party, the State, the National Election Council and all-level election committees.
The plan has been carried out through diverse forms, such as the launch of websites and the publication of articles on social media, among others.
Notably, hundreds of thousands of articles, photos, images, video clips and documentaries have been released to oppose distorting and false information about the elections.
In anticipation of the elections, the public security force has stepped up the crime combat to ease the risk of terrorism and sabotage, and the fight against the COVID-19 pandemic.
Police in localities have also drawn up plans for transport and firefighting, and security and safety plans in case of the pandemic spreading among the community, according to Lam.
"It can be said that security and safety preparations have been made thoroughly, with the highest level, to stand ready to absolutely protect security and safety for the elections," he affirmed.
At the end of the article, Lam called on the entire public security force to raise a sense of responsibility and closely coordinate with the army and other competent forces in implementing the set plans.
"Any situation must be counted ahead and any minor mistake must be avoided," he stressed./.
Army activates control system at highest level for COVID-19 prevention
Deputy Minister of Defence Lieut. Gen. Vu Hai San on May 11 emphasised the necessity of activating the COVID-19 prevention and control system at the highest level in the army.
While chairing a meeting of the Defence Ministry's Steering Committee for COVID-19 Prevention and Control on the same day, San, who is also head of the committee, said he highly values the efforts of army units in fighting the pandemic and that early preparations would help reduce the risk of infection.

All officers and soldiers need to uphold their determination in "fighting the pandemic like fighting the enemy", he said, affirming that the army has always been among the leading forces joining the Party, State, Government and people to combat the pandemic.
Participants said COVID-19 continues to be complicated and unpredictable around the world, especially in neighbouring countries, which poses a big threat to Vietnam.
To continue to minimise the number of infections and fatalities and contain the spread of the pandemic, military units must continue to strictly implement documents from the Government, the National Steering Committee for COVID-19 Prevention and Control, the Central Military Commission, and the Defence Ministry and its Steering Committee for COVID-19 Prevention and Control, they said./.
Deputy PM orders strict implementation of COVID-19 prevention measures
Deputy Prime Minister Vu Duc Dam has reiterated the need to strictly follow current COVID-19 prevention and control measures, especially given the scarcity of COVID-19 vaccines around the world.
At a meeting with the press on May 11, Dam said that Vietnam has spared no effort to quickly gain access to vaccine sources for mass inoculation, but due to a global shortfall the Ministry of Health will only be able to import a small number of doses by the end of the year, making it impossible for the country to reach herd immunity.
Vietnam has been among the best countries in combating COVID-19, he said, adding that it ranks 214th out of 220 countries and territories in terms of the number of confirmed cases per 1 million people.
"This is a vivid illustration of the country's sound strategies in responding to the pandemic," he underlined.
Many countries have recognised Vietnam's success in carrying out its "dual tasks" of pandemic prevention and economic development, he said.
There has been no need to impose social distancing measures at this stage, he said.
He also asked border localities to strongly control illegal entries and exits and urged people strictly follow current COVID-19 prevention and control measures/.
Da Nang: over 2,000 airport staffers tested for COVID-19
The Da Nang Centre for Disease Control on May 11 conducted COVID-19 testing for more than 2,000 people working at the Da Nang International Airport as part of the central city's efforts to screen high-risk groups.
The testing took place following safety measures and the Health Minisry's 5k message – khau trang (facemask), khu khuan (disinfection), khoang cach (distance), khong tu tap (no gathering) and khai bao y te (health declaration).
Ngo Duc Thang, an aircraft maintenance technician at the airport, said that he often interacts with flight crews and passengers and is concerned about contracting COVID-19. He said the testing helps him feel more secure.
Deputy General Director of the airport Hoang Huu Cuong noted the testing aimed for fast and early detection of SARS-CoV-2 infections, serving timely quarantine measures, ensuring the airport's workforce and helping its employees feel secure at work.
During the recent National Reunification Day (April 30) and International Labour Day (May 1) holidays, the airport received 200 flights with about 30,000 arrivals, putting it at a very high risk of COVID-19 infection.
Also on May 11, the city is scheduled to carry out large-scale testing for people working at gas stations and sellers at markets with links to COVID-19 patients' epidemiological information announced over the past few days./.
Vietnam backs UN's investigation into IS crimes in Iraq
The UN Security Council (UNSC) on May 10 convened a videoconference briefing on the activities of the UN Investigative Team to Promote Accountability for Crimes Committed Da'esh/Islamic State in Iraq and the Levant (UNITAD), with Vietnam voicing its support for the team's ongoing investigation into the IS crimes.
Regarding the Islamic State in Iraq and the Levant (ISIL/Da'esh)'s genocide against the Yazidi and war crimes against unarmed cadets and military personnel at Tikrit Air Academy, Special Adviser and Head of the UNITAD Karim Asad Ahmad Khan said "A landmark moment has been reached in our work, with initial case briefs completed in relation to two key investigative priorities". The case briefs identified more than 1,400 suspects.
This investigation is developing rapidly, with an initial case brief anticipated to be completed and available to national authorities within five months, he said. By the end of 2021, the team also anticipates the completion of case briefs addressing crimes committed against Christian, Kaka'i, Shabak, Shia Turkmen and Sunni communities in Iraq, as well as the massacre of predominantly Shia inmates at Badush prison.
Participating council members acknowledged the effective operation of UNITAD, particularly amid COVID-19-related difficulties and security complexities in Iraq.
They appreciated the cooperation of the Iraqi central and local governments with the mission. Many statements pledged to continue to support UNITAD in its effective performance on the basis of relevant UNSC resolutions in accordance with international law and the law of Iraq. Some member countries suggested that UNITAD pay attention to ensuring the respect for the Iraqi sovereignty in investigating and punishing convicted individuals.
Echoing other participants' acknowledgment, Permanent Representative of Vietnam to the UN Dang Dinh Quy lauded the team's innovative approach and its results, adding that the application of advanced technologies and digital platforms has proved very efficient in evidence-collecting activities by allowing witnesses and survivors to submit information remotely.
The Ambassador suggested that UNITAD continue to focus on its strategic priorities in the coming time, strengthen cooperation with the Iraqi Government, regional and local authorities and religious leaders, and adopt all procedures and measures to protect victims and witnesses.
Vietnam urged the international community to increase support for UNITAD to carry out its mission in accordance with international law, relevant UNSC resolutions and the principles of the UN Charter, including respect for the Iraqi sovereignty, territorial integrity, independence and unity.
Established in September 2017 and becoming operational in mid-August 2018, UNITAD now groups about 130 experts, investigators, and security and support personnel./.
Source: VNA/VNS/VOV/VIR/SGT/Nhan Dan/Hanoitimes

Vietnam records 16 further domestic infections over six hours