VIETNAM NEWS HEADLINES MARCH 31
Plan to be developed for preservation of ethnic minorities' songs, dance, music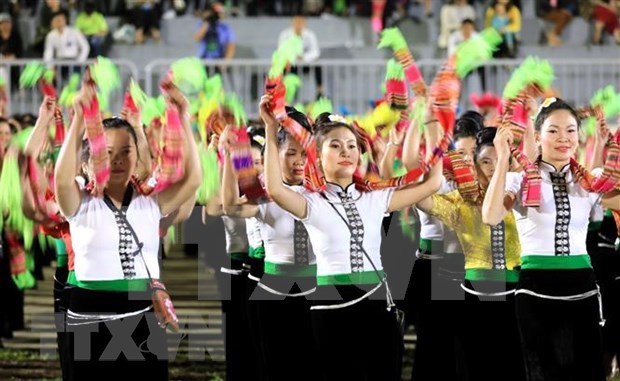 Thai ethnic minority performers in a traditional dance. (Photo: VNA)
The Ministry of Culture, Sports and Tourism will develop a plan on preserving, restoring and promoting folk songs, dances and music of ethnic minority groups in tandem with boosting tourism for the 2021 – 2030 period.
According to the ministry, the plan aims to evaluate the preservation, restoration and promotion of the ethnic minorities' traditional songs, dances and music and how they contribute to developing local tourism.
It also seeks to build policies and propose solutions facilitating the preservation and promotion of the traditional arts.
The plan will be formulated based on fact-finding surveys in provinces home to a large number of ethnic minority people, such as Lao Cai, Ha Giang, Thanh Hoa, Dak Nong, and Thua Thien-Hue. It will also take into account views and opinions of concerned experts, researchers, local administrations and governmental agencies./.
First shipment of Covid-19 vaccine provided by Covax to arrive in Vietnam on April 1
The first shipment of the AstraZeneca Covid-19 vaccine provided by the Covid-19 Vaccines Global Access (Covax) Facility is scheduled to arrive at the Noi Bai International Airport on Thursday morning, April 1.
Professor Dr Dang Duc Anh, chairman of the National Institute of Hygiene and Epidemiology, said the shipment of 811,200 doses of the AstraZeneca vaccine will be transported to the institute for storage before the Ministry of Health delivers them to cities and provinces. 
Covax Facility is a global initiative led by the United Nations International Children's Emergency Fund, the Vaccine Alliance, the World Health Organization, the Coalition for Epidemic Preparedness Innovations and others. Its mission is to coordinate international resources to enable the equitable access of Covid-19 diagnostics, treatments and vaccines.
Covax Facility initially planned to send 1.37 million doses of the AstraZeneca vaccine to Vietnam on March 25. According to UNICEF Representative to Vietnam Rana Flowers, the projected deliveries of the Covid-19 vaccine to Vietnam have been delayed, while the amounts to be sent have been reviewed and adjusted due to production delays of the AstraZeneca vaccine.
Based on initial information shared by the manufacturer, the aim is to deliver a total of more than 4 million doses to Vietnam by the end of May.
Vietnam expects to have 60 million doses of the AstraZeneca Covid-19 vaccine this year, including 30 million doses provided by Covax Facility and 30 million others ordered by Vietnam Vaccine JSC.
On March 23, the Ministry of Health approved Russia's Sputnik V Covid-19 vaccine for emergency use, making it the second Covid-19 vaccine to get emergency use authorization in Vietnam after British drugmaker AstraZeneca's vaccine.
The ministry is negotiating with Pfizer, Johnson & Johnson, Moderna and some other vaccine manufacturers from India and other countries for the supply of Covid-19 vaccines, while accelerating the development of locally made vaccines.
Up to now, Vietnam has received more than 117,000 doses of the AstraZeneca vaccine ordered by Vietnam Vaccine JSC and the vaccination campaign began on March 8, with priority given to frontline workers.
As of this morning, March 30, over 46,000 people in 19 cities and provinces have been injected with the Covid-19 vaccine. Some of them experienced slight post-vaccination side effects, while only a few suffered from serious allergic reactions.
36 volunteers get first jab of Covivac vaccine, recoveries total 2,359
A further 36 volunteers participating in human trials for Covivac, the second locally-produced COVID-19 vaccine, have been given the first shot, according to Vu Dinh Thiem, director of the Center for Clinical Trials under the National Institute of Hygiene and Epidemiology.
They only underwent mild side effects such as pain at the injection site, headache, muscle pain, and fatigue. However, these side effects last only around a day, Thiem stated.
An additional 15 volunteers are due to be given Covivac vaccine on March 31 and the next injection is set to be conducted on April 2, with a further 15 volunteers.
A midterm report on the first phase of the experimental injection is due for finalization in July.
If the vaccine shows that the standards of safety are met and the immunization is capable of disease prevention based on the approval of the Ministry of Health,  the second phase of clinical trials on the Covivac vaccine will be carried out  at the Health Center of Vu Thu district, Thai Binh province.
Covivac, developed by the Institute of Vaccines and Medical Biologicals (IVAC) on March 15 was proved to be effective against the new SARS-CoV strain detected in both the UK and South Africa.
Furthermore, as the first domestically-produced COVID-19 vaccine, Nanocovax, which has been developed by Nanogen Pharmaceutical Biotechnology JSC, moved onto its second phase of human trials on February 26.
According to the National Expanded Immunisation Programme as of March 30, an additional 1,840 people across nine provinces and cities, had been vaccinated, bringing the overall number of vaccinated people nationwide to 48,256.
On March 31 morning, Vietnam recorded no new COVID-19 cases, keeping the national infection tally at 2,594, including 1,603 cases of local transmission and 991 imported ones.
One day earlier, 51 further coronavirus patients were declared free from the SARS-CoV-2 virus, taking the total number of recoveries in the country to 2,359.
Meanwhile, Prime Minister Nguyen Xuan Phuc has consented to allocate VND270 billion from the central budget reserve in 2021 to help the northern province of Hai Duong in its COVID-19 containment efforts as the locality has been hardest hit by the pandemic since the resurgence of the virus in late January.
Hai Duong has so far brought the pandemic under control, with its social distancing period set to come to an end by the end of March 31.
Risks of fresh outbreaks still remain
Despite going 42 days without any new cases of COVID-19 in Hà Nội, health officials in the capital are warning there is still a risk of an outbreak. 
The Steering Committee for COVID-19 prevention and control of Hà Nội City on Monday held a meeting to discuss the ongoing pandemic situation.
Officials said one patient from Hải Phòng who tested positive had travelled from Phú Quốc Island to Nội Bài International Airport. Tests carried out on people that the patient came into contact with had all returned negative results. 
The meeting was also told that in the past week, 1,168 healthcare staff in the city had been given vaccines, bring the total number of patients inoculated in Hà Nội to more than 7,400 with none reporting any adverse side effects. 
Vice Chairman of the City People's Committee Chử Xuân Dũng said Hà Nội had implemented the vaccination in a methodical and thorough manner. The city had organised training for immunisation staff; organised test injections and basically completed the first injection and ensured safety.
But he warned: "In the past few days, the City has loosened the requirements for pandemic prevention and control so that activities can return to normal.
"In order to maintain the above results, departments, agencies, units and especially the people need to continue to raise awareness and responsibility for pandemic prevention and control.
"As the prevention measures are loosened, management and inspection tasks should be tightened and strengthened."
Dũng suggested all districts, towns, organisations and agencies continue to safely implement COVID-19 prevention measures under the guidance of the Ministry of Health. 
He also said it was necessary to properly manage the work of household registration, and illegal entry. Local police and authority should strongly support this task by providing information about suspected violations cases. 
No COVID-19 infections documented on March 31 morning
Vietnam logged no COVID-19 infections in the past 12 hours to 6am on March 31, keeping the nation's tally unchanged at 2,594 cases, according to the Ministry of Health.
The country documented 1,603 domestically-transmitted infections, including 910 cases since the latest outbreak hit Hai Duong province and several northern localities on January 27.
As many as 37,008 people who came in close contact with COVID-19 patients or arrived from pandemic-hit areas are under quarantine nationwide, with 506 at hospitals, 19,093 at other quarantine sites, and 17,409 at home.
The ministry's Medical Examination and Treatment Department said that 2,359 patients have been declared clear of the coronavirus so far.
Among the patients under treatment, 18 have tested negative for the virus once, 15 twice, and 37 thrice.
According to the National Expanded Immunisation Programme, a total 48,256 frontline medical workers and members of community-based anti-COVID-19 groups were injected with COVID-19 vaccine from March 8 to 30.
Of the total, 1,840 people were vaccinated against the coronavirus on March 30, including 102 in Hanoi, 249 in Hai Duong, 117 in Hai Phong, 72 in Hoa Binh, 10 in Hung Yen, 79 in Bac Giang, 549 in Ha Giang, 192 in Dien Bien and 470 in Ho Chi Minh City.
COVID-19 vaccination will be carried out in a larger scale in the coming time.
In a bid to live safely with the pandemic, people should strictly follow the Ministry of Health's 5K message: khau trang (facemask), khu khuan (disinfection), khoang cach (distance), khong tu tap (no gathering) and khai bao y te (health declaration)./.
Revised Law on Drug Prevention and Control adopted
The 14th National Assembly approved the revised Law on Drug Prevention and Control during its 11th session on March 30 with a high number of votes.
Accordingly, 453 out of 456 deputies casting ballots voted yes.
The revised Law on Drug Prevention and Control, comprising of eight chapters and 55 articles, specifies regulations on drug prevention and control; management of people using drugs illegally; detoxification; the responsibility of individuals, families, offices and organisations in drug prevention and control; State management and international cooperation in this issue.
The law will become effective on January 1, 2022.
Earlier, the control of drug-related legal activities drew great attention from participating deputies./.
Top leader vows utmost efforts if elected to 15th NA
A meeting was held at the headquarters of the Communist Review in Hanoi on March 30 to collect local voters' opinions about Party General Secretary and State President Nguyen Phu Trong, who is nominated to represent the capital in the 15th National Assembly (NA).
The collection of opinions from voters in candidates' places of residence is regulated in the law on elections of deputies to the NA and People's Councils, as well as related resolutions and guidance issued by the parliament and the Vietnam Fatherland Front.
The meeting was attended by Politburo member and Secretary of the Hanoi Party Committee Vuong Dinh Hue, who is head of the city's NA deputy delegation; Secretary of the Party Central Committee and Chief of the Committee's Office Le Minh Hung; other officials from the Party General Secretary's Office and the State President's Office; officials of Hanoi; along with voters in Nguyen Du ward of Hai Ba Trung district.
Local constituents showed unanimous support for the nomination of the Party and State leader for a seat in the 15th NA.
They shared the view that he has great prestige in the entire Party, people, and army, and that he is the centre of solidarity that gathers and brings into play the combined strength of the nation and also a role model of revolutionary morality.
In the many positions he used to serve, Trong has always demonstrated his political mettle, wisdom, and strategic mindset and vision to lead the country to weather numerous difficulties and challenges to obtain significant and comprehensive achievements in different areas, thus winning the recognition and high evaluation from the international community, according to the voters.
Particularly, they noted, the leader has made drastic moves to lead the Party building and the corruption combat, which have resulted in improvements and enhanced people's trust in the Party and the regime.
Owning in-depth understanding of parliamentary activities and rich experience, he has always fulfilled the duties of a legislator, they said, adding that the Party and State leader also has close relationship with local constituents and people.
The voters expressed their absolute belief in the Party's guidelines and the State's policies and laws, voicing their hope that the elections of deputies to the 15th NA and all-level People's Councils for 2021-2026 will be successful, thereby selecting talented and moral lawmakers to lead Vietnam on the development path and affirm the country's role and stature in the region and the world.
Thanking local voters for their opinions, the Party General Secretary and State President attributed the fortune, strength, stature, and prestige Vietnam has today to exerted efforts by the entire Party, people and army in many generations.
Trong promised that if he continues receiving the people and Party's trust to be elected an NA deputy for the 15th tenure, he will make all-out efforts for the sake of Hanoi's development and the people's prosperity and happiness./.
Man in Lam Dong jailed for spreading anti-State propaganda
A 55-year-old man in the Central Highlands province of Lam Dong has been sentenced to 10 years in prison for "making, storing, distributing, or disseminating information, documents, and items against the State of the Socialist Republic of Vietnam", under Article 117 of the Penal Code.
The verdict was announced by the provincial People's Court at the first-instance trial on March 30.
The Lam Dong People's Procuracy said in its indictment that, from early 2018, Vu Tien Chi, residing in Bao Loc city, learned of information posted by foreign press outlets and websites that criticised the guidelines and policies of the Vietnamese Party and State, distorted history, and defamed late President Ho Chi Minh and State leaders. He then frequently filed denunciations and complaints, with wrong content and images, about local police officers and officials.

Chi also created two Facebook accounts, "ChiVu" and "Chi Vu", to post and share 338 stories and 181 live-stream videos, attracting thousands of views, comments, and shares. These videos, live-streamed by Nguyen Thi Cam Thuy (in central coastal Khanh Hoa province and currently in police custody for investigation), distorted and defamed the people's administration while slandering and offending Party and State leaders.
Investigations show that these articles and videos contained one-sided and wrong information. Chi and Thuy were also found to have planned to encourage those sharing similar views to set up a "self-proclaimed National Assembly" to establish an opposition political organisation to replace the National Assembly of the Socialist Republic of Vietnam.
Chi was detained by police on June 23, 2020.
Viewing his actions as dangerous for society, the jury decided to put him behind bars for 10 years.
He will also be kept under surveillance for three years upon his release./.
2021 Vietnam Digital Awards launched
The Vietnam Digital Communications Association (VDCA) on March 30 launched the 2021 Vietnam Digital Awards, aiming to honour outstanding digital achievements by individuals, businesses and State agencies.
In his remarks, Deputy Minister of Information and Communications Nguyen Huy Dung said the ministry has begun to deal with challenges facing Vietnam by digital technology.
He called on ministries, agencies, localities, associations, businesses and the entire society to join efforts in promoting digital transformation in the country.
Over the past three years, the award has honoured 200 outstanding digital initiatives and organisations, according to the official.
Highlighting the programme's contributions to releasing relevant documents, Dr. Nguyen Minh Hong, VDCA Chairman, said the awards would continue to promote digital products, services and solutions, notably "Make in Vietnam" products, to both domestic and foreign markets.
The award has also encouraged State agencies and businesses to step up investment and application of digital technology, he added.
Entries should be submitted to organisers by the end of July, at www.vda.com.vn.
The award ceremony is scheduled to take place in October, and be broadcast live by Vietnam Television.
Second-class Labour Order presented to Australian group
Vice President Dang Thi Ngoc Thinh on March 30 presented the second-class Labour Order to Australian-based Norfolk Group, one of the first foreign firms landing investment in hi-end restaurants and hotels in Ho Chi Minh City and Con Dao island in Ba Ria-Vung Tau province.
Thinh lauded Norfolk Group's contributions to the development of the Vietnamese southern hub in the past 30 years, saying besides generating new jobs for local workers, the group has shouldered its social responsibility through granting scholarships to disadvantaged students.
Meanwhile, Australian Consul General to Ho Chi Minh City Julianne Cowley spoke highly of Norfolk's business activities in both nations, particularly in the time when the COVID-19 pandemic wreaked havoc globally.
Norfolk is a long-term partner of the Australian Embassy in Vietnam and Consulate General in HCM City to bolster Australia's strategic cooperation with Vietnam, she said, emphasising as a founder and sponsor of the Australian Chamber of Commerce in Vietnam, Norfolk has helped promote trade network as well as consolidate collaboration between the two nations.
The corporation has had a strong presence in the Vietnamese market since 1990, with the first project being four-star Norfolk Hotel in Ho Chi Minh City. After that it built international-standard PDD Building and five-star apartments, and most recently, Six Senses Con Dao resort in Ba Ria – Vung Tau province./.
Vietnam wants US help in setting up two central Centres for Disease Control: Minister
Vietnamese health minister Nguyễn Thanh Long said Việt Nam hoped that the US would provide support for the country's plan to set up two central-level Centres for Disease Control.
He made the request at a meeting with the Director for US Centres for Disease Control (CDC)'s Southeast Asia Regional Office John MacArthur and Dr Matthew Moore, Director of US CDC Việt Nam's Global Health Security Programme late Monday.
Both US CDC officials expressed confidence in Việt Nam's response against the COVID-19 pandemic while praising its testing capacity and treatment of the infected.
John MacArthur said the US CDC and the Vietnamese Government in recent years had cooperated in several health issues, including prevention and control of infectious diseases.
He said Việt Nam had plenty of experience in effectively dealing with emerging contagions, from SARS in 2003, avian flu to the COVID-19 pandemic, however, he cautioned that infectious diseases know no borders and can spread rapidly so health security should be considered a key focus of each country and the world at large.
Highlighting the US decision to establish a regional CDC office in Việt Nam in a bid to strengthen cooperation in health security, the US official said the Southeast Asian CDC office was not supposed to replace Việt Nam's own CDC but to connect regional CDC's activities with that of Việt Nam.
Vietnamese health minister Long at the meeting stressed that the Ministry of Health of Việt Nam backed the US' priority issues in the Southeast Asian region, especially health security.
"We see health security not just as a health problem but one that directly links to socio-economic development, security and social order," Minister Long said.
He thanked the US Government and US CDC for their recent support to Việt Nam's health sector.
Affirming that the local network of CDCs in Việt Nam had been and were proving their worth in the fight against diseases – including COVID-19, Long said Việt Nam was striving to further improve their capacity and responses against future threats.
Việt Nam will set up two central-level CDCs, one in the northern region and one in the southern region, according to Long.
"We hope the US CDC would support Việt Nam in the setting up of these central-level CDCs, both in terms of finance and technical support," the Vietnamese health minister told the US health officials.
Regarding a COVID-19 vaccine, Long said vaccine access among ASEAN countries remained very difficult while the pandemic's developments were complicated, requesting the US CDC's Southeast Asia office to help ASEAN gain access to US COVID-19 vaccines to use in their inoculation efforts.
The health minister also informed the visiting US CDC officials that Việt Nam was deliberating issues concerning "vaccine passports" to soon submit proposals to higher authorities, to facilitate travel while ensuring health safety. 
E-Government building promoted for sake of people, businesses
Many information systems serving as the foundation for e-Government have been put into use recently, and ministries, sectors, and localities are pushing ahead with digital transformation to further improve service quality for the sake of people and businesses.
Building an e-Government towards a digital Government, a digital economy, and a digital society is an inexorable trend. Prime Minister Nguyen Xuan Phuc identified the view that e-Government development must ensure the linking of IT applications with administrative reform while improving transparency and centring on people and businesses.
A number of legal documents have been issued in recent years establishing an important legal corridor for e-Government building.
The Government Office has coordinated with ministries, sectors, and localities to build the National Public Service Portal into a hub connecting with other electronic information systems of the country, ministries, and provinces.
The National Public Service Portal is one of the highlights in e-Government building. The number of public services available had increased from eight when it got underway on December 9, 2019 to more than 2,800 as of March 8. It had recorded over 468,000 accounts and 116 million visits, saving more than 8.1 trillion VND (351 million USD) annually.
Other highlights are the National Information Reporting System and the Government's information and steering centre, which have helped save over 9.9 trillion VND annually (as calculated by using OECD methodology), according to the Government Office.
The specialised data communications network of Party and State agencies has also been linked with all ministries, sectors, provinces, and centrally-run cities, along with 98 percent of district-level localities nationwide.
The national database on population was also unveiled on February 25.
The Ministry of Information and Communications said the most important foundations for e-Government development in Vietnam had taken shape by the end of 2020 and initially proven effective.
According to the 2020 UN E-Government Survey, Vietnam ranked 86th among the 193 UN member states in e-Government building, up two places against 2018.
Its 6th position in Southeast Asia remained unchanged while other regional countries saw strong rises.
At a meeting of the National Committee on E-Government on March 10, the Prime Minister urged stronger institutional building, more online public services, and the implementation of the national population database.
He requested that the Ministry of Natural Resources and Environment accelerate the building of a national land database, and that all State agencies complete information safety plans and immediately carry out digital transformation strategies and programmes for the new period./.
Vietnam to modernise national hydro-meteorological system
Vietnam will upgrade and modernise its national hydro-meteorological network under a master plan for 2021-2030 with a vision towards 2050.
Automation technology will be used and the density of hydro-meteorological stations will be equivalent to that in other countries in Southeast Asia.
The network will cover areas prone to big rains, floods, landslides and tidal waves, coastal, border and island areas, climate and eco-zones, as well as the country's key economic regions, according to the scheme.
Priorities will be given to the stations specialising in climate change monitoring or those integrated with natural resources and environment monitoring./.
Da Nang eyes ambitious development goals
The future looks bright for Da Nang as the central city's new development goals has received approval.
Da Nang City is set to be a key socio-economic development centre of Vietnam and ASEAN, a site of global supply chains, an innovation and start-up power and a unique ocean and port urban area, according to Deputy Prime Minister Trinh Dinh Dung.
The Deputy PM was speaking at an announcement to grant Government approval from Prime Minister Nguyen Xuan Phuc for the city's development goals for 2030-45 on March 29.
Dung said the central city had enjoyed drastic growth in 2016-19, but the master plan signed in 2013 has yet to meet the increasing demands for the city's economic growth.
He said PM Phuc's approval of some key plans would help Da Nang become a multi-sector development pole in Vietnam and ASEAN.
Da Nang should be a centre of innovation, trade, finance, logistics, high-tech industries, supportive industries, information technology (IT) and a city of global supply chains and regional sea and port-based economic power, Dung said.
The city will hope to be an attraction and a driving economic force in linking the seaports of Thua Thien-Hue, Chu Lai, Ky Hà, Dung Quat and Quy Nhon, and a logistical centre for the coastal central region and the East-West Economic corridor, which links Laos, Thailand, Myanmar and Vietnam, he said.
The Deputy PM also said Da Nang will become a smart and green city, an ecological attraction and sustainable urban area by 2045.
Following the PM's approval, Da Nang will begin its pilot 'urban government' project and special mechanism to give the city greater autonomy to draw investment and manage its budget.
Chairman of the city's People's Committee Le Chung Chinh said the amendments of the socio-economic master plan approved by the PM will seek to set new development targets, keeping pace with the rapid urban development experienced by the city in recent years.
Chinh said Da Nang will change its technical infrastructure plan to be compatible with becoming a key tourism site in the central region with green growth and have information technology (IT) applications for a smart city, as well as environmentally-friendly waste treatment and renewable energy.
Da Nang will also build a new Lien Chieu port as an international entrance for handling cargo ships with 100,000 deadweight tonnage (DWT) and container ships with loading capacities from 6,000 to 8,000 twenty-foot equivalent unit (TEUs).
The first stage of construction of Lien Chieu port will focus on infrastructure including piers, dykes, and storage and transhipment service for handling 5 million tonnes of cargo.
Also on the occasion of the city's Liberation Day (March 29), Vinatrans Da Nang, an international freight forwarder, began construction of its international standard logistics centre on an area of more than 10,000sq.m with an investment of 120 billion VND (5.2 million USD) in Hoa Cam Industrial Zone.
The logistics centre, set to be the largest in the central region, will provide services for investors, exporters and importers in the central region from the third quarter of this year.
It's the second international cold storage project that Vinatrans Da Nang will build in the IZ after it debuted the 16,200sq.m logistic centre with an investment of 2.4 million USD in 2015./.
Golf Danang FantastiCity Open 2021 to be held next month
Top domestic golfers will participate in the Golf Danang FantastiCity Open 2021, taking place in the central city of Da Nang from April 30 to May 2, the municipal Department of Tourism said at a conference on March 30.
The event will kick off a series of golf tournament "Race to central Coast – The Essences of Vietnam" to popularise golf courses in Da Nang and other central localities.
Golfers will compete at Bana Hills Golf Club on April 30, and Montgomerie Links on May 1.
Besides, they can choose to play at BRG Danang Golf Clubs, Vinpearl Golf Nam Hoi An, Hoiana Shores Golf Club, and Laguna Golf Lang Co.
According to Vice Director of the municipal Department of Tourism Nguyen Xuan Binh, the tournament aims to promote local golf and MICE tourism, and make contribution to realising the Government's dual goals of pandemic prevention and socio-economic development.
On the occasion, golfers and their families will have opportunities to experience local excellent cuisines and entertainment services./.
HCMC supports more than 17,000 Covid-19 affected customers
The Ho Chi Minh City Department of Industry and Trade in coordination with the State Bank of Vietnam – Ho Chi Minh City Branch has provided financial support for 17,215 customers being enterprises, organizations and individuals impacted by the Covid-19 pandemic.
The financial support totals VND87,638 billion (US$3.8 billion) including VND14,632 billion (nearly US$635 million) for restructure of loans, VND11,386 billion (nearly US$495 million) for interest rate cut and exemption and VND61,620 billion (nearly US$2.7 billion) for low interest loans.
Commercial banks focused on giving loans to the group of small and medium sized enterprises with VND63,099 billion (US$2.7 billion), accounting for 72 percent of total amount of support.
Besides, the department also launched an investment stimulus program according to the city's decisions and resolutions in order to encourage enterprises amidst the current complicated Covid-19 pandemic.
Up to now, the municipal People's Committee has approved total investment capital of more than VND2,064 billion (nearly US$90 million) for 28 investment projects of enterprises in the supporting industry. Of which, more than VND1,157 billion (US$50 million) was from from the city's budget with an average investment capital of more than VND73 billion (nearly US$3.2 million) a project and the average amount of loan with preferential interest rate topping VND41 billion (nearly US$1.8 million) a project.
The support level for supporting industry-based projects is 100 percent of interest rate for a maximum period of seven years.
With 10-percent average loan interest and a maximum loan period of seven years, the city's budget will pump more than VND405 billion (US$17.6 million) to support loan interest, thereby attracting more than VND2,064 billion (US$89 million) to invest and develop production activities of enterprises.
Due to the impact of the Covid-19 pandemic, around 161 fairs and exhibitions were cancelled last year.
Via trade fairs, enterprises will have a chance to introduce their best-seller and potential products as well as strengthen exchanging experience, approach new science and technology models, promote domestic production development, raise product quality and competition of Vietnamese products in the local market.
Vinh Long social work centre cares for disadvantaged children
Thirty-nine children in the Mekong Delta province of Vĩnh Long, sixteen of whom are disabled, live in a house called the Centre for Social Work where dedicated teachers devote themselves to raising the disadvantaged kids.
Many of the children have been abandoned by their parents or are orphans, making for a hugely difficult start to life.
Trương Thị Ngọc Yến, 51 years old, has been working at the centre for 20 years.
She still remembers the first day when she came to work as a caregiver and feared she wasn't cut out for the work as most of the children were disabled or suffered from cerebral palsy and polio.
Fortunately, Yến's love for children has grown and grown by taking care of them and listening to stories about their disadvantaged circumstances.
The stories motivate her to help the unlucky children suffer from less pain.
She has helped a lot of children at the centre develop and gradually rehabilitate.
"My biggest happiness is to see a child find adoptive parents or be able to find a job for their future," she said.
"I hope there will be fewer disabled children or those abandoned by their parents in order not to see them cry."
Nguyễn Thị Hạnh, 55 years old, said more than 19 years working at the centre was an unforgettable time for her.
Like many other teachers, she felt anxious about the first days working at the centre. Then her love for children and sympathy bloomed, encouraging her to be more dedicated and to offer psychological support to the children.
"Children are an indispensable part of my life. If I don't see them and hear their laughter or crying voice for one day, I feel very sad," she said.
Thanks to the help of teachers, children at the Vĩnh Long Province's Centre for Social Work learn to draw, sing and develop important life skills at a young age.
Teacher Yến said the centre's staff take turns to take the children to school every day and follow their academic performance.
Children at an older age are helped with careers' guidance so they can find suitable jobs.
Teachers at the centre also hold outdoor activities every week like camping and playing traditional games to connect children together.
Phạm Xuân Hồng, a nine-year-old child at the centre, said teachers instructed them to play games to help their physical development and to make them more confident.
Vĩnh Long Social Work Centre director Võ Văn Tấn Hùng said thanks to the support of caregivers and many donators, children have reached their dreams and many of them are studying at university.
Despite the different circumstances, teachers always have a common view to share a love for children at the centre. This is the driving force to help them overcome worries and difficulties and become the second mothers of children, he said. 
HCMC removing obstacles of major traffic projects
 
Ho Chi Minh City People's Committee announced the assignment of its Vice Chairman Le Hoa Binh to related state agencies to help major traffic projects in the city overcome their current obstacles as soon and effectively as possible.
Accordingly, Vice Chairman Le Hoa Binh asked that Tan Binh District People's Committee urgently finish the 1/2000-scaled land division & usage planning for the locations affected by the construction of a new connection road between Tran Quoc Hoan Street and Cong Hoa Street.
This planning will be then submitted to the HCMC Department of Planning and Architecture for evaluation before handing in to HCMC People's Committee. Simultaneously, the compensation task for land clearance must be completed as soon as possible.
The HCMC Planning and Architecture Department is requested to cooperate with the HCMC Department of Transport to adjust the planning for converting defence land into traffic one so that HCMC People's Committee is able to propose the conversion and related tasks to the Ministry of National Defence. This will make way for traffic projects on this land to be conveniently carried out.
Regarding the project to improve A41 Canal and expand Hoang Hoa Tham Street (from the army base gate to Cong Hoa Street), Tan Binh District People's Committee must quickly finish the land acquisition and compensation task, using the previously approved compensation price.
As to the project to build a new connection road between Vo Van Kiet Street to HCMC-Trung Luong Expressway, the HCMC Planning and Investment Department is asked to collaborate with the HCMC Transport Department and the HCMC Justice Department to check related laws and signed Build-Operate-Transfer (BOT) contracts for feasible solutions to boost construction. These solutions will be submitted to HCMC People's Committee for approval.
With respect to Thu Thiem 2 Bridge project, District 1 People's Committee is requested to finish procedures related to land handover so that investors are able to continue the project.
Legal procedures for the adjustment of the connection road project between Pham Van Dong Street and Go Dua Intersection must be urgently completed by the HCMC Planning and Investment Department.
Haiphong school to teach Korean
A school in the northern city of Hai Phong will open a class teaching Korean from the 2021-2022 school year.
The Korean class at Tran Phu High School will enroll 35 students each year according to a decision announced by the city People's Committee.
The Ministry of Education and Training has recently decided to pilot German and Korean as the first foreign languages at local schools.
As such, German and Korean will be taught as the first mandatory languages for students from third grade to twelve grades on the trial basis beginning this year.
Besides the pilot teaching of German and Korean, it is mandatory for Vietnamese students to learn one of the five foreign languages including English, Russian, French, Chinese and Japanese. Local students can opt for one among these languages to study.
Practical solutions found to combat waste pollution
Vietnamese students have joined forces with industry mentors to present innovative solutions to combat plastic waste at eProjects Innovation Showcase. 

Discarded plastics are littering cities, rivers, and oceans, contributing to health problems in humans and animals worldwide and creating unprecedented and environmental damage. Plastic production is increasing in a world unable to deal with this problem. The problem is more pressing than ever due to the increase of single-use plastic consumption during COVID-19.
In light of the growing concerns of plastic waste and environmental pollution, Vietnamese students have dedicated time and effort to design practical solutions to solve some real-world problems during the eProjects Innovation Showcase.
Students from Lac Hong University in Dong Nai province have created a new packaging design for the e-commerce industry to reduce plastic waste. Another group of students from Can Tho University proposed a unique solution to sort plastic waste. Meanwhile, students from the Ho Chi Minh City University of Technology and Education have developed a solution to prevent chewing gum litter. Other students have brought up the ideas of reusing construction materials and building a platform for plastic waste management.
Over the past semester, students have developed their prototypes through regular consultation with professional mentors, who set out a vision for each project, shared their technical expertise, and regularly met with the students. Thanks to the efforts, some solutions are highly appreciated by leaders as they are feasible to roll out in practice.
eProjects is an engineering innovation programme during which faculty and industry mentors guide teams to address an industry-proposed problem statement by implementing a student-led project. During eProjects, teams learn the hard and soft skills needed to become a professional engineer, including hard skills like designing, building, and testing a prototype and soft skills like team and project management. 
The showcase was a part of USAID BUILD-IT and the Dow Vietnam Stem Programme which has been carried out for four years. According to Bradley Bessire, USAID Vietnam's acting mission director, these applied projects demonstrate how the BUILD-IT Alliance links industry expertise with universities' teaching capacity to give students experiences that develop both the technical and soft skills they will need to succeed in Vietnam's ever more advanced workforce.
Đắk Lắk man prospers thanks to organic agriculture
A man in Cư M'Gar District, Đắk Lắk Province has taken advantage of his passion for farming to start a successful organic agriculture business.  
Nguyễn Đức Thành is 23 years old and lives in Hiệp Hòa Village, Quang Hiệp Commune.
Located about 30km from the Buôn Ma Thuột City's centre Thành has a small house, three hectares of fruit trees, and six ponds for raising fish.
Last year his income from agricultural production was about VNĐ700 million (US$30,000), but he said it took hard work to get there.
Thành was the youngest child in his family with two sisters. When he was in 9th grade, his father passed away so his family fell into difficult circumstances.
After finishing grade 9, he quit school to work as a hired labourer on various farms.  
Every day, after coming home from work, he researched agriculture online.
In 2015, Thành invested VNĐ100 million from the family savings to raise six cows and plant pepper on his family's land.
He was unlucky when pepper trees were damaged by diseases and the price of beef fell. He decided to work at a fruit tree farm in Vĩnh Long Province for three months to learn about organic agriculture.
Thanks to the guidance from the farm owner, Thành invested in planting 100 guava trees, 150 coconut trees and 50 star apple trees in 2016.
"Coconuts and guava are easy to grow and bear fruit all year round," he said. "Plants just need enough fertiliser and water to grow well."
The biggest difficulty at that time was how easily crops became damaged due to environmental issues. He recognised an increasing demand for organic food, so he was determined to only use bio-products for growing crops.
After eight months of planting trees, he got all his capital back.
An increasing number of customers favoured Thành's fruits and he purchased seedlings from Vĩnh Long Province farms to sell to other farmers.
He both sold the seedlings and instructed the farmers on how to best plant them.
Thành also raised fish and shrimp with only bio-yeast and soybeans and corn for feed. Each year he sells about seven tonnes of fish.
He remembered on his journey in 2017 to Vĩnh Long, he saw a successful model of breeding giant freshwater shrimp. He spent VNĐ12 million buying breeds for his farm. However, for three consecutive years, his shrimp died en masse.
In 2020, he harvested the first season of giant freshwater shrimp with 600kg.
"I was lucky to receive support from my family. A bank loan of VNĐ50 million in 2016 partly helped me overcome the difficulties in the early days of starting a business."
Ngô Minh Đức, Chairman of the Quảng Hiệp Commune People's Committee, said Thành was an example of the spirit of overcoming difficulties, being loved by local people and highly appreciated by the local authorities.
"His agricultural model has exploited the potential of the land and expanded cultivation while many households abandoned land," Đức said.
"The precious point from Thành is the diligence, patience and eagerness to learn, actively applying scientific and technical advances to production, bringing about high economic efficiency."
He has invested in three nipa leaf-roofed wooden houses to welcome visitors. During the Tết (Lunar New Year) holidays, he received 200 visitors per day.
Thành also plans to develop a flower garden for ecological tourism. He was honoured to receive the Certificate of Merit from the Chairman of the Đắk Lắk Provincial People's Committee for his outstanding achievements in the patriotic emulation movement in 2015-20.
HAGL coach heaps praise on captain Truong
Hoàng Anh Gia Lai (HAGL)'s coach Kiatisuk Senamuang has praised club captain Lương Xuân Trường after marking HCM City FC star Lee Nguyễn out of Sunday's 3-0 win for HAGL.
The home side were rampant at the Pleiku Stadium, with goals from Nguyễn Công Phượng, Nguyễn Văn Toàn and Trần Minh Vương cementing HAGL's place at the top of the V.League 1 table and condemning HCM City to their fourth loss in six matches.
Nguyễn's return to face his former club was forgettable as the 34-year-old missed a good chance at the end of the first half before being injured and substituted in the 59th minute.
Before leaving the pitch, Nguyễn struggled to escape the attentions of Trường, who seems to have recaptured his best form under Senamuang.
After the match, the HAGL coach said his side were lucky City had to substitute the injured Nguyễn.
"Lee is a really good player, he is the key player in HCM City's tactics. HAGL were lucky that Lee was injured and had to leave the pitch early," said the Thai manager.
"I assigned Xuân Trường to mark Lee Nguyễn because they have the same playing style and their positions were close to each other during the match. But Xuân Trường is younger and has better stamina, that's why he managed to stop his senior.
"In the past, when Lee was younger, things wouldn't be as easy as it is now," he added.
Though HAGL remain top of the table, Senamuang is refusing to let his players get ahead of themselves.
"During the half-time break, I told the team that we will have a really tight schedule ahead so we need to make the most of our chances to get the best results," Senamuang said
"The road ahead is still long so to win it, we have to take every chance we got, even the smallest opportunity."
"We must be carefully prepared for everything," the 47-year-old Thai coach added.
After six matches, HAGL lead the V.League 1 with 13 points. In the next match, they will travel to the Lạch Tray stadium to face fourth-placed Hải Phòng FC. 
8 "Gs" in new strategic viewpoint on development of Mekong Delta
At a conference reviewing the three years of implementation of Government Resolution 120 dated November 17, 2017 on climate resilient and sustainable development of Mekong River Delta, Prime Minister Nguyen Xuan Phuc talked about a new strategic viewpoint involving eight "Gs" on the development of the region. 
Application of scientific, technological advances boosts development in rural, mountainous regions
The Ministry of Science and Technology (MST) and the People's Committee of Bac Giang province have recently held a conference in Bac Giang city to review the five-year implementation of a programme on supporting the application and transfer of scientific and technological advances to boost socio-economic development in the rural, mountainous and ethnic-inhabited areas in the 2016-2025 period (Mountainous Rural Area Programme).
MST Deputy Minister Nguyen Hoang Giang, Vice Chairpersons of the People's Committees of Bac Giang, Thai Binh, Dong Thap, Gia Lai and Lang Son provinces, and representatives from the Departments of Science and Technology of 55 provinces and cities, along with scientists attended the event.
The conference aimed at assessing the results of the implementation of the programme so as to put forward orientations to carry out the programme in the 2021-2025 period.
The mountainous and ethnic-inhabited areas, which account for over 60 percent of the country's total area, hold a special importance in terms of socio-economy, defence and security, and have great potential for development.
However, at present, the development of the mountainous and ethnic-inhabited areas has yet to match their role, position and potential. Therefore, one of the most important solutions is to apply scientific and technological advances in production and daily life.
After five years of implementation, the Prime Minister-approved programme has created bright spots in the application of science and technology advances in production, thus bringing about socio-economic efficiency and boosting socio-economic development in the rural, mountainous and ethnic-inhabited areas.
To date, 400 projects have been approved and carried out in 61 provinces and cities with a total investment of over 3 trillion VND. The projects have been implemented in numerous fields such as cultivation, husbandry, aquaculture, preservation and processing technologies. Once completed, the projects are expected to build over 1,300 application models, transfer over 2,100 new technologies, train and increase the management capacity for 1,800 managing officials and over 3,500 technicians, and train over 78,000 farmers to help them receive and master technologies.
However, the implementation of the programme is facing several difficulties and shortcomings in making and issuing documents, in funding, in project management, and in maintaining and duplicating models and projects.
Director of Bac Giang provincial Department of Science and Technology Nguyen Thanh Binh said that several projects of the programme have to adjust locations and production scales and have shown slow progress.
Projects with regional connectivity and linkages between organisations, businesses and producers are still lacking, while investments are low and the progress of disbursing investments remains slow, Binh added.
Delegates proposed clarifying the management function of Departments of Science and Technology, speeding up the approval, assessment and provision of investment of projects, issuing support policies and mechanisms, and encouraging the duplication of the results after the projects are completed.
In addition, management units of the MST and localities' Departments of Science and Technology should intensify training in project implementation, while management units at the central and local levels should step up inspections over the implementation of the projects.
Deputy Minister Giang stated that the programme basically achieved the targets set out until 2020. To fulfill all targets for 2025, he asked relevant ministries, sectors and localities to seek more suitable measures in organizing and choosing projects and technologies for each field, supplement and adjust the legal corridor to facilitate the implementation of the programme, build plans for the implementation for each year and for the entire 2021-2025 period, and push organisations in charge of technology transfer to implement projects effectively.
Local Departments of Science and Technology needs to advise local People's Committees in how to propose and carry out projects in accordance with development policies, while organisations that take charge of implementing the projects and support technology transfer should coordinate closely and mobilize resources to successfully carry out the projects and duplicate the successful models./.
Canadian Embassy inaugurates charitable work in Khanh Hoa
The Canadian Embassy in Vietnam on March 30 inaugurated a Canadian-funded road leading to a charitable house in Cam Phuoc Dong commune in the central province of Khanh Hoa's Cam Ranh city.
According to Robert Bissett, Counselor for Political, Cultural and Information Affairs at the embassy, the flood-proof road is 45m long and 3.5m wide.

It was upgraded with a sum of 10,000 CAD granted by the Royal Canadian Navy's multi-role patrol frigate HMCS Regina. The financial assistance was presented when the vessel visited the province in 2019.
Canadian Defence Attaché in Vietnam Lieutenant-Colonel Loic Roy said charitable activities like the one by HMCS Regina have demonstrated the solidarity and friendship between Canada and Vietnam.
The two nations have been cooperating fruitfully in the field of national defence, he added.
At the inauguration ceremony, the Australia Embassy also handed over 5,000 CAD to another charitable house in Cam Lam district's Cam Duc town to help disadvantaged people living there./.
PM allocates 270 billion VND for Hai Duong to fight COVID-19
Prime Minister Nguyen Xuan Phuc has decided to allocate 270 billion VND (11.67 million USD) from the central budget reserve in 2021 to aid pandemic prevention and control efforts in the northern province of Hai Duong, which has recently borne the brunt of the third wave of COVID-19 outbreaks.
The Ministry of Finance was tasked with managing the sum and instructing the Hai Duong People's Committee, with the two entirely responsible for the management and use of as well as making reports on the funding in line with regulations to ensure its efficiency, publicity and transparency.
The PM also assigned the provincial People's Committee to promptly conduct prevention measures using financial assistance from the central budget reserve, local resources, and other legally mobilised sources. Related reports on the pandemic prevention and control work will be submitted to the PM for consideration of the final sum allocated to the province.
Thanks to the implementation of quarantine and social distancing, among other measures in response to COVID-19, Hai Duong has so far put the epidemic under control. The province will end its ongoing social distancing period on March 31./.
Consulting contract on Hoa Binh planning signed
The People's Committee of northern Hoa Binh province has signed a consulting contract with McKinsey Vietnam Co. Ltd. and Infinity Investment Group JSC to make a planning scheme for the province for the 2021-2030 period, with a vision to 2050.
Speaking at the signing ceremony on March 30, Chairman of the provincial People's Committee Bui Van Khanh recognised and acknowledged the support of the  Infinity Investment Group JSC and efforts of departments and agencies for reaching the deal.
He said the local leaders agreed with the contract's terms and pledged to speed up the work within nine months since the official start of the project, in line with the Prime Minister's policy and Vietnam's law.
Director of the McKinsey Vietnam Co. Ltd. Marco Breu promised to embark on the project as soon as possible with the best efficiency.
The Infinity Investment Group JSC voluntarily pledged to wholly fund the planning project and will directly make payment to the consultant.  
The activity is part of efforts to turn Hoa Binh into an ideal destination for domestic and foreign investors./.
Russia's friendship order conferred on Vietnamese diplomat, military officials
The Vietnamese Ambassador to Russia and four Vietnamese defence officials have been bestowed the Order of Friendship of Russia for their contributions to the Vietnam-Russia relations.
Per a decree on the granting of State awards signed by Russian President Vladimir Putin on March 29, the officials have received the honour for their significant contributions to the enhancement of the two nations' comprehensive strategic partnership.
They are Vietnamese Ambassador to Russia Ngo Duc Manh; Minister of National Defence Ngo Xuan Lich; Chief of the General Staff of the Vietnam People's Army and Deputy Minister of National Defence Phan Van Giang; Chief of the General Department of Politics at the Vietnam People's Army Luong Cuong; and Deputy Minister of National Defence Be Xuan Truong.      
The decree has also granted a number of noble titles to Russian and foreign citizens for their contributions to the country's COVID-19 fight and national security, among other aspects./.
Khanh Hoa: Three anti-State instigators jailed
Three defendants in the central province of Khanh Hoa got sentences on charges of "making, storing, distributing, or disseminating information, documents, and items against the State of the Socialist Republic of Vietnam" under Clause 1, Article 117 of the 2015 Penal Code.
The provincial People's Court sentenced Nguyen Thi Cam Thuy, 45, to nine years in prison; Ngo Thi Ha Phuong, 25, to seven years in jail; and Le Viet Hoa, 59, to five years.
From mid-2018, Thuy regularly used different Facebook accounts to upload videos insulting and harming the honour and prestige of the Party and State leaders, blackening and offending President Ho Chi Minh, and distorting the State policies and guidelines. More seriously, she burned the national and Party flags, and distorted the national history.
She travelled to many localities to meet individuals and collect distorted information about President Ho Chi Minh and corruption cases to slam the Party guidelines, the State policies and laws, as well as blacken the images of President Ho Chi Minh and Party, State and Government leaders.
She herself produced videos to upload and spread on the Internet to incite others and erode public trust, and made calls to gather forces to establish an opposition political organisation named "Quoc hoi tu xung" (Self-reclaimed National Assembly).
On April 28-29, 2020, Thuy burned the national and Party flags, recorded videos and spread them on the Internet.
Thuy also received assistance from Phuong and Hoa. They also used their bank accounts to receive donations from individuals at home and abroad./.
Hai Duong province to enter 'new normal' on April 1
Life in the northern province of Hai Duong will return to the "new normal" state from 0:00 am on April 1 as students are going back to school and ­restaurants and cafes can open with anti-pandemic measures ensured, the provincial authorities have announced.
Based on the epidemiological situation, Hai Duong, the biggest COVID-19 epicentre of the country in the third wave of infections with over 700 cases recorded since January 27, decided to end the implementation of measures to prevent the pandemic under Directive 19 of the Prime Minister.
High-risk services such as bars, discotheques, karaoke parlours and massage businesses will remain suspended until April 15.
Hai Duong city, Chi Linh city and Kim Thanh district, the former hotspots in the province, were asked to carry on with certain strict anti-pandemic measures.
Provincial leaders asked local units to continue tightening pandemic prevention tasks in businesses, especially businesses outside industrial zones. These measures include wearing a mask when going out and a ban on large gatherings.
Provincial police are asked to help strictly control those who enter the province from abroad and pay special attention to detecting cases of illegal entry.
According to the provincial centre for diseases control, by 5:00pm on March 30, Hai Duong's total number of COVID-19 infections was 726, of whom 89 were under treatment. Only 128 people in the province remained in concentrated quarantine facilities./.
Vietnam enhances cooperation with US in coping with climate change
Vietnamese Deputy Prime Minister and Minister of Foreign Affairs Pham Binh Minh held an online conversation with US Special Presidential Envoy for Climate John Kerry on March 30.
The two officials shared the view that the Vietnam – US comprehensive partnership is growing strongly in all areas, bringing practical benefits to the people of both countries and making positive contributions to maintaining peace, stability, cooperation and development in Asia-Pacific and the world.
They agreed to enhance cooperation in order to further deepen bilateral ties on the basis of respecting each other's independence, sovereignty, territorial integrity, political regime and mutual benefits.
Minh welcomed the commitments of the administration of President Joe Biden and its move to promote global efforts to cope with climate change, including the US's re-entry to the Paris Agreement on Climate Change.
As one of the countries hardest hit by climate change, Vietnam, with a strong policy and high political determination, has been and will support international commitments and work closely with other nations to deal with challenges related to climate change, including boosting ties with the US, he said.
Kerry affirmed that the US continues treasuring its comprehensive partnership with Vietnam, and will enhance cooperation with and assist developing nations, including Vietnam, in coping with climate change./.
Hanoi FC avoid shock with late equaliser against Ha Tinh
Football can be a cruel mistress, just ask Hà Nội FC and Hồng Lĩnh Hà Tĩnh.
While last week Hà Nội were on the end of misfortune in the form of Đỗ Hùng Dũng's horrific injury, on Monday night it was the capital side inflicting misery on Hà Tĩnh with a late, late equaliser.
The visiting minnows would likely have been happy with a 1-1 draw in Hàng Đẫy Stadium at the start of the night but after 85 minutes of holding a 1-0 lead, conceding a late goal was a bitter pill to swallow.
The Hà Tĩnh players dropped to their knees in a mix of exhaustion and disappointment at the final whistle, a testament to both the monumental effort they put in against far technically superior opponents and how close they came to snatching an upset win.
The result leaves Hà Nội fourth in the V.League 1 table on 10 points, while Hà Tĩnh are second from bottom with just five points.
The home side dominated possession throughout the match but Hà Tĩnh were dangerous on the counter early on and opened the scoring just five minutes in.
Hà Tĩnh's Trần Phi Sơn beat a man on the left and sprayed a cross-field ball to Ismahil Akinade who fed the onrushing Phạm Tuấn Hải. The number 10 had a lot to do still but was able to cut back sharply and send Hà Nội's Geovane Magno flying before slotting home.
The rest of the match was largely a rearguard action for Hà Tĩnh aside from a few sorties into the Hà Nội half, allowing the home side to create several decent first-half chances, but goalkeeper Dương Quang Tuấn was in good form and made several smart saves.
Hà Tĩnh almost doubled their lead in the 31st minute in spectacular fashion when Hải tried his luck from just inside the centre circle in his own half. The effort had goalie Bùi Tấn Trường beat but sailed agonisingly over the bar.
Just before half-time, Hà Nội's Ngân Văn Đại clipped the top of the Hà Tĩnh bar with a header from a corner and it began to feel like it just wasn't going to be the men in purple's night.
Hà Nội extended their monopoly on possession in the second half and created several openings, the best of which being lively substitute Phạm Thành Lương's free-kick which struck the woodwork in the 69th minute.
Hà Tĩnh had few opportunities to launch counter-attacks in the second half, bar one bizarre sequence in the 84th minute when Chevaughn Walsh raced down the right with Trần Đình Trọng holding onto his shorts for dear life. Though Trọng had enough of a grip to expose the Jamaican's underwear, somehow Walsh was the man booked.
As the 90th minute began Hà Nội's pressure finally paid off, as a shot from left-back Lê Văn Xuân was cleared off the line by Trần Văn Công, only to be swept in by the grateful Magno.
Shortly after the final whistle blew, leaving Hà Nội relieved and Hà Tĩnh dejected at a missed opportunity in what looks set to be a tooth and nail relegation battle.
PM Appoints New Deputy Minister of Labor, Invalids And Social Affairs
Prime Minister Nguyen Xuan Phuc has decided to appoint Nguyen Van Hoi as Deputy Minister of Labor, Invalids and Social Affairs.
Hoi, aged 51, was promoted to the new role from his previous position as Director-General of the ministry's Department of Social Assistance./.
Source: VNA/VNS/VOV/VIR/SGT/Nhan Dan/Hanoitimes