VIETNAM NEWS HEADLINES MARCH 27
PM orders proactive response to saline intrusion, water shortage in Mekong Delta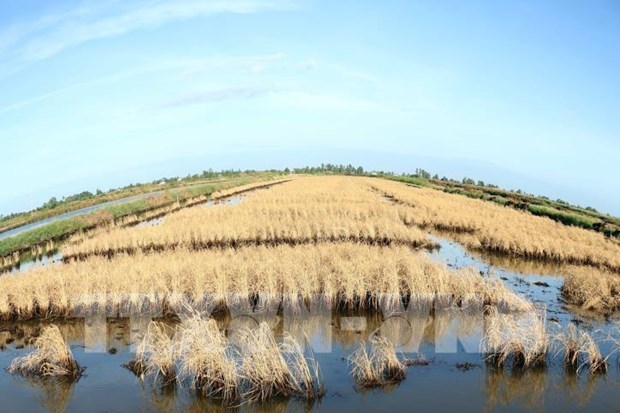 Drought and saline intrusion destroy a field of rice in Thoi Binh District, the Mekong Delta province of Ca Mau.

Prime Minister Nguyen Xuan Phuc has ordered concerned ministries and Mekong Delta provinces to proactively respond to saline intrusion and water shortage in the coming months in an official dispatch.
The Mekong Delta has been struck by drought, saline intrusion and water shortage since the beginning of 2021 due to weather conditions, water flows upstream and impacts of tides, he said, adding that it has driven clean water prices up and affected the locals' life and production.
Since saltwater intrusion is forecast to linger on in April, the Prime Minister asked the concerned ministries, governmental agencies, and municipal and provincial People's Committees in the region to take proactive actions to address the issue in the 2020 – 2021 dry season. People must not be left short of fresh water, according to the official dispatch.
People's Committees of cities and provinces, particularly those coastal, must keep a close watch on the situation and adopt response measures suitable to their particular context. They must identify high-risk areas where people should be prioritised with access to clean water while the deployment of military and public security forces is possible, if necessary, to help provide clean water for affected people.
Meanwhile, the Ministry of Agriculture and Rural Development was tasked with monitoring and giving forecasts on water resources, water quality and saline intrusion; and promptly providing information and warnings for affected cities, provinces and people.
The ministry is also responsible for giving instructions to the cities and provinces on how to maintain agricultural production and minimise damage from saltwater intrusion and lack of fresh water while coming up with solutions to supply water to local families and develop concentrated water supply projects. It was also urged to mobilise support from domestic and international organisations in tackling the issues.
No new COVID-19 cases, 43 recoveries reported on March 27
Vietnam has no new COVID-19 cases to report in the past 12 hours to 6pm of March 27, keeping the national count at 2,586, said the Ministry of Health.
Of the total, 1,603 are domestically-transmitted cases, including 910 infections since the third wave of outbreak hit the country on January 27.
Also on March 27, 43 patients were given the all-clear from coronavirus SARS-CoV-2, bringing the total number of recoveries to 2,308. The death toll remained at 35.
Among the patients undergoing treatment, 30 have tested negative for the virus once, 38 twice and 57 thrice.
At present, a total of 45,163 people who had close contact with confirmed COVID-19 patients or entered Vietnam from pandemic-hit regions are being under quarantine nationwide, including 482 in hospitals, 18,702 in state-designated establishments and 25,979 others at their residences.
The Health Ministry advised people to remain proactive in pandemic prevention and control by continuing to wear face masks when going out, disinfecting frequently, maintaining a safe distance, refraining from mass gatherings, and making medical declarations./.
No COVID-19 infection cases recorded on March 27 morning
Vietnam logged no COVID-19 cases in the past 12 hours to 6:00 am on March 27, according to the Ministry of Health.
The total number of COVID-19 patients detected in Vietnam has been 2,586 so far, including 2,265 fully recovered.
Among active patients undergoing treatment across the country, 54 tested negative for the coronavirus SARS-CoV-2 once, 21 twice and 45 thrice.
There are 36,480 people who had close contact with confirmed COVID-19 patients or entered Vietnam from pandemic-hit regions are being quarantined nationwide, including 485 in hospitals, 18,343 in state-designated establishments and 17,652 at their residences.
In a bid to live safely with the pandemic, people should strictly follow the Ministry of Health's 5K message: khau trang (facemask), khu khuan (disinfection), khoang cach (distance), khong tu tap (no gathering) and khai bao y te (health declaration).
According to the National Expanded Programme on Immunisation, an additional 1,775 people were inoculated with COVID-19 vaccine on March 26, raising the total to 44,000, who are frontline medical workers, and members of community-based anti-COVID-19 groups and steering committees for COVID-19 prevention and control./.
Appointment decision presented to Honorary Consul General in RoK
Vietnamese Ambassador to the Republic of Korea (RoK) Nguyen Vu Tung on March 25 visited the Vietnamese Honorary Consulate General in the Busan-Keangnam region and presented Honorary Consul General Park Soo-kwan a decision concerning his appointment to the post.
On behalf of leaders of the Ministry of Foreign Affairs, Tung spoke highly of Park's contributions to the Vietnam - RoK strategic partnership and citizen protection work for over 40,000 Vietnamese citizens in the Busan-Keangnam region.
According to Tung, Park has also proactively assisted the Vietnamese Embassy in seeking permission for the construction of its headquarters in Seoul, while working with the embassy in asking the RoK's competent agencies to transfer the Korea Maritime & Ocean University's training ship Hannara to the Vietnam Maritime University (VMU). The vessel, of international quality and technology standards, has been renamed VMU Vietnam-RoK.
Park affirmed he will further his cooperation with the embassy in his current capacity as the Honorary Consul General of Vietnam for 2019-2022.
Also a successful long-term investor in Vietnam, he vowed to make greater efforts to help Korean firms gain a better understanding of its business climate and prepare their post-pandemic business plans./.
World Bank funds Vietnam's data survey on gender
The World Bank (WB) has signed an agreement with the State Bank of Vietnam (SBV) to provide a non-refundable aid worth 740,000 AUD (563,000 USD) through the the Australia-World Bank Group Strategic Partnership's second phase to help Vietnam conduct a nationwide survey serving its gender policy making.
The survey is part of the economic empowerment project for Vietnamese women, performed by the General Statistics Office (GSO). It covers 6,000 men and women across the country to collect data on their daily time allocations.
Carolyn Turk, World Bank Country Director for Vietnam, said despite progress in improving gender equality in education, health, and economic empowerment, Vietnam still faces many persistent challenges in gender equality.
Developing a comprehensive gender database is important for monitoring gender gaps and designing effective solutions to the issue, she added.
Vietnam established a set of national gender development indicators in 2011, but nearly two-thirds of them are not classified by gender. Meanwhile, there are no indicators related to the use of time.
Measuring the use of unpaid time, such as the time spent on household chores, is important for measuring contributions of men and women in their families, and for understanding how investments and public policies affecting the use of time can reduce gender gaps in the labour market and promote gender equality.
Australian Ambassador to Vietnam Robyn Mudie said one of the main reasons why 40 percent of women are not engaged in the Vietnamese labour market is due to responsibilities of taking care of their families.
The survey will provide more data on the time for unpaid jobs and serve as a foundation for redistributing those fairly for equality and for the economy, she said.
Australia is pleased to support the Vietnamese Government and the World Bank Group in conducting this survey, the ambassador added.
Court asks for further investigation in land-use violation case involving HCM City's former leader
The People's Court of Ho Chi Minh City on March 26 decided to return dossiers of the law violation case involving the land lot at 57 Cao Thang street being exchanged for the land lot at 185 Hai Ba Trung street in the city for further investigations as new evidence and details have been found.
According to the jury, it asked the Supreme People's Procuracy to make further investigations into eight major issues, including those related to the mortgage of the land lot at 57 Cao Thang of Diep Bach Duong Real Estate Co. at Agribank's Ho Chi Minh City Branch.
The jury asked for the clarification of property lease agreement involving the land lot at 185 Hai Ba Trung street among three parties of Agribank, the Diep Bach Duong Real Estate Co., and Phan Thanh Company.
In this case, Duong Thi Bach Diep, Director of the Diep Bach Duong Real Estate Co., is among the key defendants in the trial, and is charged with "fraud, appropriation of assets".
Nine other defendants in the case are charged with "lack of responsibility, causing serious consequences," including former Vice Chairman of the municipal People's Committee Nguyen Thanh Tai; former Deputy Director of the municipal Department of Finance Tran Nam Trang; former Director of the HCM City Light Music Centre Vy Nhat Tao; former Director of the municipal Department of Culture, Sports and Tourism Nguyen Thanh Rum; former Deputy Director of the department Le Ton Thanh; former deputy heads of the municipal People's Committee Office Huynh Kim Phat and Le Van Thanh; former Director of the municipal Department of Natural Resources and Environment Dao Anh Kiet; and former Deputy Director of the department Nguyen Thanh Nhan.
According to the indictment, the land lot at 185 Hai Ba Trung street, owned by the State, was the headquarters of the Light Music Centre under the municipal Department of Culture, Sports and Tourism. In 2007, the centre's then director Vy Nhat Tao contacted Diep to cooperate in upgrading the headquarters.
Diep then proposed exchanging her land lot at 57 Cao Thang street for the 185 Hai Ba Trung land lot, as she owned the land lot at 179 Hai Ba Trung street and wanted to build a five-star hotel complex there.
The property swap was approved by Nguyen Thanh Tai. During the process, Diep used the land use right certificate for the land lot at 57 Cao Thang as collateral to borrow money from Agribank - HCM City Branch.
After being granted a land right use certificate for the property at 185 Hai Ba Trung streer, however, Diep did not use it to replace the collateral at Agribank to hand over the property at 57 Cao Thang to the Light Music Centre as committed. Instead, Diep used the 185 Hai Ba Trung land lot as collateral for a loan at Southern Bank (now Sacombank) and so far was not able to repay the debt.
The indictment stated that Tai permitted the property swap while he was not responsible for handling and reorganising State assets.
On March 5, 2010, Tai signed a document sent to relevant units approving the exchange of the two land lots, without any request to check and clarify the legal status of the 57 Cao Thang land lot, causing losses of State assets.
The other defendants showed a lack of responsibility in carrying out their duties, thus facilitating Diep's fraud and appropriation of assets.
At the hearing on March 22, representative from the Ho Chi Minh City People's Procuracy proposed that the court give Diep life imprisonment for the charge of "fraud, appropriation of assets" under Article 174 of the 2015 Penal Code.

It also suggested that the court sentence Nguyen Thanh Tai, Nguyen Thanh Nhan and Vi Nhat Tao to 5-6 years in jail; Nguyen Thanh Rum, Dao Anh Kiet to 4-5 years' imprisonment; Le Van Than, Huynh Kim Phat to 3-4 years' imprisonment; and Trang Nam Trang and Le Ton Thanh to 3 years of suspended imprisonment.
The city People's Procuracy asked the court to return the land lot at 185 Hai Ba Trung street to the HCM City Light Music Centre for management.
Earlier, the first-instance trial for the case was suspended twice on March 17 due to the health condition of Diep and on March 25 to re-evaluate evidence./.
Third working day of 14th National Assembly's 11th session
The 14th National Assembly continued the third working day of its 11th session on March 26.
Legislators attended a plenary session in the morning under the chair of NA Chairwoman Nguyen Thi Kim Ngan to discuss a draft working report of the 14th National Assembly, along with working reports of the NA Standing Committee, the Council for Ethnic Affairs and committees of the legislature.
The session was broadcast live by Radio The Voice of Vietnam, Vietnam Television and the NA's television channel.
Deputies spoke highly of the innovation of the 14th National Assembly, especially the success in lawmaking, supervision and decision-making on important issues of the country.
They also focused their discussions on specific issues such as law-making, collection of comments on law projects, measures to improve the quality of the National Assembly's verification work, policy issuance, and supervision of law enforcement, and the application of information technology in the NA's operations.
Deputies agreed that the 14th NA is a successful tenure, excellently completing its tasks with outstanding achievements and imprints across fields.
Agencies of the NA have made efforts to unite, reform, actively coordinate closely with the Government and relevant agencies to fulfill their assigned tasks.
NA deputies have always shown their ability and high responsibility before voters and people, as well as promoting their knowledge to contribute to the NA's success.
NA Chairwoman Ngan demanded relevant agencies to seriously collect opinions of NA deputies, thus completing the reports and fully reflect those in the NA's Resolution on the 14th legislature's operations.
As scheduled, the NA will discuss working reports of the State President and the Government in the 2016-2021 tenure on March 29.
Dong Thap has first office for domain name ".vn" registration
An office for registration of national domain name ".vn" has been inaugurated in Dong Thap province, becoming the first of its kind in the Mekong Delta locality.
The facility is located at the provincial Information and Communication Technology (ICT) Centre. Organisations and individuals can also register the domain name online via website https://dtict.vn/.
According to Doan Thanh Binh, Director of the provincial Department of Information and Communications, said that the launching of the facility is an opening activity in the implementation of the digital transformation roadmap of Dong Thap, thus raising public awareness, promoting the Internet resources and affirming the national sovereignty on the cyber space.
He held that compared to international domain names, the national domains name of ".vn" is safer, easier to recognize and more reliable.
According to the department, Dong Thap has seen the registration of 838 domain names ".vn" and about 1,204 international domain names. Meanwhile, the locality is home to 4,244 businesses, he said, adding that the ratio of businesses using the domain name ".vn" has been very low, leading to risks of conflicts on the cyber space amid growing e-commerce activities.
The inauguration of the facility is expected to help businesses to register for the domain name in an easier manner, thus improving the level of recognition of their trademarks and make them searchable on the Internet, and improving the province's indexes in digital transformation, e-commerce and online shopping.
HCM City: poverty threshold set at 36 million VND
The poverty threshold for the 2021-2025 in Ho Chi Minh City will be set at 36 million VND (1,556 USD) in annual income per capita, according to Decision No.995/QD-UBND recently issued by the municipal People's Committee.
From 2021, households who escape poverty must have annual income per capita of more than 46 million VND.
The Decision also states that near-poor households have average income ranging from over 36 million VND to 46 million VND.
HCM City's multi-dimensional measures of poverty will include five dimensions: health, education - training, employment – social insurance, decent living conditions, and annual income. There will be 10 indicators in the five dimensions of poverty.
The city began using multi-dimensional poverty measures in 2016, aiming to achieve sustainable poverty reduction and access to basic services by the poor.
The Department of Labour, Invalids and Social Affairs is ordered to join hands with competent sectors to make a list of poor and near-poor families in accordance with the city's multi-dimensional standards for 2021-2025.
Meanwhile, the People's Committees of 24 districts and Thu Duc city are responsible for reviewing and setting up lists of poor and near poor households each year, as well as carrying out measures to improve the poor and near-poor's accessibility to basic social services./.
Photo exhibition marks 60 years of Vietnam – Morocco diplomatic ties
In celebration of the 60th anniversary of diplomatic ties between Vietnam and the Kingdom of Morocco (March 27, 1961 - March 27, 2021), the Vietnam News Agency (VNA) and the Embassy of the Kingdom of Morocco in Vietnam have coordinated to organise an online exhibition featuring 20 photos of high-level diplomatic activities between the two countries, selected from VNA's photo archive.
The photos are being displayed on the official website of the Moroccan Embassy in Vietnam (http://moroccoembassy.vn/) from March 27 to April 30 and on the VNA portal (http://vnanet.vn).
Although the number of photos is not large, they help demonstrate the important strides forward in the two countries' political relations, most notably high-level meetings.
Mutual high-ranking visits reflect the two countries' wish to promote the friendship and cooperation between their parliaments, States, and people, as well as their resolve to continue bringing into play and capitalising on the opportunities and huge potential so as to jointly enhance bilateral cooperation and relations.
In 2006, Vietnam and Morocco opened their embassies in each other's capitals - an important milestone in bilateral ties.
Within the framework of the Francophone community, Vietnam and Morocco have carried out a number of practical cooperation activities. In recent years, the Moroccan Embassy has taken part in the sponsorship of the "Young Francophone Reporters" contest held by Le Courrier du Vietnam, a VNA newspaper.
VNA and the Moroccan News Agency (MAP) established a partnership in 2008. Via their news, the two agencies have continually made practical contributions to the intensification of cooperation and, especially, acted as a bridge linking Vietnamese and Moroccan businesses who wish to seek opportunities to tap into their respective sides' potential and people-to-people exchanges.
The photo exhibition, part of a series of events held this year to mark the 60th anniversary of the two countries' diplomatic relations, expresses the respect for the sound traditional ties between Vietnam and Morocco.
Wartime bomb in Nghe An removed safely
Sappers in the central province of Nghe An safely deactivated a 115-kg bomb left over from wartime on March 26.
Workers of a stone quarrying company in Quynh Luu district found the bomb, which has a diameter of 41cm and a length of 1.2m, on March 23 when they were working in the area.
After being alerted by the workers, the district military command coordinated with a sapper unit from the provincial military command to isolate the area.
The bomb was then defused and moved to a safe area for detonation.
Vietnam spent a total of 12.6 trillion VND (545 million USD) on bomb and mine detection and clearance during the 2010-2020 period, the Standing Office of the National Steering Committee on the Settlement of Post-war Unexploded Ordnance and Toxic Chemicals revealed at its conference in Hanoi in January 2021. 
Of the total spending, 1.4 trillion VND came from the national action programme for the settlement of post-war bomb and mine consequences for 2010-2025, 9 trillion VND from development investment projects, and 2.2 trillion VND from non-refundable aid.
The country conducted bomb and mine detection and clearance on more than 500,000 ha during the period, in which Defence Ministry units oversaw 400,000 ha and international organisations 80,000 ha./.
Phu Quoc identifies over 20 people with close contact to new COVID-19 patients
Phu Quoc island city in the Mekong Delta province of Kien Giang have placed 26 people closely contacting the new COVID-19 patients who illegally entered Vietnam, said a local official.
Contact tracing work toward F2 and F3 cases is underway, Chairman of the municipal People's Committee Huynh Quang Hung said at a virtual conference held on March 26 regarding the city's pandemic prevention and control.
The three new patients were among a group of 10 people illegally entered Vietnam on a fishing boat and arrived on Phu Quoc Island on March 22 morning.
After that, two of the group travelled to Ho Chi Minh City by boat and road, and one of them later tested positive for the coronavirus SARS-CoV-2, while the other tested negative.
Meanwhile, two others of the group travelled to Hai Phong by air and both of them later received their positive COVID-19 test results.
Currently, Phu Quoc city is capable of organising quarantine places for a total of 500 people, according to Hung.
Chairing the meeting, Vice Chairman of the Kien Giang People's Committee Nguyen Luu Trung urged localities in Kien Giang to step up prevention and control work and stand ready for any domestic infections detected in the future./.
Northern Vietnam braces for first heat wave of the year
A hot low-pressure area originating from the west is heading for the nation's northern region and is set to cause the first hot spell of this year.
The period of hot weather is due to last from March 29 and will impact the northern and the north-western regions, including Dien Bien and Son La provinces, according to the National Centre for Hydro-Meteorological Forecasting.
Temperatures are anticipated to range from 32 to 34 degrees Celsius, with some locations even seeing highs of 35 degrees Celsius, the centre said.
In Hanoi, temperatures are forecast to rise quickly from March 29 and hit 33 degrees Celsius in the middle of next week. Local people will feel hot and dry due to the impact of the latest heat wave.
Meanwhile, the centre said the current hot spell in the Central Highlands and the southern region will see temperatures fall this weekend, with showers and thunderstorms predicted to hit some places.
By late April, rainfall is predicted to be between 20 mm and 40 mm higher compared to the same period from previous years.
Over the next month the Central Highlands and the southern region will see temperatures drop by up to one degree Celsius against the same period from the past.
On average, regions may record less days in which they experience heat waves in comparison to previous years.
Outcomes of ILO Work Country Programme for Vietnam assessed
The Ministry of Labour, Invalids and Labour Affairs (MoLISA) and the International Labour Organisation (ILO) on March 26 held a consultation conference on the Decent Work Country Programme for Vietnam in the 2017-21 period.
The programme focuses on three priorities - promoting decent employment and an enabling environment for sustainable entrepreneurship opportunities; reducing poverty by extending social protection for all and reduce unacceptable forms of work, especially for the most vulnerable; and building effective labour market governance compliant with fundamental principles and rights and at work.
Addressing the event, Nguyen Manh Cuong, head of the MoLISA's Department of International Cooperation, said that initial outcomes of the programmes have contributed to the adoption of the 2019 Labour Code, which became effective on January 1, 2021.
The Party Central Committee on September 3, 2019 issued a directive on strengthening the leadership and direction over the building of harmonized, stable and progressive working relations in the new period, he noted.
Meanwhile, a social insurance reform project was also approved, along with a resolution on the renovation of salary policies and another on reforming social insurance policies.
Cuong said that Vietnam has completed the joining of four important conventions of the ILO, including the Convention 88 - Employment Service Convention, Convention 159 - Vocational Rehabilitation and Employment (Disabled Persons) Convention, Convention 98 - Right to Organise and Collective Commenting on the efficiency of the Decent Work Country Programme for Vietnam in the 2017-21 period , Le Duy Binh, an economist and policy analyst held that employment policies and programmes have brought about job opportunities for labourers, especially vulnerable groups, while maintaining low unemployment rate compared to that in the region and the world, and transforming the labour structure in a positive direction.
The programme has helped expand social welfares and improve labourers' income, while increasing social insurance coverage, reducing illegal labour forms, especially child and forced labour, he said, adding that the labour relationship has become more effective and better suits international standards, thus improving stable employment opportunities.
Meanwhile, ILO Viet Nam Director Chang-Hee Lee recognized Vietnam's efforts in improving labour and employment conditions, helping the country integrate deeper into the world and increase income and social welfares for labourers.
He held that 2021 marks an important milestone of the programme. However, he said that there are new challenges facing the country, including the gender-based income gap.
At the event, participants also discussed the progress and efficiency of the programme, while sharing experience on sustainable employment and cooperation methods between central agencies and localities in implementing projects within the programme's framework.
Five decades of Vietnam – Chile diplomatic relations marked
Chile's Ministry of Foreign Affairs in collaboration with the Vietnamese Embassy held an event on March 25 to celebrate 50 years of the two nations' diplomatic relations (March 25, 1971-2021).
In his speech, Chilean Foreign Affairs Minister Andres Allamand lauded Vietnamese people's bravery during their past struggles for independence as well as the nation's achievements in the recent past, particularly in economy, pandemic prevention, and diplomacy.
Allamand said the Vietnam – Chile friendship and cooperation have grown significantly, especially after the two signed a free trade agreement in 2011.
The minister highlighted a phone talk between Chilean President Sebastian Pinera and his Vietnamese counterpart Nguyen Xuan Phuc on the occasion of the 50th anniversary of the two countries' diplomatic relations as a proof of their friendship.
Vietnamese Ambassador to Chile Nguyen Ngoc Son said Vietnam and Chile share close ties despite geographical distance, adding that they established a comprehensive partnership in 2007.
Son noted the two hold similar stances on most of key global issues and are proactively and responsibly participating in many multilateral mechanisms. Their top leaders have visited each other many times, while their cultural and educational relationship and people-to-people exchange have expanded continuously over the years, he added.
The ambassador said despite COVID-19-related difficulties, the embassy has worked with Chilean partners to organise activities celebrating the five-decade relations, including publishing special issues on the University of Chile's radio channel to popularize the comprehensive partnership as well as Vietnamese economic, cultural, and tourism affairs./.
Vietnam promotes renewable energy for sustainable development
The Multi-Actor Partnerships for 100 percent Renewable Energy (100 percent RE MAP) project was kicked off at a conference held in Hanoi on March 25.
It aims to realise the Nationally Determined Contribution (NDC).
Nguyen Thanh Trung, a representative from the Green Innovation and Development Centre (Green ID), said that the project targets to introduce and consolidate multi-actor partnerships towards the goal of 100 percent renewable energy use in Nepal, Uganda and Vietnam.
The partnership network will help popularise the benefits of renewable energy, as well as the ability to concretise the 100 percent renewable energy scenario which is suitable with Vietnam's conditions.
The project will be carried out in three years, from March 2020 to March 2023, by Green ID, World Wide Fund for Nature Vietnam (WWF) and the Vietnam Business Council for Sustainable Development under the Vietnam Chamber of Commerce and Industry.
Experts at the conference said that Vietnam has been a dynamic member of the United Nations Framework Convention on Climate Change (UNFCCC), particularly the nation has joined global efforts to reduce greenhouse-gas emissions to net zero.
The nation plans to cut greenhouse gas emissions by 9 percent by 2030, and the figure could be brought to 27 percent with international support through bilateral and multilateral cooperation and mechanisms.
Vietnam is among 194 countries signing the Paris Agreement. In a bid to attain the deal's goals, the greenhouse gas emission must be at the net zero level before 2050.
Regarding greenhouse gas emission reduction, the country issued a wide range of policies and regulations like Decree No.24-NQ/TW, the Politburo's Conclusion No.56-KL/TW, and the Politburo's Decision No.55-NQ/TW on orientations for the national energy development strategy by 2030 with vision until 2045. Additionally, renewable energy development is prioritised in energy and power planning./.
Plan for 2021 high school graduation exams announced
The organisation of the 2021 national high school graduation exams will remain basically the same as in 2020, according to the Ministry of Education and Training.
The ministry has issued a circular amending and supplementing a number of articles within the regulation on high school graduation exams.
Accordingly, the 2021 exams will be essentially the same as last year. Specifically, in order to achieve graduation, high school students must take four exams, including three independent ones, featuring Mathematics, Literature and Foreign Languages, and a custom test in natural science or social science chosen by the candidates.
For continuing education candidates, they will take three exams, including two independent tests of Math and Literature and a custom test in natural science or social science. They can also register to take a foreign language test to use the results for university and college entrance admission.
The noteworthy new point in the 2021 exam regulations is that candidates who have taken and passed all the required exams as required, but have not graduated from high school and are not disciplined to cancel the exam results, they have the right to reserve their test scores for recognition of high school graduation in the following exams next year.
Candidates who win different prizes (from the provincial level up) in various contests are only entitled to enjoy the point bonus from their highest prize, with a maximum of two bonus points to their total test results.
VUFO plays key role in people-to-people diplomacy
The Vietnam Union of Friendship Organisations (VUFO) will play a crucial role in people-to-people diplomacy and mobilisation of foreign non-governmental aids, according to its statutes recently approved by the Prime Minister.
According to the statutes, VUFO is a socio-political organisation specialised in people-to-people diplomacy in the fields of peace, solidarity, friendship and people-to-people cooperation. It is a member of the Vietnam Fatherland Front, and has the task of establishing ties of peace, solidarity, friendship and cooperation with corresponding organisations, non-governmental organisations and foreign individuals.
VUFO operates for non-profit purpose in line with the Constitution and laws. It will expand, diversify and multilateralise partnerships to contribute to consolidating friendship and cooperation between Vietnamese people and those from other countries. It also pools support, solidarity and cooperation of people worldwide for the cause of national construction and defence.
VUFO offers suggestions and recommendations on regional and global issues related to people-to-people diplomacy, assists its member organisations in activities regarding peace, solidarity, friendship, people-to-people cooperation, and mobilizes and coordinates foreign non-governmental aid./.
Sci-tech application to be promoted to ensure food security
Prioritising resources for the research, application, and transfer of science and technology to diversify food products to ensure nutritional balance and food safety in people's diet is one of the long-term targets set in the Government's resolution on ensuring national food security until 2030.
The resolution, issued on March 25, stated that ensuring national food security is a long-term task and a special concern in the Party and State's development policies.
In more than ten years, from 2009 to 2019, of implementing the 10th-tenure Politburo's Conclusion No 53-KL/TW on the national food security plan until 2020, Vietnam has obtained significant achievements, notably firmly guaranteeing national food security in all circumstances, which have greatly contributed to economic, political, and social stability and national development, especially amid global economic crises and the COVID-19 pandemic, and helped supply food for the world.
According to the new resolution, national food security is an important issue of the country in both short and long terms. The maintenance of rice farming land is necessary for keeping national food security but rice farmers' livelihoods and income must also be secured. Besides, food security must be associated with water resources security, environmental protection, climate change adaptation, and sustainable development.
Resources must be prioritised for the research, application, and transfer of science and technology to diversify food products to ensure nutritional balance and food safety in people's diet, the resolution noted.
It also emphasised the importance of ensuring food supply, people's food accessibility, nutritional demand to be met, and food safety.
Certain tasks and solutions were also pointed out in the resolution, including restructuring and aligning food production with the market; developing infrastructure for food production; stepping up the research, application, and transfer of science – technology in food production, preservation, and processing; improving human resources; and reforming mechanisms and policies on ensuring national food security./.
Take precautions before getting vaccinated, say health experts
People who receive COVID-19 vaccines should take precautions just like with other vaccines, as the COVID-19 vaccine may offer some immunity but might also side effects soon after entering the body, according to health experts.
They said people who should be cautious about vaccinations are those with a history of allergies, people with underlying health conditions or chronic diseases which require medical supervision.
Last week, the Ministry of Health released guidance on health screening before COVID-19 vaccinations for people aged 18 and above.
Under the instructions sent to medical facilities nationwide, people who will not be vaccinated against COVID-19 are those with acute diseases; pregnant women, breastfeeding women; people with impaired immune responses, end-stage cancer patients and patients with decompensated cirrhosis. 
Users of high-dose corticosteroids, those who have had chemotherapy and radiation treatment within 14 days and recipients of immunoglobulin and COVID-19 plasma treatment within the last 90 days and recipients of other vaccines within 14 days are also excluded. Those infected with COVID-19 within the last six months, people aged 65 or above and people suffering thrombocytopenia or blood clotting disorders are also ineligible to be vaccinated.
After receiving a COVID-19 vaccine, people should stay at the vaccination centre for 30 minutes of observation. They are recommended to pay attention to abnormal changes in their body such as hives, itching or difficulty breathing. They should report any symptoms they experience to medical staff.
As of Tuesday, nearly 38,000 frontline workers had received AstraZeneca COVID-19 jabs as part of the national inoculation programme which started on March 8.
Health officials said that there have been several cases of severe allergic reactions among people who received the COVID-19 vaccine but they are all in stable conditions.
The most common reactions are headaches, arm pain, body aches, chills or fever but they only last a few hours to a few days. 
Students get involved in environmental issues in a creative way
With the air pollution in Hà Nội and other parts of Việt Nam very alarming, a group of university students has set up a project allowing pupils to gain experience in science and technology and raise public awareness about the environment.
The Air Quality Monitoring System for Environment and science, technology, engineering, and mathematics (STEM) education (AirSENSE) project combines STEM skills development with environmental thinking.
It is a collaboration between the Signal Processing And Radio Communications laboratory (SPARC lab) under the School of Electronics and Telecommunications (SET) and School of Applied Mathematics and Informatics (SAMI) at the Hanoi University of Science and Technology (HUST), Institute of Environmental Science and Technology, and Centre for Science and Technology Support Development.
AirSENSE provides a STEM curriculum about air quality metering construction and knowledge related to environmental improvement.
In the project, students are taught how to use the AirSENSE device to measure the air quality index and process the data collected. They are also instructed to develop their own equipment.
Hàn Huy Dũng, a manager and the founder of AirSENSE project said more than 200 students at schools in Hà Nội and surrounding provinces have enjoyed lessons from the project, as have more than 1,000 students at STEM festivals since 2018.
The project has taught pupils and first-year students techniques like web and app programming with an environmental-related theme, he said, adding that it has stimulated their passion for science and technology.
Khánh Dương, an 11th grader from Việt Đức High School who has taken part in the project, said in the past she didn't feel confident when speaking in public.
But now, after studying and working in groups, she can make presentations on issues related to technology fluently and her thinking has become clearer.
"I really want to make a device to measure the indoor air quality by myself. Then I'll try to figure out measures to make the environment cleaner," she told the Vietnam News Agency.
Talking about the project, Lê Duy Nhật, a student from School of Electronics and Telecommunications of HUST, who is also head of the technical team, said once joining the project, a student will be given a device that allows them to monitor the air quality at home or in their surrounding environment.
This device is capable of measuring air pollution density PM1, PM2.5, PM10 as well as temperature, humidity in the air and sends periodic data to the server via the Internet.
"The cheerful and attentive faces of students at primary, secondary or high schools where the project has been carried out is the driving force for our group to overcome difficulties and be more enthusiastic in guiding the students to do scientific research," Nhật said.
Through the project, students can apply the knowledge they learned at schools, learn how to analyse data and improve their programming, problem-solving and research skills.
Nhật said he expected the AirSENSE devices would be introduced to more students as time goes on.
Trần Thị Hồng Hiền, a project member, said to attract the participation of many students passionate about environmental science research, the project has organised several contests namely '2019 Technical design contest for air environment' and '2020 Technical design contest on smart solutions for environment'.
"The contests aimed to create a healthy, useful and intellectual competition. They offered an opportunity for students aged 13-15 to exchange and turn their ideas into useful products with creativity," she said.
Explore beautiful Loc Yen Ancient village
Lộc Yên ancient village located in Tiên Cảnh Commune in Quảng Nam Province's Tiên Phước District is considered one of the four most beautiful ancient villages in Việt Nam.
The ancient village is home to eight 150 to 200-year-old houses. Their structures are typical of a  "nhà rường" house made of solid jackfruit wood pillars and beams.
Their cultural value is critically acclaimed and deemed worthy of preservation.
In 2017, Quảng Nam People's Committee approved Tiên Phước's ecotourism development, with plain concrete roads now decorated with stone fences and colorful petite flowers.
Bòn bon fruit trees, which are native to Southeast Asia, can be seen in almost every garden here. The fruit turns ripe in the eighth lunar month with a translucent sweet flesh under its skin.
According to historic records, bòn bon used to be a royal offering. The tree reaches 10 to 20m in height. Its flesh contains polyphenols and anthocyanins, packed with health benefits and antioxidants. 
Land encroachment affects Phu Quoc airport's drainage system
Part of a runway in Phu Quoc International Airport in the southern province of Kien Giang has been encroached upon by construction activities, affecting the airport's drainage system.
The Civil Aviation Authority of Vietnam (CAAV) has asked authorities of Kien Giang to ensure Phu Quoc International Airport's water drainage. 
According to the CAAV, the airport's water mainly flows into Cua Lap River. However, the river area where the water is discharged into is gradually being filled by nearby construction activities.
Many people have encroached upon the land in the north of the airport runway, filling in part of the drainage in the area. This has caused serious flooding following the heavy rain.
In August 2019, the airport experienced severe inundation as the result of the congestion of the drainage into Cua Lap River. This meant the airport had to cancel nearly 70 flights for one day.
To deal with the situation, the CAAV requested the Kien Giang People's Committee to assist in the dredging of Cua Lap River area before the coming rainy season as well as closely tighten control over construction activities by the river.
The province has also urged to take drastic measures to deal with the encroachment in the airport runway area.
HCM City doctors warn against high UV index as hot weather set to peak
With the onset of a heat wave in HCM City, doctors are urging people to take preventive measures against heat-related health conditions.
The city has experienced temperatures of 34-37 degrees Celsius this month.
Lê Đình Quyết, deputy head of the weather forecast division at the Southern Hydrometeorology Station, told Lao Động (Labour) newspaper that the peak temperatures would be in April and May.  
According to doctors, heat-related illnesses such as heat stroke, exhaustion and cramps can strike anyone, but especially the elderly, young and obese.
Children's Hospital 2 has admitted 3,600 children in the first two weeks of this month after nearly 4,000 ones last month.
The department's doctors warned that the hot weather could send more and more children to hospital.  
Other paediatric hospitals in the city have also received many patients this month.
Thống Nhất Hospital said the number of seniors hospitalised usually increases by 5-10 per cent every year in hot weather.
Dr Dương Anh Phượng of the City International Hospital told Việt Nam News that hot weather increases the risk of respiratory diseases because many people turn on fans at full speed and air-conditioners at low temperatures, causing the throat and nose to go dry. If the respiratory tract mucus dries up, bacteria and viruses find it easier to enter, leading to diseases, she explained.
Children below six often do not have a strong immune system, which increases their risk of respiratory diseases, she said.
People should protect their children carefully when taking them out in hot weather and take them for prompt medical treatment when they show signs of illness, she warned, adding they need to be fully immunized, especially for respiratory infections.   
Thống Nhất Hospital doctors said people should eat a lot of vegetables and fruits, wear wide-brimmed hats and protective clothes, and use sunscreen when going out in hot weather.
According to the HCM City Hospital of Dermato Venereology, many patients have come with irritated, red or dry skin since hot weather increases water loss in the body.
So, people should drink at least 1.5-2 litres of water a day, and more if they play sports.
According to Weather Online, the UV index in HCM City in the next three days will be 10-11, meaning very high risk of harm from unprotected sun exposure.
According to World Health Organization norms, a UV index of 6-7 is "high", 8-10 is "very high" and 11 and above is "extreme."
UV radiation causes sunburn, cell damage in the skin and skin cancer. 
Youth Union's 90th founding anniversary celebrated in Laos
The Ho Chi Minh Communist Youth Union (HCYU)'s chapter in Laos and the Vietnamese Embassy in Laos co-organised a meeting in Vientiane on March 26 to celebrate the union's 90th founding anniversary (March 26, 1931 - March 26, 2021).
Speaking at the event, Secretary of the Executive Committee of the chapter Tran Dai Thang reviewed the glorious tradition of the HCYU since its inception, noting that with its pioneering role, the union has made important contributions to the cause of national construction and defence.
He affirmed that the chapter will continue to well perform its functions, duties and role in the coming time, contributing to building and defending the fatherland of Vietnam as well as constantly fostering the special friendship and solidarity between the youth unions and people of the two countries.
As part of activities to celebrate the HCYU's 90th founding anniversary, in addition to art programmes and sports exchanges, an exhibition showcases hundreds of photos featuring the HCYU's activities as well as the cooperation of the Vietnamese and Lao youth unions over the past time./.
Morocco, Vietnam enjoy sound friendship, cooperation: diplomat
Vietnam and Morocco have shared sound friendship and partnership in all fields over the past six decade, Moroccan Ambassador to Vietnam Jamale Chouaibi said in an interview granted to the Vietnam News Agency (VNA) on the occasion of the 60th anniversary of bilateral diplomatic relations (March 27).
The commemoration is an opportunity to celebrate the friendship between the two countries' people, to assess the progress of cooperation between our two countries and to reflect on the best ways to strengthen and broaden the scope of this cooperation, the diplomat said.
Noting that relations between Morocco and Vietnam existed long before the establishment of diplomatic relations in 1961, he said the shared interest in strengthening collaboration between the two countries reflects their common desire to promote and consolidate South-South cooperation, and respond to global economic, political, social and environmental challenges, mainly through the sharing of experiences and good practices, and the promotion of knowledge and expertise among developing countries.
In terms of politics, Morocco and Vietnam share several fundamental principles relating to their external relations, and pledge to implement the principle of settling disputes through dialogue, negotiation and mediation.
The two countries' political ties have been also strengthened via increasing the exchange of high-level delegations, at government and parliamentary level.
The visit by National Assembly Chairwoman Nguyen Thi Kim Ngan to Morocco in March 2019, and the tour of Vietnam by President of the House of Representatives of Morocco Habib El Malki in December 2017 were milestones in fostering political and parliamentary cooperation between the two countries, he said.
Morocco, Vietnam enjoy sound friendship, cooperation: diplomat hinh anh 2
National Assembly Chairwoman Nguyen Thi Kim Ngan to Morocco (R) welcomed by President of the House of Representatives of Morocco Habib El Malki during the former's visit to Morocco in March 2019 (Photo: VNA)
Morocco and Vietnam have maintained regular consultations, through the Joint Committee mechanism. The two countries have so far held four joint committee meetings and five political consultation sessions. The 5th meeting of the Joint Committee and the 6th session of bilateral political consultations are scheduled for next November in Rabat, he added.
On the economic aspect, the positive development of bilateral cooperation is reflected by an increase in trade of nearly 50 percent during 2015 and 2019. Vietnam is currently Morocco's second largest trading partner in ASEAN.
Bilateral economic relations have been strengthened by the signing of trade agreements and memoranda of understanding (MoUs) between the ministries in charge of trade. A trade agreement was recently signed between the Ministry of Industry and Trade of Vietnam and the Ministry of Industry, Investment, Trade and Digital Economy of Morocco to promote cooperation in many areas of common interest, such as renewable energies, textiles, clothing, electronics and mechanical industries, chemical industry and fertiliser production.
A MoU between the two ministries in charge of trade was also signed recently on the establishment of a subcommittee on trade and industrial cooperation with the aim of promoting bilateral trade and supporting SMEs.
Meanwhile, he noted that the two sides are determined to strengthen and expand their bilateral partnership. This is evidenced by the growing number of agreements signed between the two countries, which cover a wide range of sectors such as trade and investment, energy and mining, banking, education and training, air services, as well as MoUs between several universities and cities of the two countries.
Although bilateral trade has yet to reach its potential and met both sides' expectations, it is growing year by year, he said.
Morocco's upcoming appointment an Honorary Consul in Ho Chi Minh City is expected to give new impetus to trade and business opportunities between the two countries, he said, adding that plans and visions both are looking towards in terms of renewable energies, digital transformation, tourism, agriculture, infrastructure and logistics, industrial and technological acceleration, with the aim of becoming leading emerging economies in their respective regions, should be opportunities for Morocco and Vietnam to share their experience, expertise and know-how through the establishment of joint sectoral committees in the areas.

The ambassador highlighted a virtual photo exhibition on historical and remarkable landmarks since the establishment of diplomatic relations between the two countries. The exhibition has been organised by the Moroccan Embassy in Hanoi the VNA.
A series of economic and cultural events will be held through 2021 with the participation of heads of ministries and departments as well as experts, scientists and researchers, he added.
He held that Vietnam is now one of the few countries to successfully achieve the dual targets of combating COVID-19 pandemic and boosting economic development.
He attributed the success to the leadership of the Communist Party of Vietnam in applying measures to combat the pandemic and encouraging the involvement of all people in the fight./.
Source: VNA/VNS/VOV/VIR/SGT/Nhan Dan/Hanoitimes