VIETNAM NEWS HEADLINES JULY 22
VN reports record daily increase with 6,194 new cases


A total of 6,194 new COVID-19 cases were detected on Thursday, the largest ever number in a single day.
It brings the national tally to 74,371 since the first positive patient emerged in January last year.
But there were 1,450 people given the all-clear from coronavirus, a record number of recoveries in a 24-hour period. The total amount of people to beat COVID-19 now stands at 13,421. 
Of Thursday's new cases, 30 were people entering the country and immediately quarantined on arrival.
From the remainder of the new infections, 5,164 people were already in quarantined or locked down areas.
HCM City, the current epicentre for infections, saw 4,218 new cases.
The rest were located in Bình Dương Province (679), Long An Province (432), Đồng Nai Province  (210), Đồng Tháp Province (117), Tiền Giang Province (68) , Bến Tre Province (65), Bà Rịa - Vũng Tàu Province (63), Hà Nội (50), Cần Thơ Province (45), Vĩnh Long Province (38), Đà Nẵng City (27), Bình Thuận Province (26), Phú Yên Province (21), An Giang Province (15), Hậu Giang Province (12), Kiên Giang Province (11), Trà Vinh Province (9), Sóc Trăng Province (8), Bắc Ninh Province (7), Đắk Lắk Province (6), Bình Phước Province (5), Khánh Hòa Province (5), Quảng Nam Province (5), Bình Định Province (4), Hải Phòng City (3), Sơn La Province (2), Quảng Bình Province (2), Vĩnh Phúc Province (2), Đắk Nông Province (2), Hưng Yên Province (2), Thừa Thiên-Huế Province (1), Kon Tum Province (1), Lào Cai Province (1), Quảng Ngãi Province (1) and Hà Tĩnh Province (1).
The total number of people vaccinated against COVID-19 has now reached nearly 4.4 million. Of those, 4,042,984 million have received one shot. 
Tropical depression located about 110km from Mong Cai City 
At 7am on July 22, the centre of a tropical depression was located on the mainland south of Guangxi Province (China), about 110km east-northeast of Mong Cai City in Quang Ninh Province, according to the National Centre for Hydro-Meteorological Forecasting (NCHMF).
The strongest winds near its centre were at 40-50 km/hour, with shock at level 8.
Over the next 24 hours the tropical depression will move southwest at a speed of about 5km per hour.
At 7am on July 23, its location is forecast to be about 21.3 degrees north latitude and 108.4 degrees east longitude, on the north sea of the Gulf of Tonkin, about 60km southeast of Mong Cai City. The strongest winds near its centre will be 40-50 km/hour, with gusts of level 8.
The danger zone in the sea will be at 20.5 degrees north latitude and 107.5-110.0 degrees east longitude in the next 24 hours. All vessels operating in the danger zone are at high risk of being affected by strong winds, high waves, and tornadoes.
For the following 24-48 hours, the tropical depression is likely to change direction and move south-southeast at a speed of 5-10km/hour and weaken into a low-pressure area. By 7am on July 24, its centre is forecast to be about 19.9 degrees north latitude and 108.9 degrees east longitude right on the northwest coast of Hainan Island (China). The strongest winds in the centre of the low-pressure area will have decreased to below level 6 (under 40km/hour), with its disaster risk at level 3.
It's been warned that the Gulf of Tonkin waters will face strong winds of level 5, even level 6 at times, with shock at level 11; as well as 2-3m high waves.
In addition, due to the influence of the southwest monsoon, the waters from Binh Thuan to Ca Mau will suffer southwest winds of level 6, at times level 7, with gusts of level 8-9. The middle and southern part of East Sea/South China Sea (including the waters of the Truong Sa Archipelago) and the waters from Binh Dinh to Ninh Thuan will experience strong southwest winds of level 5 and level 6 at times, with shock at level 7-8 and high sea levels from 2-4m.
The waters from Binh Thuan to Ca Mau, and from Ca Mau to Kien Giang will suffer from showers and thunderstorms, with the possibility of tornadoes and strong gusts.
Additional 2,967 new COVID-19 cases reported on July 22 morning
Additional 2,967 new COVID-19 infections, including two imported cases, were recorded, from 7:30pm on July 21 to 6am on July 22, raising the national count to 71,144, according to the Ministry of Health.
The majority of new infections were found in Ho Chi Minh City, the current largest hotspot, with 2,433 cases.
It was followed by Long An with 233 cases, Binh Duong 64, Dong Nai 53 ca, Tien Giang 41 ca, Vinh Long 38, Ben Tre 28, Da Nang 27, An Giang 15, Kien Giang 10, Hau Giang and Binh Phuoc each five , Hai Phong and Can Tho each three, Hanoi, Son La and Quang Binh each two , and Hue one.
The number of cases reported since the fourth coronavirus wave hit the country late April reached 67,473, including 9,197 recoveries, raising the total recoveries to 11,971.
So far, nine out of 61 localities have spent at least 14 days without any new cases, including Yen Bai, Quang Tri, Tuyen Quang, Thai Nguyen, Dien Bien, Hai Duong, Quang Ninh, Hoa Binh and Bac Kan.
On July 21, 31,220 more people received COVID-19 vaccine shots, bringing the total doses administered in the country to 4.367,939 million. A total of 324,955 people have been fully vaccinated with two jabs.
VABIOTECH, one of Vietnam's leading pharmaceutical companies, and the Russian Direct Investment Fund (RDIF) on July 21 announced the production of a test batch of the Russian Sputnik V vaccine against the coronavirus in Vietnam.
Licenced in Vietnam on March 23, 2021, Sputnik V vaccine has been allowed in 68 countries across the world with high level of safety and efficacy./.
PM orders investigation into alleged Covid-19 vaccination without registration
Amid the spread of information that a woman from Hanoi and her husband were injected with the Pfizer Covid-19 vaccine without registering, Prime Minister Pham Minh Chinh has asked the Ministry of Health and other competent agencies to launch an investigation into the case.
If the information is accurate, the individuals and organizations involved must be punished in line with the law and similar cases must not be repeated, the local media reported.
The prime minister also asked the Ministry of Health and localities to distribute Covid-19 vaccines in a fair, transparent, flexible and effective manner, give the vaccines to the priority groups concerned and ensure fair access to the Covid-19 vaccines.
The Ministry of Health on July 20 also directed its inspectors to ask the director of the Viet Xo Friendship Hospital to explain the case and report the results to the ministry.
The woman had earlier posted on her Facebook page that she and her husband had received the Pfizer Covid-19 vaccine doses thanks to her father's connections. The information has sparked public concern as Vietnam has reserved the vaccines for priority groups and registration is mandatory before receiving the vaccines.
On July 20, Hanoi Vice Chairman Chu Xuan Dung asked the director of the municipal Department of Health to clarify another case in which another woman was injected with the Covid-19 vaccine at the Xanh Pon Hospital due to her connection with a leader of the hospital.
Man who set himself on fire was not protesting city's pandemic prevention plan: HCMC authorities
A local man setting himself on fire in the middle of the street on Monday was not protesting the city's pandemic prevention plan in Thủ Đức City as rumoured, according to the People's Committee of Trường Thọ Ward.
The ward authority said the 46-year-old man, who lives with his sister's family, has a permanent residence at Street 11, Trường Thọ Ward, Thủ Đức City.
According to his family, he has a medical certificate that lists a mental disorder level 2. The ward's People Committee said the man was being treated in the emergency room in the Burns Department of Chợ Rẫy Hospital.
The authorities are currently investigating the incident and the rumours. 
Political consultation held to reinforce Vietnam - Mexico relations
The 6th Vietnam - Mexico political consultation took place via videoconference on July 21 to look into each country's situation, measures to enhance bilateral relations, and issues of shared concern.
Vietnamese Deputy Minister of Foreign Affairs Nguyen Quoc Dung and Mexican Undersecretary of Foreign Affairs Carmen Moreno Toscano informed each other about their respective countries' response to COVID-19 and efforts to boost socio-economic development and ensure social security.
They reviewed areas of bilateral cooperation and discussed ways to further strengthen the traditional friendship and collaboration so as to work towards the establishment of a suitable partnership between Vietnam and Mexico in the time ahead.
They agreed to keep close coordination to sustain the upward trend in their countries' ties, promote high-level mutual visits and meetings when possible, effectively maintain cooperation mechanisms, and encourage contact and cooperation in different forms between Vietnamese and Mexican ministries and sectors.
Dung expressed his delight at the vigorous development of economic - trade links, noting that Mexico is currently the third largest trade partner of Vietnam in Latin America, with their trade hitting 3.68 billion USD in 2020.
For her part, Toscano affirmed Vietnam is one of the important political and economic partners of her country in Asia, especially when both are members of the Comprehensive and Progressive Agreement for Trans-Pacific Partnership (CPTPP).
The two officials agreed to step up negotiations on some agreements so as to complete the legal framework for cooperation in such spheres as politics - diplomacy, economy - finance, security - defence, plant and animal quarantine, and education - training.
They also exchanged views on some international and regional issues of common concern, agreeing to continue coordination and mutual support at international organisations and multilateral forums of which Vietnam and Mexico are members such as the United Nations, the World Trade Organisation (WTO), and the Asia-Pacific Economic Cooperation (APEC) forum.
The two countries will also work to enhance ties between the Association of Southeast Asian Nations (ASEAN) and the Pacific Alliance, they added./.
Vehicle registration services available online starting July 21
Local people can register new vehicles, transfer vehicles or report stolen vehicles via an online platform of the Traffic Police Department starting on July 21.
Do Thanh Binh, deputy head of the department under the Ministry of Public Security, said that local people can visit the portal of the department to make vehicle registrations and access relevant services.
The police will reply to vehicle registration requests by email or phone.
The online services are expected to help local people save time and reduce one-on-one contact to avoid the risk of Covid-19 transmission, Binh said.
By visiting the portal, local people can carry out a wide range of online services such as registering a vehicle for the first time; registering to transfer the vehicle ownership; changing or renewing vehicle registration certificates, number plates and recalling vehicle registration certificates, number plates.
Through the portal, they can also report lost vehicles, vehicle registration certificates, number plates and other vehicle-related documents; damaged vehicles that cannot be used; expired vehicles; sold vehicles whose ownership has yet to be transferred, without having to visit the local competent agencies.
Once the applications for vehicle registration services are completed, people can opt to visit the local competent agencies to get the results or receive them by post.
Hanoi returnees from COVID areas face stricter quarantine
All people returning to Hà Nội from COVID-19 hit localities that are undergoing social distancing must isolate at concentrated, quarantine centres from midnight Wednesday under tough new regulations.
Only those conducting COVID-19 prevention and control tasks will be exempt.
The authorities said the move was in response to the number of people still failing to abide by COVID-19 prevention and control regulations.
People gathering in large numbers has still been seen in recent days while thousands of people are also returning to Hà Nội, posing a high risk for further domestic infections.
The city has also recorded a number of new cases at a pharmaceutical establishment as well as through testing of those who have symptoms of fever, coughing and difficulty breathing.
Chairmen of People's Committees in districts and communes are required to build COVID-19 prevention and control plans, organise drills and assign people on duty around the clock at authorised agencies' offices and at local medical establishments to deal with any emerging situations.
They are also ordered to increase supervision in the community, closely watch those returning from other localities, and increase information dissemination to raise public awareness of the importance of abiding regulations as well as strictly punish violators.
Local health facilities have also been instructed to train human resources and prepare enough staff, equipment and medical supplies.
Meanwhile, authorities in Đà Nẵng City temporarily suspended taxis, both cars and motorbikes, and delivery services from 12pm on July 22 amid rising COVID-19 concerns.
The suspension is applied to taxi services and other contracted vehicles under nine seats
Cycling activities and gatherings of more than two people will also be banned.
The move follows several coronavirus outbreaks recorded in the central city. The city has recorded 279 new cases since July 10.
The city also ordered all citizens to stay at home and only go out if absolutely necessary. 
Checkpoints cause traffic jams for drivers heading into Hà Nội
Checkpoints established to prevent the spread of COVID-19 in Hà Nội are creating traffic jams around the city. 
A Vietnam News Agency correspondent photographed the Liên Ninh toll station on Pháp Vân-Cầu Giẽ Highway in Thanh Trì District, with thousands of cars lined up for kilometres, at about 8am on Tuesday. 
At the medical declaration desk, dozens of people were crammed together, causing problems for the control force. It has reportedly taken hours for some vehicles to get through. 
At a similar checkpoint on Highway 5 in Gia Lâm District, at 10am on Tuesday, hundreds of vehicles stretched for about two kilometres leading to traffic jams.
Hà Nội Police confirmed there was congestion at a number of checkpoints and medical staff and the police force were stretched thin.
Colonel Dương Đức Hải, head of the Traffic Police Department said that his unit has assigned 795 traffic police, 421 mobile police, 812 medical officers, 539 grassroots officials and many other forces have participated in 22 posts throughout the day.
At a meeting of the Steering Committee for COVID-19 Prevention and Control in Hà Nội on Tuesday afternoon, deputy director of the Hà Nội Public Security Department Trần Ngọc Dương said that the control of vehicles at 22 checkpoints were caused by the lack of manpower. In particular more medical staff were needed. 
To overcome this, the department has arranged more personnel to reduce the load at the checkpoints. In addition, the unit has also assigned different lanes for trucks and container trucks to pass through without stopping.
Director of the Department of Transport Vũ Văn Viện said that the department had stopped passenger cars to 37 provinces and cities to ensure a 50 per cent reduction in passengers on public transport.
Chairman of the Hà Nội People's Committee Chu Ngọc Anh on Tuesday also directed the Department of Health and related units to quickly assess medical declarations by scanning QR codes to manage people entering and leaving the city, especially from pandemic areas to ensure effective prevention of the pandemic.
Important reports to be delivered at 15th NA's first session
Lawmakers are expected to hear reports on socio-economic and State budget situation in the first half of 2021 and discuss orientations for the second half, and a socio-economic development plan for 2021-2025 on July 22 – the third working day of the 15th National Assembly's first session.
On the morning, Deputy Prime Minister in the 2016-2021 term Pham Binh Minh will deliver a report assessing the implementation of the socio-economic development and State budget plan in the first six months of this year and solutions for the remaining months.
President of the Vietnam Fatherland Front Central Committee Do Van Chien will present a report summarising opinions and recommendations of voters and people sent to the first session of the 15th National Assembly, while Minister of Planning and Investment in the 2016-2021 term Nguyen Chi Dung will report on the five-year socio-economic development plan for 2021-2025.
Head of the NA's Economic Committee Vu Hong Thanh will present verification reports on these issues.
The sitting will be broadcast live.
After that, Minister of Finance in the 2016-2021 term Ho Duc Phoc is expected to present a proposal to the National Assembly for approval of the state budget settlement in 2019, while State Auditor General Tran Sy Thanh will deliver the State Budget Audit Report in 2019. A verification report on the state budget settlement in 2019 will also be presented.
The National Assembly will privately listen to the Government's report and the NA's verification report on the Government's structure for the 2021-2026 term and discuss the issue in groups.
In the afternoon, the NA will discuss in groups regarding the socio-economic and state budget matters as well as the socio-economic development plan for 2021-2025./.
Two Hanoi-HCM City round-trip flights run daily starting July 22
There will be only two round trip passenger flights daily between Hanoi and Ho Chi Minh City, the nation's largest pandemic hotspot, starting 0:00 on July 22.
The decision was part of a document sent by Deputy Minister of Transport Le Anh Tuan to the Civil Aviation Authority of Vietnam (CAAV) on July 21.
Also per the document, all passenger flights between the capital and the Mekong Delta city of Can Tho as well as between Hanoi and the Mekong Delta province of Kien Giang's Phu Quoc island will be suspended at the same time.
These decisions will last until further notice.
Cargo flights are carried out unrestricted. Regarding flights for the purpose of disease prevention and control and those serving official duties, airlines ought to report to the CAAV for consideration and settlement on a case-by-case basis. Other non-routine flights must be authorised by competent authorities.
All passengers must show documents certifying they test negative for SARS-CoV-2 as requested by the Health Ministry./.
36 more COVID-19-related deaths reported
The National Steering Committee for COVID-19 Prevention and Control on July 21 afternoon announced 36 new deaths in HCM City, Dong Thap and Long An provinces.
The new deaths were recorded between July 17 and 29, increasing the total number of fatalities in the country to 370.
Among them, 32 were reported in HCM City, the country's current largest COVID-19 hotspot.
Long An province reported two deaths from July 18 to 19 and other two deaths in Dong Thap on July 19.
Most of them are patients with long-standing underlying medical conditions./.
HCM City to start inoculation of additional 930,000 vaccine doses
Ho Chi Minh City will begin the fifth phase of its COVID-19 vaccination drive on July 22, with 930,000 doses to be administered. 
The municipal Department of Health said the vaccination will be carried out at 20 hospitals, alongside 615 commune- and ward-based vaccination sites. The fifth phase is scheduled to complete in two weeks.
During this phase, priority will be given to people with underlying health conditions, those aged above 65, preferential social policy and welfare beneficiaries, the poor, the vulnerable, medical and other frontline workers.
As of July 21 morning, HCM City has reported 39,526 coronavirus cases since the fourth wave hit Vietnam in late April, making it the country's largest hotspot.
More than 3,600 COVID-19 patients have been discharged from hospitals as of July 20, according to the city's Department of Health./.
HCM City establishes concentrated quarantine facilities in districts for asymptomatic COVID-19 patients
The Ho Chi Minh City People's Committee on July 21 decided to set up concentrated quarantine facilities in its districts and Thu Duc city for COVID-19 patients who show no symptoms, to ease the pressure on hospitals amid the complicated developments of COVID-19 pandemic. 
Those facilities will receive patients without clinical symptoms and underlying diseases and monitor their health so as to promptly discover abnormal symptoms that are likely to turn serious.
In case the condition of any patients worsens, the facilities must promptly put them on oxygen ventilators, and transfer them to hospitals for timely treatment.
Each facility must be equipped with all necessary equipment and supplies to give emergency treatment to patients pending transfer to hospitals./.
First batch of Sputnik V vaccine produced in Vietnam

VABIOTECH, one of Vietnam's leading pharmaceutical companies, and the Russian Direct Investment Fund (RDIF) on July 21 announced the production of a test batch of the Russian Sputnik V vaccine against the coronavirus in Vietnam.
According to VABIOTECH, the made-in-Vietnam Sputnik V vaccine will be used in the national immunisation programme after the technology transfer is completed and it goes through quality control by Gamaleya Center, the Russian research institute that develops the Sputnik V vaccine.
To date, Sputnik V has been registered in 68 countries with a total population of over 3.7 billion, which is nearly half of the global population. The data obtained by regulators of a number of countries during the vaccination of people in Mexico, Argentina, Serbia, Bahrain, Hungary, the UAE, and others, demonstrates that Sputnik V is one of the safest and most effective vaccines against the coronavirus.
In Vietnam, Sputnik V got the approval by the Ministry of Health on March 23, 2021.
"RDIF and VABIOTECH are actively cooperating in the technology transfer process to provide easier access to Sputnik V for the population of Vietnam," said Kirill Dmitriev, CEO of the RDIF.
"As the pandemic is far from over and new, more dangerous variants of coronavirus are being detected in various regions of the world, the RDIF is increasing capacities for production of Sputnik V to speed up the vaccination with one of the best vaccines in the world," he added.
President of VABIOTECH Do Tuan Dat said he hopes the cooperation between the RDIF and his firm will help provide quality and affordable COVID-19 vaccines to Vietnam and other Southeast Asian countries./.
Over 5,340 new domestic COVID-19 cases reported on July 21
Vietnam reported 5.357 new infections of COVID-19, including 14 imported cases on July 21.
Among the new domestic infections, 1.081 cases were detected in the community, and the remainders in quarantined facilities or sealed-off areas.
Ho Chi Minh City recorded the highest number with 3,556 cases, followed by the southern provinces of Binh Duong (964), Dong Nai (170) and Dong Thap (109).
Other cases are from Tien Giang (65), Long An (60), Hanoi (42), Vinh Long (39), Khanh Hoa (38), Ben Tre (35), Can Tho (32), Tay Ninh (30), Phu Yen (26), Ninh Thuan (22), Ba Ria-Vung Tau (18), Vinh Phuc (18), Dak Lak (17), Binh Phuoc (12), Kien Giang (12), Tra Vinh (10), Hau Giang (9), Binh Dinh (8), Binh Thuan (7), Ha Giang (6), Quang Ngai (6), Soc Trang (6), Nghe An (5), Lam Dong (5), Dak Nong (4), Bac Ninh (4), Hung Yen (3), Lang Son (2), Gia Lai (1), Phu Tho (1), and Thanh Hoa (1).
The national tally has to date reached 68,177, including 66,078 domestically-transmitted and 2,099 imported cases.
Also on July 21, as many as 528 patients have recovered fully, raising the total number of recoveries to 11,971.
A total of 4,336,833 million COVID-19 vaccine doses have been administered nationwide./.
Forum looks into job opportunities for female workers on digital platforms
The eighth Vietnam-Republic of Korea Women's Forum was held in Hanoi on July 21, exploring the impact of digital technology on women's participation in economic activities and finding solutions to existing problems.
Co-organised by the Vietnam Women's Union (VWU) and the Korean Women's Development Institute (KWDI), the forum aimed to share and learn about opportunities and challenges, experiences, and possibilities for domestic and foreign cooperation to support women's international integration, helping them avoid being left behind in the transition process. It also contributes to enhancing understanding and cooperation between women in the two countries. 
Addressing the forum, VWU Vice President Tran Thi Huong said the forum's theme – Women in the digitalisation world - is related to a very hot issue, reflecting the problems that women are facing. 
The information from the forum would serve as valuable suggestion for the union when deciding priorities for a new tenure at the 13th National Women's Congress slated for March 2022.
"The Vietnam Women's Union and the KWDI have had many cooperation activities, actively contributing to the strategic cooperative partnership between the two countries," she said.
According to Huong, the goal of the union is to continue to provide women with training on digital skills and guide them in applying digital technology in production and business. Women will be encouraged to increase the use of online payment, use the internet safely in commercial transactions, and utilise the internet to look up information and improve their knowledge.
Moon Yu Kyung, Director of the KWDI, said the RoK is actively approaching digital transformation in employment. The number of female employees working on digital platforms is increasing, as more and more Korean women want to balance work and family.
However, she said, working on a digital platform also created problems for them such as high costs or unclear definition between self-employed people and wage earners.
Advanced digital technology is rapidly entering the labour market, creating new jobs and improving working conditions for women. However, digital transformation also raises concerns about job polarisation and the "blind spot" of professional development, she said.
Participants at the forum said to work effectively on digital platforms, it is a must for managers in each country to have plans to expand the coverage to reduce blind spots in the social protection system and devise solutions to the personality differences of the digital labour platform for women./.
Second working day of 15th National Assembly's first session
The 15th National Assembly (NA)'s first session entered the second working day on July 21 under the chair of NA Chairman Vuong Dinh Hue.
In the morning, lawmakers adopted resolutions on the election of NA Secretary General, Chairperson of the Council for Ethnic Affairs, heads of NA Committees, and State Auditor General. The posts were elected via secret ballots.
They also heard NA Secretary General Bui Van Cuong presenting a proposal on the legislature's 2022 supervision programme. The proposal gained a high consensus among participants.
A report on results of the approval of personnel for the posts of Vice Chairperson of the Council for Ethnic Affairs, Vice Chairpersons of NA committees, and members of the NA Standing Committee was also presented.
In the afternoon, Chairman of the NA Law Committee Hoang Thanh Tung presented a proposal on the law and ordinance building programme for 2022 as well as adjustments to the 2021 law and ordinance building programme. Opinions revolving around the topic highly agreed with the proposal.
On July 22, the NA will convene a plenary sitting to hear reports on socio-economy; the State budget; feedback and recommendations of constituents and people submitted to the session; and a socio-economic development plan for 2021-2025. The sitting will be broadcast live.
The legislators will then hear a proposal asking for the NA's approval of the 2019 State budget final settlement and an audit report on the final settlement.
After that, the National Assembly will privately listen to the Government's report and the NA's verification report on the Government's structure for the 2021-2026 term and discuss the issue in groups.
In the afternoon, the NA will discuss in groups regarding the socio-economic and state budget matters as well as the socio-economic development plan for 2021-2025./.
Reducing COVID-19 infections, fatalities – top priority: meeting
The top priority now is to reduce COVID-19 infections and fatalities, as the pandemic is expected to develop more complicatedly in Ho Chi Minh City and other southern localities in the coming days, with a rise in cases, especially critical ones.
Minister of Health Nguyen Thanh Long on July 21 chaired an online meeting with the health ministry's forces that are assisting HCM City, and Binh Duong, Tien Giang, Dong Thap, Dong Nai and Long An provinces in the pandemic combat.
To ease hospital overload, the participants agreed to classify COVID-19 cases, including suspected cases, patients and severe cases.
Those in critical conditions will be treated at medical facilities with ICUs or the city COVID-19 ICU hospital. Meanwhile, the others will be admitted to temporary hospitals or district-level medical facilities.
Long said the classification would help to improve COVID-19 treatment efficiency./.
Viet Nam to have over 91 million COVID-19 vaccine doses in second half
Viet Nam will receive 91.5 million COVID-19 vaccine doses in the second half of 2021, including 20 million doses of Pfizer vaccine for children under 18, said Director of the National Institute of Hygiene and Epidemiology Dang Duc Anh on July 19.
This week, around 3 million doses of Moderna vaccine donated by the U.S. Government via COVAX Facility will arrive in Viet Nam, he added.
Meanwhile, Pfizer agreed to increase vaccine supply for Viet Nam from three million to 3.5 million doses in the third quarter and additional 20 million doses for the whole year, raising the total number of scheduled Pfizer doses to 51 million, an increase of 20 million compared to the plan.
Thus, the country expects to have 175 million COVID-19 vaccine doses, including 105 million doses from various sources committed for Viet Nam and 70 million ones under negotiations and scheduled to be signed in 2021 and early 2022.
So far, Viet Nam has received 10.6 million COVID-19 vaccine doses, comprising of 7.1 million doses of AstraZeneca, two million doses of Moderna and 194,200 doses of Pfizer.
More than 26 million COVID-19 vaccine doses will land in Viet Nam in the third quarter and the figure will rise to 65.5 million in the fourth quarter of the year, Dang highlighted.
As of late July 19, 4,305,501 vaccine doses were administered, with 309,791 people fully vaccinated.
Viet Nam has documented 60,180 COVID-19 cases, 56,530 of whom are locally-transmitted cases who were detected since April 27 when the fourth wave of COVID-19 resurgence began.
The numbers of recoveries and fatalities are 11,047 and 334, respectively./.
President affirms policies towards revolution contributors, AO victims
The Vietnamese State has issued many policies to support families that have rendered contributions to the revolution, and Agent Orange (AO)/dioxin victims, State President Nguyen Xuan Phuc said on July 21.
He made the statement at a meeting with the Vietnam Martyrs' Family Support Association (VMFSA) and the Vietnam Association for Victims of Agent Orange (VAVA) on the occasion 74th War Invalids and Martyrs Day (July 27) and the 60th anniversary of the AO/dioxin disaster in Vietnam.
The President lauded the two associations for their practical activities, helping to materialise guidelines and policies of the Party and the State towards families of war invalids and martyrs, and AO victims.
In the context of the COVID-19 pandemic, the associations should continue to coordinate with competent ministries and agencies in caring for them, he said, adding that Vietnam counts more than 560,000 families of martyrs.
Since its inception in 2004, the VAVA has expanded its network to 63 cities and provinces, with over 4,000 members. It has played an active role in campaigns asking for the settlement of consequences of the toxic chemical sprayed by US troops during the war in Vietnam.
Established more than 10 years ago, the VMFSA has nearly 100 branches gathering nearly 10,000 members. The association has advised and coordinated with the Ministry of Labour, Invalids and Social Affairs to recognise hundreds of martyrs./.
HCM City to start inoculation of additional 930,000 COVID-19 vaccine doses
Ho Chi Minh City will begin the fifth phase of its COVID-19 vaccination drive on July 22, with 930,000 doses to be administered, according to the municipal Department of Health.
It will be carried out at 20 hospitals, alongside 615 commune- and ward-based vaccination sites. The fifth phase is scheduled to complete in two weeks.
During this phase, priority will be given to people with underlying health conditions, those aged above 65, preferential social policy and welfare beneficiaries, the poor, the vulnerable, medical and other frontline workers.
The city has so far received 2 million doses of COVID-19 vaccines from the Ministry of Health. The ministry plans to supply three million more doses to the city in late August and early September, raising the total doses sent to the city to 5 million.
As of July 21 morning, HCM City has reported 39,526 coronavirus cases since the fourth wave hit Vietnam in late April, making it the country's largest hotspot. More than 3,600 COVID-19 patients have been discharged from hospitals as of July 20, according to the city's Department of Health said./.
Excellent Vietnamese students in France honoured
Nine excellent Vietnamese students in France were honoured with awards from the Union of Vietnamese Students in France (UEVF) and the Association of Vietnamese Scientists and Experts (AVSE Global) at a ceremony held recently in the Vietnamese Embassy in Paris.
The awards for outstanding Vietnamese students in France are presented annually, but the 2019 version has been delayed until recently due to the COVID-19 pandemic.
The winners included Nguyen Minh Tuan majoring in Mathematics and Computer Science from the Ecole Polytechnique, who won the award for undergraduate students; Dinh Thi Lan Anh, a lecturer from Thai Binh University of Medicine and Pharmacy, who won the award for master's degree holders and doctor-lecturers; and Hoang Van Thuan who won the award for graduate researchers.
On this occasion, the Embassy also presented certificates of merit to the award winners.
Speaking at the award ceremony, Vietnamese Ambassador to France Dinh Toan Thang expressed his hope that the excellent students studying in France will contribute to the development of Vietnam in the future.
The awards, first presented in 2009, are sponsored by the Embassy of Vietnam in France and receive warm response from the Vietnamese student community in France with a large number of applications sent from all across France. To date, more than 40 Vietnamese students and researchers have received those awards.
According to Nguyen Khanh Linh, President of the UEVF, the organization of the 2019 awards has received support from many agencies and individuals. The judging panel was comprised of prestigious professors, doctors, experts in France and scientists of AVSE Global. But due to the epidemic, the awards ceremony had to be postponed to this year, and in September the UEVF will announce the 2021 excellent Vietnamese student award./.
Contest launched to spread green living ideas
A contest named "Show It NOW 2021" has been launched with the theme of 'Green Your Mind'.
The contest is organised by Arena Multimedia in collaboration with the Centre for Supporting Community Development Initiatives (SCDI) and Clean and Green Vietnam Organisation.
The contest aims to look for ideas and lifestyles that speaks of civilisation and good virtues in a person, expressed in extremely small actions in life. That's when you maintain general hygiene, do not litter, turn off the lights before leaving the company and save water.
The theme of the contest is reflected when you show civility in public places such as queuing or giving way to the elderly on a bus. It is the moment you wear a mask when you go out or when you know how to invest and take care of yourself by reading books to develop knowledge or exercising to improve your health.
At Show It NOW 2021, the participating contestants will submit works to compete in such categories as drawing, photography, design, and video. They will be divided into two contest groups for the community and students (for Arena students and alumni nationwide). The age to participate in this year's contest will range from 15 to 30 years old.
The total prize value of the contest is up to more than 600 million VND (26,000 USD), accompanied by many "passenger tickets" to join the Arena Multimedia creative community.
Entries will be accepted from July 15 until August 15, 2021. Contestants can visit the website http://show-it-now.art/ for more details./.
Fukushima issues stamp sets as host town of Vietnam's Olympic delegation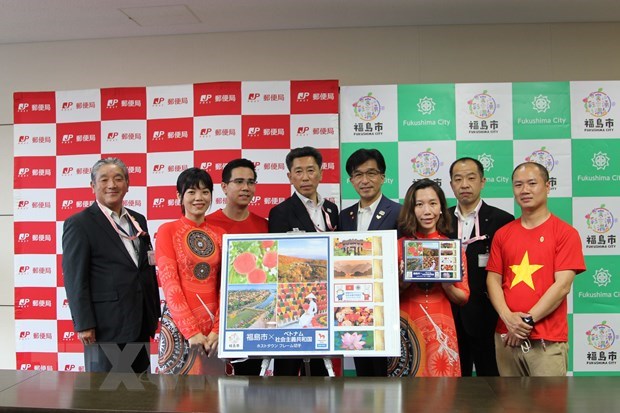 Sets of stamps issued by Fukushima Post 
The Fukushima Post under the Japan Post on July 21 issued two sets of stamps as Fukushima is the host town of the Vietnamese delegation during the Tokyo 2020 Olympics.
These stamp sets were designed and issued by the Fukushima Post in collaboration with the city's administration. Each set includes five stamps featuring the flags of Vietnam and Fukushima as well as famous landscapes and typical flowers and fruits such as Cau Pagoda - built by Japan in the early 17th century in Vietnam's Hoi An ancient city, lotus - the national flower of Vietnam, and peach - a famous fruit of Fukushima prefecture.
Priced at 920 JPY (8.37 USD) per set, these stamp sets will be sold at 90 post offices in Fukushima prefecture, two post offices in Tokyo and on the Internet.
Speaking at the ceremony to introduce the commemorative stamp sets, Fukushima Mayor Kohata Hiroshi said that as the host town of Vietnam, Fukushima has carefully prepared to welcome Vietnamese athletes before the Tokyo 2020 Olympics and Paralympics.
The Fukushima Post's Director Otosaka Satoru stated that the issuance of the stamp sets shows the city's encouragement for the Vietnamese sport delegation and aims to promote the image of the city./.
Community lend a hand improving transport system in Cần Thơ
A group of farmers in the southern city of Cần Thơ have been raising funds to fix roads and build bridges for nearly two decades, helping improve their living conditions.
Hứa Văn Khoảnh, 73, from Thới An Ward in Ô Môn District was one of the first people to join the group when it began.
Now they have more than 20 members, most of them farmers and builders. They usually spend their free time fixing local roads and replacing old wooden bridges with concrete ones.
Khoảnh said that with the concrete bridges, children could go to school safely without worries when crossing rivers on simple bamboo footbridges.
"With the concrete bridges, an ambulance could better reach our residential areas, taking sick people to the hospital," he said.
Khoảnh's daughter, Hứa Thị Cẩm Tuyết said: "For the last few years, whenever people see me arrive their houses, they know that I will be asking for a donation to build a new bridge.
"At the beginning, it was unpleasant to ask for money but I get used to it after seeing people's willing to donate," she said, adding that some donated few tens of thousands of Vietnamese đồng, some gave hundreds of thousands of Vietnamese đồng and some even gave a few million.
Tuyết's responsibilities also include preparing meals and drinks for the volunteer builders.
Nguyễn Văn Bi, head of the volunteer group said that when it was set up in the late 1980s, to fix a part of the road, he had to drive a boat to An Giang province, asking for stones and bricks.
He and some other residents donated money to repair the road so that people could travel easily, he said.
Bi said: "Since then, whenever we see broken roads, we planned to fix.
"Government builds big roads and big bridges, we the residents help by building small ones."
He said that he did not remember how many roads and bridges they had built or repaired.
"We don't count the work. We just remember how happy people are when travelling on new bridges and new roads," Bi added.
Since the beginning of this year, the have group built five bridges and laid asphalt on some parts of the roads.
Đào Minh Huy, chairman of Thới An Ward People's Committee said that Bi's group raised about VNĐ1.5-1.7 billion (US$ 65,000-74,000) yearly to improve the transport system in the ward.
Thanks to the Government's investment and people's contribution, 95 per cent of roads in the ward were concreted or asphalted and better bridges were built too, he said.
A resident Lê Thị Út who lives near the newly-built May 7 Co-operative bridge said that people were so happy.
The bridge is 80m long and 3.6m wide. It was built with a donation of VNĐ200 million from the city's Youth Union and officially opened for traffic last month.
"We all supported Bi's team to build the bridge. Some donated money, other people cooked meals for the builders and some worked with them," Út said.
The poor scrape by amid Covid-19 in HCM City
Low-income people and the homeless are in an even more difficult situation as the Covid-19 outbreak spreads in HCM City.
Hundreds of homeless people often gather on Bach Dang, Phan Dang Luu and Ba Thang Hai streets, waiting for charity gifts. Nguyen Thi Hong from Quang Ngai Province said everyone was homeless and unemployed. Hong used to sell lotto tickets on the streets for little income. However, after the fourth wave of Covid-19 broke out, she can't work anymore.
"Some people give me rice, sometimes it's a loaf of bread or money which is enough to live on," she said.
Cong, another homeless person from Danang, also sold lotto tickets before the new Covid-19 outbreak. "I couldn't pay my rent anymore or find any jobs during this time," he said. "I feel ashamed to be begging for food like this while I'm still healthy."
Huynh Thien Hoa said just a month ago, she was still able to earn money from a little street stall. But now she collects scrap along Bach Dang Street for VND10,000 (USD0.43) to VND15,000 a day. She refused charity gifts, saying that she can still work.
Lam Thi Phuong said after they were abandoned by her husband, she brought her daughter from Soc Trang to HCM City. Phuong washed the dishes for a local restaurant to raise her daughter. But the restaurant was closed and she became unemployed. Thanks to kind people, they are not starving but have to sleep on the pavement as they cannot afford the rent anymore.
Le Minh Tan, director of HCM City Department of Labour, Invalids and Social Affairs said they would review the situation and bring the homeless people to social protection centres during the social distancing period as part of Covid-19 prevention efforts.
"The centres will help take care of the homeless people," he said.
Zero dong supermarkets opened to support the needy in Ho Chi Minh City
Many zero dong supermarkets have been opened in Ho Chi Minh City to support disadvantaged people and workers through the pandemic.
Do Van Duc, the manager of a zero-dong supermarket, said that the outlet was openned in Binh Thanh district which is home to many people affected by the pandemic. Disadvantaged people will be given a voucher worth VND300,000 ($13.07) each for shopping at zero-dong supermarkets offering heavily discounted prices.
The chain of 16 zero-dong supermarkets are operated by PNJ in collaboration with Ho Chi Minh City Department of Industry and Trade, the Business Association of High Quality Vietnamese Products and the Ho Chi Minh City Association for Women Executives and Entrepreneurs. There is also one online zero-dong supermarket for 5,500 students in a dormitory in the city.
Nearly 80,000 workers stay on-site in Ho Chi Minh City
Nearly 80,000 workers at more than 500 enterprises in Ho Chi Minh City continue working under the "three-on-the-spot" strategy.
A representative of Ho Chi Minh City Department of Industry and Trade (DoIT) said that businesses have actively joined hands with municial authorities to implement the three-on-the-spot strategy to maintain social distancing measures in line with Directive No.16/CT-TTg.
Up to now, more than 500 businesses in the city have implemented the "three-on-the-spot" strategy for nearly 80,000 employees. The DoIT has supported information and connected businesses with relevant stakeholders to provide ammenities such as beds and mattresses to set up on-site camps for employees. The efforts aim to fulfil the city's requirements for both quarantine and production at the factories.
Despite many difficulties, businesses have immediately arranged dining and resting areas for thousands of workers. If they fail to ensure safety requirements for employees, they have to temporarily suspend operations amid the largest outbreak of the pandemic.
The DoIT also maintains an online communication channel through associations to promptly support and resolve any challenges for businesses. For those suspending operations, the DoIT will review and provide appropriate support according to Resolution No.09/2021/NQ-HDND of Ho Chi Minh City People's Council.
Previously, Ho Chi Minh City People's Committee issued Document No.2237/UBND-TH requesting businesses to implement either "three on the spot" or "one road, two places" operations. The requirements aim to avoid the spread of coronavirus among workers.
Accordingly, enterprises in the "three on the spot" group must conduct production, dining, and resting on site for workers. For the "one road, two places" arrangement, businesses must ensure isolated production and residences in two separate locations, with a single transport route for workers to commute. Enterprises can also seek dormitories, hotels, or concentrated accommodations for workers.
Vietnamese festival in France impresses visitors
Vietnamese culture and cuisine were highlighted at the second Vietnamese Festival that took place from July 16-18 in La Plagne Tarentaise town, a popular destination in France's southeast region of Savoie. 
With more than ten booths introducing Vietnamese cuisine and traditional craft goods, the Vietnamese Festival drew a large number of tourists and local visitors.
Many activities were held in the framework of the festival, including a conference and film screening on the traditional culture and foods of Vietnam, along with performance of traditional music instruments, costumes, martial art and dragon dance.
On the occasion, the Vietnamese Culture Centre in France also held a photo exhibition introducing the nation and people of Vietnam, while the national flag carrier Vietnam Airlines brought its tourism promotion programmes.
Vietnam and France agreed to hold the annual Vietnamese Friendship from 2019. However, the event was cancelled in 2020 due to COVID-19.
According to Roland Beaumont, the third Vietnamese Festival will be held in Paris in summer 2022./.
Southern localities strictly follow social distancing rules
Southern provinces and cities have been seriously implementing regulations on COVID-19 prevention and control following the social distancing order under Government Directive 16, issued on July 19.
Local residents have overcome difficulties to stay at home and join hands with the authorities to stamp out the pandemic.
The streets in the centre of Can Tho City saw few people and vehicles on July 19 while the smooth supply of goods was ensured for the locals.
Local people in Dong Thap, Tay Ninh, Binh Phuoc, Ba Ria – Vung Tau and others are also strictly complying with the regulations on social distancing under Directive 16.
Southern provinces and cities have actively stockpiled essential goods to serve the demands of the people during the social distancing period.
In addition to the opening of supermarkets and convenience stores, traditional markets and wholesale markets are also allowed to operate so long as they can ensure the safety criteria for pandemic prevention and control.
"By the end July 19, Vung Tau City was not short of goods and necessities. The city is committed to providing enough medical equipment, medical supplies, and human resources to serve free testing in the entire community," said Secretary of Vung Tau Municipal People's Committee Tran Dinh Khoa.
Exhibition features Italian and Vietnamese landscapes
Two exhibitions introducing photos of Italian and Vietnamese landscapes, with the aim to raise understanding and respect for the living environment and the sense of protecting the living environment under the impacts of climate change, will be held at the Vietnam Museum of Ethnology from July 23 to August 23.
Organised by the Italian Embassy, the parallel exhibitions are titled "Italian Routes – Mountains, Mountaineering, Climate Change" and "Landscapes of Vietnam - Ecological Diversity, New Climate Pattern, New Discovery".
This is a project of the Italian Ministry of Foreign Affairs and International Cooperation, towards the 26th UN Climate Change Conference of the Parties (COP26) co-chaired by the UK and Italy, which will take place in November 2021.
The first exhibition, "Italian Routes - Mountains, Mountaineering, Climate Change", features outstanding works by photographer Fabiano Ventura. The showcase consists of three sections: General Introduction, Italian Mountains, and A Look at the World.
The highlight of the exhibition is Montagne Italiane (Italian Mountains), an ideal journey to explore the entire Alpine arc from west to east, starting from Gran Paradiso.
Nine mountains on the journey are also featured to reflect the evolution of the glacial masses, underlining the effects of climate change on the mountain landscape.
In addition, two video recordings of the expedition On the Trails of the Glaciers - Alps 2020 will be screened at the event.
The exhibition is based on the project On the Trails of the Glaciers promoted and organised by the non-profit association Macromicro.
It combines photographic comparison and scientific research to show the effects of climate change through the observation of glacier mass variations over the last 150 years.
Photographer Ventura, specialising in environmental issue, has been involved in the project as its creator and director since 2007.
With a team of researchers, photographers and filmmakers, he has been documenting the phenomenon of the retreat of the world's largest glaciers and disseminating the results of his work through exhibitions, conferences, educational programmes, installations and documentaries.
Photos highlight the evolution of the glacial masses, underlining the effects of climate change on the mountain landscape in Italy.
Meanwhile, the exhibition "Landscapes of Vietnam - Ecological Diversity, New Climate Pattern, New Discovery" will showcase works on Vietnamese caves and mountains taken by Vietnamese photographers Hoang The Nhiem, Hoang Giang Hai and Tran Dang Dang Khoa.
Not only do they include photos, videos and descriptions, the exhibitions will also showcase samples of climbing clothing and equipment, copies of documents about climbing history, combined with four online events about climbing: mountain exploration (July 31), climbing (August 7), photography (August 14), and climate change (August 19).
The exhibitions will take place at the Vietnam Museum of Ethnology from 8:30 am to 5:30 pm daily, the time and method of visiting may change depending on the epidemic situation. 
Vietnam to acquire 175 million doses of vaccine within 2021 and early 2022
It is expected that within 2021 and early 2022, Vietnam will procure about 175 million doses of COVID-19 vaccine.
On the afternoon of July 19, the Ministry of Health said that it had negotiated with Pfizer, a US multinational pharmaceutical and biotechnology corporation, and Pfizer agreed to increase the number of vaccines supplied to Vietnam from 3 million to about 3.5 million doses in the third quarter of 2021.
At the same time, Pfizer also agreed to sell an additional 20 million doses in 2021, bringing the total to 51 million doses of Pfizer vaccine for Vietnam.
As a result, in addition to the 105 million doses committed and contracted, 70 million doses are under negotiation and likely to be signed. It is expected that in 2021 and early 2022, Vietnam will have about 175 million doses of COVID-19 vaccine.
Vietnam calls up 22 players to prepare for FIFA Futsal World Cup 2021
The Vietnamese futsal team are set to reconvene for training on Tuesday (July 20) with 22 players in preparation for the 2021 FIFA Futsal World Cup, to be hosted by Lithuania from September 12 to October 3.
Due to the impact of the COVID-19 pandemic, matches in the return leg of the 2021 HDBank National Futsal Championship still cannot go ahead as planned. This has led to difficulties in the professional work of the team, especially in selecting forces as well as maintaining players' form.
Therefore, with the consent of the competent agencies, the Vietnam Football Federation (VFF) has decided to create conditions for coach Pham Minh Giang's troops to reconvene two weeks earlier than the original plan (August 2), aiming to give them more time to train, hone their skills and tactics, and enhance their fitness levels.
As the domestic tournament has been temporarily suspended to serve COVID-19 prevention and control, it is not surprising that the players summoned for the camp are those who competed in the World Cup play-off against Lebanon nearly two months ago, together with the return of Pham Van Tu (Goleiro), Nhan Gia Hung (Fixo), Tu Minh Quang (Ala), and Nguyen Tran Duy and Nguyen Thinh Phat (Pivo).
To ensure pandemic prevention and control, this morning (July 19), all team members were sampled for RT-PCR tests. Tomorrow, if having negative results for SARS-CoV-2, the entire squad will start training at the National Sports Training Centre in Ho Chi Minh City until August 24 before leaving for Spain for overseas training the following day.
During their stay in Spain, Giang's side will join Japan, Guatemala and Spain in a friendly tournament from August 28 to 31. Concluding the competition, the Vietnamese team will play another international friendly on September 3, possibly meeting the Cordoba Club from the Spanish futsal championship.
They will then fly to Lithuania for the last phase of preparations for the 2021 Futsal World Cup. If everything goes to plan, the Vietnamese team will have a last-minute friendly against Morocco, scheduled for September 6.
According to the draw for the 2021 FIFA Futsal World Cup, Vietnam will be joined by five-time champions Brazil, Panama and the Czech Republic in Group D. As a powerhouse in the sport, it is almost certain that Brazil will capture one of Group D's two qualification slots in the knockout round. Vietnam, the Czech Republic and Panama will battle one another for the remaining slot.
As scheduled, Vietnam will kick-start their Group D campaign with a clash against Brazil on September 13 before taking on Panama and the Czech Republic on September 16 and 19, respectively. 
Developing ‪the Vietnamese cultural tourism brand ‬‬
The Ministry of Culture, Sports and Tourism has recently approved a project on building a national brand on cultural tourism from the end of 2020. Cultural tourism can be considered a basic tourist product in Vietnam. However, in order to position and raise the brand, there is still much work to be done, especially in the context that the tourism industry is being heavily affected by the COVID-19 epidemic.
Cultural tourism has become an outstanding strength and is quite well exploited in some localities. Many localities have considered heritage as a core to develop areas such as ecotourism, spiritual tourism, experience tourism, etc.
However, in reality, there are still many problems. Most localities only focus on promoting strengths from natural and tangible heritage. Meanwhile, there are a lot of intangible areas they have not exploited in an effective manner.
The World Bank once reported that Vietnam's tourism has reached a tipping point in development, causing the degradation of cultural and natural tourism assets as well as the support of local communities for toursim.
Tourism in Vietnam, as well as many countries around the world, is being heavily affected by the COVID-19 pandemic. Enhancing the brand for cultural tourism is necessary and must be planned from now on so that it can be implemented immediately when the epidemic ends.
According to Deputy Director General of the Vietnam National Administration of Tourism Ha Van Sieu, in order to exploit the potential of heritage towards building a national tourism brand, localities need to develop a long-term plan and strategy in re-planning the heritage system and must associate traditional cultural values with tourism development planning.
Digital technology has and is being applied in almost all areas of social life. The field of heritage is no exception, the digitisation of heritage is also a "key" to elevate the brand of cultural tourism.
In Vietnam, typical examples of technology application in heritage are: the 3D digitisation works of Tien Le communal house (Hoai Duc district, Hanoi), the Van Mieu - Quoc Tu Giam (Temple of Literature), and the Opera House in Hanoi. Some works of the complex of relics in Hue ancient imperial city (Thua Thien Hue province) have also been applied 3D technology such as: Tu Duc Tomb, An Dinh Palace, and Long Van Khe Hoi painting (Dieu De Temple).
At the end of 2020, the Sen Heritage group also organised an exhibition themed "Discovering the architectural heritage of the One Pillar – Dien Huu Pagoda from the Ly Dynasty through VR technology". The VR3D Dien Huu pagoda project helps viewers go back 800 years to walk around the royal pagoda during the Ly Dynasty. The main product of the project – the virtual reconstruction of Dien Huu Monastery Platform and its One Pillar Structure in 1105 – helps the Vietnamese generations of the 21st century experience this feudal beauty with both VR and AR technology.
Most recently, the Centre for Scientific and Cultural Activities of the Temple of Literature has applied QR code technology (two-dimensional barcodes) on 40 artifacts, trees and construction items on the relic site. Accordingly, visitors only need to use a smartphone, place a signboard with a QR code installed in front, and the system will automatically log in and transfer to the visitor's cellphone basic information about that artifact.
These are all new experiments, bringing vivid experiences and highly appreciated by visitors. Deputy Director of the Centre for Cultural Heritage Research and Promotion Nguyen Van Huy highly appreciates the effectiveness that digital technology brings to heritage conservation, thereby promoting the development of the Vietnamese cultural tourism brand.
Unfortunately, the application of technology in the field of heritage has not been replicated and lacks synchronous implementation. Most are only research hypotheses or topics. Therefore, it is necessary to further accelerate the digitisation of heritage, build high-quality tourism products, thereby raising the brand of Vietnamese cultural tourism.
Covid-19 vaccination launched for residents in border areas
The border communes of Phong Tho District in Lai Chau Province began administering the Vero Cell Covid-19 vaccine produced by China's Sinopharm for local residents this morning, July 19.
The Vero Cell vaccine doses were donated to Vietnam by China and will be given to priority groups including Chinese citizens working in Vietnam; Vietnamese people wishing to study, work and do business in China; and people in need of the vaccine, especially those living in areas bordering China.
In this vaccination drive, the local health authority has set up seven vaccination sites at local medical facilities. People will get their first shots from July 19 to 24, while the second shots will be given from August 9 to 14, with a total of 2,500 doses.
At each of the vaccination locations, local competent agencies will arrange one first-aid team including experienced medical workers to monitor and promptly handle cases suffering from unexpected post-vaccination reactions.
Before vaccination, the locals will undergo screening medical check-ups and receive consultations from medical workers. After vaccination, they are required to remain at the vaccination site for a while to have their post-vaccination health status monitored.
To date, this northern province has completed two vaccination phases with nearly 20,000 doses being administered. In the first phase, nearly 4,000 were given to people from priority groups such as police and border guard officers, while over 15,000 doses were administered in the second phase. 
Mekong Delta provinces rushing to build field hospitals as Covid cases soar
Many provinces in the Mekong Delta are racing against time to set up field hospitals to cope with the rise in Covid-19 cases.
Long An Province has detected 824 domestic infections since the latest outbreak began on April 27. The province already has nine field hospitals for Covid-19 treatment, with a total of 1,500 beds, but it is preparing to convert a high school dormitory in Tan An City into a field hospital with 700 beds.
Long An has recently decisded to convert the Hau Nghia General Hospital in Duc Hoa District into a 200-bed Covid-19 hospital in charge of treating patients in critical condition.
Dong Thap, the Mekong Delta's worst-hit province with 1,379 locally-infected cases since June 24, has completed setting up two field hospitals in Cao Lanh City with over 400 beds, while the Dong Thap Military Hospital now functions as a Covid-19 treatment hospital with 300 beds, reported Tuoi Tre newspaper.
As for Can Tho City, the local health authorities are reportedly having a hard time tracing contacts of the confirmed cases as many infections were detected in crowded places such as wholesale markets, residential areas, companies and supermarkets.
With 170 cases reported, the 100-bed Covid-19 treatment zone at the Can Tho Tuberculosis and Lung Disease Hospital is now fully occupied, while another field hospital with 100 beds in Binh Thuy District has received 70 coronavirus patients just after two days of being put into operation.
Can Tho plans to use the local hospitals in Cai Rang and Thoi Lai districts along with a military hospital to receive and treat Covid-19 patients, if the coronavirus situation worsens.
Besides, efforts to estimate the materials and biological products needed for testing cannot keep up with the spread of the disease. The city has 18,000 PCR test kits and 65,000 quick test kits left and has continued to propose an additional supply of protective gear, N95 face masks and face shields for medical workers, said Pham Phu Truong Giang, deputy director of the Health Department in Can Tho.
In Vinh Long Province, the provincial Department of Health said that it is coordinating with local authorities to survey and request the provincial government to establish more quarantine centers and convert local medical centers into Covid-19 treatment units.
The department also planned to send Covid-19 testing systems to other qualified medical facilities and call for the participation of private medical units, aimed at improving the province's testing capacity, with 3,000 samples expected to be processed per day.
By yesterday afternoon, July 19, Vinh Long reported 40 new cases, especially, after 25,269 workers in the industrial parks of Hoa Phu and Binh Minh underwent screening Covid-19 tests, 13 tested positive for the virus through PCR tests and 19 others tested positive through quick tests.
Bac Lieu Province reported 14 cases as of this morning. Yesterday, Thanh Vu Medic Hospital in Bac Lieu put into operation a field zone, which is located at the Judo stadium in Bac Lieu City, to conduct Covid-19 quick tests and RT-PCR tests for local residents.
Three million Moderna vaccine doses to arrive in Vietnam this week
Three million doses of the Moderna Covid-19 vaccine donated by the United States through the World Health Organization's COVAX program will arrive in Vietnam this week.
This, along with the two million Moderna Covid-19 vaccine doses that arrived in Vietnam on July 10, takes the total number of vaccine doses donated by the United States to the country to five million.
Apart from the shipment set to be dispatched this week, Vietnam will take delivery of 100,000 doses from Romania, Professor Dr Dang Duc Anh, head of the National Institute of Hygiene and Epidemiology, said on July 19.
In addition, the country is proposing China send five million doses of the Vero Cell Covid-19 vaccine produced by Sinopharm, the local media reported.
The Ministry of Health last night, July 19, said that Pfizer had agreed to increase the number of Covid-19 vaccine doses set to be shipped to Vietnam in the third quarter of 2021 from three million to 3.5 million. Besides, the U.S. drugmaker also approved to sell 20 million more doses to Vietnam this year, taking the total number of Pfizer vaccine doses set to arrive in the country to 51 million.
With the 105 million doses of vaccines that have been signed and pledged to be transported to Vietnam and the other 70 million doses under negotiation, the country will have a total of 175 million doses of vaccines this year or in early 2022.
Up to now, Vietnam has received over 10.6 million doses of Covid-19 vaccines, including 7.1 million doses of the AstraZeneca vaccine, two million doses of the Moderna vaccine and over 194,000 Pfizer vaccine doses.
In Vietnam, over 4.2 million doses have been administered, while some 306,500 people have been fully vaccinated with two shots.
Professor Anh also said that in the third quarter of the year, Vietnam will access over 26 million doses, while another 65.5 million doses will arrive in the country in the fourth quarter.
Besides, Vietnam has reached vaccine technology transfer agreements and support for vaccine production from the United States and Russia.
HCMC uses quick test results to decide on discharging of Covid-19 patients from hospital
The HCMC Department of Health has allowed the use of quick Covid-19 test results on the 10th day of treatment to decide if asymptomatic Covid-19 patients should be discharged from hospital.
The department today, July 19, sent an urgent dispatch to the relevant agencies on the testing of asymptomatic patients. Accordingly, asymptomatic patients who are being treated at Covid-19 treatment hospitals will undergo RT-PCR tests on the eighth day of treatment, the local media reported.
If the test result is negative or positive but with a low viral load, the patients will undergo quick tests on the 10th treatment day. If the result comes back negative, they will be discharged from hospital and allowed to stay at home if their homes meet the necessary requirements.
According to the HCMC Department of Health, the change is appropriate to the current situation. Patients who test negative for Covid-19 or positive but with a low viral load on the eighth treatment day are considered to have a low virus transmission risk.
Quick tests on the 10th day will help assess the transmission risk of the patients and shorten the time spent waiting for the test results.
HCMC is currently treating nearly 33,500 Covid-19 patients, including 362 using ventilators and 10 others put on extracorporeal membrane oxygenation machines. As many as 227 Covid-19 patients in the city have been confirmed dead.
Earlier, the municipal Department of Health regulated that asymptomatic Covid-19 patients receiving medical treatment at hospitals can be discharged from the hospital on the 10th day of treatment if they test negative for Covid-19 two consecutive times, which must be at least 24 hours apart.
HCMC launches web portal of personal health records of Covid-19 patients
The online portal of personal health records of Covid-19 patients at http://tracuuf0.medinet.org.vn/trangchu.html has been launched to help residents get information about their relatives, who are under Covid-19 treatment in medical facilities in HCMC, said Associate Professor, Ph.D, Deputy Director of the City Department of Health, Dr. Tang Chi Thuong.
The new site's main goal is to assist medical staff in managing and monitoring the health situation and the patient care process in Covid-19 treatment hospitals and centralized quarantine facilities from time of hospitalization until discharge; receiving information and transporting patients from centralized quarantine areas to Covid-19 treatment medical units in the city.
The Vietnam Anti-Fake News Center (VAFC) of the Authority of Broadcasting, Television and Electronic Information under the Ministry of Information and Communications has recommended people not to share and spread fake news leading to social disturbances and creating impacts on the epidemic prevention and control works.
On July 19, images of people who died of Covid-19 in Myanmar were posted on social media in Vietnam. Some social media accounts used these pictures to spread fake news that the bodies are Covid-19 patients in HCMC.
The VAFC has conducted an investigation to impose severe punishment for disseminating fake news.
VNA airlifted 800 ventilators, 6.2 tons of medical supplies to HCMC
A shipment of 800 ventilators and 6.2 tons of medical equipment and supplies on special flights operated by Vietnam Airlines from Hanoi arrived in HCMC on July 19.
All efforts in the country are under way to help the city and Southern localities handle with the shortage of medical devices amid a devastating surge in Covid cases.
The Covid-19 pandemic remains complicated while the health forces have been continuously strengthened to offer assistance to Southern provinces and cities.
Thanh Hoa authority throws book at 10 polluters
Le Duc Giang, Deputy Chairman of the People's Committee in Thanh Hoa Province, decided to throw the book at ten companies that have discharged wastewater into Ma River causing environmental pollution, said the office of the provincial People's Committee.
Ten companies to produce votive paper, pulp, bamboo chopsticks along the Ma River through Ba Thuoc and Quan Hoa districts were fined a total amount of more than VND1.6 billion (US$ 69,538), of which one company was fined VND300 million.
In addition to administrative fines, ten companies were forced to suspend their operation for 30 days to 90 days and fix the environment.
Prior, Deputy Chairman Le Duc Giang issued administrative fines of VND320 million to two companies for illegally discharging wastewater into Ma River on July 7.
As Sai Gon Giai Phong newspaper released from March 13 to April 12, a lot of fishes in the Ma River died in mass. Thanh Hoa authority has asked related agencies to set up inspection teams that have detected wastewater illegally discharged from many companies.
More trains added to carry passengers home from Southern provinces
Apart from the current daily operation of North-South trains, the Vietnam Railway Corporation will organize more trains for passengers who want to leave the Southern provinces and cities for their hometowns.
The trains' operation follows the proposals of the People's Committees of Lang Son, Thanh Hoa, Ha Tinh, Thua Thien- Hue, Phu Yen, Binh Thuan provinces and Da Nang City amid the current complicated and unprecedented Covid-19 pandemic.
Trains will serve only 50 percent of its capacity to ensure safe distance among passengers, strictly perform the 5K message of the Ministry of Health and medical declaration instruction, spray disinfectant daily inside the cabin and at the terminals and equip sanitizer gels at all carriages and water-closets.
Additionally, train crew members are not allowed to disembark in case of unnecessary following the railway sector's regulations.
HCM City to enforce stricter restrictions as COVID-19 cases surge
Ho Chi Minh City should be ready to impose tougher restrictions in order to halt the spread of the SARS-CoV-2 virus in the community, said Nguyen Van Nen, Secretary of the HCM City Party Committee.
HCM City has been implementing a two-week social distancing order since July 9 to slow the spread of the virus, but the number of new infections remains very high at approximately 2,000 each day.
Data from the Ministry of Health show after 10 days of implementing the measures, the number of infections per day in the busiest and most populous city in Vietnam has kept rising. On July 18 alone, the city documented a record high of 4,692 infections.
The implementation of the social distancing measures has yet to meet expectations, Nen told a meeting in HCM City on July 20 afternoon.
He said the city is consulting experts and relevant ministries to introduce tougher restrictions in order to achieve the set goal of curbing the spread of the virus in the community.
The HCM City leader expressed hope the city will receive greater support and additional assistance from the Government, the Ministry of Health, relevant ministries and agencies to the COVID-19 fight in the locality.
Deputy Prime Minister Vu Duc Dam shared difficulties the city is experiencing, quoting Health Minister Nguyen Thanh Long as saying the fresh outbreak is still very complicated and the number of infections is expected to rise in the coming days.
"Strict isolation is the best measure right now to slow the spread of the epidemic," said Dam, who is also head of the National Steering Committee on COVID-19 Prevention and Control.
He suggested that the city soon separate all F0 cases from the community and speed up the testing campaign to early detect and isolate positive cases.
"The most important thing for the city right now is to reduce the number of F0 infections and severe cases to limit deaths," Dam said.
He suggested that the Ministry of Health give top priority to the provision of medical supplies to HCM City.
Dam said he had directed the Ministry of Health to urgently apply a special procurement mechanism to create maximum conditions for frontline localities to get medical supplies for COVID-19 prevention and treatment, especially for emergency resuscitation.
HCM City has recorded more than 39,000 COVID-19 cases since the resurgence of the virus in late April, making up more than half the country's total number of infections, and becoming the largest coronavirus hotspot in the country.
Tech giant's "Sai Gon Bao Dung" project helps the disadvantaged
Tech giant VNG has launched the "Sai Gon Bao Dung" project in which a digital platform will help connect charity organisations, sponsors and disadvantaged people amid the COVID-19 outbreak.
To join the project, people can access https://zalopay.vn/site/share/saigon-baodung?view=home&tab=0. They can seek information about charity organisations and donate to the latter via ZaloPay or their bank accounts.
If people need help, they can find the exact address to buy food and receive other assistance from the project in the city's districts.
More than 20 charity organisations in 10 districts have been connected and are on the project's digital platform. The figure is expected to increase to 60 to help the disadvantaged after the COVID-19 outbreak.
VNG has connected with suppliers to donate 150,000 masks, 11,000 items of protective clothing with third-level protection, and 110 medical glove boxes to 23 hospitals in the city.
ZaloPay e-wallet has also worked with e-commerce platform Lazada to open zero đồng minimarts for the disadvantaged.
Thu Thiem 2 Bridge to open to traffic next year
HCM City's 1,465m Thủ Thiêm 2 Bridge over the Sài Gòn River between District 1 and the newly created Thủ Đức City is expected to open to traffic in the second quarter of next year.
Đại Quang Minh Real Estate Investment Corporation, the builder, said the main span of the cable-stayed bridge is scheduled to be connected on September 2 this year to celebrate National Day.
It said despite the difficulties caused by the COVID-19 pandemic, construction was being speeded up by increasing the work to three shifts a day.
It is around 70 per cent complete.
To meet pandemic prevention and control requirements, the company has arranged onsite accommodation and meals for around 120 engineers and workers.
The six-lane bridge will have one main tower shaped like a dragon 113m high and leaning towards the Thủ Thiêm New Urban Area.
Thirty of 34 nodes used for the main tower and 44 of 56 cables used for the construction have been installed.
Its design means the bridge will be an architectural sight over the Sài Gòn River.
Its construction began in 2015 and was originally scheduled to be finished in 2018, but it has been plagued by tardy land acquisition and delays due to the COVID-19 pandemic.
The build-transfer bridge is expected to cost more than VNĐ3 trillion (US$130.3 million).
It is expected to reduce traffic jams, improve connectivity between downtown and Thủ Thiêm, and boost the development of the city's eastern innovative urban area.
Danang plans to set up field hospital with over 1,500 beds as pandemic rages on
The Danang Hospital is cooperating with the relevant units to map out a plan to set up the Field Hospital No. 1 for Covid-19 treatment with up to 1,700 beds after the city detected several Covid-19 infections.
Tran Thanh Thuy, deputy director of the Danang Department of Health, said today, July 20, that some units were planning to establish a field hospital.
The field hospital, to be located in Hoa Hiep Nam Ward in Lien Chieu District, will admit and treat Covid-19 patients with no symptoms or mild ones, the local media reported.
On the same day, 34 students at the Dong A University in the city were mobilized to join the fight against Covid-19 at the field hospital by the municipal department.
Besides, the Danang Lung Hospital and the Hoa Vang Healthcare Center will work with the Danang Hospital and the Danang Hospital for Women and Children to set up an intensive care area with 200 beds for critically-ill Covid-19 patients.
In addition, the Hoa Vang Healthcare Center has set up an artificial kidney treatment area for positive Covid-19 cases, suspected ones and direct contacts of confirmed cases.
This morning, Danang City reported 32 domestic Covid-19 cases, taking its Covid-19 count to 472 in the current fourth coronavirus wave, which began on April 27.
Deputy PM asks Vinh Long to quickly curb COVID-19 outbreaks
Deputy Prime Minister Vu Duc Dam and a working delegation had a meeting with the People's Committee of Vinh Long on July 21, during which he recommended the Mekong Delta province mobilise all resources and speed up testing and contact tracing to quickly push back COVID-19.
Asking the local authorities to seriously implement the Prime Minister's Directive 16/CT-TTg, Dam said Vinh Long ought to clean out risky areas and turn itself into a safe COVID-19 prevention and control area as soon as possible.
The Deputy PM noted the province should promote the role of its political system and community-based COVID-19 safety groups in its fight against the epidemic.
Requiring people returning from pandemic-hit areas to fill the health declaration form and conducting suitable quarantine measures for those having contact with COVID-19 patients are also important, he added.
He also recommended the province pay attention to ensure social welfare and promptly implement support policy for people affected by COVID-19.
At the meeting, Director of the provincial Health Department Van Cong Minh said that from January 1 to 7am on July 21, Vinh Long recorded 483 cases of COVID-19, including 469 local infections. The province also reported four deaths. Currently, over 3,100 people are being quarantined at concentrated facilities and 9,900 at home./.
Cuban Ambassador praises Vietnam's spirit of solidarity
Cuban Ambassador to Vietnam Orlando Nicolás Hernández Guillén has praised the solidarity and valuable support of the Vietnamese Party, State, Government and people to Cuba during hard times.
Cuba always attaches importance to the special, traditional friendship and comprehensive cooperation with Vietnam, the ambassador told a meeting with reporters held by the Cuban Embassy in Hanoi on July 21.
Hernández Guillén said Cuba is in the most difficult period in 60 years due to the impact of economic embargo and COVID-19. However, the situation has been put under control.
He accused foreign hostile forces of taking advantages of the present difficulties in Cuba to incite violence and illegal acts, and condemned social media campaigns that aim to defame and distort the situation in the Caribbean nation.
Such social media campaigns against Cuba took place in the context of the economic blockade adversely impacting the Cuban economy, cutting its revenue from goods and service exports and hindering the country's access to medical materials and supplies given the complex developments of the pandemic, thus severely affecting people's daily activities, according to the ambassador.
Against the backdrop, the Cuban Government has made efforts to protect people's lives through effective health measures, helping to keep the rate of fatalities caused by the coronavirus at 0.66 percent against the world's average of 2.15 percent and Latin America's 2.61 percent, Hernández Guillén stressed.
He said Cuba has approved the emergency use of its home-grown Abdala vaccine which has proven 92.28 percent effective against COVID-19.
Besides, the country is developing four other vaccines, using domestic sources, of which Soberana has completed its phase III clinical trials with 91,2 percent efficacy. Other vaccines have also entered clinical trials.
On this occasion, the ambassador proposed priorities to strengthen the special friendship, solidarity and mutual trust between the two Parties, States and peoples of Cuba and Vietnam, and talked about bilateral collaboration in vaccine supply and the transfer of vaccine production technology.
He pledged efforts to boost the friendship and cooperation in the areas of both sides' strength./.
15th NA's first session: law building should be reformed
Lawmakers scrutinised many crucial matters at a plenary session in Hanoi on July 21, as part of the first sitting of the 15th National Assembly.
In the morning, they adopted resolutions on the election of NA Secretary General, Chairperson of the Council for Ethnic Affairs, heads of NA Committees, and State Auditor General.
Bui Van Cuong, member of the Party Central Committee and Secretary General of the 14th NA, continues to hold the post of the NA Secretary General in the 15th tenure.
Y Thanh Ha Nie Kdam, Secretary of the Party Committee of the Central Enterprises Bloc, was elected as Chairman of the Council for Ethnic Affairs.
Tran Sy Thanh, member of the Party Central Committee, was re-elected as the State Auditor General.
During the debate on the NA's supervision programme for 2022, many legislators suggested the NA Standing Committee put forth a project on renewing supervision activities.
Competent agencies should raise more initiatives to contribute to improving the quality and efficiency of such activities, they said.
For the law-building programme, some pointed out the need to build up legal mechanisms to promote the responsibility of individuals in preparing and submitting draft laws to the legislature, in order to revamp the work./.
Bringing into full play the Mekong - Ganga cooperation mechanism
Minister of Foreign Affairs Bui Thanh Son on July 21 joined his counterparts of Laos, Cambodia, Myanmar, Thailand and India to attend the 11th Mekong-Ganga Cooperation (MGC) conference in an online format.

The ministers highly appreciated the MGC's 20-year achievements in priority areas of cooperation, including culture, tourism, education, public health, traditional medicine, water resource management, science and technology, transportation, information, capacity building and skill development.
Two-way trade value between India and Mekong River countries has increased 25 times, reaching US$25 billion in 2020. Traffic connection projects have been gradually expanded, especially direct flights connecting big cities within the MGC. In addition, hundreds of scholarships and training courses have been provided to help Mekong River countries develop human resources.
India has so far provided more than US$2 billion in loans for projects in water resource development, traffic connectivity, infrastructure construction, digitalisation, rural electrification, irrigation, and education in the Mekong countries.
The ministers welcomed the MGC Action Plan for the 2019-2022 period, which has supplemented three new areas of cooperation, namely water resource management, science and technology, capacity building and skill development.
To improve cooperation efficiency in the coming time, the ministers agreed to strengthen medical cooperation in COVID-19 prevention and control, especially research, production and distribution of vaccines and antibiotics, enhance capacity building on disease prevention and control, and promote cooperation in traditional medicine.
They also agreed to ramp up post-pandemic economic recovery through promoting trade cooperation, transport connectivity, technological development, digital transformation, tourism, human resource development and training, as well as cultural exchanges.
They underlined the need to increase cooperation in sustainable water resource management between India and Mekong River countries, enhance technical cooperation in water resource management, exchange experiences, information and practices, encourage human resource development, and improve capacity building in integrated management of water resources.
Addressing the conference, Minister Bui Thanh Son affirmed Vietnam's commitment to the MGC mechanism, saying the member countries need to fully tap into the potential of the Mekong - Ganga community in order for this cooperation mechanism to contribute to peace, prosperity and sustainable development of the region.
He proposed strengthening health cooperation through research, production and distribution of vaccines, supplying antibiotics and medical supplies, and improving the quality of the medical team as well as the community health system as a whole.
He also proposed promoting a sustainable and inclusive economic recovery through trade and investment facilitation, securing regional supply chains, maintaining a stable business environment, and stepping up trade promotion programmes and infrastructure connectivity.
Minister Son said that countries should strengthen cooperation in science and technology, innovation, research and application of digital technology, improve digital skills, and develop digital infrastructure.
It is imperative to prioritize cooperation in sustainable management of water resources and climate change adaptation through experience sharing and technology transfer, while improving capacity building for early forecasting and management of disasters.
At the meeting, the ministers adopted the conference's joint statement and agreed to organize the 12th MGC Ministerial Meeting on the sidelines of the ASEAN Foreign Ministers' Meeting in 2022.
Source: VNA/VNS/VOV/VIR/SGT/SGGP/Nhan Dan/Hanoitimes

Bui Van Cuong re-elected as General Secretary of 15th National Assembly