VIETNAM NEWS HEADLINES FEB. 20
 Aviation staff to be tested for SARS-CoV-2 frequently: CAAV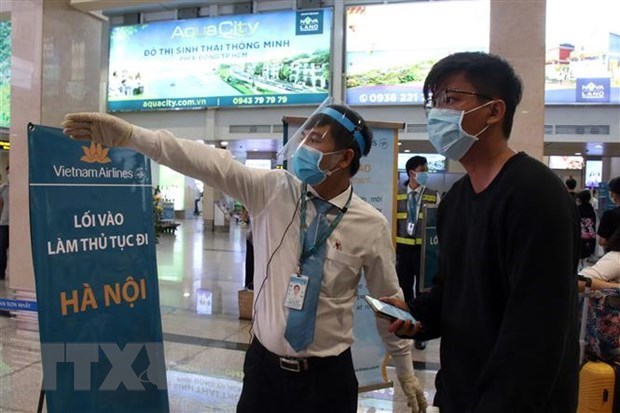 A ground service employee at HCM City's Tan Son Nhat International Airport directs a passenger to the check-in area

Aviation staff in direct contact with passengers will have to wear transparent face shields and will be frequently tested for SARS-CoV-2 as part of the efforts to stop infections after two clusters in two major international airports were detected in Vietnam's latest community infection wave.
The Civil Aviation Authority of Vietnam (CAAV) has issued an emergency document demanding strengthened measures in COVID-19 prevention and control at airports across the country.
CAAV Director Dinh Viet Thang asked all aviation staff to strictly follow preventive and control measures including the use of face coverings, frequent disinfection, avoiding large gatherings, keeping a safe distance and submitting health declarations.
Airline passengers are required to submit e-health declarations at tokhaiyte.vn or via the app Vietnam Health Declaration.
Those failed to file proper health declarations or observe disease prevention and control measures would be refused boarding.
Thang also asked all aviation staff to install and activate the contact tracing app Bluezone which helps detect and deliver early warnings about COVID-19 cases and potential risks of coming into contacts with suspect cases.
Passengers would be instructed to keep a safe distance when checking-in or on buses travelling from terminals to planes and vice versa.
Airport authorities and airline operators nationwide were asked to review and assess disease prevention and control activities to detect risks of infection.
From February 15, Vietnam Airlines added preventive measures on flights from Hà Nội as the number of passengers from Hà Nội to southern provinces increased sharply after the Tet (Lunar New Year) holiday.
Passengers on flights from Hanoi, Quang Ninh and Hai Phong would be randomly tested for SARS-CoV-2 when arriving at Ho Chi Minh City's Tan Son Nhat Airport.
Packaged meals would be served in order to limit contact between flight attendants and passengers.
The flag carrier Vietnam Airlines would also disinfect all planes that depart from Hanoi to Da Nang or HCM City as soon as they land. Other planes would be disinfected when they return to Hanoi, Da Nang and HCM City.
Among 22 airports in Vietnam, Van Don Airport in northern Quang Ninh province has been closed since January 28 after a group of employees including security personnel were found to be infected with coronavirus. The airport is set to reopen on February 21 after all 160 staff working at the airport were confirmed negative for SARS-CoV-2 on February 9.
After confirmed COVID-19 cases at the Van Don Airport, the Airport Corporation of Vietnam (ACV) on February 4 announced that employees of all 21 active airports would be tested for COVID-19.
On February 6, a lugguage handler at the Tan Son Nhat International Airport was found to be positive for SARS-CoV-2.
As of February 13, an additional eight staff members of the airport tested positive for the novel coronavirus, all of whom are ground service staff and baggage handlers under Vietnam Airport Ground Services Company Limited (VIAGS).
Vietnam has no new COVID-19 cases to report on Feb. 20 morning
Vietnam has no new COVID-19 cases to report in the past 12 hours to 6am of February 20, while the number of recoveries is 1,627, according to the National Steering Committee for COVID-19 Prevention and Control.
So far, Vietnam has seen 1,463 locally-transmitted cases, including 775 cases found since January 27 when a new COVID-19 wave broke out.
At present, a total of 125.572 people who had close contact with confirmed COVID-19 patients or entered Vietnam from pandemic-hit regions are being under quarantine nationwide, including 594 in hospitals, 13,316 in state-designated establishments and 111,662 others at their residences.
Among the patients undergoing treatment, 69 have tested negative for the coronavirus SARS-CoV-2 once, 39 twice and 55 thrice.
The Health Ministry advised people to remain proactive in pandemic prevention and control by continuing to wear face masks when going out, disinfecting frequently, maintaining a safe distance, refraining from mass gatherings, and making medical declarations./.
Factory workers ready to resume work after Tet
Many factory workers are ready to return to work after the long Tết (Lunar New Year) holiday.
Most businesses have carried out COVID-19 prevention measures and control such as frequent body temperature checks and sterilisation at working areas, among other tasks.
Nguyễn Thị Thu Huyền from Vĩnh Long Province arrived in HCM City on Tuesday (the fifth day of Tết). Since she was worried about traffic jams and would like to have time to better prepare for the first working day of the Lunar New Year, she decided to return earlier this year.
"I felt content with over a week staying at home with my family during Tết," she said.
Nguyễn Thị Ánh Trang from Kiên Giang Province, who works at PouYuen Việt Nam Company, said that she and her husband always return to the city one to two days in advance to "rebalance" their lifestyle.
Nguyễn Văn Hùng, chairman of the Trade Union of Đại Dũng Metallic Manufacture Construction and Trade Corporation in Bình Chánh District, said over 70 per cent of the company's workforce will start work on the sixth day of Tết.
The company's board of directors will offer red envelopes or lucky money to all workers at the factory, he said.
"By the 8th day of the Lunar New Year, workers from all provinces will return to the company. The fluctuation of labour shortages at the beginning of this year is expected to be about 10 per cent," he added.
Củ Phát Nghiệp, chairman of Trade Union of PouYuen Việt Nam Company, said that many workers stayed put in HCM City during Tết to prevent the spread of COVID-19.
The company organised workers' shifts in a way to avoid crowding at the factory and provide workers with longer leave time.
"About 90 per cent of the company's workers are expected to return to work right after the holiday. Of which, 80 per cent will return on the 6th day of Tết and the rest will be coming from the 7th to 11th day. Labour efficiency will be ensured if workers have enough rest," Nghiệp said.
Chairman of the Confederation of Labour in Bình Tân District Nguyễn Văn Hải said the number of workers who stayed in HCM City this year during Tết was significant.
To create further motivation for locals and help them better accommodate the "new normal" situation, the district Labour Confederation plans to set up online markets at firms. This is a service that helps workers shop for market goods conveniently.
Huỳnh Văn Tuấn, chairman of the HCM City Industrial Zones and Exports Trade Union, said about 40 per cent of enterprises in the EPs and IZs on February 17 resumed operations.
Since over 75 per cent of workers did not go home this year, labour shortages will not be a problem, he said.
Many businesses have told their workers who are returning from epidemic-prone areas to submit medical reports and follow strict measures to prevent outbreaks.
Tien Giang aquaculture area, output edge up
Farmers in the Cửu Long (Mekong) Delta province of Tiền Giang are raising the fry of high - value aquatic species on an area of more than 6,000ha this year, up marginally from last year, according to the province's Department of Agriculture and Rural Development.
The species include black tiger shrimp, white – legged shrimp, giant river prawn, tra fish, and clam.
The farmers have harvested nearly 11,000 tonnes so far this year for both domestic consumption and processing for exports, also marginally higher than in the same period last year.
With a coastline of 32km and a dense river and canal network, the province has a huge advantage in terms of breeding all kinds of aquatic species, whether saltwater, brackish or freshwater.
It has developed a number of farming models and bred various aquatic species suitable for each area.
In coastal areas in the downstream region of the Tiền River, a tributary of the Mekong, black tiger shrimp and white-legged shrimp are bred.
Tra is bred in islets further upstream on the Tiền River in Cai Lậy and Cái Bè districts.
The province has developed freshwater fish and rice farming areas in Cái Bè District, fish fry areas in Cai Lậy Town and rice – shrimp farming areas in Tân Phú Đông District.  
It has established areas for farming fish in floating cages along the Tiền River.
It has a 2,200ha clam farming area on the Tân Thành coast in Gò Công Đông District.
Last year it suffered severe saltwater intrusion in the dry season, but aquaculture was not affected much and most farmers enjoyed high and steady incomes.
The price of tra fish increased to VNĐ22,000 - 24,000 (US$0.9 - 1) per kilogramme in the last few months of last year, up VNĐ3,000 - 4,000 from earlier months.
Farmers are breeding tra fish on around 100ha to supply processors for exports.
Hundreds of farmers along coastal areas in the Cửa Tiểu and Cửa Đại estuaries are breeding shrimp using advanced two-stage and three -stage industrial farming models.
The two-stage model requires various ponds for breeding shrimp and treating water. Juvenile shrimp are first bred in the nursery pond for a few weeks before being transferred to the main pond for intensive breeding. 
The shrimp breeding ponds are equipped with oxygenation facilities, anti-sunlight nets and plastic sheets on the bed.
Both models offer a high yield of 40 - 50 tonnes per hectare per crop.
Many farmers have begun breeding new species like crocodiles and fry since they offer high incomes.
The department encourages aquaculture farmers to adopt good agricultural practice (GAP) standards to improve yields and enable traceability.
The province has 76.2ha of aquaculture farms adopting VietGAP or GlobalGAP standards.
Cuu Long Delta takes measures to cope with saltwater intrusion
The Department of Water Resources Management under the Ministry of Natural Resources and Environment has warned localities in the Cửu Long (Mekong Delta) to prepare plans to cope with saltwater intrusion.
The Mekong River has fallen to "abnormal" levels, threatening the livelihoods of 60 million people living along its lower course.
The drop was partly caused by restriction on water flows from the Jihong hydropower plant in China from January 5 to 24, which dropped to 800cu.m per sec. The normal level is 1,400cu.m per sec.
According to the Southern Institute of Irrigation Science, the drop in water level in the upper Mekong River for 20 consecutive days in January lowered water levels and allowed saltwater intrusion in Delta provinces.
According to the department, saltwater intrusion will continue to affect the area until the end of March.
The local authorities in the Delta have begun taking measures to cope with the effects of saltwater intrusion.
The delta's 12 provinces and Cần Thơ City are ensuring water supply for households in the next dry season. They have been upgrading water supply works and building new ones, and have instructed households to store clean water.
Bến Tre Province has encouraged households in saltwater-prone and drought-prone areas to store fresh water and rainwater.
Many households in these areas are using water pots, cement containers and other receptacles to store fresh water for household use.
In An Giang Province, irrigation canals have been dredged and sluices upgraded to store fresh water.
The provinces in coastal areas have upgraded irrigation systems to protect crops and aquaculture.
Huỳnh Ngọc Nhã, deputy director of Sóc Trăng Province's Department of Agriculture and Rural Development, said farmers have been encouraged to use advanced farming techniques to cope with the shortage of fresh water.
To store fresh water, the Trà Vinh Province People's Committee has decided to dredge 10 irrigation canals at a total cost of VNĐ69 billion (US$3 million). Sea dykes, embankments and other infrastructure will also be inspected and repaired.
In recent years, the delta, the country's largest rice, fruit and seafood producer, has faced severe saltwater intrusion from the sea. 
VN to give locally made COVID-19 vaccine to frontline workers in May: official
Việt Nam might distribute its locally-made COVID-19 vaccine among high-risk frontline workers in the third phase of human trials in May this year.
Nguyễn Ngô Quang, Deputy Director of the Department of Science, Technology and Training under the Ministry of Health, told the press after a meeting of the National Council for Ethics in Biomedical Research convened Friday to officially greenlight the second phase of the human trials of Nano Covax on February 26, following the first phase's results proving that the vaccine is safe and 90 per cent effective.
As many as 560 volunteers, aged from 18 to 65, will participate in the second phase, Quang said.
In addition to the testing at Việt Nam Military Medical University in Hà Nội, HCM City-based Pasteur Institute will also administer the testing of the vaccines in the southern province of Long An so more volunteers can be involved.
Unlike the first phase when volunteers got doses of 25mcg, 50mcg and 75mcg, this phase's volunteers will be injected with only 50mcg and 75mcg doses (the most optimal dosage), according to the health official.
Quang said he hoped the second phase of Nano Covax trial could wrap up in April, and then in May, the vaccine could be used in high-risk groups like airport personnel, flight attendants, and other workers directly involved in the fight against the pandemic.
Russian COVID-19 vaccine Sputnik V has also been licensed to be rolled out after the second phase trial concluded.
Most of the volunteers of the first phase trial of Nano Covax that begun on December 17, 2020 are in stable conditions after vaccination. Only few reported pain at the injection spot and fever that disappeared after one to two days.
Developed by the Nanogen Pharmaceutical Biotechnology JSC, Nano Covax is the first Việt Nam-made COVID-19 vaccine to enter human trials, with another two from other manufacturers to follow later this month and March.
Việt Nam is one of the 40 countries that have conducted human trials of a COVID-19 vaccine.
The country also has several other COVID-19 candidate vaccines being developed, by the Institute of Vaccines and Medical Biologicals (IVAC), the Company for Vaccine and Biological Production No 1 (VABIOTECH), and the Centre for Research and Production of Vaccines and Biologicals (POLYVAC). 
Vietnamese national team remain 93rd in latest FIFA rankings
The Vietnamese national men's football team maintained their position at 93rd in the world, according to the most recent global rankings released by FIFA, football's governing body.
As there have been no games or competitions due to the impact of the novel coronavirus (COVID-19), the Vietnamese team remain on 1,258 points and are ranked as the 14th best team in Asia, as well as leading the way in Southeast Asia.
Most notably, 93rd is the highest ranking that the national team has recorded over the past 23 years, with their best-ever position being 84th in 1998.
Recent years has seen the Vietnamese team record strong progress, rising from 137th position in 2010 to 93rd position in 2021.
Thanks to a number of impressive achievements recorded under the leadership of head coach Park Hang-seo, the national team can be considered to be among the most progressive throughout Southeast Asia, jumping 44 places in the FIFA rankings between 2010 and 2021.
In Southeast Asia, Thailand remain on 1,178 points to be ranked 110th in the world, the region's second team behind Vietnam.
Elsewhere in the region are the Philippines at 124th in the world, followed by Myanmar in 137th, and Malaysia down at 153rd.
In terms of Asia, Japan remain the continent's leading team with 1,502 points, followed by Iran, the Republic of Korea, Australia, Qatar, Saudi Arabia, Iraq, the United Arab Emirates (UAE), and China.
The five countries at the top of the latest FIFA rankings include Belgium, France, Brazil, England, and Portugal.
Moving forward, the next FIFA rankings are scheduled to be announced on April 8.
Korean man falls to death from Golden Palace apartment in Hanoi
A man from the Republic of Korea (RoK) has fallen to his death from Golden Palace, a high-rise apartment building located in Me Tri ward of Nam Tu Liem district in Hanoi, according to the municipal authorities.
Local police from Nam Tu Liem district stated that the incident took place at approximately 0:30 a.m. on February 19 at the Golden Palace building.
Upon receiving the news, police forces rushed to the scene of the incident in order to further investigate the case. It is thought that the victim, a 30-year-old man from the RoK, wore black shorts and T-shirts before jumping from the high-rise apartment to his death.
Moving forward, medical workers are expected to arrive at the scene in order to carry out an analysis on the deceased victim.
This comes after another RoK national was found dead on February 17 at his apartment in Goldmark City in Bac Tu Liem district. The man was discovered dead by a security guard after his friends had failed to contact him and subsequently raised the alarm.
The lockdown order placed on his apartment was quickly lifted following his negative result after being tested for the novel coronavirus (COVID-19). The cause of death has since been reported as a stroke.
Earlier, the Hanoi Centre for Disease Control confirmed the death of  a Korean man also at Goldmark City in Hanoi and he tested negative for the SARS-CoV-2 virus.
Tracing cases related to suspected COVID-19 infection in Hung Yen
Hung Yen provincial authority requested on February 18 that relevant agencies quickly verify information relating to F1, F2, and F3 cases linked to a suspected novel coronavirus (COVID-19) case in Fuji Bakelite Vietnam Co. Ltd.
The incident involves a staff member of Fuji Bakelite Vietnam Co. Ltd in the Thang Long II industrial zone who tested positive for the SARS-CoV-2 virus on February 17 but was not announced by the Ministry of Health.
Local authorities have therefore urged relevant agencies to isolate F1, F2, and F3 cases and to take samples for tests.
Furthermore, specific areas must be thoroughly sprayed with disinfectant in line with the Ministry's guidelines on COVID-19 prevention and control measures.
This comes after the northern province of Hung Yen recorded two positive COVID-19 cases on February 9 in Yen Phu commune of Yen My district, with the individuals coming into contact with other people from the COVID-19 hotspot of Cam Giang district in Hai Duong city.
A Korean expert dies of unknown cause in Hai Duong coronavirus hotspot
Relevant Vietnamese agencies have fielded an investigation after an expert of the Republic of Korea was found dead in his company in northern Hai Duong province, the country's biggest coronavirus hotspot.

Relevant agencies are investigating the cause of the Korean man's death in Hai Duong.
The expert, Lee Gwang Suk, 70, was found dead on February 18 by a cleaner on the second floor of PNG Vietnam Co. Ltd. in Cam Thuong ward, Hai Duong city – the capital of Hai Duong province.  
Hearing the news, healthcare workers rushed to the scene and confirmed the man had died. They took a sample for COVID-19 testing with the result coming back nagative for the virus.
Epidemiologists disinfected the premises of the company.
Hai Duong province is the locality where the virus first recurred three weeks ago. It has so far recorded 557 locally-transmitted cases, emerging as the country's biggest coronavirus hotspot.
On February 17 another Korean expert working for a civil engineering company was found dead in his apartment in Hanoi's Goldmark City. Epidemiologists confirmed the man was SARS-CoV-2 free.
Also in Hanoi, a Japanese expert died in his hotel room on February 15 and later tests showed the man had carried the virus.
Hanoi has recorded 34 positive cases since the emergence of the virus late last month.
Hanoi food outlets hit by new COVID-19 restrictions
Normal life resumed post-Tết in Hà Nội from Wednesday after a week-long holiday.
But as the city imposed new restrictions against the COVID-19 pandemic, food and beverage outlets have had to adapt.

Following newly-reported COVID-19 cases in the community, Hà Nội's authorities ordered a temporary closure of all cafes and streetside stalls starting from Tuesday until further notice.
While indoors food establishments can still open, they must ensure their diners maintain a distance of at least two metres from each other or one metre if there is a physical barrier installed in between them.
Tống Duy Tân food street, which is packed with cafes, bars and eateries, is usually bustling with people but almost empty these days.
The street now sees only a few delivery drivers or customers coming to collect orders or buy takeaways.
Shutting down is a tough decision for owners, but most feel it's a necessary step to prevent the spread of the virus and contain the pandemic so they can resume their business as quickly as possible.
Some coffee shops and eateries here have decided to shift from eat-in to take-out and food delivery services.
"When we learned about the [closure] order, most of us felt sad but we need to comply with the regulation, so the pandemic won't spread widely," said Đào Xuân Trường, manager of Puku café and sports bar.
His bar is closed for dine-in customers but still offers delivery services.
"Luckily we still have quite a few online orders which are booked through food delivery apps like Grab, Delivery Now or directly with us," he said.
The bar, which used to serve about 150 dine-in customers a day, now has only about 20 delivery orders a day, leading to a decrease of 90 per cent revenue in the first two days of operating, according to Trường.
Yet Trường believes the closure order is necessary and hopes others will closely follow regulations and instructions.
"We hope that people comply with the distancing order seriously so the pandemic will be contained in the next two weeks and we can resume our business," Trường said.
Bùi Thị Xuân Lan reopened her small restaurant selling gà tần thuốc bắc (chicken stewed with Chinese herbs) on Wednesday, expecting a decrease in sales due to the restrictions.
"With this restriction in place, the number of customers will reduce for sure because many are now too cautious to dine in at the restaurant. Only when the pandemic is contained can our business fully recover," said Lan.
"There aren't many customers coming here to eat but we have some who buy takeaways or order food online," she added.
The closure of food outlets and café in this neighbourhood gives local residents like 12th-grader Phan Duy Đức an eerie feeling.
"This street was so bustling but after Tết (Lunar New Year) holiday when there was a closure order, this street became quieter," Đức said.
"I feel pretty sad for my family's business because I can't see my beloved customers now," he added.
For customers like 24-year-old Lê Ngọc Nhung, the closure has impacted her dining choices.
"I eat out quite often. Previously, I was still able to order food online, but it's hard to find a shipper now, so I have to go out to look for restaurants and buy food myself," she said.
"This does affect my life but, with this pandemic, we have to accept this," Nhung said.
As eating-in is not encouraged, the demand for food delivery services is expected to increase sharply.
"We don't have a lot of customers for GrabBike service but there are quite a few food delivery orders, which must be three to four times higher than normal days," said Lê Văn Dương, who works as a part-time Grab driver.
Though the delivery fee these days is higher than on normal days and there are more orders, the travelling distance is also longer as customers have fewer choices due to the closure of many eateries.
As travelling can increase risks of infection, Dương prepares himself with protective items.
"We take measures to protect ourselves and the community as the pandemic is spreading very quickly. I wear face masks, use sanitation as well as maintain a distance of one to two metres from others to ensure safety," he said.
The closure order is a small price to pay to keep Việt Nam safe in the wake of COVID-19 pandemic, which has infected 2,347 people in the country as of Friday morning.
"As long as we closely comply with the instruction, the pandemic will be under control and normal life will return very soon," Lan said.
Source: VOV/VNS/VNA