VIETNAM NEWS HEADLINES AUGUST 1
Another COVID-19 treatment hospital sets off to support southern localities
The General Department of Logistics under the Ministry of Defence held a ceremony in Hanoi on August 1 to set off medical staff of the COVID-19 treatment hospital 5D to support Ho Chi Minh City and neighbouring Binh Duong province in the southern region where the pandemic continues developing unpredictably.
The 500-bed hospital has 130 personnel and is installed at the hostel of the Vietnam National University – Ho Chi Minh City in Di An city of Binh Duong province.
It is designed to receive and treat COVID-19 patients in Ho Chi Minh City and Binh Duong.
Speaking at the ceremony, Major General Nguyen Hung Thang, Deputy Chairman and Chief of the Staff of the General Department of Logistics appreciated the hospital's staff and soldiers for their active preparation to set off as planned with high determination and readiness to receive and complete their assigned tasks.
The General Department of Logistics has so far set up two COVID-19 treatment hospitals, with the first one in Nha Trang city of the central province of Khanh Hoa./.
Prime Minister requests stricter social distancing
Prime Minister Pham Minh Chinh has asked local authorities, which are imposing social distancing, not to let residents leave their places of residence for another locality after July 31 until the end of social distancing in his latest dispatch.
Under the document, Ho Chi Minh City along with 18 southern localities will continue to enforce social distancing measures in line with the Government's Directive 16 for two more weeks.
The original social distancing order for the entire southern region with a population of about 35 million people, effective since July 19, was set to expire on August 1 but the fourth-wave COVID-19 outbreak has shown no signs of letting up.
The Prime Minister wants all localities under Directive 16 – which includes measures like the closure of all non-essential businesses, leaving home only for essential goods and services, and suspension of public transport – to strictly abide by the rules and stand ready to roll out more stringent measures if necessary.
Most of southern localities, including HCM City, Binh Duong, and Dong Nai asked people not to go outside at night.
The order goes on to state that local authorities must step up their information campaign and carry out immediately necessary measures to ensure the livelihood and healthcare of residents to ensure they can remain where they are.
The order came as thousands of people – mostly workers from the central region and other southern localities – have left or were making plans to leave HCM City on their personal vehicles for their hometown due to the worsening COVID-19 outbreak, business closures, the imposition of social distancing, and the adverse impacts it was having on their livelihoods.
"Leaders of provinces and cities are responsible to the Prime Minister if they let people travel out of their localities on their own. For people who want to leave one province for another, all relevant localities' authorities must organise the pick-up and drop-off sites to ensure the safety of the community, as well as arrange testing, transportation by car (trucks can be used to carry people's motorbikes if people travel by motorbike), handover protocols, quarantine facilities and medical supervision in accordance with regulations, in order to not let the disease spread," the dispatch reads.
The Ministry of Public Security has been tasked with consulting local authorities with regard to transportation and routes.
The dispatch notes that if the social distancing measures are effective, and if the situation is under control, provincial and municipal authorities could consider lifting restrictions for certain areas under their jurisdiction. For inter-provincial areas, however, restriction removal would need the agreement of all concerned localities and the plan would have to be submitted to the National Steering Committee for COVID-19 Prevention and Control before any decision was made.
All local governments across the country need to immediately provide food and medical attention for all workers suffering from income loss or those without savings. Support for their people who are working or living in HCM City or elsewhere with complicated COVID-19 situations must be provided.
The Prime Minister urged a faster rollout of COVID-19 vaccinations and emphasised that no dose should go to waste. He also said that administrators of the vaccination programme must ensure priority groups receive theirs first and that there are not incidents of abuses of power to administer vaccines to ineligible persons.
The Government leader also called for the participation of medical workers in the private sector in the local COVID-19 fight and said they should stand ready to reinforce localities with high case numbers in line with the health ministry's direction.
The Ministry of Public Security will need to lead efforts to handle fake news that undermine COVID-19 prevention and control efforts.
The Ministry of Health has also been told to shorten administrative procedures related to production and the supply of COVID-19 vaccines and drugs, and review and propose additional appropriate support policies for medical staff and frontline forces./.
PM issues youth development strategy for 2021-2030
Prime Minister Pham Minh Chinh has recently issued the Vietnamese Youth Development Strategy for the 2021-2030 period under Decision No.1331/QD-TTg.
The strategy aims to build a contingent of Vietnamese youths who have a strong sense of patriotism, strong will, national pride, revolutionary ideals, aspirations, moral virtues, good health and lifestyle, dynamism, creativity, and science-technology mastery.
It outlines six key tasks, including raising their awareness of laws, offering legal assistance and fair access to study opportunities and innovations, improving vocational training quality and creating sustainable jobs, developing young and quality human resources, protecting and improving their health and spiritual lives, and upholding their role in socio-economic development and national defence.
By 2030, 80 percent of youths are expected to receive career and job orientations, while 60 percent will undergo vocational training in combination with job creation. Each year, at least 700,000 young people will be able to get jobs.
The rate of unemployed youths in urban and rural areas will be reduced to below 7 percent and 6 percent, respectively.
Annually, over 80 percent of young people in urban areas, 70 percent in rural areas and 60 percent in ethnic minority and mountainous areas in especially difficult circumstances will receive support to join cultural, art, sport and community activities in their schools, workplaces or residential areas.
At least half of young people will be able to master digital tools for communications and business on digital platforms by 2030./.
COVID-19: Additional 4,374 new cases reported on early August 1
The Ministry of Health reported 4,374 new infections of COVID-19, including two imported cases, on early August 1.
Ho Chi Minh City, the country's current biggest hotspot, logged 2,027, followed by Binh Duong with 1,415 cases; Long An, 318; Dong Nai, 262; Hanoi, 67; Vinh Long, 50; Ba Ria-Vung Tau, 46; Hau Giang, 37; Ben Tre, 32; Kien Giang, 24; Phu Yen, 22; Tra Vinh, 22; An Giang, 21; Dong Thap, 16, Thanh Hoa, six; Quang Tri, three; Hai Duong, two; Kon Tum, one, and Hung Yen, one.
As of August 1 morning, Vietnam's COVID-19 caseload was 150,060, including 2,241 imported cases. A total of 38,734 patients were given the all-clear.
The number of infections during the new pandemic wave that began in the country in late April reached 146,249, with 35,960 patients having recovered.
A total of 6,203,866 COVID-19 vaccine doses have been administered in the country so far, with 620,611 people getting full two shots./.
Ben Tre seeks to build 2 dykes to prevent river, coastal erosion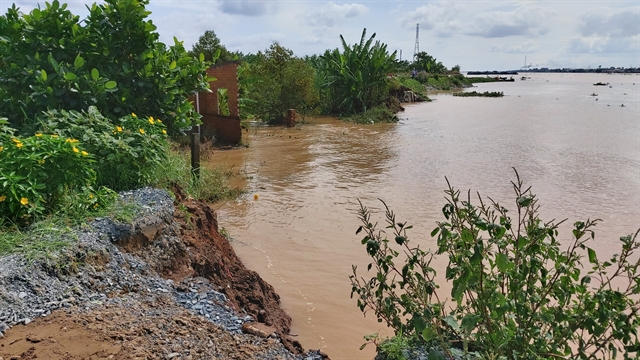 An embankment along Phú Đa island in Bến Tre Province's Chợ Lách District was eroded by waves and tides in October last year. 
The Bến Tre Province People's Committee plans to build two embankments to prevent river erosion in Bến Tre City and coastal erosion in Thạnh Phú District this year.
The two will cost a total of VNĐ110 billion (US$4.8 million), which will be provided by the Government.
One will be a submerged 688.9-metre dyke to prevent coastal erosion on Cồn Lợi Island and the other a 692-long one along the Bến Tre River in the namesake city's Nhơn Trạch Commune.
They are meant to protect people's lives and properties and public infrastructure in the two areas that have already suffered from erosion. 
The People's Committee has tasked the Steering Committee for Managing Agriculture and Rural Development Projects with carrying out the two works.
It has ordered the Bến Tre City and Thạnh Phú District people's committees to acquire the lands required for the dykes and relocate households affected by the construction.
The Cửu Long (Mekong) Delta province has seen around 114.5km of river banks and 19km of coast affected by erosion in the last five years, affecting hundreds of households and resulting in 200ha of coastal land and 54ha of mangrove forests being lost.
In 2019 – 20 the province People's Committee declared an erosion emergency in Ba Tri, Bình Đại and Thạnh Phú districts and Bến Tre City where a combined length of 6.9 kilometres was affected.
To mitigate further erosion, it will strengthen advocacy to enhance public awareness of the prevention of erosion along rivers and coasts.
Relevant departments and agencies will monitor areas facing high erosion risks to enable timely preventive measures.
They will make plans to dismantle and move houses and other constructions out of eroded and erosion – prone areas and relocate affected households.
The province has 112 eroded spots along rivers and eight along coasts, according to its Department of Agriculture and Rural Development.
It is seeking funds from the Government for five erosion-prevention works in Bình Đại, Ba Tri, Mỏ Cày Nam, and Chợ Lách districts. 
Proposals put forward to protect Hà Nội's Banana Gardens archaeological site
Hà Nội's Department of Culture, Sports and Tourism has proposed two conservation plans for the Eastern area of the prehistoric archaeological site Vườn Chuối (Banana Gardens).
The proposals aim to conserve the site, located in Hoài Đức Distrct's Kim Chung Commune, without interrupting the city's construction of outer ring roads No 3 and No 5.
Plan 1 is to carry out conservation research on the 6,000sq.m Eastern area, which amounts to half of the Vườn Chuối site.
The area also needs to be listed as one of the city's relic sites. Once it is put on the list, further steps in its preservation and the promotion of its historical values will be made. At the same time, before handing over the site to the city as part of the land clearance for the city's construction of the outer ring roads, archaeologists will excavate and relocate objects found in the Western area of the archaeological site.
Plan 2 is to conduct conservation research on the 6,000sq.m Western area of the site, aiming to preserve the entire Vườn Chuối archaeological site, which covers an area of about 12,000sq.m.
The whole archaeological site will need to be put into the list of Hà Nội's relic sites. The next steps will be to preserve and promote the historical value of the site, and continue the excavation, as well as build relevant cultural works that can connect and promote the archaeological site.
Regarding the construction of the ring roads No 3 and 5, the Plan also proposes building an overpass above the archaeological site.
Although the culture department has provided two conservation plans, they are pushing for Plan 1.
They believe this plan can ensure harmony between conservation and urban development.
"This plan will be in accordance with the purposes of conservation, research and promoting the value of the relics, at the same time it doesn't affect the construction of urban transport infrastructure.
"The researchers believe that the Eastern area has much historical, cultural and scientific value. It is enough for the entire Vườn Chuối archaeological site," it wrote.
Archaeologists confirmed that, at present, the area still has many excavated objects that can help to reveal a lot about the history of the area.
Plan 2 is to ensure the preservation of the entire site but will partly affect the ring road construction as it requires building an overpass.
Both proposals were made by the consensus of the scientists and archaeologists involved.
Earlier, the culture department assigned the Management Board of Hà Nội Historic Relics Tourist Attractions in collaboration with the Institute of Archeology to conduct archaeological excavation in an area of 150sq.m at the Eastern area of the Vườn Chuối archaeological site in 2020 and 2021.
During the excavation, archaeologists found several ancient artefacts that belonged to the residents of Phùng Nguyên (2000-1500BC), Đồng Đậu (1500-1000BC), Gò Mun (1000-600BC) to pre-Đông Sơn and Đông Sơn (700BC-AD100) eras.
Vườn Chuối is Hà Nội's largest prehistoric archaeological site spread over Lai Xá and Kim Chung communes in Hoài Đức District. First discovered in 1969, there have been eight excavations carried out at the site to unearth the secrets of the past and reveal the lives of a community that lived 3,500 years ago.
In recent years, archaeologists have voiced their concerns over the illegal looting of antiquities at the site and the construction of a new urban area that threatens to bury most of the site. They suggested city authorities preserve the site as a historical park for future excavations when there is more equipment for research.
Hội An, Đà Nẵng begin strict social distancing orders
The central city of Đà Nẵng and Hội An ancient town will begin social distancing orders under the Prime Minister's Directive 16 from 6pm on Saturday, strengthening drastic measures to control the spread of COVID-19.
The city hopes the strict orders will break the rapid rise in infections. On Friday, 65 new cases were detected.
Local people are warned not to go out unless necessary. Three months worth food and supplies have been reserved at stores and supermarkets.
The city plans to set up 'green zones' at living quarters and factories where zero infections have been identified, to help maintain production and ensure a healthy environment in wider, protection areas.
At least seven traditional markets and one living area in Sơn Trà District has either temporarily closed or been locked down already.
Markets will reduce the number of stores by half, and shoppers will be allowed to enter on a staggered system to ensure distancing.
A road in the suburbs of Hội An ancient town in Quảng Nam Province. VNS Photo Công Thành
Each market will open for seven hours per day, four hours in morning and three hours in the evening, instead of 14 or 16 hours as before.
The city's health department has called for voluntary support from retired doctors and nurses as well as senior students from medical universities to help with the mass vaccination programme starting in August.
It is hoped at least 20,000 people will be inoculated each day.
HCM City hospitals manage to keep COVID deaths low
Doctors at HCM City hospitals continue to get severe COVID-19 patients, and try all they can to keep fatalities low, including performing caesarean sections on some to deliver babies.
On July 28 doctors at the Hospital for Tropical Diseases and Từ Dũ Obstetrics and Gynaecology Hospital successfully performed a caesarean on a patient with severe COVID and delivered a baby boy weighing nearly two kilogrammes.
The 39-year-old mother was admitted to the former hospital's department of emergency-intensive care and poison control for adult patients in her 34th week of pregnancy.
Until July 28 she was suffering from respiratory failure, the foetal heart rate was 180 beats per minute, and there were signs of foetal distress.
Dr Dương Bích Thủy, the department's deputy head, said on the hospital's fanpage that her hospital summoned doctors from Từ Dũ Hospital to perform the caesarean section.
The surgery took an hour, and the healthy child has been sent to Từ Dũ Hospital for care while his mother continues to undergo treatment.
The hospital's doctors have treated 880 severe cases in the fourth wave that started in late April, discharging 378 so far. Another 476 remain under treatment while 46 people died.
Of those discharged, many had life-threatening conditions. Two siblings from the neighbouring province of Long An for example were treated for two months before they recovered.
They were brought to the hospital with severe COVID. One of them, aged 31, required high-flow nasal cannula oxygen non-invasive ventilation due to rapidly progressive pneumonia and respiratory failure.
The other, 22, required extracorporeal membrane oxygenation because of severe lung damage, disseminated intravascular coagulation - a serious disorder in which the proteins that control blood clotting become overactive - obesity, and type 2 diabetes.
COVID-19 Resuscitation Hospital in Thủ Đức City discharged 17 patients on July 26. Deputy Minister of Health Nguyễn Trường Sơn described it as a very special day for the hospital since all had had life-threatening conditions.
Dr Nguyễn Tri Thức, head of the hospital and also of Chợ Rẫy Hospital, said it had so far admitted more than 400 patients. Besides the 17 who recovered and were discharged, 66 had improved a great deal and are on the way to recovery.
The Thủ Đức District Hospital has admitted 348 patients and discharged 78 so far.
According to the city Centre for Diseases Control and Prevention, 3,131 patients were discharged from city hospitals on July 29.
They are treating 36,378 others, including 847 severe cases using ventilators and 14 with ECMO machines.
The Department of Health has instructed hospitals to focus on severe cases and those with high risks like people aged above 65 years and those with underlying medical conditions.
It has upgraded facilities and increased personnel at field hospitals.
Private hospitals have been called to help with the treatment amid the steady increase in incidence.
Three more intensive care centres with 3,000 beds will be set up to prevent fatalities. 
Thousands return to central region by motorbike due to halt to public buses
More than 5,000 people have fled pandemic hotspots and locked-down zones to return to their hometowns in motorbike caravans that sometimes number upwards of 100 people.
Traffic police forces in Thừa Thiên Huế and Đà Nẵng have reported that more than 1,000 people with nearly 600 motorbikes had been stopped at COVID-19 checkpoints between July 21 and 28 alone.
Rather than shun the weary travellers, Phạm Hồng Hải of Đà Nẵng traffic police, said the community has come together to offer their support.
Volunteers and donors came together with traffic police to provide logistics, fuel, food and to repair motorbikes for free, he said.
Most of them were workers, street vendors and small business owners who were out of jobs and income because of social distancing orders that began in early July, he went on.
He said most of their bikes were very old and needed to be serviced and that student volunteers from Đông Á University along with rescue teams were called in to support the tired returnees.
Gia Lai provincial traffic police also said it had checked at least 300 motorbikes returning from HCM City, Bình Dương and Đồng Nai provinces every day between July 20-27.
A Siu, 31, from Kon Tum province, said he worked for a factory in Bình Dương Province, but it was closed for three months due to COVID-19. He and his wife with an 18-month baby had to return home to rural Sa Thầy district as their savings had all been spent.
"We tried and waited. But nothing changed for the better. We used our savings to survive during the social distancing orders, but we lost our patience. Going home was the best choice as we could not earn money, but rent and our daily food expenses were still paid," Siu said.
"Bus trips were banned, so we had to ride on a motorbike, and the trip took us 15 hours. It's dangerous, but we had no choice."
Phạm Văn Quốc, who returned to Huế from HCM City, said his garment factory had closed for two months and he would have to wait in his hometown till work could resume again.
Quốc said the journey was risky and exhausting, but he was glad to finally be home safe. On arrival, he would have to take a 14-day quarantine and isolate for a further seven days afterwards at home.
Traffic police in Huế also said they had responded to an accident involving a married couple with a small child travelling by motorbike from HCM City to the northern province of Lào Cai. The accident was attributed to fatigue after travelling nearly 1,000km in two days and nights. No one was seriously injured.
Among returnees, dozens of infections of COVID-19 have been found. They are tested as soon as they arrive in their hometowns and at checkpoints and often end up in mass quarantine centres in Quảng Nam, Quảng Ngãi and Thừa Thiên Huế provinces.
Thừa Thiên Huế and Quảng Ngãi provinces said that from August 1, they will stop allowing locals to return from HCM City and other southern provinces as quarantine centres in the two provinces become overloaded.
Quảng Ngãi province has already arranged to bring 400 people in HCM City home, while 1,800 have arranged to stay at quarantine centres or hotels in their hometowns.
Notably, provincial quarantine facilities and health care workers in the region can only handle 6,000 people at maximum capacity.
According to a report from the provincial traffic police department, 1,200 people returned by motorbike from July 23-28.
The province also reported that nearly 3,000 other people were driving home in their own cars in the coming days.
Authorities have warned that the situation will become much worse if people keep flocking home en masse. In particular, the healthcare system, with its limited infrastructure, will collapse.
The provincial health department said 103 out of 163 COVID-19 patients – 64 per cent – were released from hospitals between June 26 and July 29.
Authorities in Thừa Thiên Huế have said the province had received more than 600 people by train and air between July 24-27. A flight had also been arranged for another 250 people from HCM City for August 1.
The province said it had already received 8,000 Huế-natives returning for the south, but that accommodation and medical facilities at quarantined centres could only provide enough space for 10,000 people.
Quảng Nam Province said it had received more than 7,500 returnees that were now in isolation at mass centres and in their homes. Only three positive cases were found among them.
Capital's response to a nationwide outbreak
At 2am on July 17, after being told of the detection of an F0 at Trương Định Street, the COVID-19 prevention and control team of Tân Mai Ward in Hoàng Mai District had an urgent meeting.
They met with staff from other units, police, military, health, residential area representatives and the community COVID-19 team to begin tracing, quarantine and disinfecting the area. They also took samples from people who had been in close contact with the patient.
Four others tested positive.
There was no time to rest. Another call came in from the Bạch Mai Hospital at 5.30am on the following day, July 18. Five other people in a family at the B8 residential block in Hoàng Mai District had tested positive. The team was mobilised once again, tracing, quarantining, disinfecting, and testing - this time, 11 people came back positive for the virus.
This is what happens at the coalface of an outbreak in Hà Nội. It's a procedure the city has followed since the fourth wave of the pandemic began. As the situation has become worse in HCM City and other southern provinces, these ward-level control teams are also in charge of screening people returning from these hotspots.
"It's critical that we do early testing with people coming back from pandemic-hit areas and detect positive cases early so that we could stamp out the pandemic before it takes hold," said Nguyễn Thị Thu Thuỷ, a medical staff member at Hai Bà Trưng District's health station.
On July 20, Nguyễn Hoàng Giáp, vice chairman of Đống Đa District's People's Committee had a meeting with the city's Steering Committee for COVID-19 Prevention and Control, during which he mentioned the outbreak at the drugstore at 95 Láng Hạ Street.
The COVID-19 team of the district had tested anyone who had been to the drugstore on the night of July 19. Almost 300 people were tested and by July 27, 18 F0s had been detected. Notably, this may not be the final number with contact tracing work still underway.
"The work itself is hard enough, but that's not all... Many people do not willingly declare their health situation and only do that when they have symptoms. And many others do not let us take samples," Nguyễn Thị Thanh Lam, a healthcare worker at Đống Đa District health centre said.
Nguyễn Hải Yến from the Cầu Giấy District health centre shared the same experience.
"On one hand, some people are negligent about the risks, but on the other hand, some are too extreme and even try to avoid the healthcare workers. In cases like that, we have to act not just as healthcare workers but also as psychologists, sharing and explaining and persuading them to follow the regulations," Yến said.
Faster and faster
Staff at the Hà Nội Centre for Diseases Centre (CDC) have been racing against time to complete a huge workload each day. The testing samples they receive need to be processed as fast as possible.
Khổng Minh Tuấn, vice director of the Hà Nội CDC, said his staff had not had a day off since the beginning of the outbreak and the lights at the centre were always on.
On peak days, the centre can receive up to 10,000 samples a day. The centre can test up to 14,000 – 15,000 samples a day at its maximum capacity.
"We prioritise those at higher risk over those that come through community screening," Tuấn said.
As many as 100 staff are on the job, divided into three shifts a day but when the situation requires it, all of them have to work at the same time.
Trần Thị Nhị Hà, director of the city's Department of Health said the city had raised its testing capacity from 5,000 samples a day to 30,000 samples a day. Depending on the severity of the outbreak, this can go even higher.
No rest? No complaints.
Nguyễn Hoàng Yến, vice director of Cầu Giấy District's Health Centre said even though the city residents are now more educated about the COVID-19 pandemic, the workload for healthcare workers had not been reduced.
"We have to trace, take samples, and screen for those with symptoms like coughing, fever, and now giving vaccines to people," she said.
"Some of our staff haven't been home for weeks. Sometimes they have to go to new outbreaks and don't return to the centre until midnight. But no one complains," she said.
Lieutenant Colonel Nguyễn Văn Trung, head of the police unit of Đông Ngạc Ward in Bắc Từ Liêm District, who is in charge at the pandemic checkpoint at a residential building in Đông Ngạc Ward, said the unit still had to follow their normal duties the areas secure while also supporting the task of COVID-19 prevention and control.
"When an F0 is detected, we go to the location straight away to support contact tracing and to guard the quarantined areas," Trung said.
"We do not only ensure security, but also share with people what they have to go through when living in an area with an outbreak of the virus," he said.
Secretary of the Party Committee of Hà Nội Đinh Tiến Dũng called on city residents to stay at home, follow anti-pandemic regulations and support the authorities.
"Without the compliance and support from the people, no guidelines or policies can be effective and successful," he said.
Food delivery buses deployed to secure supplies for residents of HCM City
A total of 10 food delivery buses have been deployed across HCM City in an attempt to secure food supplies for city residents as part of a joint initiative between HCM City authorities and Phenikaa MaaS Technology JSC (Phenikaa MaaS).
In order to ensure people are informed about bus schedules and routes, Phenikaa MaaS has created a smart transport app that integrates artificial intelligence (AI) and Big Data technology.
The BusMap app displays the routes of the 10 buses so that local residents can get access to their nearest point of sale. This is designed so that consumers can avoid crowding and follow the 5K rules.
The deployment of food delivery buses is expected to help the authorities of HCM City perform administrative tasks better by giving them the opportunity to get feedback from people and improve their efficiency battling the pandemic, the company said in a statement.
Phenikaa MaaS - a member of Phenikaa Group has also expanded the use of the COVID tracking map (CovidMap) to many provinces and cities, which have been battling the COVID-19 pandemic.
Residents of HCM City can access the BusMap app at: https://map.busmap.vn/hcm or download the application from the PlayStore or AppStore.
In Đà Nẵng City, Phenikaa MaaS is providing information on 100 points of sale on its website at https://map.busmap.vn/dn and the BusMap app to make shopping easier for local residents.
Earlier in July, the company offered a free-of-charge CovidMap for the provinces and cities that were struggling with the coronavirus spread such as Lâm Đồng, An Giang, Đồng Nai and Hà Tĩnh, bringing the total number of localities using the CovidMap to 15.
The tracking map allows local authorities and people to stay up to date with information on outbreaks and to better execute tasks necessary to get the situation under control.
Via a smart device with an internet connection, the CovidMap shows information on COVID-19 infection cases and provides an overall view and updates of the outbreak, including the places where infected people have travelled, quarantine areas, and check-up sites.
These details will help people avoid going to places that infected persons have been. The map only reveals basic information on the infected person such as the year of birth, gender, physical condition and the person's treatment location. The map is a tool that assists local governments with data monitoring and updating and restricts the spread of fake news.
Phenikaa MaaS' CEO Lê Yên Thanh said the company was willing to give the map to provinces and cities for free to boost their efforts in disease prevention.
HCM City to shorten medical procedures to speed up vaccination programs
Minister of Health Nguyễn Thanh Long is allowing HCM City to pilot shortening the COVID-19 vaccination procedure as a way to save time and speed up the vaccination rollout in the city.
HCM City's Health Department on Thursday morning proposed that people aged under 65 years old and having no underlying medical conditions should not have to undergo health screening before getting a COVID-19 vaccine shot.
People in good health without any illness or diseases will also be allowed to leave the vaccination site earlier instead of waiting for at least 30 minutes.
According to HCM City's Health Department, the shortened vaccination procedure could help save time, meaning that more people could receive vaccines at the same site and vaccination workers could finish work at one site and shift to another.
In an urgent message sent to HCM City People's Committee on Thursday afternoon, Health Minister Long said the city could decide on suitable post-vaccination health monitoring.
Long also emphasized that the city had to speed up the vaccination rollout.
If the city faced a shortage of vaccination personnel, the Health Ministry would arrange more medical workers to help, he said.
All people aged over 18 in the city must be vaccinated, especially elderly people, those who work on the front line of COVID-19 prevention and control, and those suffering from other diseases.
The city's health authority was also asked to pay attention to people who now have to delay vaccination for health problems.
As soon as they are eligible for vaccination, they should be arranged to get the vaccine.
Local authorities have instructed people to register for vaccination and answer health screening questions. They are then informed of the exact time and location of their vaccination.
Vaccination stations will be set up in locked-down areas so that people don't have to travel to other areas to get vaccinated.
People are called on to install the e-health record app so that authorities can easily handle the city's vaccination programme, including the number of vaccinated people and the number of people registering for vaccination.
Currently, HCM City has 650 vaccination groups delivering about 70,000-80,000 shots daily.
The city plans to have about 70 per cent of the population over the age of 18 to have received one dose of the vaccine by the end of next month.
HCM City now has a population of nearly 9 million people. Of that, almost seven million people are over 18 years old. Until now, almost 980,000 people in the city received one shot while more than 62,200 people have received two shots.
Vietnamese man jailed in UK for producing cannabis
A Vietnamese national has been jailed in the UK after police found cannabis worth US$1.4 million growing in a three-storey abandoned nightclub.
Cao Văn Vũ, 31, was sent to prison for 40 months for his part in the illegal operation. He will be deported back to Việt Nam after serving his sentence.
Two other men, both Albanians, were also jailed.
In October last year, National Crime Agency (NCA) officers, supported by West Midlands Police, raided the property in the Coventry area of the Midlands.
They had to smash through several reinforced doors to access the interior, where they found around 1,500 cannabis plants spread across the building's three floors. NCA experts value the haul at over £1 million.
As well as the plants officers recovered planting, growing and irrigation equipment, valued at around US$209,000.
The trio had also bypassed the buildings electricity system and illegally gained power from a commercial supply in the street outside.
The NCA say the discovery was the largest and most sophisticated cannabis factory they have ever found.
During interviews with detectives, Vũ admitted he paid people smugglers to help him enter the UK illegally.
All three men pleaded guilty at Warwick Crown Court to producing a controlled drug.
NCA Branch Commander Mick Pope said: "These men were involved in producing cannabis on an industrial scale. It is certainly the largest and most sophisticated cannabis factory ever found by the NCA.
"They were responsible for maintaining and storing drugs and equipment worth over a million pounds, which shows the wider criminal network behind this operation clearly trusted them.
"The takedown of this facility will have had a huge impact on the wider organised crime group, depriving them of potentially millions of pounds in profit, which would have been used to fund further criminality and exploitation.
"Our investigation continues."
Albanians Adrian Lleshaj, 29 and Andi Cani, 24, were jailed for 35 and 28 months respectively.
HCM City inspectors apprised about authorised delivery people to enforce travel restrictions
To ensure smooth delivery and distribution of essential goods amid the COVID-19 restrictions, the HCM City Department of Industry and Trade has created a database of delivery staff that can be easily accessed by inspectors and notified the public about businesses that sell essential products.
It has apprised district authorities, the police and others about how to identify various people such as shippers working for delivery services and those supplying meals to hospitals, quarantine zones and other facilities, a key factor in combating the pandemic.
People delivering for e-commerce companies need to be in uniforms and have a travel permit issued by their employers and employee identity card. Information about the shippers' vehicles, address and delivery route are easily accessible through QR codes.
Delivery staff working for supermarkets and other businesses will have name cards and documents issued by their businesses.
Inspectors can look up information about the shippers on their agency website, where the department has uploaded it.
Shippers can only operate in one assigned district unless they are transporting essential goods to quarantine zones or health facilities treating COVID patients. For this, they need to carry their name cards, travel permits and the department's authorisation.
The department also has information about and contact details of suppliers of essential goods on its website to enable the public to shop easily.
Its Communist Youth Union uploads the daily schedules and locations of mobile sales trips to distribute essential items on its Facebook page.
The department has been working on increasing the number of suppliers and distributors of agricultural produce and operating more mobile sales trips.
There have been more than 1,000 mobile selling sites, according to the department.
According to the Ministry of Agriculture and Rural Development, southern provinces and cities can grow up to 5.7 million tonnes of vegetables in the remaining months of the year, ensuring sufficient supply. Southern provinces have the capacity to produce around 2.9 million tonnes of fisheries items this year.
Dong Nai Province supplies nearly 10,000 pigs and 100,000 chickens every day, mostly to HCM City and other provinces.
However, transportation of these goods remains a problem, and traders and businesses having difficulty travelling to buy and sell them to areas with COVID restrictions.
A ministry working group is helping vehicles pass through checkpoints.
HCM City is the COVID epicentre of the country with more than 85,000 cases since the fourth outbreak began in late April. Social distancing began on May 31, and more and more stringent preventive measures have been put in place as the number of cases keeps rising.
Many traditional markets have been closed due to the pandemic, affecting the supply of vegetables and other essential goods.  
92,000 spam subscriptions blocked

Vietnamese telecommunications businesses have prevented more than 92,000 subscriptions from spreading spam calls, and more than 35 million fake calls in the first six months of the year, said the Ministry of Information and Communications.
The number of complaints about spam calls on switchboard 5656 increased on average from 13-15 per cent per month.
The number of spam calls and affected subscribers decreased significantly compared to the end of last year.
Specifically, there were about 8.4 million spam calls last month (June), down 31.9 per cent compared to December last year.
There were 5.4 million subscribers affected by spam calls, down 23.5 per cent compared to December last year.
The Viet Nam Telecommunications Authority will direct network operators to regularly updating technical measures to prevent fake and spam calls, as well as coordinate with police agencies to detect and handle acts of phone-number forgery, to ensure safety, security and social order and protect consumer interests.
Vietnam women's team handed World Cup opportunity after DPRK withdrawal
The Democratic People's Republic of Korea (DPRK)'s withdrawal from the upcoming Asian qualifiers for the 2023 Women's World Cup could mean that the Vietnamese women's national football team have a better chance of securing a place in the competition.
This comes after the Asian Football Federation (AFC) recently confirmed the departure of the DPRK from the 2022 AFC Women's Asian Cup qualifiers. Although no specific reason was given, reports by the Republic of Korea's media indicate that the DPRK's withdrawal is due to COVID-19 fears.
Moving forward, Group C of the 2022 AFC Women's Asian Cup will now only have three national teams, including Indonesia, Iraq, and Singapore.
The top six teams of the 2022 AFC Women's Asian Cup will go on to represent Asia at the 2023 FIFA Women's World Cup, with the withdrawal of the DPRK helping Vietnam to have a greater chance to secure a ticket to the global tournament.
Vietnam have been drawn in Group B of the regional qualifiers, alongside the Maldives, Afghanistan, and hosts Tajikistan.
The goal of the national team is to top Group B during the regional qualifiers, thereby progressing to the final round of the 2022 AFC Women's Asian Cup and securing a ticket to the 2023 FIFA Women's World Cup.
The team, led by head coach Mai Duc Chung, will compete in Asian qualifiers in Tajikistan between September 7 and October 12.
The best regional 12 teams will compete in the final round of the AFC Women's Asian Cup, which is set to take place between January 20, 2022, and February 6, 2022, in India. 
HCM City launches first International Photo Contest
The debut version of the Ho Chi Minh City International Photo Contest 2021 has opened for all amateur and professional photographers from around the world.
The contest will feature four sections, including open colour, open monochrome, travel, and daily life, the organisers Ho Chi Minh City Photographic Association (HOPA) said.
Each entrant is able to participate in any one or all sections, whilst they can also submit a maximum of four photos per section, with a total of 16 photos for all sections.
Entries should therefore be sent to the organisers by October 15, at www.hopaphotocontest.com.
Alongside renowned domestic experts, the judging panel will also consist of international experts, including Yousuf Tusha of Bangladesh and André Torè of France.
A ceremony to announce the winners and open an exhibition showcasing the winning photos is scheduled to take place on November 30 in Ho Chi Minh City.
The event is being carried out by the Ho Chi Minh City Photographic Association (HOPA), under the patronage of the International Federation of Photographic Art (FIAP).
This is along with the recognition of the Photographic Society of America (PSA), Image Sans Frontiere (ISF) label, and the Vietnam Association of Photographic Artists (VAPA).
More than 2,800 COVID-19 patients in HCM City discharged from hospital
The total number of people who have recovered from COVID-19 since the start of the latest pandemic wave rose to 31,146, following the discharge of a further 2,826 patients on July 30, according to the Ho Chi Minh City Centre for Disease Control.
Currently, hospitals in the southern city are in the process of treating 36,233 people who have tested positive for COVID-19, of which 878 are seriously-ill patients who have been put onto ventilators, with 14 on extracorporeal membrane oxygenation (ECMO).
Ho Chi Minh City also discovered three new infection clusters in residential areas based in several districts on July 30. Currently, 27 infection chains have been zoned off and are being closely monitored.
With regard to the vaccine rollout, the city will launch its fifth vaccination drive with 930,000 doses set to be administered over the course of two weeks. The inoculation campaign is being accelerated in order to keep residents safe whilst boosting COVID-19 prevention and control.
The southern metropolis is also enforcing the Government's Directive 16 and intensifying more drastic anti-pandemic measures until August 1, with a particular focus on gradually shifting its treatment strategy in order to limit the mortality rate.
As of the morning of July 31, since the initial resurgence of the virus began three months ago, more than 88,000 active cases of local transmission have been registered in Ho Chi Minh City, the nation's largest COVID-19 hotspot. 
Nha Trang imposes night curfew
The authorities of Nha Trang City have imposed a 7 pm curfew in the whole city and locked down 11 wards and communes to curb Covid-19.
Nha Trang People's Committee announced that a night curfew would be applied from 7 pm to 6 am starting from July 31.
Medical staff, firefighters, the media, environmental workers and other people working in essential industries can go out after 7 pm. Supermarkets and convenience stores can still open for residents who are given food tickets.
11 wards and communes that have been locked down are considered high-risk areas including Phuoc Dong, Vinh Truong, Vinh Hiep, Ngoc Hiep, Vinh Ngoc, Vinh Phuoc, Vinh Tho, Vinh Hai, Vinh Hoa, Van Thang and Van Thanh. Residents in these areas will be tested.
Nha Trang City authorities asked the residents to stay home until further notice.
Vietnam approves Education Society Scheme in 2021-2030 amid digital transformation
The Vietnamese government on July 30 issued Decision No.1373/QD-TTg approving the Scheme on Development of Education Society in 2021-2030, aiming to improve the quality of human resources and ready them for digital transformation.
Under the scheme, all people have an equal education opportunity and access to an open, diversified, flexible, and modern education system.
The scheme aims to have 100 per cent of cities and provinces providing universal education for preschool children by 2030; 70 per cent achieving universal primary school education; and 40 per cent achieving universal education at the secondary junior school level.
In addition, the scheme targets that by 2030, 90 per cent of universities will apply digital education and develop digital learning materials. Meanwhile, 80 per cent of secondary schools, continuing education facilities, and vocational training facilities, and others conduct management, teaching, and learning in the digital environment.
The scheme sets a number of tasks and solutions to achieve these targets. They include increasing people's awareness about lifelong learning and developing an education society in the context of the development of the digital economy and digital society.
It also directs that a draft law on lifelong learning by studied and built while checking and building policies to support community education centres, especially those in island, remote, and mountainous areas.
It also urged the preparation and proposal of policies to create favourable conditions for labourers to get retraining, and upskilling, as well as promoting lifelong learning among retirees, household workers, and the disabled.
The scheme also enhances digital transformation and IT application in lifelong learning activities. Specifically, boosting IT and digital technology application to increase operational efficiency of tertiary education facilities, vocational training establishments, and others, and developing open education materials to serve lifelong learning on education TV channel.
Vingroup to build vaccine factory with annual capacity of 100-200 million doses
Vietnamese conglomerate Vingroup will develop a vaccine factory with an annual capacity of 100-200 million doses in Hoa Lac Hi-Tech Park in Hanoi. This is one of five urgent key projects that are allowed to operate during the social distancing period.
Hanoi People's Committee has just approved a list of urgent key projects to be operated during the social distancing period. These include the vaccine factory project in Hoa Lac Hi-Tech Park in Hanoi led by Vingroup's Vinsmart Research and Production JSC.
Vingroup is currently in negotiation with the US' Arcturus for COVID-19 vaccine technology transfer with expectations of beginning clinical trials in Vietnam in August. After completing the trial, production will be deployed at the factory in Hoa Lac Hi-Tech Park. The finished products will be launched on the market in 2022.
The plant will produce has a capacity of 100-200 million doses of vaccines per year. Vaccines are produced by using the same mRNA technology as the vaccines of Pfizer and Moderna.
In June 2021, Vingroup has joined forces with Viet A Corp to establish Vinbiocare Biotechnology JSC (Vinbiocare) with a charter capital of VND200 billion($8.7 million). Vingroup is the largest shareholder of Vinbiocare, contributing VND138 billion ($6 million) to own 69 per cent.
Vinbiocare focuses on manufacturing drugs, pharmaceutical chemicals, and medicinal herbs including vaccine production, scientific research, and technology development.
Hanoi Party chief calls for compliance with social distancing measures
Social distancing measures must be enforced strictly to prevent the spread of COVID-19, stated Hanoi Party Secretary Dinh Tien Dung on July 31, one week following the imposition of movement restrictions in the capital city.
He said the city-wide distancing measures will be implemented for 15 days and whether or not they are extended will depend on the actual situation.
According to the Hanoi Party chief, such measures are appropriate with the reality of the situation and supported by the people, but lax enforcement has been reported in some places over the past few days.
Anh emphasised that even if the measures are correct, their effect will be reduced if they are not implemented seriously.
He called on all levels of government, the fatherland front and social and political organisations in Hanoi to fully grasp General Secretary Nguyen Phu Trong's call and take every action to drive out the virus and prevent it from spreading widely.
In addition, the capital city leader asked local authorities to ensure the standard of living for the people during the social distancing period and asked the fatherland front to continue mobilising resources for battling the virus and encouraging the forces on the frontline. 
Hanoi asks public employees to go to office only when necessary
The Hanoi government has requested its employees whose work involves information technology to work from home during the social distancing period.
Exceptions include those who must stay on duty at the office, stand ready for battle, provide essential goods and services, handle confidential documents and perform epidemic prevention tasks.
Special travel documents will be issued to those who are required to work outside their homes.
The regulation is part of a directive issued by the Hanoi Chairman Chu Ngoc Anh on July 30 on complying with social distancing rules in the capital city.
He said that such restriction measures are intended to prevent the spread of COVID-19 and ensure safety for the capital city and its residents.
Heads of agencies and units under the city government will be held entirely responsible if their employees cause virus transmission due to violation of pandemic prevention measures. 
Four trade associations propose to buy vaccines for member companies from UAE
Four trade associations have sought the government's approval to buy COVID-19 vaccines from a company in the United Arab Emirates (UAE) to provide free injections to their employees.
The Vietnam Textile and Apparel Association, Vietnam Leather, Footwear and Handbag Association, Vietnam Electronic Industries Association, and Handicraft and Wood Industry Association of Ho Chi Minh City have recently submitted a document to the prime minister as well as the ministries of Health and Industry and Trade about the matter.
Accordingly, the associations have been actively discussing vaccine sourcing with UAE's Royal Strategic Partners. In mid-July 2021, the Vietnamese embassy in the UAE has held a meeting with the company to assess its ability to supply vaccines.
The four associations proposed that the government and the Ministry of Health preside over negotiations with Royal Strategic Partners or assign a Vietnamese importer that is eligible to carry out import procedures. This will faciliate associations to vaccinate workers at factories as soon as possible. Their business members will pay all costs for vaccination.
In addition, the associations also want the government to create the necessary conditions for their workers to be vaccinated at the beginning of August. Vaccines will be given to workers at factories and industrial parks to ensure production and fight the pandemic.
Since the outbreak of the pandemic, 90 per cent of their business members have to halt production, disrupting the global supply of brands and eroding trust of foreign buyers.
The four industries generate 8 million direct jobs and 12.5 million indirect jobs for workers with a total export turnover of $150 billion annually.
Binh Duong to establish two more Covid-19 field hospitals
The southern province of Binh Duong today, July 30, decided to set up two additional Covid-19 field hospitals in Ben Cat Town and Bau Bang District, with a total of 8,000 beds.
Specifically, the province's Covid-19 Field Hospital No.3 will be located at the Vietnamese - German University, with 3,000 beds, while the Covid-19 Field Hospital No.4 will be at the Hoang Hung Company in Bau Bang, with 3,000-5,000 beds.
A few days ago, the province also set up the 5,000-bed Covid-19 Field Hospital No.2 in Ben Cat Town, with over VND100 billion in investment. The hospital, which is expected to be put into service on August 5, will admit and treat coronavirus patients who are asymptomatic, mildly or moderately ill.
As of now, Binh Duong has four Covid field hospitals with a total of 16,000 beds in Thu Dau Mot City, Ben Cat Town and Bau Bang District. Its first field hospital, with 3,000 beds, includes two facilities at the World Trade Center Binh Duong New City and the Eastern International University in Thu Dau Mot City.
Binh Duong is adopting a three-tier system in Covid-19 treatment. Under the system, the Level 1 facilities, including the field hospitals No.3, No.4, and a unit set up at the dormitory of the Vietnam National University-HCMC, will receive and treat asymptomatic patients or those with mild symptoms.
The Level 2 facilities will handle moderately ill patients. These facilities include local medical centers and the field hospitals No.1 and 2.
The Level 3 facilities are intensive care units for critically ill patients. They comprise the provincial General Hospital and private hospitals in the province.
This morning, the province reported 1,284 new infections, raising the province's tally in the latest outbreak since April 27 to 11,968 cases. 
HCMC, Hanoi get 270,000 more Covid-19 vaccine doses each
HCMC, the country's biggest coronavirus hotspot, and Hanoi City will receive the same amount of 270,000 more doses of the AstraZeneca Covid-19 vaccine under the Health Ministry's vaccine allocation plan of over 2.9 million doses.
The ministry has decided to allocate the over 2.9-million doses, which were imported by VNVC and provided by the Covax Facility, to virus-hit provinces and cities and 23 hospitals and institutes under the ministry.
Under the decision, the northern region will gain access to over 1.07 million doses. Hanoi City will get the largest number of doses, followed by Thanh Hoa and Nghe An provinces with 56,000 doses each, Haiphong City with 44,000, Bac Giang with 38,200 and Quang Ninh and Bac Ninh with 38,000 each.
A total of 342,700 doses were allocated to the central region, with Danang City receiving 54,000 doses, while four Central Highlands provinces, comprising Kon Tum, Gia Lai, Daklak and Dak Nong, will get 92,300 doses in total.
Among over 1.09 million doses allocated to the southern region, apart from the allocation to HCMC, Dong Nai and Binh Duong will get 73,000 doses each, while the remaining localities were allocated 18,000-53,000 doses each.
Besides, the hospitals and institutes under the ministry will get a combined 245,000 doses, with Thong Nhat Hospital in HCMC receiving the most at 24,000.
Also, the ministry allocated 31,000 doses each to the military and the police nationwide, the local media reported.
Can Gio-Can Giuoc ferry service suspended 
The ferry service linking HCMC's outlying coastal district of Can Gio with neighboring Long An Province's Can Giuoc District has suspended operations starting July 30, until further notice as part of the city's efforts to fight Covid-19, according to the municipal transport authority's announcement.
Also, between July 30 and August 1, the Binh Khanh ferry service, which connects Nha Be District and Can Gio District in HCMC, and the Cat Lai ferry service linking HCMC's Thu Duc City and Dong Nai Province's Nhon Trach District will stop transporting passengers.
Instead, they will only serve cars transporting workers, ambulances, vehicles carrying people joining the Covid fight, vehicles of armed forces, and those transporting essential goods, production materials and export-import items, the HCMC Department of Transport said in the announcement.
The passenger vehicles must not have more than 50% of their seats in use. Passengers must follow the mask mandate, keep a safe physical distance away from others during the trip and at waiting areas and must file health declarations. All vehicles must be disinfected regularly and have hand sanitizers.
The Transport Department asked the Youth Volunteer Public Service Company to monitor and ensure that only the authorized vehicles are allowed to use the ferry services.
The department also requested the authorities of Nhon Trach District in Dong Nai, Thu Duc City, Nha Be and Can Gio districts in HCMC to send competent forces to the ferry terminal to help monitor and tackle violators.
HCMC to lift lockdown on five wards with 250,000 residents
The lockdown earlier imposed on five wards with over 250,000 residents in HCMC's Thu Duc City will be lifted at 6 p.m. today, July 30.
The decision, covering Binh Chieu, Hiep Binh Phuoc, Linh Xuan, Tam Binh and Tam Phu wards, was approved on July 29 by Hoang Tung, chairman of the Thu Duc City government.
Among these wards, Binh Chieu, which is home to nearly 74,000 residents, has been locked down for 18 days. Hiep Binh Phuoc with more than 64,000 residents and Linh Xuan with some 58,000 residents were put on lockdown 14 days ago. As for Tam Binh and Tam Phu with a total population of over 57,000 residents, they have had a 10-day lockdown.
Accordingly, by 6 p.m. today, the lockdown earlier imposed on 12 wards of Thu Duc City will be lifted.
The Thu Duc City government asked the authorities of these wards to evaluate the location, the number of residents, the number of Covid cases and transmission rates to decide on a proper lockdown for the affected areas in each ward, aimed at fully detecting infections but minimizing the negative impact on the daily lives of residents.
The local authorities were also told to coordinate with the police and military forces to monitor compliance with social distancing rules among the local people, especially those living in narrow, densely-populated alleys, and strictly tackle violators.
Besides, they have to make safety reviews in highly vulnerable areas to promptly take preventive measures.
Thu Duc City was listed among the six extremely high-risk localities which include the districts of Binh Tan, Hoc Mon, Binh Chanh, Tan Phu and District 8 in the current fourth outbreak. To date, Thu Duc City has reported over 4,958 infections and ranks fifth in HCMC in the number of cases.
In Hoc Mon and District 8, the lockdown in some vast areas was lifted. Earlier, the government of Binh Tan District, which reported the highest number of cases in HCMC, decided to lift the lockdown at the Ehome 3 apartment building in An Lac Ward on July 12.
Meanwhile, the entire Tan Thuan Dong Ward and parts of the Tan Thuan Tay and Binh Thuan wards in District 7 are still on lockdown. Wards 19 and 21 in Binh Thanh District are also currently subject to the lockdown. 
240 people of HCMC's mental health care center test positive for Covid-19
After undergoing Covid-19 rapid tests, 240 people at the Thu Duc Mental Health Care Center in HCMC's Thu Duc City were positive, a local official confirmed on July 29.
According to Le Minh Tan, director of the HCMC Department of Labor, Invalids and Social Affairs, the center is under the management of the department and is monitoring and taking care of 1,103 people.
Among the 240 people who tested positive, 12 are employees of the center, Phap Luat newspaper reported.
Tan said that the department had reported the Covid-19 situation at the center to the HCMC government, the HCMC Department of Health and the HCMC Center for Disease Control for preventive measures.
The Department of Labor, Invalids and Social Affairs will assign a team to take care of the patients and set up a quarantine zone in the center. It will also coordinate with the Thu Duc Medical Center to offer medical check-up services and conduct Covid-19 RT-PCR tests for people who tested positive and employees of the center, he added. 
Local governments helping farmers sell produce
By the end of July, farmers in the Mekong Delta will harvest 500,000 hectares of summer-autumn crop. The outbreak of the Covid-19 pandemic restricted normal execution of agricultural extension services and movement of agricultural produce to markets; therefore, local governments have made concerted efforts to help farmers sell produce.
It is being the harvest season in the Mekong Delta with hundreds of thousands of hectares of summer-autumn rice and many agricultural have been reaped. Many localities are trying to apply all methods so that farmers can harvest and sell agricultural products. For instance, the authority in Hau Giang Province has mobilized 264 combined harvesters to harvest rice to help farmers.
According to Director of the Department of Agriculture and Rural Development of Hau Giang Province Tran Chi Hung, those reaping rice and traders buying rice at the field must ensure safety in disease prevention, apply rapid testing and strictly implement 5K principles. In addition, the departments of Hau Giang province have helped cooperatives, farmers connect with other enterprises to consume agricultural products.
The Mekong Delta provinces of Bac Lieu, Dong Thap, Vinh Long also connected farmers and cooperatives with supermarkets and businesses. Furthermore, the administrations have called on the community to join hands in buying produce to remove difficulties during the epidemic and social distancing time.
Normally, it is difficult to sell sweet potatoes. Now, it is more difficult to sell the produce though a kilogram of sweet potatoes costs a few hundred dong, not many people have bought it. However, through connections with supermarkets and organizations, and individuals, Vinh Long has helped farmers sell thousands of tons of purple sweet potatoes at the price of VND3,000 per kilogram.
Currently, many localities in the Mekong Delta have been helping connect with supermarkets and traditional markets to consume agricultural products. Some localities such as Bac Lieu, Hau Giang, and Dong Thap are helping farmers by delivering agricultural products to people's houses because transporting agricultural products is the most difficult step in the circulation of goods.
Recently, the People's Committee of Soc Trang province has sent an official letter requesting the Provincial Business Association to notify companies, enterprises, production, and business establishments in the province about Covid-19 vaccination for drivers, assistants, and unloading vehicles.
Drivers and employees were excited at the news of inoculation announced by the People's Committee in Soc Trang Province as they are at high risk of transmission, said Dr. Tran Khac Tam, Chairman of Soc Trang Province Business Association.
Each household can buy essential goods 2-3 times a week
The Ho Chi Minh City Department of Industry and Trade on July 30 issued its guidance about the distribution of vouchers for families to purchase local foods at markets. Under its guidance, each household can buy essential goods 2-3 times a week.
In its dispatch to People's Committee of Thu Duc City and districts, the board of directors of business units, the management board of markets need to review the population size, the number of points of sale of food, and essential food in the areas.
Leaders of the district should work with the distributors in the area to assess the capacity, the number of goods supplied, daily service capacity from which each district will have a plan for the frequency of going to market and supermarket.
Particularly in blocked areas, people will buy essential foods at supermarkets and markets inside the area every two times a week. Names, addresses, phone numbers, identity cards of a family's representative are written on vouchers. One representative will go out to purchase goods at the point of sale according to the appropriate time frame and supply location.
The operation of traditional markets must necessarily comply with the direction of the People's Committee of Ho Chi Minh City and the Department of Industry and Trade. Localities should report difficulties and obstacles in the implementation process, propose solutions and recommendations to adapt to locality conditions.
Self-sufficient model encouraged for communities in lockdown
On July 30, Mr. Nguyen Ho Hai, Deputy Secretary of the HCMC Party Committee and local officials from Binh Thanh district visited and presented gifts to 60 households in the locked down alley at 290 No Trang Long, Ward 12, Binh Thanh, HCMC.
Since entry to parts of the alley was restricted due to Covid-19, the residents have been sharing essential goods with each other in place of social services. They also set up online chat groups for anyone who needs help to post about it and deliver essential goods to their door. They also monitor one another to make sure their neighbors are complying with social distancing measures.
Seeing the people's innovative minds, Mr. Nguyen Ho Hai suggested HCMC and Thu Duc City do the same in coming times.
At the same time, he emphasized that the people are the driving force behind curbing the pandemic, and encouraged everyone to strictly follow prevention and control measures.
In a run-down house at the end of the alley, Mr. Nguyen Quoc Hoa lives with his extended family of 7. They were mourning a sibling who just passed away due to Covid. Mr. Nguyen Ho Hai sent his condolences and encouraged the family to stay strong.
Mrs. Nguyen Thi Thuy, chairwoman of Ward 12 People's Committee, Binh Thanh District reported that the ward has recorded 179 cases of F0 so far, of which 159 are implementing self-quarantine.
Among the 14 restricted areas across the ward, this alley is home to 109 people. The ward has set up 10 security teams to manage the areas and work with Covid-19 prevention community groups to raise awareness in implementing social distancing.
Ward 12 has given out over 8,800 travel passes exclusive for grocery shopping that people can use up to twice a week.
145 new COVID related deaths, 8,620 new infections on Saturday
An additional 145 deaths from COVID-19 have been recorded around Việt Nam on Saturday. Of those, 90 were from HCM City, 47 in Tiền Giang, four in Đồng Tháp, two in Long An, one in Trà Vinh and one in Quảng Nam.
Việt Nam has also recorded 8,620 new domestically transmitted cases of the virus and four imported cases, taking the nation's total to 145,686.
HCM City has seen a slight decrease with 4,180 infections although it still leads the nation in the number of new cases.
Bình Dương Province is second with 2,075 new cases, followed by Long An (544), Đồng Nai (456), Khánh Hoà (335), Đồng Tháp (146), Tiền Giang (123), and Bà Rịa - Vũng Tàu (115).
Several other localities recorded double-digit increases, including Bình Thuận (75), Cần Thơ (72), Tây Ninh (72), Phú Yên (58), Đà Nẵng (55), Vĩnh Long (48), Hà Nội (46), Đắk Lắk (32), Bình Định (28), Hậu Giang (19), Kiên Giang (16), Bình Phước (14), Thừa Thiên Huế (13), Nghệ An (13), Gia Lai (13), Đắk Nông (12), Sơn La (10), and Quảng Nam (10).
A new outbreak was found in Hoàn Kiếm District's Chương Dương Ward in Hà Nội where a local checkpoint officer became infected on July 28. This case was followed by 17 more people testing positive for the virus. More than 23,000 residents in the ward are now required to self-quarantine.
The remaining cases in the country were in Ninh Thuận (5), Thanh Hoá (5), Quảng Trị (4), Hà Tĩnh (4), Vĩnh Phúc (4), Lâm Đồng (3), Hà Nam (3), Hải Dương (3), Ninh Bình (2), An Giang (2), Kon Tum (1), Quảng Ngãi (1), Quảng Bình (1), Hải Phòng (1), and Bạc Liêu (1).
Total community transmissions were 2,045.
Four localities have gone 14 days without new community cases includingYên Bái, Điện Biên, Quảng Ninh, and Bắc Kạn.
A further 3,250 patients were given the all-clear on Saturday, raising the total number of recoveries to 38,734.
There are currently 441 seriously ill COVID patients in intensive care units and 21 are undergoing ECMO treatment.
At the end of Thursday, 5,931,376 doses of COVID-19 vaccine had been administered in Việt Nam. A total of 588,893 people have been fully inoculated.

Ministry of Health to set up intensive care unit for COVID patients in Bình Dương
Minister of Health Nguyễn Thanh Long has discussed with leaders of Bình Dương the establishment of an intensive care unit for COVID-19 patients in one of the southern province's hospitals.
The ICU Centre with 200 ventilators will play a important role in reduce the rate of severe and death of the COVID-19 cases.
The ministry has suggested that the ICU should be set up at the province general hospital in Thủ Dầu Một City, and be connected with its professional council and with field hospitals and lower-level hospitals.
Long said that the ICU would be managed by Associate Professor Nguyễn Lân Hiếu, director of the Hà Nội Medical University Hospital.
He also said his ministry would dispatch more healthcare personnel to support the province with vaccination so that the campaign is effective.
Chairman of the province People's Committee, Võ Văn Minh, called on the ministry's continued support for treating COVID-19 patients, conducting tests and distributing vaccines for industrial workers.
The province would focus on vaccinating people living in 'red' areas, where COVID cases have been detected in the previous seven days, he said.
Its northern 'green zone' has no cases and therefore, people travelling from the "red zone" to the "green zone" must practice isolation according to regulations.
Long agreed with the Bình Dương leader's epidemic prevention strategy, especially for vaccination, which prioritises the 'red zone,' and described it as a creative approach.
Eight more ICUs will be established in the south-eastern region.
The Bình Dương Province Department of Health said just between 5pm on July 30 and 6am on July 31 the province recorded 868 new COVID cases, taking the total number in the fourth wave to 13,472, including 62 deaths.
On July 28 the province began strict night-time measures, banning people from leaving home between 6pm and 6am except for medical emergencies or Covid-19 related activities.
Vehicles coming from other provinces and passing through Bình Dương on national highways cannot stop in province's areas.
Source: VNA/VNS/VOV/VIR/SGT/SGGP/Nhan Dan/Hanoitimes 

Drawing spreads love amid pandemic