VIETNAM NEWS HEADLINES APRIL 9
More than 55,000 safely get COVID-19 vaccine shots
The COVID-19 vaccination campaign have been rolled out in 19 cities and provinces nationwide since March 8, with 55,151 frontline workers the fight against the pandemic administered the AstraZeneca shots as of April 7.
According to the Ministry of Health, all vaccinated people are in safe condition.
Anticipated side effects were recorded in 33 percent of those receiving AstraZeneca shots, including redness at the injection site, fever, tiredness, nausea, and headache, but they were mostly mild and went away within one or two days without needing treatment.
Meanwhile, the ministry said only one per thousand of experienced severe allergic reaction, and their health was stable after receiving treatment at medical stations for one or two days.
The rate of post-injection reaction observed in Vietnam in the past month is equivalent to the warnings from the manufacturer. Particularly, the country documented no cases of unusual blood clots after inoculation.
Vietnam has upheld the principle of "Safety is first" in the vaccination drive.
Earlier, the ministry asked localities nationwide to promptly compile a list of individuals prioritised for COVID-19 vaccinations as guided by the Government.
The ten prioritised groups in the free vaccination programme include frontline medical staff, army and public security officers, diplomatic officials and their families who are about to be sent abroad, diplomats and members of UN bodies in Vietnam, teachers, aviation and transport staff, people suffering chronic diseases, people above 65 years of age, those living in pandemic-hit areas, poor people, and social policy beneficiaries.
In this next round of vaccinations, the eligible people will be expanded to include other priority groups like teachers and essential service workers.
COVAX Facility has pledged to give Vietnam an additional 4.17 million doses by the end of May, and the remaining of 30 million commitment towards the end of the year, pending operational and supply constraints.
Health ministry warns over hand, foot and mouth disease
The Ministry of Health (MoH) has issued a warning over the increase in hand, foot and mouth cases this year.
The country has recorded more than 17,400 cases so far this year, up by four times compared with the same period last year.
At least four deaths have been confirmed related to the disease, two in Kiên Giang Province, one in An Giang Province and one in Long An Province.
Most of the cases are in southern provinces such as HCM City, Đồng Nai, Đồng Tháp and An Giang.
Hand, foot and mouth disease is a year-round disease that spreads through the gastrointestinal tract and is found in almost all 63 provinces and cities, often with an increase from April to May and October every year.
Children are susceptible to infection due to their lack of personal hygiene.
To strengthen the prevention of the disease and minimise the number of cases and deaths, the MoH has sent a written request to provincial and municipal to direct prevention work
Localities must strengthen appropriate health education, implement patriotic hygiene activities, implement good environmental sanitation, and ensure hygienic eating and drinking.
Multi-media agencies and local newspapers were asked to prioritise publishing recommendations on hand-foot-mouth disease prevention.
The education and training sector should tell educational institutions to have sufficient facilities for hand washing, perform classroom cleaning, and clean the surfaces of study desks and toys every day. It should also focus on the early detection of new cases.
The health sector will strengthen the early detection of outbreaks to avoid spreading on a large scale, organise treatment division in hospitals and care for critically ill patients to minimise deaths.
It should also prevent cross-infection in treatment facilities, especially cross-infection between hand-foot-mouth disease with measles, pneumonia and other respiratory infections.
The health sector will advise People's Committees at all levels on effective measures to handle the disease.
Provincial People's Committees must prepare a supply of drugs, bio-products, materials, chemicals and equipment for hand, foot and mouth disease prevention and control activities.
The committees will organise interdisciplinary inspection teams to inspect and support localities, take timely and appropriate measures, immediately solve difficulties and problems to prevent the disease from spreading and prolonging.
Health ministry announced allocation plan of COVID-19 vaccines from COVAX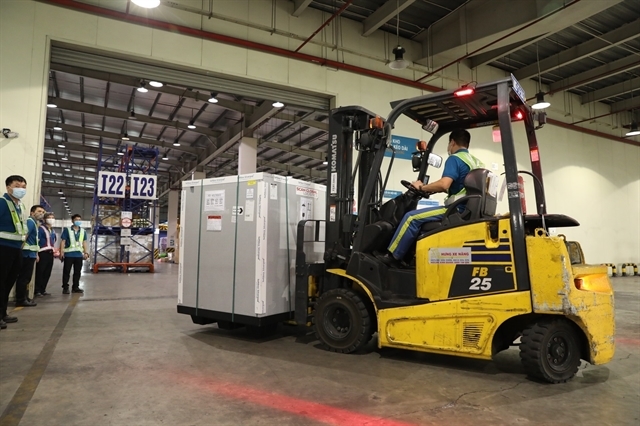 The first batch of COVID-19 vaccine from COVAX Facility for Việt Nam arrived at Nội Bài International Airport in Hà Nội on April 1.
The Ministry of Health has issued a decision on the allocation of 811,200 doses of AstraZeneca COVID-19 vaccine to all 63 cities and provinces, and other agencies.
They are the first vaccine doses supplied by the COVAX Facility through UNICEF, which arrived in Hà Nội on April 1.
Hà Nội and HCM City, the two largest in the country, will receive the highest amount, with 53,350 doses for the capital city, and 56,250 doses for the southern economic hub.
Meanwhile, the northern province of Hải Dương which recently bore the brunt of a third wave of COVID-19 outbreaks with more than 700 cases recorded will get 43,700 doses.
The central provinces of Thanh Hoá and Nghệ An will get 18,000 and 20,000 doses each.
The southern region receives 245,350 doses, with the industrial hub of Bình Dương receiving 15,100 doses, 16,500 doses for Đồng Tháp Province, 6,700 doses for Cần Thơ Province.
The Central Highlands has been allocated 49,000 doses, with the most going to Đắk Lắk Province (15,700).
In addition, the health ministry has decided to give 30,000 doses to police forces, 80,000 to the military forces, and 20,000 doses to the National Expanded Programme on Immunisation.
The ministry has asked the National Expanded Programme on Immunisation and the Regional Expanded Programme on Immunisation to immediately transport the vaccine to the target localities and agencies in order to conduct the injections in line with regulations.
The inoculation must be completed before May 15, 2021, and the results will then be reported to the ministry and relevant institutes, it said.
Việt Nam began its COVID-19 inoculation drive on March 8, using the 110,000 doses bought from AstraZeneca.
As of April 7, a total of 19 cities and provinces had rolled out the vaccinations, administering the AstraZeneca vaccine to 55,151 people, mostly frontline medical workers, and members of community-based anti-COVID-19 groups, and the National Steering Committee for COVID-19 Prevention and Control.
Earlier, the ministry asked localities nationwide to promptly compile a list of individuals prioritised for COVID-19 vaccinations as guided by the Government.
The ten prioritised groups in the free vaccination programme include frontline medical staff, army and public security officers, diplomatic officials and their families who are about to be sent abroad, diplomats and members of UN bodies in Việt Nam, teachers, aviation and transport staff, people suffering chronic diseases, people above 65 years of age, those living in pandemic-hit areas, poor people, and social policy beneficiaries.
In this next round of vaccinations, the eligible people will be expanded to include other priority groups like teachers and essential service workers.
COVAX Facility has pledged to give Việt Nam an additional 4.17 million doses by the end of May, and the remaining of 30 million commitment towards the end of the year, pending operational and supply constraints.
Việt Nam aims to provide COVID-19 shots to at least 20 per cent of its near 100-million population by the year-end.
Dance students to receive diplomas after debacle resolved
The Ministry of Education and Training (MoET) has agreed that the Việt Nam Academy of Dance (VNAD) can award diplomas to dance students who have finished intermediate training and been granted certifications for the completion of all junior and high school education at the VNAD.
The move is a response to the request of the Ministry of Culture, Sports and Tourism (MoCST) to solve obstacles in training junior and high school students and granting professional diplomas to them after finishing their study programmes at the VNAD.
In a letter responding to the MoCST, the MoET said that in case the Việt Nam Dance College (now the VNAD) organises a full training programme, the VNAD should grant diplomas to students who finish the training programmes following current regulations.
It also agreed for the VNAD to issue graduation certificates to students after they have completed their junior and high school education programme.
Earlier, parents of some 325 dance students complained their children had not been granted diplomas after they had finished their professional training at the intermediate and college level at the VNAD.
It was later determined that the VNAD was not allowed to provide junior and high school compulsory education but still offered such classes.
The students and their parents sent petition letters to many agencies and authorities including the MoET and the MoCST asking for an explanation why they had been granted neither junior and high school diplomas nor intermediate dance professional diplomas after nearly seven years studying at the VNAD and finishing all the education programmes.
This even caused problems for some students who had passed the entrance exams for the University of Theatre and Performing Arts but could not study due to a lack of necessary diplomats and certifications.
Acting director of the VNAD, Trần Văn Hải, admitted at a press conference recently that there had been a "technical error".
He said the school had not registered for training inputs as junior and high school students but only registered for training for outputs as college students so it was not allowed to grant professional intermediate diplomas for the students.
At the same time, the school did not have the right to issue diplomas for junior high school or high school graduates. It had not yet linked with any continuing education centre to supplement the students with universal and compulsory study programme so this would not help them get diplomas.
One more imported case of COVID-19 recorded over last 12 hours
A 55-year-old Vietnamese man returning from Angola was detected with COVID-19 in the past 12 hours to 6am April 9, raising Vietnam's total coronavirus cases to 2,669, the Ministry of Health reported.
The country's local infections remained at 1,603, including 910 detected since January 27 when the latest coronavirus resurgence recorded in Hai Duong.
The total recoveries are 2,429 while the death toll remained at 35, according to the National Steering Committee on COVID-19 Prevention and Control.
Among those still undergoing treatment, 22 have tested negative for the COVID-19 once, 11 others twice, and 17 thrice.
There are 36,971 people who had close contact with confirmed cases or entered Vietnam from pandemic-hit regions quarantined at present.
The Ministry of Health also announced that 1,208 more people were vaccinated against COVID-19 on April 8, bringing the number of those receiving the vaccine to 56,359, most of whom are health workers and those in the frontline of the anti-pandemic fight.
Newly-elected Vietnamese leaders receive more congratulations
Leaders of foreign countries have continued to send their messages of congratulations to newly-elected State and National Assembly leaders of Vietnam.
State President Nguyen Xuan Phuc received congratulatory messages and letters from Brunei Sultan Darussalam Haji Hassanal Bolkiah, Queen Elizabeth II of the UK, President of the Republic of Korea Moon Jae-in, and President of Bangladesh Abdul Hamid, and President of Nepal Devi Bhandari.
Brunei Sultan Darussalam Haji Hassanal Bolkiah, Italian Prime Minister Mario Draghi, Prime Minister of Bangladesh Sheikh Hasina and Prime Minister of Nepal K. P. Sharma Oil cabled their messages and letters of congratulations to Prime Minister Pham Minh Chinh.
Meanwhile, Speaker of the Mazhilis of the Parliament of the Republic of Kazakhstan Nurlan Nigmatulin congratulated National Assembly Chairman Vuong Dinh Hue.
Indian Vice President Venkaia Naidu congratulated Vice President Vo Thi Anh Xuan while Minister of Foreign Affairs Bui Thanh Son received congratulations from Lao Foreign Minister Saleumxay Kommasith and Cambodian Deputy Prime Minister and Minister of Foreign Affairs and International Cooperation Prak Sokhon./.
German and Vietnamese musicians to perform at e-concert
Despite it being currently impossible to travel between Germany and Việt Nam, musicians from Germany and Việt Nam will perform at a concert where they will react creatively to the difference of geography and time zone.
Next Monday, a concert entitled 'ReConnect – Concert: Frankfurt in Hanoi, Hanoi in Frankfurt' will take place at Goethe Institute from 7pm.
The Hà Nội-based ensemble will perform at the Goethe Institute with Nina Janßen-Deinzer and Lucas Fels from the Academy of Music and Performing Arts in Frankfurt am Main.
The artists will present a repertoire featuring works written after the 1960s by German, American, and Indian composers including Werner Heider, Sandeep Bhagwati, Terry Riley, Pauline Oliveros, Mathias Spahlinger, and Frederic Rzewsky.
South African newspaper: Vietnam places hope in new leadership
Pretoria News, part of Independent Media - the leading South African media group, on April 7 published an article titled "Vietnam places hope in new leadership."
Val Boje, the author of the article, said with strict measures, including a nationwide lockdown, Vietnam has managed to contain the spread of the COVID-19 pandemic and quickly get its economy going, becoming one of a handful of countries that last year recorded positive economic growth.
Newly-elected Vietnamese leaders' first task is seen as leading further growth of the economy including implementing economic reforms required by new trade deals and dealing with bottlenecks in the manufacturing sector, as well as pollution and climate change, she said.
The new leadership will continue to foster Vietnam's foreign policies, including opening its markets to the global economy and balancing relations, and wishes to see their country prosper and play a greater role in the region and the world, according to the article.
The article also cited Ambassador to South Africa Hoang Van Loi as saying that the good relationship between the two countries is expected to grow as the 13th National Congress of the Communist Party of Vietnam had recognised the role of multilateral diplomacy and Vietnam has regarded South Africa as one of its strategic partners.
Vietnam, US beef up cooperation in war consequence settlement
Deputy Minister of National Defence Sen. Lieut. Gen. Nguyen Chi Vinh on April 8 hosted a reception for outgoing US Ambassador to Vietnam Daniel J. Kritenbrink, during which the two sides discussed cooperation plans in war consequence settlement.
Vinh, who is also head of the standing office of the National Steering Committee on the Settlement of Post-war Unexploded Ordnance and Toxic Chemical Consequences (Steering Committee 701) of Vietnam, praised the diplomat for his contributions to bilateral cooperation in general and overcoming war aftermath in particular.
He congratulated Kritenbrink on his appointment as Assistant Secretary of State for East Asian and Pacific Affairs, suggesting him continue to support and promote the US Congress and Government to increase assistance to Vietnam in settling war consequences.
The Vietnamese Party, Government and Ministry of National Defence always consider war consequence settlement as a priority in cooperation with the US in the time to come, the Deputy Minister said.
Vinh expressed his hope that relevant authorities of the US will continue to work closely with Steering Committee 701 to implement ongoing cooperation projects effectively and on schedule, as well as enhance the communication work in order to highlight the humanitarian significance of the cooperation between the two sides in this field.
For his part, Kritenbrink expressed his satisfaction at the results that the two sides have achieved in overcoming war consequences in Vietnam, saying that these are in line with the commitment of senior Vietnamese and US leaders, and helping to strengthen political trust between the two countries.
The diplomat also pledged to continue supporting Vietnam in this regard in the coming time.
The two sides highly valued recent results in overcoming war consequences in Vietnam, including searching for US soldiers missing in action, removing bombs, mines and unexploded ordnance (UXO), and detoxifying dioxin-polluted areas through dioxin detoxification projects at Da Nang and Bien Hoa airports.
The cooperation has created a foundation for bilateral collaboration in other fields, as well as promoted trust between the two countries, they said.
Two detained for anti-State propaganda
Hanoi's police have taken a woman into custody as they investigate allegations of "making, storing, distributing, or disseminating information, documents, and items against the State of the Socialist Republic of Vietnam" under Article 117 of the 2015 Penal Code.
The Investigation Security Agency under the municipal Department of Public Security said on April 8 they had arrested Nguyen Thuy Hanh, born in 1963 and living in Thuong Dinh ward, Thanh Xuan district.
The Hanoi People's Procuracy on March 27 also approved the agency's decision to detain and search the home of Le Trong Hung, born in 1979 and living in Thanh Luong ward in Hai Ba Trung district, on the same allegations.
Investigations continue in both cases.
Vietnam affirms commitment to defence cooperation in ASEAN
Deputy Defence Minister Sen. Lieut. Gen Hoang Xuan Chien has affirmed Vietnam's commitment to responsibly engage in cooperation within the framework of the ASEAN Defence Ministers' Meeting (ADMM) and ADMM Plus.
Chien made the statement said at the ASEAN Defence Senior Officials' Meeting-Plus (ADSOM-Plus), which convened virtually on April 8.
Under the chair of Permanent Secretary of the Brunei Ministry of Defence, Brigadier General (retired) Dato Seri Pahlawan Shahril Anwar Bin Haji Ma'awiah, the meeting gathered ASEAN member states and partner nations – Russia, China, the US, Japan, the Republic of Korea, Australia, New Zealand, and India.
In his opening speech, the Brunei official said in response to the COVID-19-inflicted crisis, ASEAN realises that there is a need for the coordination of actions not only within the region but also with bloc partners.
Lauding member nations' commitments and efforts as well as partner nations' assistance toward boosting practical cooperation within the ADMM Plus framework, he stressed that it is important to fortify defence ties to build an area of peace and safety where the people's wellbeing and happiness are prioritised.
Hoang Xuan Chien, on behalf of Vietnam, shared participants' concern over regional and global security affairs, including traditional and non-traditional challenges, international cooperation amid COVID-19, and maritime security.
Highlighting Vietnam's support for Brunei's 2021 ASEAN chairmanship, he took the occasion to inform the meeting on multilateral activities that the Vietnamese Ministry of National Defence has planned to host this year.
At the meeting, participating nations discussed the draft ADMM Plus joint statement and agreed upon the preparations for the upcoming 8th ADMM Plus, which is slated for June 16.
Concluding the event, Brunei updated the schedule of activities held within the ADMM framework in 2021.
Vietnam completes second shots of Nano Covax in 2nd-stage human trials
As many as 554 volunteers joining the second-stage human trials of home-grown Nano Covax COVID-19 vaccine got the second shots over the past 14 days.
Associate Prf., Dr. Chu Van Men, Director of the Military Medical University's Centre for Clinical Trials and Bioequivalence, said on April 8 that among the volunteers, 278 received the jabs from the university, while 276 others in Ben Luc district, the Mekong Delta province of Long An, were vaccinated by HCM City-based Pasteur Institute.
After the injection, the volunteers exhibited symptoms such as light fever, injection site pain, muscle aches, joint pain and fatigue, which did not require medical intervention. They are now in stable conditions.
A preliminary report on testing results is scheduled to be issued this May.
The third phase of human trials is expected to cover 10,000 – 15,000 people in both Vietnam and other countries.
The first-stage trials of Nano Covax showed that the vaccinated volunteers have had antibodies against the UK variant (B117). Phase 2 focuses on seeking antibodies against the UK and South Africa variants, according to Men.
Navo Covax, developed by the Nanogen Pharmaceutical Biotechnology JSC, is the first COVID-19 vaccine of Vietnam to be tested in clinical trials.
The country also has other COVID-19 candidate vaccines under development: IVAC from the Institute of Vaccines and Medical Biologicals, VABIOTECH from the Company for Vaccine and Biological Production No 1, and POLYVAC from the Centre for Research and Production of Vaccines and Biologicals.
Vietnam expects to have the first batch of locally-produced COVID-19 vaccines at the end of the third quarter of 2021.
Mine action in Vietnam making progress: UNDP country chief
The mine action sector in Vietnam is blessed with a strong and genuine partnership between the government and development partners, and the important progress made over the past few years is a clear indicator that it is indeed feasible for it to think big and make ambitious yet realistic strategies and plans to reach the finish line.
In an exclusive writing to the Vietnam News Agency ahead of the upcoming Vietnamese-led United Nations Security Council (UNSC) open debate on April 8 titled "Mine action and sustaining peace: Stronger partnerships for better deliver", United Nations Development Program Resident Representative in Vietnam Caitlin Wiesen also made it clear that the strong sector coordination and collaboration are a "key driving force" to reach the milestones required to make Vietnam impact free by 2030.
"To the extent possible, the international community should commit to making the support predictable and long-term to align resources with government plans," she wrote.
"Placing mine action at the forefront of Vietnamese chairmanship of the UNSC during this month is signal of global commitment, rooted in a conviction that the issue can be dealt with through strong regional and national institutions."
The official also highlighted the remarkable achievements in the mine action sector in Vietnam over the recent past, pointing to the surveying of over 16,880 ha of land and the clearing of 9,000 ha of hazardous land in Quang Binh and Binh Dinh provinces as a result of the combined resources and perseverance of the Vietnam National Mine Action Centre, KOICA Vietnam and UNDP Vietnam.
Last December, Vietnam hosted a conference on "Women, Peace and Security", following which the "Hanoi Commitment to Action" with 75 co-sponsors was submitted to the President of the UNSC and the President of the General Assembly, highlighting the importance of including women in building and sustaining peace, including mine action.
"We continue to encourage all partners to join this call for a decade of mine action to give back cleared land to local communities, leave no one behind and ensure we persevere in fulfilling the development aspirations of those most in need," she concluded.
Vietnam's new leaders to continue promoting ties with Japan: Japanese media
Japan's Global News Asia website on April 7 ran a story saying that Japan-Vietnam relations will be further promoted in the future with the election of new leaders in Vietnam.
According to the article, Japan is one of Vietnam's most important economic partners and its largest ODA provider.
Japan is the second-largest investor in Vietnam, it noted, with 4,632 projects and over 60 billion USD in capital as of the end of 2020, adding that trade between the two stood at 39.6 billion USD last year.
As the President of the Vietnam-Japan Friendship Parliamentarian Group, Prime Minister Pham Minh Chinh has actively worked to promote Vietnam-Japan ties, especially contacts with senior leaders in Japan, including PM Suga Yoshihide, former PM Shinzo Abe, and Secretary General of the ruling Liberal Democratic Party Nikai Toshihiro, it said.
The article held that the Vietnamese Government under the leadership of PM Chinh will continue to attach great importance to promoting and deepening the Vietnam-Japan strategic partnership, contributing to maintaining peace, stability, and development in the region.
In the future, the bilateral partnership will be reinforced on the basis of the promotion of economic potential, Vietnam's strategic location, and the realisation of the Free and Open Indo-Pacific Vision, as well as the sharing of the supply chain and smart city planning by Japan.
Earlier, Radio National Argentina (RNA) also aired a story lauding Vietnam's internal solidarity as well as political and economic stability.
It noted that PM Chinh is an experienced politician who held different leadership positions at different levels, and has creative ideas that are suitable with the development orientations set at the 13th National Party Congress.
Russian Ambassador impressed by Vietnam and its people
Outgoing Russian Ambassador to Vietnam Konstantin Vnukov has expressed his positive impression of Vietnam and its people and shared his assessment of the prospects for developing the partnership between the two countries in the time to come.
In a recent interview with Russian news agency Sputnik, the ambassador said that through meetings with Vietnamese friends, he found that Vietnamese people have a deep solidarity with and friendship towards Russia and its people, adding that the Russian language continues to be popular in the country.
He was impressed with the inauguration of a statue of famous Russian poet Alexandre Sergeievich Pushkin at Hoa Binh Park in Hanoi.
During his tenure, Vietnam became the first country in the world to sign a free trade agreement with the Eurasian Economic Union (EAEU).
Trade ties between Russia and Vietnam saw fruitful growth last year despite the impact of the COVID-19 pandemic, with two-way trade rising 15 percent to 5.7 billion USD. Russia's exports to Vietnam have been on the rise.
Bilateral relations have now expanded to new fields. The Russian side is seeking opportunities to export foodstuffs to Vietnam.
According to figures from Russian customs, two-way trade in January surged 46 percent year-on-year, hitting 460 million USD.
Vnukov said joint venture companies between the two countries, such as the Vietnam - Russia oil and gas joint venture Vietsovpetro, the Vietnam - Russia Joint Venture Bank, and the Vietnam - Russia Tropical Centre, are operating effectively, contributing to promoting bilateral relations.
He suggested the two countries continue their cooperation in oil and gas exploitation, renewable energy development, nuclear science and technology, healthcare, and biotechnology, expressing a belief that joint efforts by the two sides will bring effective cooperation in high-technology.
Ca Mau: Large areas of forest at high risk of fire
More than 44,500 ha of forest in the Mekong Delta province of Ca Mau is at high risk of catching fire due to a prolonged hot spell and drought, according to the forest ranger division under the provincial Department of Agriculture and Rural Development.
Over 7,230 ha is at the extreme fire danger level - the fifth and highest, while 17,650 ha is at the fourth level, of high danger, the division said on April 8.
Hot and dry weather has caused water levels to drop in canals, and as a result there will be a shortage of water resources for fire prevention and fighting during this year's dry season, it added.
A majority of forests facing high and extreme fire danger are in the U Minh Ha National Park and the communes of Nguyen Phich, Khanh An, Khanh Lam and Khanh Thuan in U Minh district, and on Hon Khoai Island.
Chairman of the provincial People's Committee Le Quan has requested that the local Department of Agriculture and Rural Development strengthen forest fire prevention measures and speed up the installation of AI-powered security cameras in forests.
By the end of this dry season, or early June, the forest ranger division will deploy personnel on all day-and-night watches of forests, in order to promptly deal with any emergencies.
Cuba e-newspaper spotlights Vietnam's socio-economic achievements
Cubadebate, the largest official e-newspaper of Cuba, on April 7 ran an article highlighting Vietnam's socio-economic achievements over the past years, and appreciating the country's new leadership.
The article, posted after the Vietnamese National Assembly elected new key leaders, provided updated information and data on Vietnam's socio-economic development, especially its success in the fight against the COVID-19 pandemic under the leadership of the Communist Party of Vietnam (CPV).
In 2020, regardless of negative impacts of the pandemic, Vietnam's economy enjoyed the highest growth in Asia and was among the ten of the world, with its GDP growth of 2.9 percent.
The article also reiterated that at the 13th National Party Congress, the CPV acknowledged these achievements, but affirmed that the country was still facing a lot of challenges.
Therefore, delegates to the Congress passed a resolution affirming the consistency to Marxism-Leninism and President Ho Chi Minh's thought, with the focus on the goals of national independence and socialism.
Regarding the new leadership, the author forecast Vietnam's new leaders will continue stepping up Party building and rectification, raising the leadership capacity, building a transparent, strong and comprehensive political system, and build a streamlined and efficient State apparatus.
The author also showed belief that Vietnam will continue fostering its relations with countries in the Latin America and Caribe region, in politics, diplomacy, economy and trade, and Cuba will continue to be prioritised based on the profound friendship and solidarity between the two Parties, States and peoples.
Culture, innovation to be at core of Hanoi's sustainable development
Hanoi should bring into full play its diverse heritage and consider its young, creative workforce as the centre of development in the time ahead, a workshop on April 8 heard.
The "Creative City" workshop was jointly held by the UN Educational, Scientific and Cultural Organisation (UNESCO), the UN Human Settlements Programme (UN-Habitat), and the UN Industrial Development Organisation (UNIDO), with support from the Savico Group.
Michael Croft, UNESCO Chief Representative in Vietnam, stressed the significant role of young people in the capital's development.
Dr Nguyen Quang, UN-Habitat Programme Manager in Vietnam, cited figures from the UN and the General Statistics Office (GSO) in noting that Hanoi has been among the fastest-growing cities worldwide over the last six decades.
Between 1960 and 2019, its population increased 12.5-fold while its land area expanded 22.1-fold. Of special note, its urban population had grown nine-fold as of last year compared with 1960.
About 40 percent of the local population are under 25 years of age, and about to hit a "golden population structure", he said.
However, such advantages are not enough, Quang went on, emphasising that authorities need to facilitate innovation and promote cultural diversity.
Apart from special architectural facilities, the city boasts thousands of heritages and up to 1,350 craft villages, which, participating delegates said, make the city stand out.
Given the trend towards digitalisation, they suggested Hanoi and other urban areas in Vietnam look towards smart cities where cultural heritages retain their differences and competitive edge.
Pham Thi Lan Anh, head of the heritage management bureau under the municipal Department of Culture and Sports, said Hanoi is committed to placing culture and innovation at the core of its sustainable development, towards becoming a leading innovation centre in Southeast Asia.
Due to Vietnam's natural features and geography, the development of a high-speed railway is imperative and any delays will hinder socio-economic growth, Chairman of Vietnam Railways Vu Anh Minh has said.
Minh said the current infrastructure of the railway network was getting older and falling into a state of disrepair.
The capacity was very low compared to the current demand for freight and passenger transport.
The railway sector has not improved as the capacity of a single track was only 21 pairs of trains per day.
The railroads were not regularly maintained and the quality of the infrastructure was severely degraded, he added.
Minh cited the Hà Nội-HCM City route as an example. Flying from Hà Nội to HCM City takes around two hours in total while a high-speed train travelling at 300 kph would take six hours.
According to the Ministry of Transport's draft railway planning for the 2021-2030 period, the railway sector aims to meet the transport needs of 16.5 million tons of cargo and 30.9 million passengers by 2030.
These numbers would increase by 15 per cent and 19 per cent respectively by 2050.
To achieve this plan, the transport sector expected to get more than VNĐ665 trillion (US$28.9 million), of which investment for high-speed rail would account for VNĐ561 trillion ($24.3 million).
The consultant unit would calculate the investment for a high-speed railway, with a speed of 350kph for two north-south routes of Hà Nội-Vinh and HCM City-Nha Trang, with a length of 651km.
By 2050, the transport sector would continue to invest in high-speed rail on the Vinh-Nha Trang, Lào Cai-Hà Nội-Hải Phòng, Dĩ An-Lộc Ninh and Tháp Chàm-Đà Lạt routes, and then would expand to other routes nationwide.
Minh said that the Government has assigned the Ministry of Transport and is completing a project to build a high-speed railway system to submit to the National Assembly for approval.
Due to huge investment, Director of the Department of Corporate Finance under the Ministry of Finance Đặng Quyết Tiến said the State's resources remained limited, so there was a need for different investment approaches.
"Choosing which route as a pilot must be calculated carefully. As for the capital source, once it is put into the public investment programme, there will be many ways to mobilise capital from the budget such as borrowing ODA capital or issuing government bonds," he said.
"In the short term, there may be limited resources, but in the future, these projects must be taken into account in order to base the motivation to mobilise investment resources," he said.
High-speed railway construction has always caused concerns and debate after it was proposed in the first place more than ten years ago. Three high-speed routes are currently under study or have been proposed: north-south, HCM City-Cần Thơ and Hà Nội-Lạng Sơn. 
Musical to be staged next weekend to mark Vietnam-Switzerland ties
"L'Histoire du soldat" (the Soldier's Tale), a classic musical by French-Russian composer Igor Stravinsky and Swiss writer Charles Ferdinand Ramuz, will be staged in Hanoi next weekend to celebrate the 50th anniversary of the Vietnam-Switzerland diplomatic ties (1971-2021).
Directed by Marcelino Martin Valiente from France and conducted by Honna Tetsuji from Japan, the musical will be performed by musicians from the Vietnam National Symphony Orchestra and actors from the ATH Drama and Arts Space in Hanoi's L'Espace on April 16 – 17, a press conference in Hanoi heard.
According to Director Valiente, the musical was a complicated and challenging project for him as he could not join other artists in the production in Vietnam but his directing had to be done virtually due to impacts of COVID-19. The premiere in Vietnam has also been postponed from October last year because of the pandemic, he said in a virtual remark at the event.
Launched 1918, the theatre work was composed for seven musicians and three reciters. It tells a story about a soldiers who chances upon a devil on the way home from war. The devil offers to buy his violin and in return give him a future-telling book which can make him the richest man in the world. But as the story goes on, the soldier only finds himself the most miserable as he lost the violin, his most valuable asset.
The musical features a sophisticated combination of multiple arts, from classical music, jazz, DJ, theatre to visual arts, the director said./.
Mekong Delta provinces face high risk of forest fire in peak dry season
The Kien Giang Province Forest Protection Sub-Department yesterday released a warning of very high fire danger to 13,000 hectares of forest in the Mekong Delta province.
Amidst the severe threat of fire, the forestry sector has intensified precautions at all province- and- commune-level subdivisions to protect forest.
Because most of the forests cover in mountainous and hilly areas, rangers have to regularly check the volume of water in lakes, ponds and tanks to proactively respond to forest fires.
As for Ca Mau Province, the Provincial Forest Protection Sub-Department informed that the locality faces high risk of forest fire in the peak dry season due to prolonged scorching climate.
In the first days of April, the province had more than 44,500 hectares of forest suffering drought. Of which, there are around 17,090 hectares in high fire danger.
Danang to invest over VND15 trillion to improve environment
To rationally and economically exploit natural resources, minerals, water sources and forests; ensure an ecological balance and proactively respond to climate change, the municipal People's Committee of Danang has approved the project "Make Danang become the environment city" in 2021 – 2030" with a total budget of VND15,546 billion.
Some VND5,436 billion of the amount will be sourced from the State budget, VND3,200 billion from ODA capital and VND6,910 billion from other private sources.
It will help build smart processes and systems for the management of natural resources, apart from improving the state's management capacity and raising public awareness over environmental protection, among others.
Accordingly, the project will focus on four key sectors: prevention and control of environmental pollution, improving the environment and solving key environmental problems, conservation of nature and biodiversity and environmental protection awareness.
For the prevention and control of environmental pollution, the project targets 100% of enterprises and production establishments would be certified to achieve the ISO 14000 environmental management system. All emission sources (waste gas, wastewater, solid waste) will be controlled automatically and continuously.
By 2025, the city will complete the ecological industrial zones model and by 2030, there will be at least three eco-industrial zones.
Regarding environmental improvement and solving key environmental issues, the project aims to provide 100% of the urban population with access to clean water through a centralized water supply system and 100% of the rural population with clean water.
To conserve nature and biodiversity, the project seeks to strictly protect natural forests, maintain and encourage an increase in the forest cover and maintain protected land and biodiversity.
Regarding awareness over environmental protection, the project will ensure that the budget expenditure rate for environmental protection activities is over 3%. The rate of households practicing waste separation at point is targeted to reach 90% by 2025.
Lai Chau orchids flaunt their beauty
Lai Chau province has organised an annual orchid exhibition with the theme "Lai Chau's best kept beauty". The exhibition attracts the attention of orchid lovers from far and wide, visiting the northern mountainous province to witness the exotic beauty of its flowers.
 
Many exotic orchid species, including Lan Hài (slipper orchirds) and Hac Vy (Dendrobium aphyllum), bring an enchanting beauty to Lai Chau and attract a host of visitors. Hoang Thao Ken or Bent-racemed Dendrobium orchids stand out the most, with an alluring fragrance and eye-catching beauty. The species is native to Lai Chau and one of the most sought-after due to its glorious colours and abundant flowers.
The exhibition features over a thousand orchids and involves the participation of orchid clubs both locally and from 30 other cities and provinces nationwide. It presents an opportunity for orchid lovers to unite and share their experience and knowledge about planting and preserving the exotic plants.
Over the years, Lai Chau has introduced many plants with high economic value to the market, such as macca and Lai Chau ginseng as well as medicinal plants, improving the livelihoods of local people in Sin Suoi Ho and Ta Leng villages./.
Website supporting autistic children launched in Vietnam
Saigon Children's Charity announced strategic cooperation among organizations operating in the autism field in Vietnam and introduced its website on autism www.tukylagi .com on April 6 in Ho Chi Minh City.
The action of Saigon Children's Charity (SCC), which was founded in 1992, aims to help disadvantaged children get an education and a fairer start in life, to advocate the "Autism Awareness Month" in Vietnam.
SCC will mobilize leading experts in the fields such as medicine, therapy, education who will work for the website to support families having autistic children by providing free courses for parents and early intervention to assist autistic children.
On this occasion, SCC also kicked off the third program "The Steps Challenge" in 2021 to calls for the community participation in an online walking challenge in a bid to raise public awareness on autism spectrum disorder. An amount of money will be collected to support autism children from low-income families based on the number of entrants in the program.
In 2019 and 2020, "The Steps Challenge" program has raised over VND1 billion (US$$ 43,541) to contribute to activities supporting children with autism and children affected by the Covid-19 pandemic.
VIFW chairwoman awarded the Order of the Star of Italy
Lê Thị Quỳnh Trang, Chairwoman of Việt Nam International Fashion Week (VIFW) and President of Council of ASEAN Fashion Designers, yesterday was awarded the Knight of the Order of the Star of Italy.
The Order of the Star of Italy was established in 2011 and is awarded to Italians abroad or foreigners who have acquired special merit in the promotion of friendly relations and cooperation between Italy and other countries and the promotions of ties with Italy.
On behalf of the President of the Republic of Italy Sergio Mattarella, Consul General of Italy in HCM City Dante Brandi gave Trang an award in recognition of her contribution to promoting and consolidating the reputation of Italy in Việt Nam, in the fields of creativity, training, marketing, craftsmanship, fashion and culture.
Brandi said at the ceremony: "Trang has constantly inspired her initiatives to the excellence of Italian fashion, taking Italy as an inspiration and reference model for the development of the sector in Việt Nam."
"The numerous Italian stylists and economic operators at the initiatives organised by Trang have contributed to the development of fruitful relations between the two countries, not only in an economic nature but also in academic and cultural fields," he added.
Trang expressed her gratitude to the recognition of the Italian Government, emphasising that the award "is a great honour to me as well as to the Việt Nam fashion industry".
"The merit is not only a recognition for my efforts, but also my responsibility in elevating Việt Nam fashion to new heights. I believe Việtnamese and Italian relations will be promoted in several fields, particularly fashion," Trang said.  
Trang graduated from the University of Finance and Accountancy in Hà Nội, and received a Master's degree in Finance at Swinburne University of Australia.
In 2005, she founded the Multimedia Joint Stock Company, which has organised reality shows in fashion and modelling, such as Việt Nam's Next Top Models and Project Runway.
In 2011, she established the first model management agency in Việt Nam, and has sent Vietnamese models to perform at internationally acclaimed fashion events in Milan, Paris, and Singapore.
Trang was founder and chairwoman of VIFW in 2014. The leading fashion event in the country has attracted numerous local and international designers and brands, especially Italian brands like Elisabetta Franchi, Maison Gattinoni, Retano Balestra, and Antinio Grimaldi.
In 2014, she was appointed Vietnamese representative at the Asia Couture Federation with mission of supporting and presenting the best Vietnamese people in fashion to join the federation.
In 2017, she was named in the Top 50 Most Influential Women list selected by Forbes Vietnam.
Trang has been President of CAFD, the first fashion association established by the ASEAN Secretariat, since September last year. 
Massive fishes die in upstream Sai Gon River
The Department of Natural Resources and Environment of Binh Duong Province in coordination with the functional agencies yesterday performed an investigation to determine the cause of mass abnormal fish deaths on the surface of the water at fish framings on Sai Gon River in Dau Tieng District, Binh Duong Province.
According to the reflection of six fish farming households in the above area, a massive number of dead fishes has been seen from April 3 after the downpour on April 2.
In the following days, a mass of dead shrimp, Hemibagrus guttatus, Common carp occurred on the water surface on Sai Gon River.
The fish farmers lost more than 80 tons of fishes with damage of VND4.3 billion (US$185,000), excluding the number of dead from nature.
Testing the water environment at the places where fish died, the functional agencies discovered that the dissolved oxygen concentration in the water was much lower than normal, but the cause of the massive death of fishes has not been determined.
Yen Xa Project attempts to solve Hanoi wastewater problem
The biggest waste treatment plant in the northern region, Yen Xa, is being completed in Hanoi.
Yen Xa Waste Treatment Plant covers 13,8ha in Thanh Tri District. The VND16trn (USD690m) Japan invested JFE-TSK joint venture has a treatment capacity of 270,000 cubic metres a day.
Nguyen Anh Son, deputy director of construction management, said, "300 people are working on the project to ensure the schedules are met. When the plant goes into operation, it will help deal with a large amount of wastewater in Hanoi to limit the wastewater discharged into To Lich River. The polluted To Lich River may be revived."
The plant will use a conventional activated sludge process. The main construction is basically completed and the teams are completing the secondary sedimentation tanks and sewers and other parts. Some sedimentation tanks have been completed and tested.
New technology was used to build the sewers and tunnels so that the nearby constructions, traffic and daily activities would not be affected by the project.
The plant is expected to collect and deal with the wastewater from Ba Dinh, Cau Giay, Thanh Xuan, Dong Da, Hoang Mai, Ha Dong and Thanh Tri districts.
One more arrested in 2.7-million-liter substandard-fuel ring
The Dong Nai Police Department has detained Tran Huy Lap, general director of Phuc Lam Fuel Corporation, for his alleged involvement in a 2.7-million-liter substandard-fuel ring in the province and other localities.
The department has also cooperated with some agencies under the Ministry of Public Security and police in HCMC, Lam Dong, Ba Ria-Vung Tau and Binh Phuoc to raid nine locations, including the headquarters, house and gas stations of the corporation.
Phuc Lam Fuel Corporation has six shareholders and is headquartered at 60A Hoang Quoc Viet Street, Phu My Ward, District 7, HCMC, the local media reported.
The Dong Nai Police Department has filed charges against more than 40 people and seized 10 vessels, six tank trucks, 2.7 million liters of substandard fuel, VND120 billion in cash and many other valuable assets.
On February 6, the department cooperated with the Criminal Police Department under the Ministry of Public Security to dispatch more than 500 police officers to inspect the storehouses, gas stations, workplaces and houses of those allegedly involved in the ring in Dong Nai, Can Tho, Vinh Long, Long An, Ba Ria-Vung Tau and HCMC.
According to the initial results of the investigation, the ring provided an average of over one million liters of substandard fuel a day to the market. Since August 2020, more than 200 million liters of substandard fuel had been sold.
CAAV blows whistle on Bamboo Airways for excessive ticket sale
The Civil Aviation Authority of Vietnam (CAAV) has ordered Bamboo Airways to ensure that the number of air tickets being sold does not exceed the confirmed take-off and landing slots.
If the airline continues to do so, it will not be allocated slots for increased flights within six months, according to CAAV's order.
On checking and monitoring the ticket sale activities of local airlines, the authority found Bamboo Airways selling tickets that exceeded the number of confirmed slots, leading to the order signed by Vo Huy Cuong, deputy director of the authority, on April 1.
If the air tickets being sold outnumber the confirmed take-off and landing slots, many flights will fail to take off, affecting the work and travel commitments of passengers, according to CAAV.
Besides, the excessive ticket sales will affect the long-term goal of helping local airlines recover after the coronavirus pandemic due to the rising travel demand and fierce competition.
Hanoi travel-food fest to kick off next week
The capital city of Hanoi will hold a festival to promote its tourism and culinary culture from April 16 to 18 at the Ly Thai To Statue Square, Bat Giac House area, Le Thach and Le Lai streets and the Hanoi Children's Palace in Hoan Kiem District.
This year's event will feature around 200 pavilions set up in two main zones.
The zone to promote tourism products will house some 150 pavilions of 12 provinces and cities, travel firms, tourist hotspot operators in Hanoi and other localities across the country and four local carriers, namely Vietnam Airlines, Vietjet Air, Bamboo Airways and Vietravel Airlines.
The culinary culture zone at the Hanoi Children's Palace will introduce a host of Hanoi's signature dishes and drinks. Top artisans, food experts and connoisseurs will also give talks about their industries and interact with visitors at the three-day event.
Dang Huong Giang, director of the municipal Department of Tourism, said that this year's edition will launch many new tourism products, including night tours to explore the Thang Long Imperial Citadel, Hanoi city night tours, or tours to learn about agricultural life at the Vietnam Museum of Ethnology.
The event will also include a conference scheduled to take place on April 16 to launch thousands of new domestic tours and tourism products for 2021, with discounts of 15-35%. Besides this, participants of the conference will take part in a FAM trip from April 17 to 18 to survey tourism products in the capital city.
Many activities respond to National Tourism Year 2021
As the coronavirus pandemic in Vietnam is under controlled, activities in responding to National Tourism Year 2021 will take place as planned, contributing to advertising, promoting tourism development and cooperation among localities nationwide, raising the position and image of Vietnamese country and people to local and foreign visitors.
Many localities and agencies will launch activities for National Tourism Year 2021, including Ninh Binh Province with 38 activities, the Ministry of Culture, Sports and Tourism with four activities and 27 other provinces and cities with 104 related events.
The information was announced at a press conference on National Tourism Year 2021 with the theme "Hoa Lu-Thousand-year-old Capital" which was held by the Vietnam National Administration of Tourism and the People's Committee of Ninh Binh Province in Ninh Binh Province yesterday.
Traffic police detect more than 13,000 drunk drivers
Vietnam's Traffic Police Department (C08) this morning informed that traffic police forces detected 13,642 violations of unsafe driving during three recent weeks of implementing a nationwide intensive campaign for handling drug and alcohol concentration violations. 
Of which, more than 13,000 drivers violated alcoholic levels exceeding the permitted limit and 165 cases were positive for the drug. The violators were fined up to more than VND44 billion (nearly US$2 million), more than 7,000 driver's licenses were revoked and over 13,000 vehicles were seized.
Especially, road traffic and expressway patrol teams detected and made records for handling 25 drug-positive drivers and 41 drivers for blood alcohol content violations. 
From now to the end of the year, the traffic police nationwide will mobilize forces to patrol and strictly handle the blood alcohol- level and drug-positive violations, notably overloaded vehicles and illegal street racing.
High school in HCMC adds cultural education to curriculum
Teachers of Bui Thi Xuan High School in Ho Chi Minh City's District 1 yesterday delivered a lesson "Behavior towards the environment", which is one of the activities in cultural education in Vietnam and life skills, for tenth and eleventh graders. 
In the academic year of 2020-2021, tenth schoolers were taught six skills in the first semester, including sexual abuse prevention lessons, accident and injury prevention, skills to keep away from bad friends, emotion management skills, planning and organizing skills.
In the second semester of the school year, students were taught six cultural topics, including family communication, cuisine culture, dress culture, communication culture, attitudes towards the environment.
Especially, eleventh graders were taught religious belief, custom, manners at school, festivals, traditional music, theaters and first aid, team/ group work, and public speaking.
New leaders to push Vietnam forwards on development path: Russian analyst
A Russian analyst has talked about the new leadership of Vietnam in a recent interview with the Vietnam News Agency, highly valuing the virtue and capacity of the country's newly-elected leaders.
Valeria Vershinina, an analyst from the ASEAN Centre of the Moscow State Institute of International Relations (MGIMO) University under the Russian Ministry of Foreign Affairs, noted Party General Secretary Nguyen Phu Trong is assessed as an experienced leader of the Communist Party of Vietnam, and new State President Nguyen Xuan Phuc has established himself as a talented leader during the years he served as the Prime Minister.
Meanwhile, she went on, new National Assembly Chairman Vuong Dinh Hue and new PM Pham Minh Chinh are both managers with strategic mindset and rich experience in their previous leadership positions.
The key leaders also harmoniously represent different regions across the country, she added.
Vershinina held that the Vietnamese National Assembly has clear-sightedly selected a person who always supports a reformed economy and technological development as the PM since the country needs to keep up with the Fourth Industrial Revolution in the time ahead.
The new Government leader can ensure a balanced strategy and a new approach to effectively respond to not only the COVID-19 pandemic but also fast changes in the global and regional situation, she said, adding that Pham Minh Chinh's experience and mindset of reform in e-Government building and administrative management will be applicable in the future for national development.
The analyst expressed her belief that with the experience and successes in reforming the economy and maintaining a balanced foreign policy, Vietnam will continue posting fast development and playing a growing role in global and regional processes.
Regarding the outlook for the Vietnam – Russia comprehensive strategic partnership, she said the Southeast Asian nation is always a priority in Russia's foreign policy, and promising cooperation areas for the time ahead include technology, reform, information security, and emergency response./.
Telehealth centre inaugurated in Ho Chi Minh City
The Ministry of Health inaugurated a centre for telehealth diagnosis and consultation services (Telehealth) at Thong Nhat Hospital in Ho Chi Minh City on April 7 as part of activities in the framework of the remote medical examination and treatment project for the 2020-2025 period.
Deputy Minister of Health Nguyen Truong Son said since the project started in June last year, there are 1,500 establishments nationwide connected central hospitals with provincial hospitals and communal health stations.
The project has proven its effectiveness, helping to remarkably reduce overloading at central-level hospitals and improving the quality of hospitals at the grassroots levels.
Notably, during the two waves of COVID-19 infections in Da Nang city and Hai Duong province, the online consultation helped health experts effectively support the treatment of COVID-patients.
The Thong Nhat Hospital is one of 34 nucleus hospitals selected to give professional assistance to hospitals at the grassroots levels. In recent years, experts and doctors of the hospital have successfully implemented many modern medical techniques.
The Telehealth centre applies modern image transmission technology - one of the optimal solutions to not only store and secure personal information of patients, but also enable doctors to consult and propose treatment solutions right on the system.
As many 22 lower-level hospitals have registered to connect to the centre.
Right in the inauguration ceremony, doctors of the Thong Nhat Hospital provided consultations on a number of complicated cases that are treated at Long Khanh Regional General Hospital, general hospitals of Vinh Long and Phu Yen provinces, and Nguyen Dinh Chieu General Hospital of Ben Tre province./.
Local audiences welcome nationwide tour of 'Les Misérables'
The famed historical French musical 'Les Misérables' by Victor Hugo is set to be shown at numerous venues nationwide during a tour which will take place between mid-April and June.

Following a successful eight day stage debut in Hanoi at the end of 2020, the Vietnam National Opera and Ballet Theatre (VNOB) have decided to bring the epic musical to audiences throughout the country.
The show will be staged at the Hanoi Opera House from April 16 to April 18. It will then be performed in the Central Highland province of Dak Lak as part of the National Dance and Music Festival in May.
To conclude the tour, artists will give a final three-day showing of the musical in Ho Chi Minh City in early June.
The show is due to feature an array of local artists from the Vietnam National Opera and Ballet Theatre (VNOB), foreign artists from Hanoi Voices Choir, along with director Nguyen Trieu Duong and choreographer Linh An.
First published as a book in 1862, 'Les Misérables' is widely considered to be among the masterpieces by Victor Hugo and is one of the most popular novels from the 19th century. Indeed, the popularity of the musical has seen it performed in over 40 countries and 21 languages.
Since late last year, the VNOB has been working closely with various organisations, including the French and British embassies, the British Council, and the French Cultural Centre, to organise the show.
Viettel security engineer triumphs at Pwn2Own 2021 competition
Pham Van Khanh, a security expert of military-owned Viettel Cyber Security Company, has been named as the sole Vietnamese winner at the Pwn2Own 2021 hacking competition, according to information released on April 8 by Viettel Cyber Security Company.

Last year saw Khanh rank 19th among the leading experts for detecting security vulnerabilities for Microsoft, whilst also finishing in 11th position among an array of global experts in the related field during the first quarter of the year.
The April 7-8 contest was held virtually among numerous industry experts in many countries globally. The Viettel expert competed in two categories, namely Windows Local Escalation of Privilege and Microsoft Exchange.
This marks the second year that Viettel Cyber Security Company has sent local experts to compete in a cybersecurity contest as it seeks to affirm its pioneering position within Vietnam in the field of in-depth research on cybersecurity.
Last year witnessed Ngo Anh Huy and Do Quang Thanh, two experts from the Viettel Cyber Security Company under the Viettel Group, honoured for their achievements at the Pwn2Own Tokyo 2020 contest.
This accomplishment is set to be the driving force for local security experts moving forward as they attempt to exert greater efforts in order to affirm their capacity within the international arena, while simultaneously contributing to ensuring global network security.
Nine imported cases of COVID-19 raise national count to 2,668
Nine imported cases of COVID-19 were detected in the past 12 hours to 6pm April 8, raising the national count to 2,668, according to the Health Ministry.
Of the new cases, two are Indian experts, and seven are Vietnamese citizens returning from abroad.
A total 2,429 COVID-19 patients in the country have been given the all-clear so far, while the death toll remains at 35.
Among patients still under treatment, 22 have tested negative for SARS-CoV-2 once, 11 twice and 17 thrice.
Meanwhile, 36,971 people who had close contact with COVID-19 patients or arrived from pandemic areas are under medical monitoring nationwide, with 516 in hospitals, 20,830 in designated facilities and 15,625 at their accommodations.
ASEAN working towards civil service modernisation
The Ministry of Home Affairs (MoHA) on April 8 held preparatory and official meetings of senior officials of the 21st ASEAN Cooperation on Civil Service Matters (ACCSM) mechanism in the form of video conference under the chair of Deputy Minister Nguyen Duy Thang.
In his opening address, Thang said the MoHA will assume the rotating chairmanship of the 21st ACCSM for a two-year term.
After taking over from Thailand, MoHA joined hands with the ASEAN Secretariat and civil service agencies in ASEAN member countries to devise working plans and get updated on project activities within the framework of ACCSM for 2021-2025.
As Chair of the 21st ACCSM, Vietnam proposed a theme highlighting civil service modernisation towards a cohesive and responsive ASEAN Community.
Civil service modernisation is viewed as the fifth prioritised sector of the ACCSM Work Plan 2021-2025, while ASEAN is working to accelerate the building of the ASEAN Community as stipulated in the ASEAN Vision 2025.
In addition, the cohesion and responsiveness of ASEAN members' civil services are greatly needed amid the global uncertainties.
MoHA will roll out numerous activities over the next two years, including preparatory and official meetings of senior officials (SOM) on ACCSM via video conference, a meeting of heads of civil service agencies in ASEAN, and a workshop sharing experience in IT application in civil service modernisation slated for August.
A conference attended by heads of ACCSM and ACCSM Plus Three and a forum on efficient national management will be held in Hanoi in August 2022.
Thang said the ministry hopes to receive cooperation and support from the ASEAN Secretariat and other ASEAN member states, in order to successfully undertake the chairmanship.
At the meeting, participants were briefed on a proposal on the ASEAN Statement on Acceleration of an Agile Civil Service amid emerging challenges and an estimated timeline for approval by heads of civil service agencies in ASEAN countries.
Da Lat culinary contest prepares a record 100 dishes from local ingredients
A culinary contest in Da Lat city in the Central Highlands' Lam Dong province on April 8 set a record by making 100 dishes using vegetables and flowers grown in the city.
Held by the province's tourism association, the contest saw the participation of 100 contestants from Lam Dong and localities around the country, who created dishes made from fresh Da Lat ingredients like artichoke, tomato, and dandelion, among others.
The Vietnam Records Organisation presented a certificate to the organisation of professional chefs in Lam Dong for setting the new record of cooking the largest number of dishes from Da Lat's farm produce at one time.
The contest also aimed to promote the trademark of Da Lat's vegetables and flowers and the use of the city's farm produce in Vietnamese and international cuisine.
It was part of activities to support Lam Dong's tourism sector after COVID-19 and to promote the ninth Da Lat Flower Festival slated for the end of this year.
Lam Dong has 3,450 ha of flower gardens for domestic consumption and export, with an output of 1 billion stems per year.
In Da Lat city alone, about 5,000 households and more than 30 enterprises are engaged in growing and supplying different flowers, including roses, mimosas, and orchids.
WHO official lauded Việt Nam's handling of COVID-19 pandemic, attempts at local vaccines
Viet Nam's swift and targeted action in dealing with COVID-19 along with good communication efforts have set an exemplary response in the region, the Director of the WHO Western Pacific Regional Office Takeshi Kasai has said.
Addressing a virtual conference on the pandemic situation in the region on World Health Day (April 7), the WHO official noted that Việt Nam has done well suppressing infections throughout the pandemic.
Việt Nam recently experienced a surge in community cases since the end of January this year with 910 local infections confirmed by the health ministry in the so-called third wave, mostly around hot spots in the northern province of Hải Dương.
However, "they are now pushing this virus back," Kasai said, as the country has started its streak of no local infections recorded again, suggesting that the outbreaks have been contained.
"What we have observed is a very swift action, targeted but very intensive. Again, this is an example of early detection and targeted response," he added.
"We also observed that Việt Nam has been putting significant efforts in the communications, reminding people to continue to do basic preventive measures while starting the vaccinations."
Regarding Việt Nam's locally developed and produced COVID-19 vaccine, the WHO official said the organisation welcomed Việt Nam's attempts as the world is facing a great shortage.
"It needs to be safe and effective," he added.
Việt Nam has developed their National Regulatory Authority, putting a lot of effort in using a global standard to check whether the performance of the vaccine is good enough, according to Kasai.
"WHO has developed standard protocol and technical guidelines in helping member states developing their vaccines and issuing emergency use approval," Kasai said.
"We really encourage Việt Nam to again use this kind of international protocol so they can demonstrate the output of their developments with a clear safety and efficacy profile."
As of Thursday morning, Việt Nam's official caseload stood at 2,659, with 1,603 being local infections.
2,429 patients have recovered, while a further 81 patients have tested negative for the virus for the first, second, and third time.
All of the country's 35 COVID-19 deaths took place last year during the height of the second wave hitting hospitals in the central region. 
UNSC debate urges int'l cooperation in mine action
Vietnam, as the rotating President of the United Nations Security Council (UNSC) for April, held a ministerial open debate on April 8, focusing on "Mine action and sustaining peace: Stronger partnerships for better delivery".
The event, held both virtually and in person under the chair of Vietnamese Minister of Foreign Affairs Bui Thanh Son, was attended by UN Secretary-General Antonio Guterres, along with ministers, deputy ministers, ambassadors, and heads of missions of the UNSC member states.
Speakers at the debate included Director of the Geneva International Centre for Humanitarian Demining Stefano Toscano, UNDP Goodwill Ambassador actress Yeoh Choo-Kheng, Manager of Project RENEW All-Women Demining Team in Vietnam Nguyen Thi Dieu Linh, and UN Global Advocate for the Elimination of Mines and Explosive Hazards actor Daniel Craig.
It also saw the presence of officials from Vietnamese ministries, sectors, and localities hit hard by war-left explosives, along with representatives of the embassies of UNSC member states, UN organisations, and domestic and international non-governmental organisations working on unexploded ordnance (UXO) settlement.
Speaking at the debate, participants highly valued Vietnam's initiative to organise the event. They voiced support for the humanitarian purpose of limiting the use of bombs and landmines around the world and emphasised UXO consequences in conflict zones as well as areas that used to undergo conflicts. They also advocated national and international efforts to overcome UXO consequences, assist victims, and stabilise the situation for reconstruction and socio-economic development.
Participants highlighted the importance of international cooperation in addressing UXO and underlined the need to enhance cohesion and coordination within the UN system, including the UNSC, so as to contribute more to UXO settlement efforts by the UN and relevant countries.
In his remarks, Foreign Minister Bui Thanh Son stressed that sustainable peace is secured only when the consequences of wars and conflicts, including UXO consequences, are resolved.
He held that this issue needs more attention in the UNSC agenda and shared Vietnam's experience in this regard, including close attention from all-level leaders; investment in capacity building; the close coordination among ministries, sectors, localities, and non-governmental organisations; along with the participation of people of all social strata, especially women.
Programmes and policies need to centre on people while cooperation with international partners should be enhanced, particularly via the settlement of UXO consequences and the healing of the wounds of war, according to the official.
The minister called for closer cooperation among countries to achieve more sustainable outcomes in mine action, via providing financial and technical assistance, improving capacity and awareness, and sharing experience with affected countries.
He suggested the UN and particularly the UNSC should step up measures to ensure safety for peacekeepers, protect civilians, and promote sustainable peace.
On this occasion, the UNSC adopted its first presidential statement, proposed by Vietnam, on mine action.
The statement underlined the connection between UXO settlement and sustainable peace, stability, and development, affirming the UNSC's commitment and highlighting the necessity for international cooperation in mine action.
It also mentioned new important issues like impacts of the COVID-19 pandemic, augmenting support for affected countries, establishing specialised mine action units at UN peacekeeping missions, and taking into account special needs of women and children during the performance of related tasks.
HCMC set to close some roads in District 1 for marathon event
HCMC will close some roads in District 1 this weekend to ensure order and safety for the fourth Techcombank HCMC International Marathon.
According to the HCMC Department of Transport, all vehicles will be banned from travelling on Nguyen Binh Khiem Street (section from Nguyen Huu Canh Street to Nguyen Thi Minh Khai Street) and Le Duan Boulevard (section from Nguyen Binh Khiem Street to Dinh Tien Hoang Street) from mid-noon on April 10 to mid-noon on April 11.
From 4 a.m. to 9 a.m. on April 11, all vehicles will be banned from travelling on Le Duan Boulevard (section from Dinh Tien Hoang Street to Cong Xa Paris Street), Pham Ngoc Thach Street (section from Le Duan Boulevard to Cong Truong Quoc Te), Vo Van Tan Street (section from Cong Truong Quoc Te to Nam Ky Khoi Nghia Street), Nam Ky Khoi Nghia Street (section from Vo Van Tan Street to Le Duan Boulevard), Le Duan Boulevard (section from Nam Ky Khoi Nghia Street to Cong Xa Paris Street), Cong Xa Paris Street, Dong Khoi Street and Ton Duc Thang Street (section from Nguyen Huu Canh Street to Khanh Hoi Bridge).
From 4 a.m. to 9 a.m. on April 11, two- or three-wheeler vehicles will be banned from travelling on the mixed lane of Vo Van Kiet Street (section from Cao Van Lau Street to Ton Duc Thang Street) in the direction from National Highway No. 1 to District 1. All vehicles are banned from entering Calmette Bridge from Vo Van Kiet Street.
Commuters should slow down and follow the instructions of the traffic police when traveling through the event area. People living in affected areas who want to travel through the event area during the travel restrictions can contact the HCMC Department of Transport at 140 Nguyen Dinh Chieu Street, Vo Thi Sau Ward, District 3, or call the department on (028) 3824 2903 for support.
Source: VNA/VNS/VOV/VIR/SGT/Nhan Dan/Hanoitimes