VIETNAM NEWS HEADLINES APRIL 24
Airlines entitled to refuse passengers without health declarations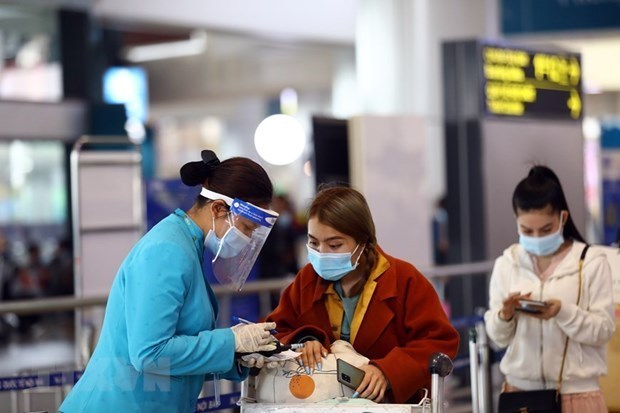 Vietnam Airlines' staff supports passengers in the e-health declaration procedure. (Photo: VNA)

Airlines are now entitled to deny passengers without e-health declarations and those who fail to follow health regulations, Director of the Civil Aviation Authority of Vietnam (CAAV) Dinh Viet Thang has said.
Carriers have to bear legal responsibility in case passengers board their airplanes without making the declarations.
Passengers must fulfil the health declarations at https://tokhaiyte.vn or through the Vietnam Health Declaration application.
Besides, airlines should arrange staff at check-in kiosks at terminals to support passengers in the e-health declaration procedure, the CAAV said in its documents recently sent to competent authorities.
They should join hands with airports nationwide to inform passengers of the mandatory declaration through passenger information systems, posters and panels at easy-to-see places in airports.
Especially, the CAAV asked airports to disseminate the policy to foreign airlines operating in Vietnam./.
Foreign parliament leaders congratulate new NA Chairman
Parliament leaders of foreign countries continued to send letters of congratulations to newly-elected Chairman of the National Assembly (NA) Vuong Dinh Hue.
NA Chairman Hue received congratulations from Speaker of the National Assembly of the Republic of Korea Park Byeong-Seug, Speaker of the Sejm, lower house, of Poland Elżbieta Witek, and Speaker of the National Council of Austria Wolfgang Sobotka./.
Social assistance helps disabled people integrate into community
Looking at the disabled people working hard on the sewing machines, Nguyen Kim Khoi feels happy and wants to be able to help more people.
Khoi, a disabled man in Dong Ngac Ward, Hanoi's Bac Tu Liem District, opened a small sewing workshop in 2009, providing vocational training and jobs for more than 100 people with disabilities.
Every day, about 15 people with disabilities come here to learn sewing techniques. After finishing the course, they work at Khoi's workshop and earn 4-5 million VND (130-170 USD) a month by sewing flags.
In addition to Khoi's establishment, in recent years, Hanoi has had more and more people with disabilities open vocational training, production and business establishments, creating jobs for themselves and people in similar situations.
Some examples are Vun Art Cooperative in Van Phuc Ward, Ha Dong District, Pink Heart Handicraft Cooperative in Hong Ky Commune, Soc Son District and Embroidery Ltd Co in Quat Dong Commune, Thuong Tin District.
Vietnam has about 6.2 million people over the age of two with disabilities, making up 7.06 percent of the country's population, according to the Ministry of Labour, Invalids and Social Affair (MoLISA).
Of those, more than 1 million are severely disabled. Most live in rural areas and many are victims of Agent Orange.
Millions of people and children with disabilities are nurtured and cared for in social welfare establishments.
With support from the State budget, organisations for disabled people have also mobilised other resources to improve the living conditions of this vulnerable group.
People with disabilities are given care, treatment, orthopaedic surgery, functional rehabilitation, and provided with appropriate assistive devices, health insurance cards and wheelchairs. They are also offered bicycles, scholarships, jobs or new houses.
At least 4.1 million people with disabilities, orphans and poor patients have received helps from the Vietnam Sponsoring Association for People with Disabilities and Orphans so far.
Fifty provinces and cities nationwide have implemented community-based functional rehabilitation programmes.
Of which, 18 provinces have rolled out the programme in all districts and communes.
According to the Vietnam National Committee on People with Disabilities, in addition to the social protection policy, the best way to help them integrate into the community is to help disabled people have confidence, support vocational training and create job opportunities.
The country has more than 19,550 people with disabilities who have received vocational training under a project.
The Social Policy Bank has offered job support for 118,781 employees, of which 1,738 are employees with disabilities.
The Department of Employment, MoLISA, in co-ordination with job service Centres of Quang Ninh and Binh Duong provinces and Hanoi Association of People with Disabilities, has created stable jobs for 30 disabled people and supported career counselling and business for nearly 2,000 people.
More than 150 families with people with disabilities in eight provinces and cities have been provided animals, plants and production techniques from the Office of the National Committee for People with Disabilities.
Nearly 10,000 families have received loans from the Vietnam Blind Association with a total amount of 51.65 billion VND.
The protection of rights and support policies for people with disabilities have always been a deep concern of the Government, said MoLISA's Deputy Minister Le Tan Dung.
Policies, resources and schemes to help people with disabilities are always adjusted to suit reality.
Additionally, positive innovations in communication activities have brought many substantial effects in raising awareness in society on caring and taking care of people with disabilities; changing stereotypes about capacities of people with disabilities and promoting vocational training for them.
To help them integrate into the community, the Office of the National Committee for People with Disabilities and MoLISA will continue to develop and improve policies, support and amend the law to deal with shortcomings as well as create equal opportunities and reduce social barriers for persons with disabilities, Dung said./.
Farmers reap rewards thanks to bumper crops, high prices
Farmers in the south – central and Tây Nguyên (Central Highlands) regions are getting high prices from a bumper harvest of the winter – spring rice crop, partly due to use of certified seeds and preventive measures against disease.
The average yield in the two regions has been 6.6 tonnes per hectare, up 410kg against last year, according to the Ministry of Agriculture and Rural Development (MARD). The selling price is VNĐ1,000 – 1,500 a kilogramme higher than last year.
Speaking at a recent seminar held in the south-central province of Ninh Thuận, Nguyễn Thị Tố Trân, deputy director of the Bình Định Province Department of Agriculture and Rural Development, said farmers in Bình Định had harvested an average 7.1 tonnes per hectare, the highest yield so far.
About half of the 320,000ha of the winter – spring rice in the two regions has been harvested so far, according to MARD. 
Lê Thanh Tùng, deputy head of MARD's Plant Cultivation Department, said: "Farmers were told to sow the crop earlier than normal and arrange a suitable sowing schedule for each area." 
They have also used rice varieties with short – term maturity, which reduces the use of irrigation water.
To avoid water shortages at the end of the crop, drought – resistant crops were planted instead of rice. These included watermelon, soybeans, sweet potatoes and others, offering a profit of VNĐ50 – 130 million (US$2,160 - 5,600) per hectare a crop, three times higher than the profit from rice.
For the next summer – autumn rice crop, the two regions plan to grow a total 180,770ha, up 20,000ha against last year. The sowing time is between April and June.
The two regions plan to grow a total of 266,180ha of mùa rice, which is planted during the rainy season and in areas that grow only one rice crop a year.
MARD Deputy Minister Lê Quốc Doanh said that drought could occur during the summer – autumn rice and mùa rice season since the two regions are expected to have no rain from now to September. Crops should not be grown in areas which cannot secure irrigation water, he said.
The average water level of reservoirs in the south – central region has reached 74 per cent of their designed capacity, about 4 per cent higher than average, according to MARD's Irrigation Department.
The water levels of reservoirs in the Tây Nguyên region are at 47 – 65 per cent of their designed capacity, higher than the levels in 2019 and 2020.
Quang Ninh to host 27 culture and tourism events to welcome summer
The administration of Quang Ninh province have initiated plans to hold 27 culture and tourism events running until mid-May, aiming to welcome the return of visitors following a hiatus caused by the emergence of the COVID-19 pandemic.
The highlight of the functions will be the 2021 Ha Long Carnival to take place in Ha Long city to mark the occasion of National Reunification Day on April 30 and May Day on May 1.
This will see art shows and street parades held in three locations, including Tuan Chau tourism area on the afternoon of April 30, Hon Gai beach, and FLC Ha Long Bay Golf Club & Luxury Resort on the afternoon of May 1. 
Thousands of beauty queens, actors, actresses, models, and dancers are set to participate in the events, whilst low-range 15-minute firework shows will lighten up the sky above three locations in Quang Ninh province.
A wide range of activities are set to take place throughout the locality, including a kite flying competition, martial art performances, sports games, and a photo exhibition with the theme of "Toi Yeu Ha Long", "I love Ha Long", which are being organised on Tran Quoc Nghien coastal road.
Furthermore, a circus festival will get underway in Cam Pha city this summer which will attract many art troupes from across the country.
Various travel agencies are also giving plenty of discounts on tours to sightseeing spots in Quang Ninh province in an effort to stimulate greater domestic tourism.
National Broadcasting Centre inaugurated at the highest point in Vietnam
National radio broadcaster Voice of Vietnam (VOV), in coordination with the Ha Giang Provincial People's Committee, held a ceremony to inaugurate the National Broadcasting Centre at Chieu Lau Thi Mountain, Ho Thau Commune, Hoang Su Phi District, on April 21.
The construction of the Chieu Lau Thi National Broadcasting Centre commenced in June 2019 with a total investment of more than VND48 billion. This is thewithin the work to celebrate the upcoming election of deputies to the 15th National Assembly (NA) and all-level People's Councils for the 2021-2026 tenure.
The Centre has been broadcasting since April 20 with a broadcast radius of 13,000 square kilometres, serving more than 2.1 million people in the provinces of Ha Giang, Tuyen Quang, Lao Cai and Phu Tho.
According to VOV General Director Nguyen The Ky, VOV has now become a multi-media, multi-type, multi-language media group with eight radio channels, 16 television channels, two online newspapers and one printed newspaper, broadcasting in 13 ethnic languages ​​and 12 foreign languages.
The Chieu Lau Thi National Broadcasting Centre wasbuilt at an altitude of 2,200 m above sea level and is located at the highest elevation in the country, he said, adding that the Centre will help ethnic minorities to experience better quality radio programmes.
Speaking at the ceremony, Chairman of the Ha Giang Provincial People's Committee Nguyen Van Son expressed his thanks to VOV's attention and assistance to the province in recent years.
He also affirmed that the radio has met requirements in disseminating the Party and State's guidelines and policies to the people in the province, thus contributing to improving people's knowledge and socio-economic development in the region.
Four new roads to connect Long Thanh Airport with nearby expressways
Four new roads will be built to connect the future Long Thanh International Airport with current highways and expressways, according to the Ministry of Transport.
Route 1 will be 3.8 kilometres long, with ten lanes, and connect the main axis of the airport with the Bien Hoa-Vung Tau Expressway, National Highway 51 and provincial road 25C.
Route 2 will link Route 1 to the Ho Chi Minh City-Long Thanh-Dau Giay Expressway, with four lanes and a length of 3.5 kilometres.
Route 3 will run 8.5 kilometres and connects the eastern end of the main airport axis with the Phan Thiet-Dau Giay Expressway while Route 4 is to link Route 3 with the Ho Chi Minh City-Long Thanh-Dau Giay Expressway at a length of 3 kilometres.
Both Route 3 and Route 4 will both have eight lanes.
Currently the Dong Nai provincial authorities are working with the Airports Corporation of Vietnam (ACV) to implement site clearance for the construction of Route 1 and 2 to serve the transport of building materials for the first phase of Long Thanh Airport.
At the same time, Dong Nai Province is also working to clear the remaining land to be transferred to the ACV in June, and to complete the infrastructure of the Loc An-Binh Son resettlement zone.
Long Thanh Airport is being built on an area of 5,000 hectares in Long Thanh District of Dong Nai Province to serve Ho Chi Minh City, replacing the currently overburdened Tan Son Nhat Airport.
The first phase of the new airport is scheduled for completion in 2025, featuring a 4,000-metre-long runway and a passenger terminal with an annual capacity of 25 million passengers.
The total cost for the first phase is estimated at VND109 trillion (US$4.7 billion).
Bronze Buddha statue in Sapa recognised as Asia's highest statue
The Great Amitabha Buddha statue located at Sun World Fansipan Legend in Sapa has been recognised by the World Guinness Records as the cooper statue located at the highest altitude in Asia.
Sun World Fansipan Legend held a ceremony on April 21 to receive the record and mark the 5th anniversary of the launch of the Fansipan cable car system at the Sun tourism complex in Sapa, Lao Cai Province.
The bronze statue is 21.5m tall and is located at an altitude of 3,075m above sea level.
The structure was cast in bronze by placing tens ofthousands of 5mm thick copper sheets over an iron framewith a total weight of 62 tonnes.
The Fansipan cable car system is 3,143m above sea level, starting from Muong Hoa Valley and reaching the peak of Fansipan Mountain.
It has a transport capacity of 2,000 passengers per hour with each cabin capable of accommodating 30-35 people, helping to shorten the two-day journey to reach Fansipan's summit to just 15 minutes.
The Fansipan cable car currently holds two world records,including the biggest height gap between its departure and arrival stations at 1,410m, and the world's longest three-wire cable car at 6,292m.
Volunteers needed for diabetes study
The Center for Clinical Pharmacology in Hanoi Medical University announced to seek volunteers for clinical trial of type 2 diabetes on April 21.
When participating in the study, volunteers will be tested with drugs that reduce blood glucose and improve the microstructure of the pancreas.
Volunteers will also be consulted by Hanoi Medical University Hospital's endocrinologists and diabetes specialists regarding healthy diet and active lifestyle in the treatment of type 2 diabetes, the most common type of diabetes. Additionally, volunteers will receive needed free tests for the study, and travel expenses. Volunteers' information will be kept confidential.
According to Tran Huu Dang, Chairman of the Vietnam Society of Endocrinology and Diabetes, diabetes mellitus is an increase in blood glucose, a chronic disease that cannot be cured. In Vietnam, up to 55 percent of diabetic patients have complications, mainly heart, eye, nerve and kidney.
The proportion of people with diabetes in our country has increased rapidly and is more and more rejuvenated when many people aged 25-30 years old get sick without knowing it. It is forecasted that by 2045, the number of people with diabetes in Vietnam will increase by 78.5 percent, equivalent to nearly 6.3 million people.
Type 2 diabetes usually appears during middle age or older, but it can affect people of any age.
NA's defence and security committee urged to improve operational efficiency
National Assembly Chairman Vuong Dinh Hue on April 23 asked the NA's Committee for National Defence and Security to make more contributions to improving the operational efficiency of the legislature.
At a working session with the committee in Hanoi, the top legislator said its members perform the functions of NA deputies and representatives of people's armed forces at the same time.
The committee needs to work harder in order to improve the quality and efficiency of its operation, thus serving the implementation of the Resolutions adopted by the 14th NA and the 13th National Party Congress, he said.
It was reported that during the 14th tenure, the committee verified a total of 17 draft laws, five draft resolutions and two draft decrees of the Government, and coordinated in assessing 47 other draft laws and ordinances.
In law-making, the committee has promptly met requirements in building and perfecting the Vietnamese legal system in general and the legal system on national defence and security in particular./.
Vietnam provides more aid for Cambodia to fight COVID-19
The Vietnamese Party, State, and people have presented 300,000 USD to Cambodia to support Cambodia in its fight against COVID-19.
The aid was handed over to Cambodian Ambassador to Vietnam Chhay Navuth by Nguyen Huy Tang, deputy head of the Party Central Committee's Commission for External Relations, on April 23.
The Vietnamese Party, State and people keep a close watch on the COVID-19 situation in Cambodia and wish to share the difficulties facing the country, Tang said at the hand-over ceremony.
He expressed his belief that under the leadership of Cambodian People's Party President and Prime Minister Hun Sen and with the solidarity of Cambodians and support of international friends, Cambodia will soon contain the pandemic.
With this assistance, together with another aid package of 200,000 USD from the Vietnamese Government, which was granted to Cambodia earlier, Vietnam hopes to join the anti-COVID-19 efforts of the Cambodian Government and people, he said.
Cambodian Ambassador Chhay Navuth stressed that these aid packages demonstrate the special sentiment between the two countries' Parties, States, and peoples, saying Vietnam's timely support has served as a source of encouragement for Cambodia in its efforts.
The ambassador also lauded the achievements Vietnam has recorded in fighting COVID-19 and maintaining socio-economic development.
Cambodia reported 654 new COVID-19 cases on April 23, pushing the total number of infections to nearly 9,000.
The country's total number of COVID-19 is now 8,848, of which 8,301 are linked to the February 20 Community Event. Fatalities reached 61./.
Saudi Arabian relief centre helps flood-affected locals in central Vietnam
Saudi Arabian Ambassador to Vietnam Saud F. M. Al-Suwelim, on behalf of the King Salman Humanitarian Aid and Relief Centre, on April 23 presented the token of 150,000 USD in humanitarian aid to help Vietnam's central provinces affected by recent storms and floods.
Speaking at the handover ceremony, the ambassador expressed his sympathy over human and asset losses caused by recent floods in central Vietnam, and his hope that the aid will help local residents to overcome difficulties and soon stabilise their lives.
Tran Van Sinh, Head of the Movement Division of the Vietnam Fatherland Front Central Committee, thanked for the practical assistance of the King Salman Humanitarian Aid and Relief Centre, adding that the agency will quickly send the aid to affected provinces.
Deputy Minister of Foreign Affairs Dang Minh Khoi spoke highly of the valuable support of the Saudi Arabian Government and people in general and the King Salman Humanitarian Aid and Relief Centre in particular for Vietnam, believing that this will help deepen relations between the two countries./.
Heritage of central localities on show for HCM City citizens
A tourism promotion programme entitled "Amazing Central Heritage" was organised in Ho Chi Minh City on April 23, introducing the heritage of the four central localities of Da Nang, Thua Thien-Hue, Quang Nam, and Quang Binh.
The programme was jointly held by the Tourism Authorities of Da Nang city and Thua Thien-Hue province, the Quang Nam Department of Culture, Sports and Tourism, and the Tourism Association of Quang Binh province.
Nguyen Xuan Binh, Deputy Director of the Da Nang Department of Tourism, said that the event attracted the participation of more than 300 businesses offering rich and preferential products to visitors.
Many attractive and promotional tour packages were introduced during the programme.
A number of tourism sites and accommodation providers participating in the programme are offering discounts of up to 50 percent.
To ensure the quality of the programme, feedback from tourists who took tour packages under the programme will be sought./.
COVID-19: Six imported cases reported on April 23 afternoon
Six imported cases of COVID-19 were detected in the past 12 hours to 6pm April 22, according to the Health Ministry.
The new patients, including a 50-year-old Filipino man, a 37-year-old Indian man, and four Vietnamese, raised the national count to 2,830.
The number of recovered patients reached 2,490, while the death toll remained at 35.
Among active patients, 12 have tested negative for the novel coronavirus once, 11 twice and 17 thrice.
A total 39,191 people who had close contact with or arrived from pandemic areas are being quarantined nationwide.
Also on April 23, the Vietnam Fatherland Front Committee of Ho Chi Minh City received over 200 billion VND (8.67 million USD) contributed by organisations and individuals to purchase COVID-19 vaccines./.
Project helps increase effectiveness of population management
The implementation of a project on simplifying administrative procedures, citizenship papers, and databases related to population management during 2013-2020 (Project 896) has contributed to improving the efficiency of population management towards the building of a digital economy and society.
The comment was made by Permanent Deputy Prime Minister Truong Hoa Binh, head of Project 896, at an online national conference reviewing the implementation of the project, held at the Government headquarters and Vietnam's 63 cities and provinces on April 23.
Binh stressed that 2021 is a year of significance in continuing to carry out the project to build an e-Government towards achieving a digital Government, economy, and society.
He asked the Ministry of Public Security to continue completing the national database on population and the system for citizen ID production, issuance, and management, and to ensure accurate, transparent, and consistent data as well as data security and safety.
Ministries, sectors, and localities should continue working with the Ministry of Public Security in the process of implementing the projects, to ensure synchronisation and connectivity in building the e-Government, he suggested.
According to a report delivered at the teleconference, the implementation of Project 896 created innovation in the organisation and activities of State management over population in a modern manner and in conformity with Vietnam's conditions during its industrialisation and modernisation process and with international practices.
The project helps promote the application of information technology, simplify administrative procedures, and reduce citizenship papers, thus contributing to improving the effectiveness of State management in all fields of social life, serving State management and transactions by agencies, organisations, and individuals and stepping up the implementation of online public services at ministries, sectors, and localities.
To date, of 1,934 administrative procedures that require citizen information, ministries and sectors have proposed simplifying 1,126, or 58.2 percent.
The Government has also passed 19 resolutions on simplifying administrative procedures and citizenship papers relating to population management./.
Youth Union supporting thousands of youngsters to launch start-ups
The Ho Chi Minh Communist Youth Union (HCMYU) at all levels around the country mobilised more than 73 billion VND (3.16 million USD) to support thousands of start-up projects from young people during the Youth Month 2021.
The figure was reported by the HCMYU Central Committee in Hanoi on April 23 in reviewing Youth Month in March.
According to the committee, among the projects, many were launched by students at universities and colleges.
During Youth Month 2021, 36,000 volunteer activities were held with the engagement of more than 1.3 million youngsters, helping repair nearly 2,000 km rural roads and build 4,100 km of new roads, along with 230 rural bridges.

There were also 22,700 environmental protection activities organised, with nearly 1.9 million trees planted.
At the same time, some 3,700 employment consultations were provided to more than 610,000 youngsters.
At universities and colleges, 244 start-up clubs were set up for students. Meanwhile, more than 13,700 activities were held to care for 680,000 children, including nearly 4,500 sessions teaching 320,000 children how to swim and equip them with knowledge on preventing child abuse.
During the month, 35,000 young people were introduced to become Party members, 6,700 of whom have been admitted./.
Hanoi seminar raises public awareness about preventing child sexual abuse
A seminar seeking measures to prevent the sexual abuse of children and provide relevant legal information took place in Hanoi on April 23.
Jointly organised by the Management and Sustainable Development Institute (MSD) under the Southeast Asian Research Association of Vietnam (SEARAV), and the Vietnam Association for the Protection of Child Rights (VACR), the seminar was part of activities within the framework of a project funded by the Justice Initiatives Facilitation Fund (JIFF) to support access to justice for victims of child sexual abuse in Hanoi.
Addressing the seminar, VACR Vice Chairwoman Ninh Thi Hong highlighted the significance of the gathering, saying it aimed to raise public awareness about child sexual abuse prevention and provide knowledge on laws and the necessary legal support in the event a child is being sexually abused.
Participants emphasised the need to apply strict punishments on child sexual abusers.
They also proposed specific measures and action programmes to prevent the sexual abuse of children and support victims of sexual abuse and their families.
Figures from the Criminal Police Department under the Ministry of Public Security revealed that 2,643 cases of sexual violence against children were reported in 2017-2018. But this was almost certainly only the tip of the iceberg, as many cases go undetected or the victims and their families fail to report such cases to authorities.
The Child Law 2016 has created an important legal corridor for the protection, care, and education of children, significantly contributing to the implementation of children's fundamental rights.
The law devotes a separate chapter on child protection and regulates child protection requirements as well as the establishment of child protection service facilities.
The Government has also promulgated a number of documents guiding the implementation of child care and protection./.
Border localities must exert efforts to tackle illegal entry: Deputy PM
Border localities need to ensure quarantine and free COVID-19 testing for Vietnamese citizens returning from abroad so as to prevent illegal entry, Deputy Prime Minister Vu Duc Dam made the request during an in-person and online meeting with HCM City and 10 localities bordering Cambodia on April 23.
Noting that COVID-19 is wreaking havoc in Cambodia and other countries in the region, Dam, who is head of the National Steering Committee on COVID-19 Prevention and Control, urged the localities to tighten regulations, especially sparing no efforts in tackling illegal entry via road and maritime transport.
The Government is calling on Vietnamese citizens abroad to refrain from travelling and comply with local guidelines on COVID-19 prevention and control. If the citizens wish to return home, they need to make declaration with relevant agencies so that the agencies can provide the best possible support while ensuring pandemic prevention measures, he underlined.
The Deputy PM asked local authorities to encourage those who illegally return on fishing vessels to contact relevant agencies and make declaration.
Localities were instructed to tighten supervision along the country's borders and border gates, especially via crossings, trails, and maritime transport.
They also need to impose heavy fines on illegal migrants and encourage residents to report violations, as well as ensure safety in concentrated quarantine facilities.
At the meeting, representatives of the localities reported recent activities in preventing COVID-19 and illegal immigration at border regions./.
Contest to find new circus talents kicks off
A contest to find new circus talents nationwide is being organised at the Vietnam National Circus Theatre in Hanoi.
The organisers of this year's event revealed that each entry has been thoroughly vetted in terms of its content, form of expression, arts and entertainment value.
The National Circus Talent 2021 contest is held by the Department of Performing Arts under the Ministry of Culture, Sports and Tourism in collaboration with the Vietnam Theatre Artists Association, the culture authorities of all provinces and cities nationwide and other related agencies.
The eligible contestants are circus artists currently working in circus troupes or students at circus training institutions across the country.
The organisation board revealed that they have received the registrations of five institutes with 29 performances, divided into various kinds including acrobatics, juggling, balancing, magic, clown, and animal training.
The contest regulates that each registered entry has to be performed twice following the schedule arranged by the organisation board. It must include the basic characteristics of the circus art form and the skill of the performers.
New and experiemental performances with creative elements are highly encouraged. The costumes, props and music must suit the content and techniques and the length of each complete performance should last from seven to 12 minutes.
Speaking at the press meeting in Hanoi, Tran Huong Duong, deputy director of the Department of Performing Arts, said that the number of participating contestants of this year's event revealed the difficulties facing the circus art.
"While the previous contest attracted ten circus institutes to participate, there are only five this year," he said.
"In addition to the difficulties in merging the art units that force circus performers to quit or change jobs, the COVID-19 pandemic has prevented the circus troupes from performing and practicing, which has led to the shortage in budget to support the artists from entering the contest."
"The presence of nearly 100 artists participating in the competition demonstrates the efforts of the circuses nationwide to overcome difficulties and maintain their passion for such a difficult art form," he added.
The National Circus Talent Contest 2021 will be livestreamed on the YouTube channel of Vietnam Performing Arts until April 27./.
Hoa Lu Festival attracts thousands
The 2021 Hoa Lu Festival officially opened in the northern province of Ninh Binh on April 20 (the 9th day of the third lunar month). It is being held jointly with the opening of National Tourism Year 2021. A range of events will promote Ninh Binh's historical and cultural values, natural resources, and tourist products, and contribute to the recovery of domestic tourism post-pandemic.

Staring from 5.30 am on April 20, thousands of people gathered at the historic Dinh Tien Hoang Kinh royal temple at the Hoa Lu Ancient Capital Cultural and Historical Site, to join in a special palanquin procession.
The procession is an important ritual and dates back more than a thousand years.
The annual gathering aims to commemorate and honour the merit of national hero Dinh Bo Linh (924-979), who defeated 12 warlords to unite the country, afterwards declaring himself Emperor Dinh Tien Hoang and naming the country Dai Co Viet (Great Viet) - the first centralised feudal state in what is today Vietnam.
The activities aim to strengthen tourism development cooperation between cities and provinces around the country possessing World Heritage Sites, attract tourism investment, and raise the profile and image of the country and the Vietnamese people.
Hundreds of activities will be held during the tourism year, such as the Bai Dinh Pagoda Festival, the Trang An Festival, the Hoa Lu Festival, the Kinh Thien (Revering Heaven) Palace Festival, the Miss ASEAN pageant, the Tam Coc - Trang An tourism week, a week of Cuc Phuong National Park, the National Marathon, exchanges between World Heritage Sites, a conference on Hat Xam (Xam singing), and a trade and tourism fair, among others.
The year will be an opportunity for Ninh Binh's tourism sector to draw local and foreign visitors and promote its tourism development, contributing to the province's socio-cultural development./.
Action month spotlights children protection amid pandemic, disasters
June is the nationwide action month for children this year under the theme of joining hands for ensuring children's rights and protecting children in natural disasters and pandemic, said the Ministry of Labour, Invalid and Social Affairs' Department of Child Affairs.
During the month, localities will step up communications campaigns to raise public awareness on laws, policies, programmes targeting the group as well as on the national hotline and local services for child protection.
Visits will be made for and gifts will be presented to children from families of revolutionary contributors, those with poverty or abused background, and those with severe illnesses, among others.
Children's forums, children-initiated activities, and summer cultural and sport events will also be featured throughout the month.
A ceremony to launch the action month is slated for May 29 in Hanoi./.
Can Tho seeks multifaceted cooperation with US localities
Secretary of the Can Tho municipal Party Committee Le Quang Manh and US Consul General in Ho Chi Minh City Marie C. Damour had a meeting on April 22, during which both voiced the wish to foster bilateral cooperation in trade promotion, climate change response, health care, and education.
Manh expressed his delight at the US Consulate General's attention to enhancing cooperation between the two countries, including between the US and Can Tho, and noted that the areas that Damour mentioned are all development priorities of the Mekong Delta city both at present and in the future.
Agricultural products are the strength of the Mekong Delta, but Can Tho hopes for the US's further assistance in processing to reduce post-harvest losses, as well as in product examination and certification to export to the US, he noted.
The official added he hopes via scholarships for cadres to study in the US, his city will have more high-quality personnel.
For her part, Consul General Damour said as the centre of the Mekong Delta and boasting many healthcare and education facilities, research centres, and port and logistics systems, Can Tho is a potential strategic partner for many US localities.
Emphasising health care and climate change response, she highly valued Vietnam's achievements in controlling COVID-19, describing these as lessons for the US and the whole world to learn from.
With the anti-pandemic success, Vietnam has a chance to be a destination for healthcare enterprises of the US to invest in, according to the diplomat.
She added that climate change is a global issue to which the Mekong Delta is vulnerable. Meanwhile, the US has much experience, solutions, and initiatives that have been applied and generated positive outcomes in this regard.
Therefore, Damour went on, the Consulate General wants to work as a bridge to help US businesses come to seek investment opportunities in climate change response in Can Tho./.
National forest service payment mechanism generates 120 million USD annually
The Payment for Forest Environmental Services (PFES) system implemented at national scale under an USAID project now generates approximately 120 million USD annually to finance the management of approximately 6 million hectares of Vietnam's forests.
The figures were released at an Earth Day event held in the Central Highlands province of Lam Dong's Da Lat city on April 22 to mark the completion of the United States Agency for International Development (USAID)'s Vietnam Forests and Deltas project.
The 31.4 million USD climate change programme was implemented by Winrock International from 2012-2021 to support Vietnam's transition to climate resilient, low-emission sustainable development.
Over its more than eight years of implementation at the national level and in the provinces of Quang Ninh, Nam Dinh, Son La, Thanh Hoa, Nghe An, Lam Dong and Long An, the project supported the Ministry of Agriculture and Rural Development to successfully implement the PFES system at the national scale. The PFES has contributed to increasing incomes and living standards for hundreds of thousands of people living in the mountainous areas who receive payments to help protect forests.
In addition, the project trained approximately 350,000 people on climate change adaptation, forest management and livelihoods development and helped over 200,000 people implement climate change risk reduction practices in the Mekong and Red River Deltas.
At the event, USAID Acting Mission Director Bradley Bessire said the Vietnam Forests and Deltas project is the first climate change collaboration programme between USAID and the Vietnamese Government, aiming to strengthen forest management and build resilience for vulnerable communities in the Red River and Mekong Deltas.
On the occasion, USAID also announced two new projects – the Sustainable Forest Management project (2020-2025), which seeks to avoid carbon emissions from natural forest conversion and increase carbon sequestration through the improved plantation management; and the Biodiversity Conservation project (2020-2025) that aims to maintain and increase forest quality, and protect and stabilise wildlife populations in national parks and natural reserves. These projects will work in 12 provinces across Vietnam./.
NA leader applauds finance & budget committee's contributions during 14th tenure
Chairman of the National Assembly (NA) Vuong Dinh Hue had a working session with the parliament's Committee for Financial and Budgetary Affairs in Hanoi on April 22, highlighting the committee's significant contributions to the success of the 14th NA.
The top legislator said that the committee has shown good performance in making and revising laws on financial and budgetary issues such as the law on public asset management, the law on public debt management, and the amended law on public investment.
It has also assisted the NA and the NA Standing Committee in exercising supervision in key areas like borrowed capital and financial funds.
Hue also noted the outstanding outcomes in the committee's diplomatic activities such as the establishment of a cooperation mechanism with its counterpart committees of Laos, Cambodia, and Myanmar, expressing his hope that this mechanism will be maintained and then expanded to the entire ASEAN.
He asked the Committee for Financial and Budgetary Affairs to build on its achievements to push ahead with reforming and improving its operational efficiency, build lawmaking programmes with a long-term vision as requested in the documents of the 13th National Party Congress, and promote relevant agencies' accountability.
Regarding pressing issues, the NA Chairman demanded the committee focus on the medium-term public investment plan, the five-year financial plan, and the investment in national target programmes./.
Source: VNA/VNS/VOV/VIR/SGT/Nhan Dan/Hanoitimes