VIETNAM NEWS HEADLINES APRIL 21
Investor committed to start construction of Long Thanh International Airport's terminal in early 2022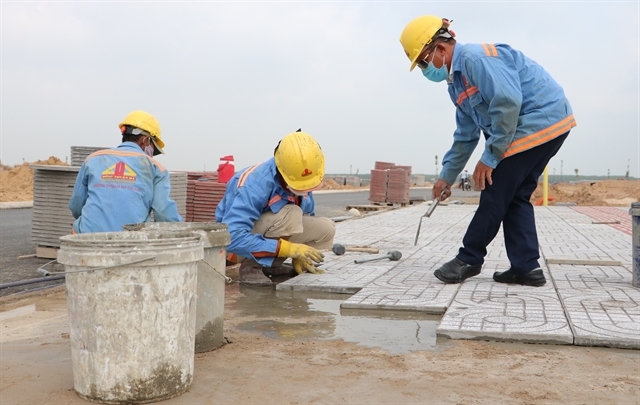 Tiling of pavements in a residential neighbourhood meant for the households having to relocate to make room for the Long Thanh International Airport in the southern province of Dong Nai.
The State-run Airports Corporation of Việt Nam (ACV) said it is committed to start construction of Long Thành International Airport's passenger terminal early next year.
ACV, which is the investor of the expensive and ambitious transport hub project in the southern province of Đồng Nai, told the transport ministry in a meeting held on Monday that the first component of the project – demining – is ongoing, while walls surrounding the land intended for the project (1,810ha of priority area) are being simultaneously carried out.
The whole thing is expected to be complete by September this year.
ACV asked Đồng Nai Province's authorities to continue supporting the contractors in ensuring security and protecting the boundary markers during the entire project.
Ground levelling, water drainage, and other essential works, will then follow so that the construction of the passenger terminal of the airport can begin in early 2022.
At the meeting, ACV also requested the authorities to soon finish land acquisition for land clearance at the two roads connecting to the airport, with an "appropriate compensation scheme" for the affected households.
Cao Tiến Dũng, Chairman of Đồng Nai Province People's Committee, said that a compensation scheme has already been approved by the Government and used in thousands of cases of affected households.
However, recently the State Audit Office of Việt Nam after review has recommended some changes to this approved scheme, but if the province is to follow through and cut down on the compensation level for the remaining households that have not moved yet would certainly lead to complaints and hinder land clearance progress.
Therefore, Đồng Nai has asked the Government to maintain the compensation scheme originally approved, to create "uniformity" in the policy.
Dũng said the province is set to hand over the entire 5,000ha allocated for the project to the investor in June, and soon finish the temporary rehousing plans to move the affected households in the priority area of the project.
3,000ha of this total area involves the land of households and individuals.
By mid-April, the compensation scheme was approved for 4,000 households and individuals (out of the total 4,800), with 2,300 already receiving a total of VNĐ5.4 trillion (US$234.8 million) for a total of 1,100ha.
Next week, Long Thành District's authorities would pay compensation worth VNĐ1.2 trillion for 811 households with 284ha.
Deputy transport minister Lê Anh Tuấn said Long Thành is one of the breakthrough project of the national transport sector in the 2021-25 period, urging all parties to coordinate and facilitate the progress of all components of the project and disburse the allocated State capital.
ACV and Đồng Nai should work together to see which compensation level is appropriate, Anh Tuấn said.
The transport official also urged careful consideration and preparations to deal with problems arising from the airport's surrounding walls, including potential waterlogging issues in the adjacent residential households.
Long Thành International Airport will be built in three phases over three decades, and is expected to become the country's largest airport.
In the first phase, one runway with a length of 4,000m, taxiways, an apron, and a passenger terminal with other auxiliary works sprawling 373,000 sq.m will be built to serve 25 million passengers and 1.2 million tonnes of cargo each year.
The airport is designed to have four runways, four passenger terminals, and other auxiliary facilities to ensure a capacity of 100 million passengers and 5 million tonnes of cargo a year by 2040.
It is expected to cost VNĐ336.63 trillion ($14.5 billion), with the first phase needing over VNĐ109 trillion.
Vietnam has no new COVID-19 cases to report on April 21 morning
Vietnam recorded no new cases of COVID-19 in the past 12 hours to 6am April 21, keeping the national tally at 2,801, according to the Health Ministry.

Out of the total infections, 2,490 were given the all-clear, while the death toll remained at 35.
Among patients still under treatment, 12 have tested negative for the novel coronavirus, 11 twice and 17 thrice.
Meanwhile, 39,385 people are under quarantine nationwide, including 514 at hospitals, 23,870 at concentrated quarantine facilities and 14,991 at their residences.
The ministry also informed that on April 20, additional 14,386 people were vaccinated against COVID-19 in 17 provinces and cities, raising the total number of vaccinated people to 106.929 in 27 localities./.
Singaporean Prime Minister affirms high priority for relations with Vietnam
Singaporean Prime Minister Lee Hsien-Loong on April 20 affirmed that Singapore gives high priority to relations with Vietnam during his talk on the phone with his Vietnamese counterpart Pham Minh Chinh.
Calling Chinh to congratulate him over his election as Prime Minister of Vietnam, Lee also appreciated Vietnam's success in responding to the COVID-19 pandemic and in socio-economic development as well as external relations.
In reply, PM Chinh said he hopes to work closely with the Singaporean PM to further promote the strategic partnership between the two countries across the fields.
The two government leaders rejoiced at the positive developments in bilateral cooperation despite the difficulties brought by COVID-19. They noted that Singapore was the biggest investor in Vietnam in 2020 and the first quarter of 2021.
They agreed to bolster joint work in fields of the countries' potential and strength, such as finance, information technology, agro-fisheries, education-training, and infrastructure, while seeking to expand cooperation in areas related to the Fourth Industrial Revolution like clean energy, smart city, innovation, digital economy, as well as the sharing of experience in management, economic development, and human resources training.  
The two sides consented to boost cooperation in responding to COVID-19 and facilitating the repatriation of each other's citizens, and accelerate negotiations on travel preferential regulations between the two countries toward resuming safe commercial flights that suit the situation in each country and in the region so as to promote bilateral trade, investment and tourism ties.
 PM Chinh appreciated the close and effective cooperation between Vietnam and Singapore at regional and international forums, and thanked Singapore for supporting Vietnam as Chair of ASEAN in 2020. He asked Singapore to continue backing Vietnam in its role as a non-permanent member of the UN Security Council in 2021.
The two PMs affirmed their resolve to make active contribution to building a strong, united and resilient ASEAN Community with a central role and common voice in regional and international peace and security issues.   
PM Chinh invited the Singaporean PM to visit Vietnam at a suitable time. PM Lee Hsien Loong accepted the invitation and expressed his wish to welcome the Vietnamese PM to Singapore./.
Court proposes investigating violations of industry ministry in steel firm's project
The Hanoi People's Court on April 20 recommended investigating possible violations of the Ministry of Industry and Trade (MoIT) and considering the launch of criminal proceedings against several officials of the ministry involved in a case related to wrongdoings at Thai Nguyen Iron and Steel JSC (TISCO) (if sufficient ground is found).
Specifically, the trial panel said the MoIT made some decisions against the law, introduced and chose incapable units to carry out section C of the engineering, procurement and construction contract No. 01, which was one of the main factors leading to the consequences of the case.
The panel also proposed clarifying the violations of the Vietnam Industrial Construction Corporation (VINAINCON) in the implementation of the section C.
Tran Trong Mung, former Director General of TISCO, was sentenced to nine years and six months in prison for "violating regulations on management and use of State assets causing losses and wastefulness" under Clause 3, Article 219 of the 2015 Penal Code.
Thirteen other defendants were given jail terms ranging from two to eight years and six months on the same charge.
Meanwhile, five defendants were imprisoned for 18 months to two years and two given suspended sentences of 18 months each on the charge of lacking responsibility causing serious consequences. 
The defendants were also ordered to pay  compensation worth over 830 billion VND (36 million USD) in total to TISCO. 
According to the indictment issued by the Supreme People's Procuracy, the VNS Board of Directors decided to invest in the second phase of TISCO's production expansion project which initially had total investment of more than 3.8 trillion VND (164.9 million USD at the current exchange rate). The China Metallurgical Group Corporation (MCC) won the construction bid in 2007.
On July 12, 2007, then TISCO General Director Tran Trong Mung and MCC General Director Shen Heting signed an engineering, procurement, and construction (EPC) contract worth over 160 million USD (equivalent to over 3.5 trillion VND). It was stipulated that the value, including taxes and expenses necessary for contract implementation, was to not change during the implementation process.
TISCO and MCC launched implementation on September 29, 2007. However, more than 11 months after the contract took effect, MCC had failed to select or sign contracts with subcontractors, or carry out the EPC contract. Instead, it proposed extending the contract implementation duration and raising the contract value by more than 138 million USD.
The indictment said that although individuals at TISCO and VNS were aware that MCC had infringed the contract and groundlessly proposed the implementation extension and value hike, they did not consider contract termination, revocation of the advance, or reporting the matter to competent persons to abolish the bidding result and re-organise the bidding process so as to ensure the project's effectiveness and progress.
Among the defendants, Mung held the overall responsibility for the project's effectiveness while Tinh was in charge of approving and directing project implementation.
The Supreme People's Procuracy held that the violations of rules on the management of State assets and the lack of a sense of responsibility by those at TISCO and VNS caused losses of over 830 billion VND to the State. The sum is the interest rate TISCO had to pay to banks for the period from the time the project began falling behind schedule, on May 31, 2011, to the date an official investigation was launched, on April 18, 2019.
The defendants' criminal acts not only adversely affected economic development and had a direct negative impact on production and business activities and the interests of employees at TISCO, they also indirectly affected the process of promoting rapid and sustainable economic development, becoming a burden on the national economy and causing a loss of trust in society./.
Rainy season in south to begin earlier than usual due to La Nina
The rainy season will begin two or three weeks earlier than usual in the south this year because of the La Nina phenomenon, the Southern Hydro-Meteorological Station has forecast.
Lê Đình Quyết, its deputy head, said the rains usually start between May 10 and 15.    
The US National Oceanic and Atmospheric Administration defines La Nina as cooler than normal sea-surface temperatures in the central and eastern tropical Pacific Ocean impacting global weather patterns.
It occurs every three to four years and can persist for as long as two years. 
The station said heavy rains would occur in the afternoons and from now until June.
In August, when La Nina's influence will reduce, the weather will be back to a neutral state, with strong convection clouds causing thunderstorms and winds.
La Nina returns to Việt Nam after a decade, but its influence has not been serious yet, according to hydro-meteorologist Lê Thị Xuân Lan. 
However, it is unpredictable so the country should take preventive measures against natural disasters.
The earlier arrival of rains will help southern provinces and cities have "comfortable" weather during summer this year.
According to experts, because of La Nina, the rainy season will also be shorter, and rainfall will be lower than normal.
Lan warned that southern provinces and cities should start storing water.
There has been heavy rain in many parts of HCM City, causing streets to flood and trees to fall, injuring several people, damaging cars and motorbikes.
Nhiêu Lộc canal was polluted with garbage after the heavy rains, causing fish to die.
17 collectives, 33 individuals honoured for overseas Vietnamese affairs
As many as 17 collectives and 33 individuals were honoured at a ceremony in Ho Chi Minh City on April 20 for their achievements in overseas Vietnamese (OV) affairs in the city for the 2018-2020 period.
Speaking at the event, Vice Chairman of the Foreign Ministry's State Committee for Overseas Vietnamese, Ambassador Luong Thanh Nghi affirmed that the Vietnamese Party and State highly appreciate OVs' great and important contributions to the cause of national construction and development.
The Vietnamese Party and State always consider the Vietnamese community abroad an inseparable part and resource of the nation, and a friendship bridge between Vietnam and the world, he said.
According to him, more than 5.3 million Vietnamese are living in 153 countries and territories worldwide. Apart from integrating into host societies, they are serving as messengers of culture to popularise the image of Vietnam to international friends. During the COVID-19 pandemic, they also partnered with host authorities and left good impression in the mind of international friends.
Vice Chairman of the municipal People's Committee Duong Anh Duc affirmed that the Vietnamese community abroad have been making contributions to maintaining cultural identity and popularising values of national culture, thus contributing improving Vietnam's prestige and stature on international arena.
He wished that they would continue upholding the spirit of patriotism, national pride and join efforts with the city's Party, authorities and people, making active contributions to accomplishing 2021 socio-economic goals, and building a beautiful and prosperous city./.
Party leader extends sympathy to Cambodia over pandemic resurgence
Party General Secretary Nguyen Phu Trong has sent a message of sympathy to Cambodian People's Party (CPP) President and Prime Minister of Cambodia Samdech Techo Hun Sen over the resurgence of the COVID-19 pandemic in the country.
In the message, the Vietnamese Party leader, on behalf of the Party, State and people of Vietnam and in his own capacity, offered fraternal sentiments and heart-felt sympathy to Cambodia over the losses caused by the pandemic.  
Noting that COVID-19 continues to wreck serious impacts on human health and every aspect of socio-economic life in all countries, including Vietnam and Cambodia, General Secretary Trong said Vietnam has been keeping a close watch on the pandemic situation in the neighbouring country and deeply understanding the difficulties that Cambodia is facing.
"We value the measures that the CPP and the Cambodia Government have undertaken to prevent and control the COVID-19 pandemic in the recent past, and believe that under the CPP's sound leadership and the drastic governance of the Cambodian Government led by Samdech Techo Hun Sen, along with the support and unity of Cambodian people, Cambodia will successfully contain the pandemic," Trong wrote.
He went on to say that Vietnam has implemented a host of strong and timely measures to mobilise the involvement of the entire political system and the entire people in containing the pandemic. Despite the complicated developments of the pandemic, Vietnam has so far basically curbed the spread of the pandemic.
This outcome has been appreciated by both the international and domestic community, General Secretary Trong said, affirming that the Vietnamese Party and State will continue with drastic measures to contain and minimize sources of infections, early detect infected patients and promptly give them treatment for early recovery, while implementing a vaccination campaign against COVID-19.
The Vietnamese Party leader stressed that with the tradition of solidarity and mutual support between the two Parties, States and peoples, Vietnam is always ready to cooperate with, support and share experience within its capacity with Cambodia in the fight against COVID-19, so that the two countries can stabilize the situation as early as possible.
He took the occasion to thank the CPP and the Cambodian Government for providing COVD-19 vaccinations for staff members at Vietnam's representative missions and Vietnamese students, as well as support for the community of Cambodians of Vietnamese origin in COVID-19 prevention and control.
On the occasion of the Chol Chnam Thmey festival, the Vietnamese Party leader wished Hun Sen, the CPP leadership and Cambodian people a happy new year with good health and prosperity./.
Medical workers fret about escalation of hand-foot-mouth cases
From the beginning of 2021 up to now, the number of children infected with hand, foot and mouth disease (HFMD) nationwide has escalated by 400 percent with some deaths due to serious complications. Health experts fretted that the complications of the disease leave serious longstanding sequelae in children.
Year-round hand, foot and mouth disease is transmitted through the gastrointestinal tract; children are most contagious with HFMD.
According to Dr. Le Hong Nga from Ho Chi Minh City Center for Disease Control (HCDC), in the first three months of 2021, the number of HFMD cases nearly doubled compared to the average of the same period in 2017-2020. The number of cases of severe HFMD at grade 2B or higher is on the rise.
The southern metropolis recorded 2,564 cases of HFMD, an increase of 2.5 times compared to the same period in 2020 with 1,044 cases. The city recorded 346 cases in March 2021 alone, an increase of 2.2 times compared to the previous month's average with 152 cases.
Thu Duc City and districts 1, 4, 6, 7, 8, 10, 11, 12, Binh Tan, Tan Binh, Go Vap, Binh Chanh, Cu Chi, Hoc Mon have seen an alarming rate of HFMD cases.
Dr. Nguyen Minh Tien, Deputy Director of the City Children's Hospital said that from the beginning of March until now, there has been an increase in the number and severe cases of HFMD hospitalized children. Many of them are in serious condition.
For instance, a 15-month-old girl was transferred from Bac Lieu General Hospital when she was suffering breathing problem.
According to her relative, the baby had had a high fever for three days, vomit, and blisters on the palm of her hand before she was taken to the local infirmary.
The toddler gradually fell into drowsiness, cyanosis, cold hands and feet, skin rash on the palm of the hands and she was diagnosed with HFMD grade 4. The baby girl then experienced respiratory failure; therefore, she was put on ventilator and transferred to the City Children's Hospital.
Meanwhile, the Children Hospital No.1 admitted 6-7 children with HFMD a day in recent weeks, mostly slight cases; hence, doctors advised parents to take them home for treatment.
However, Dr. Du Tuan Quy, Deputy Head of the Department of Infections and Neurology, said that the department is treating 134 children with infectious and neurological diseases including 42 HFMD cases.
According to the infectious disease surveillance system, from the beginning of 2021 up to now, the country has recorded about 18,000 cases of HFMD including four deaths in the Mekong Delta provinces of Kien Giang, An Giang and Long An.
In comparison with the same period in 2020, the number of cases increased four times, mostly in the Southern region and Ho Chi Minh City, Dong Nai, Long An, Dong Thap, An Giang.
According to Dr. Le Hong Nga, HFMD is a common infectious disease in children, especially children under 5 years old. The disease spreads quickly reaching its peak from March to May and from August to September each year. Most cases were mild.
However, in some cases, the disease can progress seriously and cause dangerous complications such as encephalitis - meningitis, myocarditis, and acute pulmonary edema leading to death; accordingly, early detection for HFMD and timely treatment are needed.
Dr. Le Hong Nga pointed out statistically, the rate of children HFMD-associated neurological diseases is not too high, but if the child has serious complications because of delayed treatment, it will leave serious sequelae such as encephalitis, cardiovascular disease, and pulmonary edema. Children will die without timely and proper treatment.
The Ministry of Health recommended people to strictly implement personal hygiene to prevent HFMD including often washing their hands with soap several times a day, drinking boiling water and cooked food. Toys that children suck or chew should be cleaned in the dishwasher or washing machine separately.
Disinfecting toys and general surfaces such as tables is a precaution for outbreaks. At the same time, parents do not let children come into contact with sick people. It is necessary to bring the child to nearby hospitals for timely treatment if they have symptoms of the disease.
Deputy Director of the Hanoi Department of Health Hoang Duc Hanh said that since the beginning of the year, the city has recorded 82 cases of HFMD in 28 districts and towns. The number of cases has tended upwards lately forecasting this disease may continue to increase in the near future, mainly in babies.
Director of the National Pediatric Hospital's Center for Pediatric Tropical Diseases Doctor Nguyen Van Lam said that from the beginning of 2021 up to now, the center has received more than 130 cases of children with HFMD, five times higher than the same period last year.
Border locality upgrades field hospital amid COVID-19 fears
The southern border province of Kien Giang has decided to increase the capacity of its to-be field hospital to receive coronavirus infections returning from Cambodia which is severely ravaged by the fresh coronavirus outbreak.

The local administration has agreed with the Ministry of Health's proposal to upgrade the field hospital so that the facility will be able to accommodate between 300-500 patients as opposed to previously planned 200, Nguyen Luu Trung, Vice Chairman of the provincial People's Committee told local media outlets on April 19.
The decision comes amid the complicated development of the COVID-19 pandemic in Cambodia which has a long coastline and land border with Kien Giang.
The number of people crossing the border from Cambodia into Kien Giang has increased considerably in recent times.
The medical centre of Ha Tien City, part of Kien Giang province, has successfully treated 19 coronavirus patients and is currently giving treatment to 18 others, with all of them returning from Cambodia through Ha Tien International Bordergate, said Trung, adding that the returnees were all placed in quarantine as soon as they arrived.
To nip in the bud a possible coronavirus outbreak in the community, the local administration has developed a plan to build a 200-bed field hospital. However, the rising number of returnees from Cambodia has forced the authorities to upgrade the health facility.  
Doctors from Cho Ray, a leading hospital of Ho Chi Minh City, are currently in Kien Giang to help the province with the upgrade of the field hospital.
During the fact-finding tour of Kien Giang on April 19, Minister of Health Nguyen Thanh Long proposed the locality tighten control along its borders and develop worst-case scenarios.
Transport Ministry wants four localities to invest in Ring Road No. 3
The Ministry of Transport has asked HCMC, Dong Nai, Binh Duong and Long An to determine whether they can invest in sections of the Ring Road No. 3 project passing through their localities and propose execution plans if they agree to develop the sections.
According to the ministry, due to the necessity to develop the ring road early and the tight State budget, it called for the involvement of localities in the project.
The ministry has updated the required investment and construction and site clearance costs in each locality.
If localities agree to invest in the sections of Ring Road No. 3, they should work out plans to exploit the land fund along the road and propose State support if needed. If they propose the Ministry of Transport take charge of the construction of the project, they must state whether they can take responsibility for the entire site clearance cost.
Relating to the project, the Dong Nai government on April 12 held a meeting with the My Thuan Project Management Board under the Ministry of Transport to prepare for the road section in the province.
The section in Dong Nai has two segments--1A and 2A. The 1A segment will have a total length of over 8.7 kilometers and start at an intersection with provincial road 25B in Nhon Trach District and end at an intersection with the HCMC-Long Thanh-Dau Giay Expressway in HCMC's Thu Duc City.
The Ministry of Transport has approved the prefeasibility for the segment with an estimated investment of VND5.3 trillion, sourced from official development assistance loans and the reciprocal capital. Work on the 1A segment will start next quarter.
The 2A segment was designed to be some five kilometers long, start at an intersection with Ben Luc-Long Thanh Expressway and end at an intersection with provincial road 25B.
According to the Ministry of Transport, the Ring Road No. 3 project has an important role in developing transport services between HCMC and the southern key economic zone.
Under a decision approved by the prime minister, the project would be completed before 2020. However, only 16.3 of 89 kilometers of the road have been put into service.
The required investment for the project was estimated at over VND60 trillion, including VND32.7 trillion for construction and VND27.3 trillion for site clearance.
Outstanding archaeological achievements in past decade announced
The Institute of Imperial Citadel Studies announced outstanding achievements in archaeological studies, technology application, museum display and design and promotion of Vietnam's cultural heritage on April 18 on the occasion of its 10th founding anniversary (April 28, 2011-2021).
Director of the institute Bui Minh Tri said that over the past decade, the institute have actively and creatively carried out and well fulfilled its missions assigned by the Prime Minister and the Chairperson of the Vietnam Academy of Social Sciences.
The institute's achievements in scientific research are demonstrated through the implementation of the project of revising, studying and assessing the value and making a scientific record of the Thang Long Imperial Citadel relic site and the task of excavating the Nen Chua relict site in the southern province of Kien Giang, which is part of the project on researching the Oc Eo-Ba The and Nen Chua archaeological relic sites.
In addition, the institute has also left impressions through the organisation of the project on showcasing vestiges and objects in the basement of the National Assembly House in Hanoi and another on promoting the cultures of Dinh-Tien Le dynasties at Hoa Lu relic site in the northern province of Ninh Binh./.
Vietnam National Brand Week launched in HCM City
The Ministry of Industry and Trade launched the Vietnam National Brand Week 2021, an event to strengthen national brand identity and promote products recognised as national brands by the Government domestically and internationally, in Ho Chi Minh City on April 19.
A number of forum and seminars on Vietnam's national brands will be held in Hanoi and HCM City during the event, which runs through April 25.
The event is expected to help promote Vietnam as a producer of high-quality goods and services, boost foreign trade and enhance national competitiveness while calling for concerted efforts from ministries and business community in developing national brands in Vietnam.
Addressing the launching ceremony, Deputy Minister of Industry and Trade and Vice Chairman of the National Brand Council Do Thang Hai said Vietnam is viewed as a global bright spot for its rise in national brand value and socio-economic achievements over the past several years.
According to Hai, Vietnam posted the fastest-growing national brand in 2020, with value surging 29 percent to 319 billion USD, on the list of the world's 100 most valuable national brands compiled by the London-based independent brand valuation and strategy consultancy Brand Finance. The country climbed nine places from 42nd last year to 33rd.
Vietnam also moved up three places from 50th to 47th in the Global Soft Power Index 2021, which ranks the world's top 60 soft power nations, according to the Brand Finance Global Soft Power Index Report. Vietnam was the only country in ASEAN to be upgraded in the global soft power rankings./.
Bamboo Airways becomes national teams' transporter
Bamboo Airways has become the official transporter for Việt Nam's national football and futsal teams.
The airline signed a deal with the Việt Nam Football Federation in Hà Nội on Monday.
The men's and women's national teams, futsal squads as well as national youth teams will be taken to all games, competitions and training camps onboard Bamboo flights.
Players and team staff will be given priority check-ins and oversized luggage will be allowed to transport training equipment.
The first flight under the new deal will take the men's national team to the UAE in June for the 2022 World Cup qualifier.
Other tournaments this year are the AFF Cup, the Asian U23 qualifier and the 31st SEA Games.
"The support of sponsors including Bamboo Airways plays a key role in improving the quality of teams' training and competitions," said VFF Vice President Trần Quốc Tuấn.
Bamboo Airways General Director Đặng Tất Thắng said the company was proud to be the special partner that serves teams who are national representatives in tournaments.
Apart from national squads, Bamboo Airways also transport other football clubs such as Hà Nội FC, HCM City FC and Thanh Hóa FC. It is also the main sponsorship of the National Cup.
Kon Tum charity group helps disadvantaged children stay in school
A charity group in the Central Highlands province of Kon Tum has helped poor and disadvantaged children stay in school.
Tôi yêu Kon Tum (I Love Kon Tum) was founded by 41-year-old Trần Văn Cao Sang and run out of the group's headquarters at a stall at 29 Nguyễn Trãi Street, Kon Tum City.
Sang and his friends have organised many volunteer activities to help poor and disadvantaged children, including giving them free clothes, paying their school fees and searching for other donors.
Sang said during a visit to the Kon Tum Province's Child Care and Sponsor Centre 15 years ago, he and his friends were deeply saddened by the difficult circumstances the children suffered.
"They lacked a lot both physically and mentally but they always smiled. The image of innocent children playing together touched our hearts," he said.
In early 2006, 'I Love Kon Tum' was established to run community-oriented activities, especially helping children in remote and extremely difficult areas in Kon Tum Province.
Sang was elected to be the head of the charity group.
Firstly, Sang came up with the idea to buy white T-shirts and print the 'I Love Kon Tum' logo on them to sell and raise money.
"At that time, white T-shirts with the 'I Love Kon Tum' logo were very popular among local residents, especially young people. Thousands of T-shirts were sold in a week," he said.
"All the money was spent on giving gifts to poor children in remote areas," Sang said.
In addition, the group has raised funds by selling paintings and organising volunteer music nights.
The group has gradually become more popular in the locality so local sponsors and some overseas Vietnameses have helped out.
The group has four main charity drives each year, one for the Tết (Lunar New Year) holidays, one at the start of summer, one during the Mid-Autumn Festival and a winter drive to gather warm clothes for kids.
The group has provided tonnes of blankets, clothes and essentials over the years, as well as more than VNĐ100 million to support local people who suffered heavy damage during flooding in late 2020.
"The clothes come from local residents. Most of the clothes are used, but still in good conditions and properly cleaned and ironed before being given away," said Sang.
The group also supports 10 poor students with study costs to keep their university dreams alive.
Nurturing dreams
Trần Quyết Tiến, 22, residing in Trường Chinh Ward, Kon Tum City, unfortunately, suffered a severe injury after a football match.
He was taken to a hospital in HCM City for treatment at a cost of VNĐ50 million which his family had to borrow from friends. Doctors diagnosed Tiến with disc herniation and said he would likely be unable to walk without surgery. The family had no hope of treating for him due to the huge cost of the surgery.
After learning about Tiến, 'I Love Kon Tum' members called for sponsors to support his family and found an organisation that agreed to pay all his medical expenses.
"The moment the surgery was successful, everyone broke down. We were all happy when doctors said Tiến will be able to walk normally," Sang said.
Tiến now studies at a medical college in central Đà Nẵng City with the dream of becoming a doctor to help local children.
A Vang, 23, has lived with his ill father and old grandparents in Mường Hoong Commune, Đắk Glei District, Kon Tum Province after his mother died in his childhood.
In 2016, A Vang became the first person in the commune to gain acceptance to a university, but as he lacked the money to pay tuition fees, he planned to give up his studies and start working.
The charity group members found a kindhearted individual to pay for all the tuition and accommodation fees for A Vang during his time at university.
"Without the people in the group, my life would have gone a darker way," he said. He returned home after graduation and became a secondary school teacher.
Deputy Secretary of the Kon Tum Provincial Youth Union, A Xây appreciated the 'I Love Kon Tum' group, acknowledging that it had motivated poor children to overcome difficult circumstances and continue studying.
Villagers in remote part of Quang Ngai pull together in medical emergencies
Whenever someone has a medical emergency in a small hamlet in central Quảng Ngãi Province, villagers put the patient in a hammock and carry them 10km to reach an ambulance or the nearest clinic.
The villagers of Tre Hamlet in Trà Bồng District have had no other option over the past 10 years due to the area's remote location.
As a resettlement area of the Nước Trong reservoir project where 1,000 people live, the village is 10km from a point where ambulances can reach.
Hồ Văn Phong, chairman of Trà Tây Commune, said there were 10 to 20 emergencies each year in the village. In each emergency, young people are called upon to help the patients.
In early April, a woman named Hồ Thị Mương suffered from sudden spinal pain and collapsed.
The young men of the village sprang into action and tied a hammock to a tree trunk to create a makeshift ambulance.
Two men ran, carried the woman on the hammock and traversed 8km of rocky roads to get to the nearest location an ambulance could reach.
Some others with motorbikes accompanied the hammock to offer assistance and took turns carrying the hammock when someone was tired.
Hồ Chí Thành, former Party secretary of Trà Tây Commune, who also helped carry the woman, said they had to use the hammock and did not take the motorbike because "the roads are very rocky and the woman was in great pain".
After two hours of running, the team finally reached the clinic and the woman received the treatment she so desperately needed.
Carrying patients to the clinic is easier in the dry season. On rainy days, the roads are so wet and rocky that motorbikes and cars often break down on the way.
The only way is to carry patients to the clinic by hand.
Patients with less serious problems are carried to the nearest clinic, while those with more severe illnesses are taken to the headquarters of the commune People's Committee to take an ambulance to the district or province's hospital.
"The biggest fear is to carry people in labour pain or with appendicitis. I feel scared and worried that we can not run fast enough to save them," Hồ Văn Chung, a 38-year-old villager of Tre Hamlet, told Tiền Phong (Vanguard) newspaper.
Chung has lived in the village for 10 years and can't count how many times he has been part of the 'hammock team' and unfortunately, not every patient reaches help in time.
"About six years ago, a person in the village with a valvular disease of the heart was in an emergency on a rainy night. On the way to the clinic, the hammock broke and the patient fell and her head hit on a rock. We managed to get her to the clinic but she did not survive," Chung said.
Hồ Văn Phong, chairman of Trà Tây Commune, said people in Tre Hamlet want a concrete road so vehicles can reach the village.
Hồ Chí Đặng, a villager, said some people had come to make measurements for the road but then they left and nothing was built.
Villagers make a living by growing cassava. Hard-to-reach roads increase transportation fees so people in Tre Hamlet want a concrete road to not only save lives but also help villagers to improve their livelihoods, Đặng said. 
17 new bridges open to traffic in Long An Province
Seventeen bridges were inaugurated in the southern province of Long An on April 15 as part of the Rural Bridge Programme funded by enterprises following an appeal by former President Trương Tấn Sang and Nông Thôn Việt magazine. 
Nine bridges in Tân Hưng District were built with funding worth VNĐ9 billion (US$389,930) provided by Đỗ Thị Kim Liên, chairwoman of the Green Vietnam Fund.
They facilitate transport of goods and ensure safety, especially of school-going children.
Saigon Thương Tín Commercial Joint Stock Bank (Sacombank) provided VNĐ5 billion ($216,292) to build six bridges in Vĩnh Hưng District.
Nutifood donated VNĐ1.6 billion ($69,213) to build two more bridges in the district.
These eight bridges along a road between Vĩnh Bình and Vĩnh Thuận communes will replace old ones that were severely degraded.
Over the last four years, the Rural Bridge Programme - Nông Thôn Việt magazine has carried out more than 300 bridge and sewer projects in Long An, Đồng Tháp and An Giang provinces at a cost of more than VNĐ300 billion ($12.9 million). 
Woman detained for selling cannabis milk tea in Đà Lạt
A 23-year-old woman in Đà Lạt City was detained on Monday on suspicion of selling milk tea mixed with cannabis, an illegal substance in Việt Nam.
The drug crimes unit under Lâm Đồng Province's police in coordination with Đà Lạt City said that they inspected a car parked in front of a hotel on Tô Hiến Thành in Ward 3, Đà Lạt City, and found one ice cooler containing 15 bottles of milk tea that tested positive for drugs.
The driver was Nguyễn Thị Thái Dung, residing in Ward 8 in the city.
Dung told the police that she learned the mixing technique and bought the weed from a friend, and that the consumers were mostly young people in the city, including tourists.
She said she usually sells about 20 bottles a day for VNĐ150-200,000 (US$6.5) each, from orders via Facebook or friends' introduction.
The case is under further investigation. 
Kien Giang proposes Covid-19 vaccination for Phu Quoc residents
The southern province of Kien Giang is seeking the Ministry of Health's approval for the supply of Covid-19 vaccination for all people in Phu Quoc District
The proposal was made when a delegation of the Ministry of Health led by Minister Nguyen Thanh Long had a meeting with authorities in Kien Giang on Covid-19 prevention and control on Sunday.
According to the provincial people's committee, Kien Giang is at high risk of Covid-19 outbreak as the locality is near Cambodia and Thailand which are witnessing a sharp rise in Covid-19 infections.  
The delegation of the Ministry of Health inspect the Covid-19 prevention and control in Kien Giang Province on April 18. 
Currently, around 103,000 Vietnamese Cambodians are living in Cambodia, including up to 1,700 people in the three Cambodian provinces of Kampot, Kep and Preah Sihanouk which border Kien Giang.
Since February 20, up to 1,300 people have entered Vietnam through Kien Giang's Ha Tien International Border Gate, including 142 illegal migrants. Among those, many have tested positive for Covid-19.
At the meeting, Kien Giang asked the Ministry of Health for assistance in the fight against Covid-19, including the priority of providing Covid-19 vaccination for all residents in Phu Quoc District. This is aimed to help the district ensure safer tourism.
The province also urged the ministry to allow the setup of a 350-bed field hospital in Ha Tien City as well as support the city in raising its Covid-19 testing capacity.
Kien Giang also asked the Ministry of Health to consider the Covid-19 vaccine passport application for Phu Quoc in order to help the district in tourism and economy development.
Minister of Health Nguyen Thanh Long said that the Ministry of Health is always willing to support localities in the Covid-19 fight in necessary cases. The ministry will take careful consideration into Kien Giang's proposals for timely and suitable assistance.
Con Dao affirms Vietnam's sea and islands beauty
Dam Trau on Con Dao Islands has been listed among the world's 25 best beaches by the US travel site Travel+Leisure.
Travel+Leisure writes: "With distinct golden sand, soft swells, and shady groves of bamboo and evergreen trees, it's the kind of place to spend the day gently swinging in a hammock with a beach read, or walking in the surf with a freshly hacked coconut".
The site added that, due to its location close to the airport, "commercial flights fly thrillingly close," giving swimmers a chance to watch planes take off and land.
Located around 230 kilometers (143 miles) southeast of Ho Chi Minh City, Con Dao is an emerging tourist destination in Vietnam.
Eariler, the New York Times included southern Vietnam's 16-island archipelago, Con Dao, in its list of "52 places to love in 2021".
In 2017, CNN praised it as one 12 paradise islands in Asia, while the US magazine Time included Con Dao in its list of 13 places around the world that amaze travelers with their clear blue water.
Kien Giang to set up Covid-19 field hospital
https://english.thesaigontimes.vn/81525/transport-ministry-proposes-support-policies-for-vietjet-bamboo-airways.htmlAs Kien Giang Province shares its border with Cambodia where the Covid-19 pandemic is at its peak, the Mekong Delta province is preparing to deal with possible outbreaks, including a plan to set up a Covid-19 field hospital in Ha Tien City.
A Covid-19-related working team led by Minister of Health Nguyen Thanh Long, on April 18 examined the province's efforts in monitoring immigration and medical activities as well as implementing Covid-19 vaccination programs.
Given the high possibility of new coronavirus outbreaks in the border province, Minister Long gave the green light to the plan of building a Covid-19 field hospital. The national steering committee for Covid-19 infection prevention and control will assist the province with building the field hospital and providing medical treatment for Covid-19 patients, as the Ha Tien City Medical Center is currently able to treat a maximum of 50 coronavirus cases.
Aside from developing the field hospital, the minister suggested the local authorities raise the Covid-19 alert level higher and prepare for worst-case scenarios such as infections in the community, a spike in cases and large-scale quarantine.
Besides, the province was told to comply with Covid-19 preventive measures as required by the Government and the Covid-19 national steering committee, to tighten border control to prevent illegal entry and to encourage local residents to report any cases violating Covid-19 regulations.
The head of the Health Ministry also requested the HCMC Pasteur Institute and agencies under the ministry to support the province in enhancing its Covid-19 testing capacity to screen returnees upon their arrival in Vietnam and set up units providing emergency treatment and intensive care for severely ill patients.
Ha Tien City has five concentrated quarantine facilities that can accommodate 720 people. As of 4 p.m. on April 17, the city was quarantining and treating 161 cases.
Up to now, Kien Giang has reported 38 infections, including 19 recoveries. All of them returned to Vietnam through the Ha Tien International Border after February 20.
Technology effectively implemented for national election tasks in HCMC
 
Ho Chi Minh City at the moment is hurriedly finishing its specific software to serve national election tasks in May. At the same time, the local authorities in all districts and Thu Duc City are also trying their best to apply advanced technologies to provide more convenience for voters in their area.
After posting the complete voter list on April 13, District 3 of HCMC introduced the corresponding online information portal at the address of http://quan3tphcm.gov.vn/cutri/tra-cuu so that residents in all 12 wards of the district can check their identity information (full name, permanent address, neighborhood number) and request adjustment if necessary. There is a QR code to scan for portal access as well.
"Normally, to check identity information or request information adjustment, a voter needs to visit the location having voter lists. Now that there is this more convenient way via an online portal, people can save much time", said a resident in Ward 4 of District 3.
Until April 18, there have been over 28,000 visits to this portal, 242 of which asked for information adjustment and addition.
Aware of the large quantity of voters (more than 700,000 people) under its management, Thu Duc City has developed a map containing 360 voting locations for more efficiently monitoring and information updating.  The city also allocates a special room for election data input, equipped with the Metronet bandwidth (Metropolitan Area Network).  
According to Chairman of District 12 People's Committee, the district has 168 voting locations to serve over 342,000 voters. Along with offering the Metronet bandwidth, the district has developed a 3D design and a video clip to illustrate the voting procedure to its residents.
The HCMC Election Commission announced that the software to serve election tasks in the city is coming to its last development stage for the piloting time, following by the software training session as well as system and information checking before the big day.
Deputy Director of the HCMC Department of Information and Communications Vo Thi Trung Trinh said that this software will be used in all voting locations in HCMC. Thanks to its strong connection ability, it has powerful features such as printing voter IDs, cross-updating voter status and the voting procedure in all areas, counting the ballots. These pieces of information can then be used in result announcing and post-election reports of state agencies.
At the end of this April, the HCMC Information & Communications Department and Home Affairs Department are going to co-organize a training session for over 1,600 state officers to be fluent in this useful software.
Depyt Director Trinh affirmed that her organization will closely cooperate with all localities to check the quality of their Metronet bandwidth, video conference application in order to ensure the smooth operation during and after the election day. However, she stressed that the ballot counting task will still be done manually as regulated countrywide.
Vice Chairman of HCMC People's Committee Vo Van Hoan shared that the city wholeheartedly encourages the use of modern technologies to serve election tasks like voter list checking and searching, preparedness examination.
He also reminded the localities in all districts and Thu Duc City strictly observe the regulations regarding the content on voting ballots and voter IDs since there is not yet any legal corridor for this technological application.
HCM City- port connectivity projects need to be done soon
City- port connectivity projects are needed to be implemented as soon as possible to clear congestion on roads leading to ports and protect drivers from accidents.
For many years, traffic jams and traffic accidents occurred in roads leading to Phu Huu port in Thu Duc City. Motorbike drivers are obsessed with heavily congested roads such as Nguyen Duy Trinh, Do Xuan Hop, Vo Chi Cong, and Nguyen Thi Tu.
At any hour of a day, convoys of motorbikes, trucks and container trucks make gnarly traffic. Many tragic accidents have occurred on these roads, which are so-called "roads to death". In the morning in the middle of April, long lines of of container trucks, trucks, tank trucks travelled from Hanoi highway to Do Xuan Hop street to enter Phu Huu port.
Traffic congestion from Vo Chi Cong, Nguyen Duy Trinh, Nguyen Thi Tu streets to Ho Chi Minh City - Long Thanh - Dau Giay expressway has taken place continuously at all hours. While the section from Nguyen Duy Trinh Street to Nguyen Thi Tu Street, the only route to Phu Huu port with seven-meter lane width was occupied by scores of container trucks.
Recently, the Ho Chi Minh City Department of Transport proposed the City People's Committee to consider the allocation for the medium-term public investment capital in the period of 2021-2025. In particular, more than VND27,000 billion (US$1,168,700,847) is proposed to give priority to 6 traffic projects connecting seaports to reduce congestion, synchronize with the infrastructure around the ports.
In which, the Department of Transport proposed to prioritize the allocation of capital for implementation of the first and second sections with the length of 6 km on Ring 2 route passing through Thu Duc City.
Construction cost of Section 1 from Phu Huu Bridge to the Hanoi Highway with the length of 3.5km including Binh Thai intersection is more than VND9,000 billion while it is VND5,569 billion for Section 2 from Binh Thai intersection on Hanoi highway to Pham Van Dong street with the length of 2.5km including Pham Van Dong - Ring 2 intersection.
These two sections have an important role to help reduce traffic pressure on the highways of Hanoi and the National Highway 1 as well as increase the connection of ports in Thu Duc City such as Phu Huu, Truong Tho, Cat Lai, according to the Department of Transport. Moreover, the My Thuy intersection project in Thu Duc City and connectivity works to reduce congestion, accidents and facilitate goods transportation in streets Dong Van Cong, Vo Chi Cong, Nguyen Thi Dinh in and out of Cat Lai port should be carried out early.
According to the HCM City Department of Transport, in addition to the above projects, the government should allocate capital for the 6.7km North-South road from Nguyen Van Linh Street to Ba Chiem Bridge in District 7 and Nha Be District.
Last but not least, the completion of two sections of the Eastern Belt in Thu Duc City from Phu My Bridge to My Thuy intersection and from My Thuy intersection to Nguyen Duy Trinh - Ring 2 intersection should be done soon.
Hanoi to host National Circus Talent Competition 2021

The National Circus Talent Competition 2021 will be held in Hanoi from April 22-27. 
The event is co-organized by the Department of Performing Arts under the Ministry of Culture, Sports and Tourism, the Vietnam Theater Artist Association, Vietnam Circus Federation and Vietnam Circus Arts and Vaudeville Secondary School.
Circus artists of units, including Vietnam Circus Federation, Vietnam Circus Arts and Vaudeville Secondary School, Hanoi Circus Arts and Vaudeville Theater, Phuong Nam Art Theater, the circus troupe of Long An Province's Cultural and Art Center will gather to compete in this competition.
The jury encourages performances showing the creativity, performing skill, complicated technique, performing style and artistry that could leave strong impression on audience.
Police brings illegal street racing case to court
The HCMC Police and Department of Information and Communications on April 18 held a press conference regarding an illegal street race along a major highway on March 19, causing unrest among citizens.
According to HCMC officers at the conference, this case where hundreds of delinquents blocked off traffic to conduct the street race was reported by a resident near the HCMC – Long Thanh – Dau Giay Expressway.
Investigations showed the gang had done this frequently across 300 to 500 meters of road each time.
The HCMC Police Department of Road & Railway Traffic (PC08) accordingly have found evidence of illegal street racing.
On April 17 2021, the HCMC Police officially brought the case to court, and will conduct further investigations.
Representatives of PC08 said the department would maintain patrols of the area to prevent similar incidents.
Vietnam sets target to raise people's family quality 
The country will also focus on improving public awareness on the roles and responsibilities of families.
Vietnam will take action to promote the quality of people's family and gender equality while fighting domestic violence in the next year, according to the Ministry of Culture, Sports and Tourism.
In the draft Vietnam Family Development Strategy to 2030, with a vision to 2045, which was issued to the public recently by the ministry, the country will also focus on improving public awareness on the roles and responsibilities of families. 
The draft strategy is designed to achieve the country's socio-economic development goals and family-related targets to support the families' sustainable development, prosperity, equality, progress and happiness.
It must be based on the practice to present solutions in accordance with the new situation, as well as ensuring the close coordination among relevant agencies and units in the strategy formulation process.
Departments of Culture, Sports and Tourism of provinces and cities must contribute ideas to the draft strategy and coordinate with the Department of Family in implementing it.
Under the Vietnam Family Development Strategy to 2020, which was promulgated on May 29, 2012, about 80% or more of the total households nationwide were classified as family awarded with cultural title by 2015. The figures increased to 85% in 2020.
With the aim of materializing the Politburo's Instruction on family development in the period of industrialization and modernization, this strategy has raised awareness of the role, position and responsibility of families and communities in implementing policies, guidelines and laws on marriage and family, gender equality, in addition to prevention of violence in families and social evils.
The number of households that suffer domestic violence and social evils reduced by 10-15% annually. Households that are devoted to bringing up offspring without gender discrimination have reached 85% and 95% of the total households nationwide by 2015 and 2020, respectively. 
NA leader lauds ethnic minority committee's contributions to success in 14th tenure
National Assembly (NA) Chairman Vuong Dinh Hue chaired a working session with NA Committee for Ethnic Minority Affairs on April 20, during which he lauded the contribution of the committee to the overall success of the 14th NA tenure.
The top legislator noted that in the 14th tenure, the NA issued a number of breakthrough policies regarding ethnic minority and mountainous areas, one of which was a resolution approving a master plan on socio-economic development for ethnic minority-inhabited and mountainous areas in the 2021-2030 period.

The NA also approved the National Target Programme on socio-economic development in ethnic minority-inhabited and mountainous areas in the 2021-30 period, he said, highlighting the considerable contribution by the NA Committee for Ethnic Minority Affairs to the adoption of the documents.
He asked the committee to design a project to renovate itself for stronger performance.
Besides, he stressed the need for the committee to review its working plan until the end of the NA's 14th tenure as well as for 2021 and the next five years.
In supervision work, he said that the committee should define focuses to concentrate on, while giving advice to the NA on supervision issues in the next tenure.
Regarding external relations, the NA leader expressed hope that the committee will foster with parliament agencies of neighbouring countries and ASEAN member countries as well as some important partners of Vietnam and international organisations./.
Forum discusses challenges to sustainable energy transition
Experts discussed the opportunities and challenges in sustainable energy transition at a Hanoi forum held by Vietnam Energy magazine on April 20, which focused on the development of green, clean, and renewable energy against the backdrop of international capital movement into the country.
Vietnam holds substantial potential in offshore wind and solar power, with huge opportunities for the integration of different energy technologies and the combination of renewable energies and agriculture to create co-benefits, experts said at the event.
Still, there are many things left for the country to do in terms of sustainable energy transition, said Nguy Thi Khanh, Executive Director of Green Innovation and Development (GreenID), citing the national grid failing to keep up with the growth of renewable energy generation, a lack of a storage system for renewable energy on a large scale, and difficulties in accessing affordable and long-term funding as examples.
To accelerate sustainable energy transition, she suggested the Government continue to consistently develop and enforce policies promoting the efficient use of energy and the development of renewable energies while restricting investment in fossil fuel power projects.
Renewable energy development policies must also protect livelihoods and foster new partnership opportunities with people and communities affected by energy transition, and facilitate foreign capital flows into the sector.
According to the Ministry of Industry and Trade, renewable energy and natural gas are viewed as the main pillars of Vietnam's energy transition, helping the country reduce emissions and enhance energy security in the long term through decreasing the share of power imports and diversifying energy supply.
Nguyen Ngoc Hung from the Ministry of Industry and Trade's Institute of Energy stressed the need to closely supervise energy production facilities emitting pollutants and to get tougher on those violating regulations on emission standards.
Financial tools such as taxes and fees should be applied to change energy production and consumption patterns and raise funds for clean energy solutions, Hung added./.
Over 6,500 books presented to children in Lao Cai
More than 6,500 book titles were presented to poor children and libraries in remote and border areas in the northern province of Lao Cai on April 20.
The books were gifts from organisations and donors nationwide on the occasion of Vietnam Book Day 2021, which is observed annually on April 21.
Since 2014, when the first Vietnam Book Day was held, Lao Cai has received nearly 70,000 book titles worth over 1.3 billion VND (56,420 USD).
Addressing a ceremony to launch activities to mark the day, Vice Chairwoman of Lao Cai People's Committee Giang Thi Dung urged the provincial culture, education and training sectors to coordinate with relevant agencies to speed up the digitalisation of libraries to better serve local students.
It is also necessary to join hands in providing books to students in mountainous and remote areas, while implementing mobile library models to build a habit of reading among local children.
According to the provincial Department of Information and Communications, Lao Cai currently has more than 100 libraries in communes, wards, and townships, as well as 65 reading rooms in cultural houses at the grassroots level./.
COVID-19: Ten new cases raise national total to 2,801
Vietnam recorded 10 new cases of COVID-19 in the past 12 hours to 6pm April 20, bringing the national tally to 2,801, according to the Health Ministry.  
All the 10 new patients, one Indian and nine Vietnamese, arrived from abroad and were immediately put into quarantine after arrival.
The Health Ministry also make known that 15 more patients were given the all-clear, raising the number of recoveries to 2,490. The death toll remained at 35.
Among patients still under treatment, 11 have tested negative for the novel coronavirus, 12 twice and 17 thrice.
Meanwhile, 40,150 people are under medical monitoring nationwide, including 531 at hospitals, 24,361 at concentrated quarantine facilities and 15,258 at their accommodations/.
Gathering marks 50 years of Vietnam - US People's Peace Treaty
The Vietnam Union of Friendship Organisations (VUFO)'s Vietnam - US Society (VUS) and the US's Vietnam Peace Commemoration Committee (VPCC) held a friendship meeting on April 20 to mark the 50th anniversary of the People's Peace Treaty between Vietnam and the US.
Held via video conference, the meeting was co-chaired by John McAuliff from the VPCC and VUS General Secretary Bui Van Nghi.
The meeting aimed to share information on an outstanding event among student movements against the war both in Vietnam and in the US, and the role of the people's movements during important historic periods.
The People's Peace Treaty was signed by representatives of four US and Vietnamese student organisations in 1971, reflecting their common aspiration for peace and raising a strong voice to end the war waged by the US in Vietnam.
It also contributed to encouraging anti-war movements by American students and peace lovers and pushing Vietnam's fight for national independence.
Speaking at the event, VUFO President Nguyen Phuong Nga expressed her hope that the friendship between the two peoples, especially the younger generations, will grow further, contributing to promoting the comprehensive partnership between the two countries.
Pham Van Chuong, Chairman of the Vietnam Committee for Asian - African - Latin America Solidarity and Cooperation, Vice Chairman of the Vietnam Peace and Development Foundation, and Vice Chairman of the Vietnam Peace Committee, affirmed that the anti-war movement in the US and the signing of the treaty were unprecedented in history, demonstrating the aspiration for peace among progressive Americans and others around the world./.
Party chief congratulates leader of Communist Party of Cuba
Party General Secretary Nguyen Phu Trong has sent a message of congratulations to Miguel Diáz Canel Bermúdez on his election as First Secretary of the Central Committee of the Communist Party of Cuba (PCC).
Following is the translation of the message.
"Dear Miguel Diáz Canel Bermúdez,
On behalf of the Party, State and people of Vietnam, I am delighted to extend my greetings and warmest congratulations to you, on the occasion of your election as First Secretary of the PCC Central Committee by the eighth Congress of the PCC.
I am very pleased and warmly congratulate the comrades for your successfully organising the eighth National Congress of the PCC – a great political event continuing the history of the Cuban revolution, thought and career of Fidel and Raul, outstanding representatives of the Centennial Generation. I firmly believe that under the leadership of the PCC led by you, the fraternal Cuban people will overcome difficulties and challenges, successfully implementing policies set by the eighth Congress, thus reaping greater achievements in the process of national construction and defence, for the goal of building socialism in a prosperous and sustainable manner.
On the occasion, once again, I reaffirm wish and determination of the Party, State and people of Vietnam to further consolidate and deepen special friendship, comprehensive cooperation, loyal solidarity between the two Parties, States and peoples.
Wishing you have good health, happiness and success on your noble position.
Look forward to your visit to Vietnam soon."/.
Vietnam values all-rounded cooperation with Poland: FM
Minister of Foreign Affairs Bui Thanh Son affirmed Vietnam attaches importance to and wants to foster cooperation across all fields with Poland during a phone talks with his Polish counterpart Zbigniew Rau on April 20.
Rau, who made the call to congratulate Son on his recent appointment as Foreign Minister, lauded progresses posted in the Vietnam – Poland friendship and multifaceted collaboration and expressed his belief that Son, in his new post, will continue to work to further deepen the relations.
On his part, the Vietnamese diplomat agreed that both nations should work together to increase exchanges of their high-ranking delegations, ministries, sectors, and localities when conditions allow.
Both ministers said the maintaining of a regular political consultation mechanism at the deputy foreign ministerial level and policy exchanges at department level helps to enhance the two ministries' role in lifting the Vietnam – Poland ties and cooperation in the international arena.
They also expressed their delight at robust and effective growth of the countries' economic engagements. Currently, Poland is the biggest trade partner of Vietnam in the Eastern Central Europe, with their bilateral trade exceeding 2.1 billion USD last year.
Son took the occasion to thank the Polish Government for facilitating the Vietnamese community in Poland to stabilise their lives and promote their role in connecting the nations' friendship.
He invited Rau to visit Vietnam at a suitable time in the future./.
Party chief sends letter to former Cuban Party leader
Party General Secretary Nguyen Phu Trong has sent a letter to Raul Castro, former First Secretary of the Central Committee of the Communist Party of Cuba (PCC), on the occasion of the success of the eighth National Congress of the PCC.
In the letter, Trong said Raul Castro's decision not to run for the election reflects his trust on new Cuban leaders, who will continue writing new pages of history of the Cuban Revolution.
Expressing admiration for Raul's glorious revolutionary career over the past seven decades, Trong hailed him for dedicating his efforts to the revolution in service of the people, making great contributions to the revolutionary cause and socialism building in Cuba.
Trong described Raul as a close and trustworthy friend and comrade of the Party, State and people of Vietnam over the past more than six decades, who has inherited, developed and deepened special friendship, fraternal solidarity, comprehensive cooperation and mutual trust between Vietnam and Cuba which were fostered by national hero José Martí, leader Fidel Castro and President Ho Chi Minh.
He reaffirmed wish and determination of the Party, State and people of Vietnam to further consolidate and deepen special friendship between the two Parties and countries.
Trong wished the Cuban leader good health, happiness and would make valuable contributions to the revolutionary cause of fraternal Cuban people as well as the Vietnam - Cuba ties./.
Source: VNA/VNS/VOV/VIR/SGT/Nhan Dan/Hanoitimes