VIETNAM NEWS DECEMBER 2
Thousands of university students in HCM City remain home amid COVID-19 fears
A number of universities throughout Ho Chi Minh City have granted permission to students to remain at home from December 2 in an effort to fight the potential spread of the novel coronavirus (COVID-19) following community cases being detected in the southern city.
The Ho Chi Minh City University of Technology gave permission to all students to remain absent from school from December 2 to December 6, with students required to participate in e-learning activities whilst staying updated on relevant information through their website.
Furthermore, Ton Duc Thang University announced that they have suspended concentrated learning for more than 20,000 students and researchers in Tan Phong ward of District 7 in the southern metropolis between December 2 and December 6.
A student at the Ho Chi Minh City University of Natural Sciences was identified as an F1 case who came into contact with patient No. 1,347. Upon detection of the positive case the individual was immediately placed into quarantine, resulting in hundreds of students being permitted to remain off school.
Moreover, the Ho Chi Minh City University of Pedagogy recently identified a student as an F1 case, with the education establishment swiftly holding a meeting on December 2 aimed at discussing COVID-19 prevention and control measures.
North-South railway route resumed after several hours of operation suspension
Deputy Director of Nha Trang Railway Transport Branch Mr. Le Hong Son reported that the North-South railway route has been resumed as of this morning after several hour of operation suspension due to heavy rain and flooding. 

More than 1,200 passengers were transfered to replaced stations to continue their journey. 
Earlier, rising water level submerged railway sections of Luong Son- Nha Trang, Nha Trang- Cay Cay in Cam Lam District, causing temporary suspension for trains on the North- South railway route in early Tuesday. 
Passengers are transfered to replaced stations to continue their journey. 
The Vietnam Railway Corporation said that many passenger and cargo trains running on North-South railway route through Khanh Hoa Province had been canceled due to torrential downpours leading to flooding at some areas spreading from Phong Thanh train station to Ca Rom train station.
Quarantine facility for VNA flight crew shut down amid community spread

After a Vietnam Airlines flight attendant was confirmed positive for Covid-19 and a friend of his got infected after the two met while the former was isolating, the HCMC Department of Health decided to shut down the quarantine center for the carrier's flight crew at 115 Hong Ha Street in Tan Binh District from November 26.
Nguyen Tan Binh, director of the department, told Tuoi Tre Online today, December 1, that when the center will reopen is unknown.
A representative from the carrier said that due to the shutdown of the quarantine center, its flight crew, including pilots, flight attendants and other employees, would have to be quarantined in Cu Chi District or at hotels after completing their international flights.
The 1,342nd patient, a Vietnam Airlines flight attendant who returned to HCMC from Japan in mid-November, was placed under quarantine at the center from November 14 to 18.
After testing negative for Covid-19 twice, the patient was self-isolating at home in the district. During this time, the patient had close contact with three persons, including his mother and two friends.
Samples from the three persons who had close contact with the patient were immediately taken for Covid-19 testing after the patient's third test result came back positive on November 28. One of the patient's friends, a 32-year-old man, tested positive for Covid-19 and was identified as the 1,347th patient.
Following the two cases, tens of police officers and soldiers this morning locked down an alley on Pham Phu Thu Street in Ward 3 of District 6, where the 1,347th patient, a teacher of English, lives. The competent forces also sprayed disinfectants in all the houses in the alley. Two of the people coming into close contact with the teacher have tested positive for the disease. One of the two is a one-year boy whom the teacher took care of while his parents were away from home and the other is a student. 
Besides, the residents of the households have had their samples taken for Covid-19 testing, VnExpress news site reported.
In addition, a boarding house on Bach Dang Street in Tan Binh District where the 1,342nd patient lives was also locked down. Medical workers also took the samples of all the people living in the house for tests.
The 1,342nd patient came into contact with 37 people, including the 1,347th patient, according to the municipal department.
The remaining 36 people have tested negative for Covid-19, the disease caused by the coronavirus.
Meanwhile, the 1,347th patient had close contact with 146 people—109 people in District 10, 21 people in Tan Binh District, seven in District 6 and nine others in Binh Tan District—all of whom have been quarantined and had their samples taken for tests.
HCMC suspends three facilities related to locally-transmitted Covid-19 case
Three service facilities in HCMC—a karaoke outlet, a coffee shop and an English center—which the 1,347th patient frequented, have suspended operations from November 30 until further notice, according to an announcement released by the government of Ward 12 of District 10 on the same day.
The announcement also stated that the facilities must follow Covid-19 infection prevention and control measures as regulated.
A teacher of English residing in Ward 3, District 6, who was reported as the 1,347th Covid-19 case on November 30, had earlier visited the ICOOL karaoke outlet at 120 Thanh Thai Street, and Highland Coffee Van Hanh Mall at 11 Su Van Hanh Street. The patient also taught English at Key English Center at 285/24 Cach Mang Thanh Tam Street.
The 32-year-old man is a friend of the 1,342nd patient, a flight attendant who returned to the city from Japan in mid-November, the local media reported.
Do not consider HCMC a Covid-19 outbreak: PM
The new coronavirus cases in HCMC were infected by outside sources, Prime Minister Nguyen Xuan Phuc said at a Cabinet meeting on Covid-19 infection prevention and control on December 1.
He stressed the need for vigilance and asked local residents to wear face masks in public places, such as hospitals, schools and supermarkets. He also decided to suspend all inbound international commercial flights, Tuoi Tre Online newspaper reported.
The Government will allow only repatriation flights. All repatriates must be quarantined at standard centralized quarantine centers.
The Ministries of Transport and Health must direct airlines to seriously comply with quarantine regulations and limit unnecessary activities to prevent gatherings.
In addition, he asked that strategies which proved effective during the two previous Covid-19 outbreaks be implemented, including strictly controlling people entering the country, zoning off pandemic-hit areas and effectively treating infected patients.
As for HCMC, the Government leader asked the municipal government to quickly trace and place under quarantine those who were in close and indirect contact with the patients.
He also assigned the Ministry of Transport to clarify the responsibilities of agencies, individuals or organizations over the local Covid-19 transmission situation.
Agencies and localities receiving foreigners or those from other countries with a high risk of Covid-19 infection should check the process with the Ministry of Health.
Moreover, the police and military forces should tighten control over immigration at border gates.
Social distancing will be observed in places with a high risk of infection, PM Phuc noted, adding that the healthcare system must be prepared to combat the pandemic, while the checkup and treatment ability should be stepped up.
Regarding Covid-19 vaccines, the prime minister asked the local agencies to cooperate with foreign ones to buy vaccines for those who are prone to the coronavirus infection.
HCM City applies localised social distancing to prevent virus spread
Three districts in HCM City including Tan Binh, Binh Tan and District 6 may apply social distancing measures to prevent the possible spread of coronavirus according to a new instruction from the municipal chairman.
Chairing an urgent meeting held on Tuesday evening on the new community transmission cases reported in the city, Tu Luong, Director of the Ho Chi Minh City Press Centre, announced the latest instructions from local authorities for virus prevention.
"Some districts including 1, 3, 6, 10, 11, Phu Nhuan, Binh Tan, Tan Binh, and Tan Phu which the new Covid-19 patient, an English teacher, had visited should be tightly monitored," he noted. "All the places should be immediately closed if posing any threat. The three districts of Tan Binh, Binh Tan and District 6 where the new patients reside may apply social distancing measures to prevent the virus from spreading."
The meeting was held after the city reported two new infection cases in the community on Tuesday evening. The two new patients include a one-year-old boy and a 28-year-old woman who both reside in District 6. They had close contact with the 32-year-old English teacher who was confirmed as Covid-19 patient on November 30.
The English teacher was found to have got the virus from a Vietnam Airlines male attendant after visiting him during his self-quarantine at home.
According to the official, the male flight attendant had violated disease prevention regulations while staying in a quarantine area and then at home, thus infecting him and the English teacher with SARS-CoV-2 according to the conclusion of the Ho Chi Minh City's Health Department.
"The city chairman has asked concerned agencies to apply strict punishment in this case and others who violated regulations on Covid-19 prevention and control," he said.
Since December 1, some residential areas, schools, cafes, karaoke bars in District 6 and Tan Binh District where the new Covid-19 patients lived and visited have been closed to prevent the virus spreading.
Expert warns about lax quarantine regulations regarding COVID-19
A complacent attitude towards quarantine regulations has started to creep in, that may potentially spark a fresh novel coronavirus (COVID-19) outbreak in the country, a COVID-19 expert has warned.

People do not strictly abide by regulations on COVID-19 prevention and control in quarantine areas.
Dr. Truong Huu Khanh, a COVID-19 expert of Ho Chi Minh City Pediatrics Hospital, gave the warning after a Vietnam Airlines attendant was infected with the SARS-CoV-2 virus due to his own negligence with regard to regulations.
The attendant came into close contact with one of his colleagues during his mandatory quarantine period, with his co-worker later being confirmed to have tested positive for the virus.
Leaving the Vietnam Airlines-registered quarantine facility to undergo a period of self-quarantine at home after five days, the attendant went on to meet a number of relatives and friends, including a Vietnamese English language teacher who became the country's latest locally transmitted COVID-19 case.
The Ministry of Health confirmed the detection of the latest case on November 30.
In an interview given to Zing Newswire on December 1, Dr. Khanh stated that unrestricted quarantine regulations are largely to blame for the newly-detected case, and a fresh community outbreak is likely if more people are infected with the virus.
Upon clusters of infections being found, the solution requires both the health sector and the community to work harder in order to eradicate the outbreak, Dr. Khanh emphasised.
According to the doctor, the management of hotels and other private lodging houses that have registered as quarantine facilities is not tight enough to be considered reliable health facilities. In addition, staff working at these quarantine facilities are not professional, despite attending training courses to prepare them for the task.
All suspected cases therefore must be considered as potentially having the virus and therefore they must be closely monitored, Dr. Khanh recommended.    
A representative of Vietnam Airlines admitted the latest case was the attendant's fault, adding that he had violated existing quarantine regulations by contacting his relatives and friends, ultimately resulting in transmitting the virus to one of his associates.
The Ministry of Health on November 30 asked Vietnam Airlines to strictly abide by quarantine regulations at its two venues in Hanoi and Ho Chi Minh City, in order to avoid virus infections occurring within the quarantine facilities. 
The Ministry also proposed that local administrations should closely monitor those placed into quarantine at home.
Vietnam's economy – a bright spot in volatile world: gov't meeting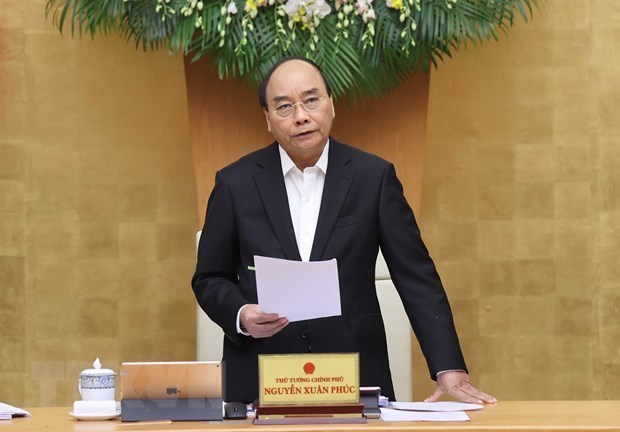 Prime Minister Nguyen Xuan Phuc at the monthly government meeting on December 2.
Removing bottlenecks for local production and business activities must receive top priority so as to promote the economic development, Prime Minister Nguyen Xuan Phuc said at the monthly government meeting on December 2.
Reports from relevant ministries and sectors showed that the Vietnamese economy could expand 2.5-3 percent in 2020, while many international organisations forecast it could grow 2.5-2.8 percent in the year, the PM added.
Amidst complicated developments of the COVID-19 pandemic, Vietnam remains a bright spot in the global economy thanks to its positive economic signs during January-November, including stable macro economy and low inflation rate.
In the 11-month period, trade surplus swelled to a record of 20.1 billion USD, he said, adding 31 groups of commodities joined the over-one-billion-USD club, accounting for 92 percent of the total export revenue.
Disbursement of public capital was pushed ahead, reaching 79.3 percent of the yearly plan and up 34 percent as compared to the same time last year, he said.
PM Phuc laid stress on robust industrial production, which grew 9.2 percent year-on-year, and the upwards trend of trade and service activities in November, with total retail sales of goods and services in the month rising by 8.5 percent.
At the meeting, PM Phuc also recalled the success of the 37th ASEAN Summit and related meetings, including the adoption of record 84 documents and signing of the Regional Comprehensive Economic Partnership (RCEP) that creates a market covering nearly half of the world's population, or about 2.2 billion people.
Regarding the settlement of consequences of natural disasters and floods, the Government took timely response to emergency cases, and granted nearly 16,000 tonnes of rice and some 1.3 trillion VND to support flood-hit region.
Regarding the recent COVID-19 community infection case, he underlined the need to quarantine, and emphasising the definition of the cause, and strict punishment for violations of COVID-19 prevention rules committed by individuals. He also asked localities nationwide to stay vigilant to prevent the pandemic.
In addition, he asked relevant authorities to ensure safety and success for the upcoming important events in December, such as the second National Congress of Vietnamese Ethnic Minorities, and the 10th National Patriotic Emulation Congress.
Sustained efforts needed to fight COVID-19 pandemic: Deputy minister
Competent authorities must continue supreme efforts to prevent the coronavirus outbreak, which is likely to worsen in the coming months since many overseas Vietnamese return home to welcome Tet holiday, Deputy Minister of Health Do Xuan Tuyen has said.
At a conference held in Da Nang city on November 30, Tuyen stressed that Vietnam went through a streak of 89 days without any community transmission, and all imported case were quarantine upon arrival.
The country has successfully put the pandemic under control, he said, adding the nation is working on its dual tasks of containing the outbreak and developing the socio-economy.
The COVID-19 has spread to 218 countries and territories, with more than 50 million infections and over 1.4 deaths. The World Health Organisation said the pandemic will linger on to the end of 2021, and cause critical impact worldwide.
The Ministry of Health has already issued directives on disease prevention and control during winter-spring season, he said.
Meanwhile, Deputy Director of the National Institute of Hygiene and Epidemiology Tran Nhu Duong described quarantine as an effective way for Vietnam to prevent the spread of the novel virus.
All those having contact with confirmed COVID-19 patients or suspected patients have been quarantined, and anyone with close contact with any F1 case isolated from the community, he said.
Since fighting the pandemic is like fighting the enemy, it is necessary for all sectors and people to join hands in the fight, Duong highlighted./.
PM attends ceremony in commemoration of President Le Duc Anh's 100th birthday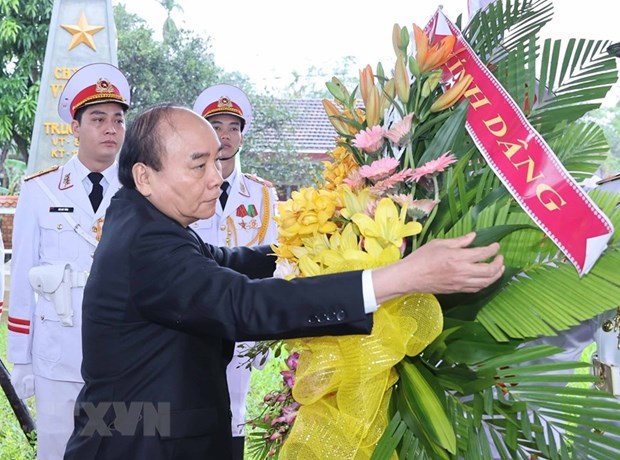 Prime Minister Nguyen Xuan Phuc offers wreath to late President Le Duc Anh at the Culture House dedicated to the leader
Prime Minister Nguyen Xuan Phuc attended a ceremony in the central province of Thua Thien-Hue on December 1 to mark the centenary of late President, General Le Duc Anh.
Also in attendance were former Prime Minister Nguyen Tan Dung; Politburo member, Secretary of the Party Central Committee, and head of its Commission for Information and Education Vo Van Thuong; and Politburo member and Defence Minister, Gen. Ngo Xuan Lich, among others.
Addressing the ceremony, PM Phuc emphasised that Anh was an unyielding communist fighter, a talented politician, and a prestigious leader of the Vietnamese Party, State, and people.
He made significant contributions to the struggle for national liberation, the cause of nation building and safeguarding, and international missions, in particular the victory of the August Revolution in 1945, the General Offensive and Uprising in the spring of 1968, and the 1975 Spring General Offensive, Phuc stated.
He offered incense to the late President at the Culture House dedicated to Anh in Loc An commune, Phu Loc district, and visited an exhibition on his life and career at the province's Culture-Cinematography Centre.
The same day, a HCM City delegation led by Secretary of the Party Central Committee and Secretary of the municipal Party Committee Nguyen Van Nen paid tribute to Anh at the city's martyrs' cemetery.
General Le Duc Anh, who served as President of Vietnam from September 1992 to December 1997, was born on December 1, 1920 in Loc An commune, Phu Loc district, Thua Thien-Hue province. He passed away on April 22, 2019, at the age of 99./.
Four new COVID-19 cases detected on December 1
Four new cases of COVID-19 were detected on December 1, including two locally-infected cases, according to the National Committee for COVID-19 Prevention and Control.
Both the two community infections had close contact with Patient 1347 in Ho Chi Minh City. One of them was a 1-year-old baby and the other was a 28-year-old woman.
The two other cases were Vietnamese citizens returning from Canada on November 16.
With the latest detected cases, the national count is now 1,351, including 693 locally-infected cases.
Also on December 1, 16 COVID-19 patients were given the all-clear, raising the total number of recoveries to 1,195. The number of fatalities remains at 35.
Among patients still under treatment, five have tested negative for SARS-CoV-2 once, four twice and 10 thrice.
A total 16,756 people who had close contact with COVID-19 patients or returned from pandemic-hit areas are being quarantined nationwide.
Congratulations on Laos' National Day
Party General Secretary and State President Nguyen Phu Trong, Prime Minister Nguyen Xuan Phuc, and National Assembly Chairwoman Nguyen Thi Kim Ngan sent messages of congratulations to their Lao counterparts on the occasion of the 45th anniversary of Laos' National Day on December 2.
They expressed their delight that, under the sound leadership of the Lao People's Revolutionary Party (LPRP), the fraternal Lao people have upheld their heroic tradition, overcome all difficulties and challenges, and reaped pride-worthy achievements in the process of national defence and development.
They hailed Laos for firmly safeguarding national sovereignty and territorial integrity, ensuring national defence-security and socio-political stability.
Laos has successfully controlled the COVID-19 pandemic, overcome difficulties caused by natural disasters, maintained positive growth, and continued to boost its position in the region and the world, they said.
The leaders hoped that, under the sound leadership of the LPRP, led by Party General Secretary and State President Bounnhang Vorachith, the fraternal Lao people will post greater achievements in the cause of national defence and construction and successfully realise the Resolution adopted by the 10th Congress of the LPRP and the 2016-2020 socio-economic development plan, towards successfully holding the 11th Congress.
On the same day, Deputy Prime Minister and Foreign Minister Pham Binh Minh conveyed his congratulations to Lao Foreign Minister Saleumxay Kommasit. Head of the Party Central Committee's Commission for External Relations Hoang Binh Quan also cabled a message of congratulations to his Lao counterpart Soonthorn Xayachak./.
White Ribbon Breakfast highlights safe migration for women, children
Measures to improve inter-sectoral coordination mechanisms in response to violence against migrant women were discussed at the 6th White Ribbon Breakfast held in Hanoi on December 1.
The event drew the participation of more than 100 representatives from competent organisations like the Ministry of Public Security, the Ministry of Foreign Affairs, the Ministry of Labour, Invalids and Social Affairs, and the Vietnam Women Union.
In her opening remarks, Director of the Centre for Women Development (CWD) Duong Ngoc Linh said although Vietnam has been hailed has a nation with marked achievements in gender equality, gender-based violence remains a big challenge for the nation nowadays.
According to a national survey on violence against women in 2019, 63 percent of married Vietnamese women experienced one or more forms of physical, sexual, emotional or economic violence and controlling behavior by their husbands.
During 2010-2020, the CWD's Peace House model provided consultation on issues related to women's rights and prevention of gender-based violence for more than 14,000 people, Linh said, adding 24.5 percent of the cases had close connection with prevention of human trafficking and migration.
Beside language, culture and law barriers, migrant women have no access to official employment channels as well as rights of migrant workers, and have no skills to protect themselves from human trafficking and gender-based violence, she added.
Meanwhile, International Labour Organisation Vietnam Director Lee Chang-hee called on men to take actions to end violence against migrant women.
He added elimination of violence against women will help them feel more secure and work more effectively.
Country Representative of UN Women in Vietnam Elisa Fernandez Saenz laid stress on the migrant female workers' contribution to the economy of the host nation, adding they are facing various challenges such as violence, sexual abuse, and labour exploitation.
It is necessary for competent ministries and sectors to realise their responsibilities and roles to respond to violence against women and children, and human trafficking, she added.
"White Ribbon Breakfast" is a global campaign that aims to raise public awareness and promoting the roles of men and the community in general in ending violence against women./.
Vietnam treasures solidarity, friendship with Cuba: Deputy PM
Vietnam and Cuba have enjoyed a special friendship, solidarity and mutual trust in the past six decades, said Deputy Prime Minister and Foreign Minister Pham Binh Minh on December 1.  
Attending a meeting to mark the 60th anniversary of the Vietnam-Cuba diplomatic relations, Minh
affirmed Cuba remains an important and trustworthy partner of Vietnam, and both sides have developed a close-knit friendship and cooperation between the two parties, governments, parliaments, and localities.
He laid a stress on the firm determination of leaders of both sides to make the bilateral relations deeper, more stable and sustainable; and develop the economic ties on par with the political relations for the cause of national construction and development in each nation, as well as for peace, stability, cooperation and development in two regions and the world.
Cuban Ambassador to Vietnam Lianys Torres Rivera said the two nations have maintained comprehensive collaboration, with the engagement of many organisations.
She added a range of activities were organised in celebration of the diplomatic ties, including online conferences, photo exhibitions, cultural exchanges, and insignia presentation, among others./.
ASEAN, EU hold 2nd high-level dialogue on environment, climate change
Senior officials from ASEAN and the European Union (EU) recently gathered virtually for the second EU-ASEAN High-Level Dialogue on Environment and Climate Change.
During the dialogue, the EU and ASEAN discussed their cooperation on shared regional and global challenges related to the protection of the environment and the fight against climate change, as agreed in the Joint Statement of the 22nd ASEAN-EU Ministerial Meeting.
Following the first meeting in July 2019, the second dialogue provided an opportunity for further exchange of experiences on environmental and climate goals, and promoting regional solutions for a green transition.
Astrid Schomaker, Director for Global Sustainable Development at the European Commission's Directorate General for Environment, Jacob Werksman, Principal Adviser, Directorate General for Climate Action, and Hazri Hassan, Director for International Policy at the Ministry of Sustainability and the Environment who represented Singapore as the ASEAN-EU Country Coordinator, chaired the meeting.
The European Green Deal, the outcomes of the 31st Meeting of ASEAN Senior Officials on the Environment, and putting sustainability at the heart of the recovery framework, guided the discussion.
Important areas of ongoing and potential cooperation between the two regional entities that have been discussed are plastics and marine litter, circular economy, biodiversity, and natural capital.
The EU informed of its intention to work towards a global agreement on plastics, which deems to be important for both the EU and ASEAN and highlighted the continued implementation of a plastics and marine litter project in five ASEAN countries.
The Dialogue also broached the subject of chemicals and waste and stressing the importance of promoting safety and sustainability with reference to the relevant agreement, in which both ASEAN and EU are the parties to address waste trafficking and illegal waste dumping.
This was followed by the welcome announcement that the preparation of an ASEAN Platform on Circular Economy is underway. The EU is supporting its establishment, as part of a joint initiative between the EU and ASEAN on circular economy.
The Platform will facilitate the sharing of good circular practices across ASEAN, engage key stakeholders, and help design policies that can accelerate a circular economy transition in ASEAN Member States.
The two sides directed their attention to biodiversity and natural capital, and emphasised the importance of next year's Conference of the Parties to the Convention on Biological Diversity in Kunming and highlighted the urgent need to work together towards a realistic and ambitious post-2020 global biodiversity framework.
In the second part of the discussion, EU and ASEAN officials exchanged views on climate change, including in the areas of Nationally Determined Contributions, concrete mitigation actions, long-term strategies, climate neutrality as well as latest trends in sustainable finance.
Both sides agreed to continue their cooperation on these topics as a follow up to the High-level Dialogue discussions.
The High-Level Dialogue was supported by the Enhanced Regional EU-ASEAN Dialogue Instrument (E-READI), a development cooperation programme that facilitates dialogues between the EU and ASEAN in priority policy areas of joint interest. Drawing on the EU's experience of regional integration, the E-READI policy dialogue facility further strengthens both the ASEAN regional integration process as well as the overall ASEAN-EU partnership./.
Vietnam, Singapore bolster security cooperation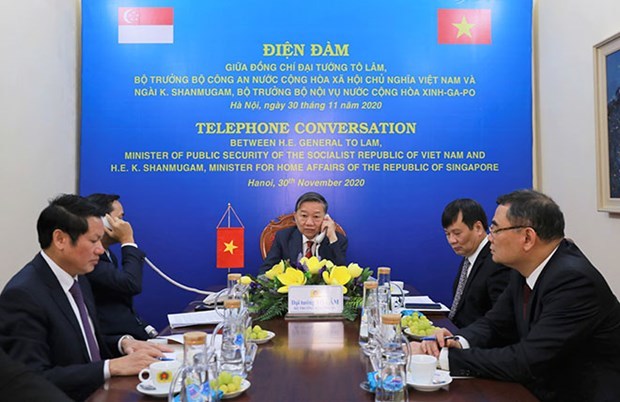 Minister of Public Security General To Lam holds phone talks with Singaporean Minister for Home Affairs and Law K. Shanmugam (Photo: cand.com.vn)
Minister of Public Security General To Lam held phone talks with Singaporean Minister for Home Affairs and Law K. Shanmugam on November 30.
During the phone talks, Lam affirmed the Ministry of Public Security and competent law enforcement authorities in Singapore have consolidated collaboration, contributing to promoting the Vietnam-Singapore Strategic Partnership which was established in 2013.
Lauding the role of Singapore as the chair of ASEAN's hi-tech crime prevention events, Lam said his ministry has already sent officers to work at the Interpol's ASEAN Cybercrime Operations Desk.
He hoped to receive further cooperation and support from the Singaporean side in the field as well as cooperative mechanisms in the framework of the Senior Officials Meeting on Transnational Crime (SOMTC) and ASEAN Ministerial Meeting on Transnational Crime (AMMTC).
The Ministry of Public Security spoke highly of K Shanmugam's suggestion to hold phone talks to discuss the World Health Organisation's recommendation on cannabis use in medical study, he added.
K. Shanmugam, for his part, congratulated Vietnam on successful organisation of the 14th AMMTC, while expressing his belief that the collaboration between Vietnam and Singapore, especially between their law enforcement agencies, will further develop and reap important outcomes in the future./.
IFAD-funded agriculture development projects reviewed
A workshop to review the implementation of agriculture development support projects in the 2019-2015 period funded by the International Fund for Agricultural Development (IFAD) has been held in the central coastal province of Khanh Hoa.
As the UN's agricultural agency, IFAD has been accompanying Vietnam's efforts over the past 26 years to eradicate poverty, promote green and sustainable development, enhance Vietnamese agricultural products' value chain, help women to access financial sources and promote innovation in agriculture development.
During the event on November 30 and December 1 participants discussed and proposed necessary activities to strengthen the partnership in policy-making at regional and national levels, as well as improve the effectiveness of the IFAD programme at local level, Vietnam's national target programmes to promote poverty reduction and build new-style rural areas, as well as projects funded by other international organisations.
According to Duong Hung Cuong, deputy head of the Ministry of Planning and Investment's Foreign Economic Relations Department, agriculture has showed an important role in helping Vietnam recover after the COVID-19 pandemic.
Vietnam's agriculture is expected to grow by 2.9 percent from the last year, he said.
The Vietnamese Government hopes to continue cooperating with international organisations such as IFAD in building communities that are more resilient to impacts, thus contributing to the country's socio-economic development in 2020-2025, he added.
Meanwhile, Thomas Rath, IFDA Country Director in Vietnam, said the fund promotes the active participation of government agencies and partner organisations in improving the effectiveness and sustainability of programmes, connecting resources, and enhancing experience sharing in order to promote post-pandemic recovery.
In the 2019 – 2025 period, IFAD-funded projects for Vietnam have focused on building sustainable value chains for the poor and attracting more investments from the private sector, expanding inclusive finance for the development of climate change resilient livelihoods, promoting climate resilience of smallholders' economic activities.
IFAD's estimated budget for the 2019-2021 scheme is about 43 million USD, and may be up to 84 million USD for the 2022-2025 period.
IFAD has carried out its programmes in 11 localities, namely Cao Bang, Bac Kan, Ha Giang, Tuyen Quang, Ha Tinh, Quang Binh, Ben Tre, Tra Vinh, Dak Nong, Gia Lai and Ninh Thuan./.
Party chief requires building clean, strong police force
Party General Secretary and President Nguyen Phu Trong has emphasized his requirement to build a clean and strong police force, which is fully devoted to the country, the people, the Party and the political system.
The top leader made the call at a meeting of the Police's Party Central Committee on December 1, which was held to review the performance of the public security sector in 2020 and discuss orientations and key tasks for 2021.
Trong concurred with the working directions outlined in reports presented at the event, stressing that considering its functions and tasks, the sector must absolutely ensure the safety of important political, economic and cultural events across the country.
The leader reminded the sector to focus its fight on not only corruption but also the degradation in political ideology, morality and lifestyle.
He also required a close and smooth coordination between the police force with the military, agencies specializing in foreign affairs, inspection, auditing, and the court.
Due attention should be paid to building a contingent of pure and capable police officers, he said.
At the meeting, delegates looked back at outstanding achievements of the sector's Party organisations in 2020, while pointing out shortcomings as well as their causes.
They also proposed orientations and schemes in order to build an elite and modern police force./.
Central region hit by heavy rains, flooding
A vegetable garden is submerged by floodwater in Đơn Dương District, the Central Highlands province of Lâm Đồng.
Prolonged heavy rains during the past three days have caused serious flooding and landslides in parts of central Viet Nam and the Central Highlands, leaving at least one person missing.
Ninh Thuận and Khánh Hòa provinces allowed students to stay off school to avoid the flood.
Many areas along rivers in Khánh Hòa were submerged including Vĩnh Phương, Vĩnh Trung and Vĩnh Thái communes, Nha Trang City, Vạn Ninh District and Ninh Hòa Town.
Ninh Thuận and Khánh Hòa provinces have evacuated more than 400 households with more than 1,700 people to safety.
Flashfloods on Sunday night swept away one person in Vạn Ninh District, Khánh Hòa Province. The victim is still missing.
Khánh Hòa Province on Monday morning discharged water from reservoirs to regulate flood levels.
Flood also submerged roads and isolate different communes in Nha Trang City and Diên Khánh District.
Severe heavy rains yesterday afternoon caused landslides on the Highway 27C connecting Nha Trang City and Đà Lạt City, causing more than five-hour-long traffic jams.
About 2,000sq.m of soil and land slid on the Khánh Lê mountain pass. Authorities have since cleared some of the debris and the highway is open for one-way traffic.
It is forecast that Thừa Thiên-Huế and Khánh Hòa provinces and several places in the Central Highlands area will have strong rains today. The water level in rivers from Quảng Nam to Khánh Hòa provinces will continue to rise for the next week.
The Vệ River in Quảng Ngãi Province will rise to the third level – the urgent alarming level, whereas the Trà Khúc River in Quảng Ngãi Province, Thu Bồn River in Quảng Nam Province, Kôn River in Bình Định Province and Dinh River in Khánh Hòa Province will be at the second alarm level.
Mountainous districts should be vigilant for flashfloods and landslides. 
Second edition of book series on Vietnam's ethnic groups launched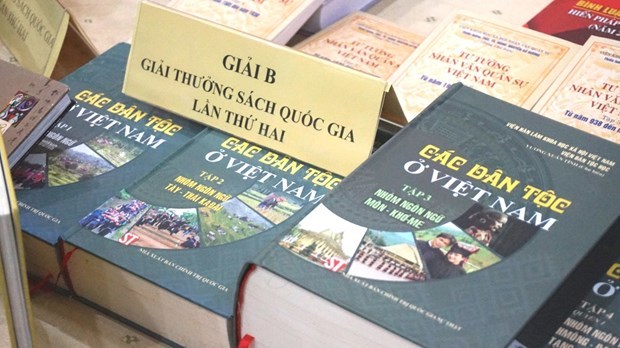 The second edition of the book series "Cac dan toc Viet Nam" (Ethnic groups of Vietnam) is released by Su That (Truth) National Political Publishing House in July 2020. (Photo: baodantoc.vn/VNA)
The second edition of the book series "Cac dan toc Viet Nam" (Ethnic groups of Vietnam) has been launched by Su That (Truth) National Political Publishing House during a book exhibition in Hanoi.
The exhibition was held to mark the publishing house's 75th founding anniversary (December 5) and welcome the upcoming 13th National Party Congress.
Speaking at the launching ceremony, the publishing house's Acting Director and Editor-in-Chief Pham Chi Thanh sad the four-volume book series was compiled by the Vietnam Academy of Social Sciences' Institute of Anthropology from 2012 – 2015. It was edited and published by the publishing house from 2016 – 2018 and its second edition was released in July 2020.
The book series won a second prize at the National Book Awards 2020, he noted.
The series becomes a valuable source for policy-makers to gain a better insight into each ethnic group in Vietnam and thus, adopt appropriate ethnic policies and further consolidate solidarity among Vietnamese people, Thanh said, adding that it is also an useful source of reference for scientists, researchers and students./.
Vietnam fulfilling commitments on ensuring safe migration: Conference
The Ministry of Foreign Affairs and the International Organisation for Migration (IOM) jointly held a conference on implementing the global compact for safe, orderly, and regular migration (GCM) in Hanoi on November 30.
The conference gathered together more than 110 delegates from ministries, agencies and localities, and international organisations.
In his remarks, Deputy Minister of Foreign Affairs To Anh Dung said Vietnam's implementation plan for the GCM sets forth inclusive and comprehensive solutions to current international migration issues, with gender and sustainable development matters taken into account.
This is a strong stride forward by Vietnam in international cooperation in migration, he said, demonstrating the country's commitment to and sense of responsibility for maintaining and consolidating a transparent and safe migration environment, for sustainable development.
The conference offered an opportunity to review the migration of Vietnamese workers to foreign countries, as well as Vietnam's management in this regard, the official added.
Park Mi-hyung, Chief of Mission at IOM Vietnam, said the issuance of the plan reflects Vietnam's strong commitment to promoting common perceptions and sharing responsibility for migration for the benefit of all.
The conference was also a chance for delegates to exchange experience and work together to build comprehensive policies to protect the rights and interests of migrants, while enhancing coordination in migration management at different levels, especially in the context of COVID-19 and many countries considering reopening their borders.
Vietnam approved the GCM in December 2018. The Prime Minister signed a decision on March 20, 2020 on the issuance of the implementation plan, which puts forth such major tasks as promoting communications work, collecting information and data on international migration, perfecting policies and laws, studying migration policies, and boosting international cooperation in the field./.
10th National Patriotic Emulation Congress slated for December 9-10
Prime Minister Nguyen Xuan Phuc, who is also Chairman of the Central Emulation and Rewards Council, presided over a meeting in Hanoi on November 30 to look into the preparations for the 10th National Patriotic Emulation Congress.
The congress is scheduled for December 9-10 with the participation of about 2,300 delegates.
So far, all the ministry- and provincial-level congresses have been completed, according to the council.
PM Phuc highly valued all-level patriotic emulation congresses which he said have encouraged emulation amid numerous difficulties facing the country.
He also applauded the preparations for the upcoming congress, which have been made with the highest sense of responsibility.
According to the Government leader, the congress, held every five years, is meant to launch an emulation movement among the public, all levels, and all sectors ahead of the 13th National Party Congress and encourage people to jointly realise the Party resolution.
As the workload needed to be done from now to the emulation congress remains huge, he requested sub-committees and relevant agencies to seriously review preparations, adding that the event must be organised in a formal but also economically and efficient manner that must also ensure security and safety, including safety from COVID-19.
The PM also asked for communications about the congress to be increased to help create a patriotic emulation atmosphere./.
Tra Vinh takes measures to deal with drought, saltwater intrusion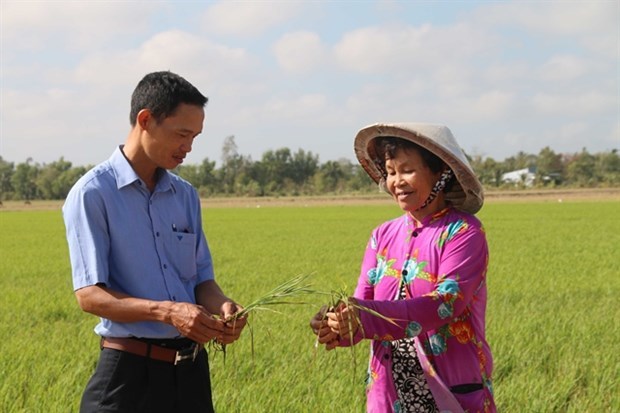 VIETNAM NEWS DECEMBER 2

An agriculture official in Tra Vinh province's Tra Cu district instructs a farmer how to save her rice crop from saltwater and drought during the last dry season. (Photo: VNA)

Tra Vinh (VNA) – The Cuu Long (Mekong) Delta province of Tra Vinh has taken a number of measures to prevent droughts, water shortages, and saltwater intrusion in the upcoming dry season to minimise possible damage caused by them.
Tra Vinh is one of the delta provinces hardest hit by saltwater intrusion between December and April, a phenomenon that has caused severe damage in recent years.
The delta is forecast to face a water shortage, and localities in Tra Vinh are speeding up construction of irrigation works, dredging of canals and repairs to degraded irrigation works to store freshwater.
In areas where irrigation systems are not extensive, local authorities are encouraging people to build embankments and temporary dams.
They have made plans for careful use of water.
The provincial People's Committee has ordered the Department of Agriculture and Rural Development to closely monitor saltwater intrusion and inform the public so that people could proactively take preventive measures.
If there is severe drought and saltwater intrusion as forecast, water would be prioritised for household use, animal husbandry and high-value crops, it said.
The Department of Agriculture and Rural Development should instruct farmers to suitably organise their crops, aquaculture and animal husbandry, it said.
Farmers should follow the farming schedules put out by local authorities, grow rice varieties that are resistant to drought and saltwater and use advanced farming techniques and efficient irrigation to save water, it added.
It has ordered the Department of Agriculture and Rural Development and the Department of Construction to speed up construction of 12 clean water supply stations, install 130 km of new water pipes and more than 9,000 meters in households in the districts of Cang Long, Chau Thanh, Cau Ngang, Cau Ke, Tra Cu, and Duyen Hai.
Pham Minh Truyen, director of the province's Department of Agriculture and Rural Development, said saltwater intrusion in 2020 - 21 was forecast to be greater than in 2015- 16.
Tra Vinh and other delta provinces had seen record levels of saltwater in 2015- 16.
In the last dry season the intrusion began early and was severe, causing losses of around 1 trillion VND (43 million USD) to the agriculture, according to the department.
More than 25,800ha of rice, 270ha of fruit and dozens of hectares of vegetables were affected.
Thousands of households suffered from a severe shortage of water./.
Ly Hoang Nam suffers defeat in final of VTF Masters 500
Ly Hoang Nam, the nation's highest ranked tennis player, suffered a shock defeat to Trinh Linh Giang in the final round of the National Men's - Women's Tennis Championship (VTF Masters 500-2) – Lach Tray Cup, which recently concluded in the northern city of Hai Phong.
During the tournament's final match between Nam and Giang, Nam endured a 3-1 defeat in the first set before swiftly earning a break to level the score. In the game's third set, Giant went on to record a 5-0 win, with his victory ensured after finishing the final set with a 6-1 win.
The defeat at the hands of Giang marks the conclusion of Nam's eight-year unbeaten streak against domestic players.
Elsewhere, the women's singles event saw Si Boi Ngoc beat Tran Thuy Thanh Truc to claim victory.
Phú Quốc develops pepper cultivation in combination with tourism services
Pepper farmers in Kiên Giang Province's Phú Quốc District are developing their pepper orchards in combination with tourism services to maintain cultivation areas and improve income as the price has declined in recent years.
The island district is a famous tourist destination and has many speciality products such as fish sauce and pepper. The district's pepper is well-known for its hot and tangy flavour and is sought by most tourists who visit the district.
The district has 390ha of pepper with an annual output of 675 tonnes, mostly in Cửa Dương and Cửa Cạn communes, according to the district's Economic Bureau.
About 80 per cent of the district's pepper products are sold to tourists at pepper orchards, tourism destinations and the night market in the district. The prices of pepper products sold at orchards, tourist destinations and the night market are higher than the prices that traders buy from farmers.
The district had nearly 300ha of pepper in 2010 and the pepper growing area increased to 500ha in 2015 because of the high price.
However, farmers have reduced their cultivation areas because of the declining price of pepper and unstable outlets since 2017.
Lê Thanh Huy, chairman of the Cửa Dương Commune Farmers Association in Phú Quốc, said the commune pepper growing area fell from more than 200ha in its peak time to 132ha now.
The commune has nearly 200 households growing pepper.
To improve income for pepper farmers, local authorities have encouraged them to expand pepper in combination with tourism services, he said.
The commune, which has the largest pepper growing area in Phú Quốc, now has 15 households implementing the model of growing pepper in combination with offering tourism services.
Đặng Thế Hải, who is implementing the model in Cửa Dương's Cây Thông Trong Hamlet, said the model has helped him increase the sale of pepper products.
"When tourists visit the pepper orchard, they like to buy pepper products for their consumption and gifts for other people," he said.
Hải has also intercropped durian trees in his pepper orchard to increase income. 
Pepper farmers in the district have invested in tourism services and advanced farming techniques to attract tourists to their orchards.
Trần Quốc Dương in Cửa Cạn Commune has borrowed soft loans to invest in tourism services and advanced farming techniques in his 2ha pepper orchard to increase income.
Besides offering tourism services in the orchard, he sells pepper and pepper-related products to visitors. With the income from offering tourism services, he is now able to maintain cultivation of pepper. 
The district authorities have instructed pepper farmers to apply advanced techniques and good agricultural practices (GAP) standards to improve yield and quality.
More than 70 per cent of pepper growing households in the district are using drip irrigation for their pepper orchards.
The district has also developed methods of using Java olive trees as trellises instead of concrete or wooden pillars to grow pepper plants, saving costs for farmers.
Farmers have received instruction in techniques to produce pepper seedlings from seeds and cuttings.  
The district's raw pepper products are red pepper (pepper harvested when they are ripen), black pepper (pepper harvested when they are green) and white pepper (skin – peeled pepper).
Many pepper growing households in the district have produced pepper-related products such as pepper salt, pepper sauce, and pepper braised with sugar and fish sauce.
Trần Thị Hồng, deputy head of the bureau, said the cultivation of pepper in the district has fluctuated but pepper farmers have maintained their growing areas.
The district has cultivated pepper for 100 years and is one of the district's traditional occupations.
Up to 80 – 90 per cent of pepper varieties planted in the district are local varieties which are highly resistant to disease.
Under the district People's Committee' agricultural development plan in 2020 – 30, the district will develop its pepper growing area to 400ha with an annual output of 1,000 tonnes.
The district will register with the National Office of Intellectual Property to receive geographical indication certification for its pepper.
Romania's National Day celebrated in HCM City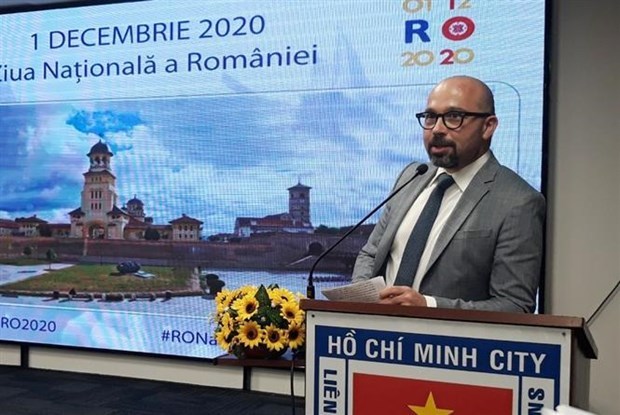 Romanian Consul General to Vietnam Petrescu Razvan
The Ho Chi Minh City Union of Friendship Organisations (HUFO) on December 1 hosted a get-together to mark the 102nd National Day of Romania (December 1, 1918 – 2020).
Addressing the event, President of the Vietnam – Romania Friendship Association in HCM City Nguyen Truong Giang highlighted the friendship between the two countries, especially Romania's support for Vietnam in the past and at present.
According to Giang, Romania has trained more than 4,000 students for Vietnam, and many of them have become experts, managers and engineers with contributions to the development of Vietnam.
Trade cooperation and cultural and people-to-people exchange between localities of the two countries in recent years have actively contributed to strengthening the bilateral relations, he said.
For his part, Romanian Consul General to Vietnam Petrescu Razvan expressed his thanks to Vietnamese people in general and those in HCM City in particular for their support for Romani in the past and at present, especially in the fight against COVID-19 pandemic.
According Razvan, trade turnover between Vietnam and Romania in 2019 reached 267 million USD, up 24 percent compared to the previous year. In the first eight months of 2020, the two-way trade hit 172 million USD.
The expanded cooperation in education, trade and investment between Vietnam and Romania has contributed to bringing prosperity to both nations, he said./.
Lao Embassy in Hanoi celebrates National Day
The Lao Embassy in Hanoi hosted a reception on December 1 to celebrate the 45th National Day of Laos (December 2, 1945 – 2020).
Prominent among the guests were Politburo member and Standing Vice Chairwoman of the National Assembly Tong Thi Phong and Politburo member, Deputy Prime Minister and Foreign Minister Pham Binh Minh. 
Addressing the event, Lao Ambassador to Vietnam Sengphet Houngboungnuang stressed that the birth of the Lao People's Democratic Republic 45 years ago opened up a new era in which the Lao people can decide their own fate and become the real owner of a free and independent country.
He went on to say that over the past 45 years, under the leadership of the Lao People's Revolutionary Party (LPRP), the country has experienced remarkable changes in all fields, with political stability, ensured social order, unceasingly socio-economic development and high economic growth.
The ambassador expressed his thanks on behalf of the Lao Party, State and people to the Party, State and people of Vietnam for their great support and valuable assistance for Laos' revolutionary cause both during the resistance war for national salvation and the current period of national construction and defence.
He emphasized that the great friendship, special solidarity and comprehensive cooperation between the two countries have been unceasingly strengthened. In the context of a changing world and negative impacts of the COVID-19 pandemic, Laos and Vietnam continue to do their best to constantly develop the bilateral partnership in all fields.
In her remarks, Standing Vice Chairwoman of the Vietnamese National Assembly Tong Thi Phong congratulated Laos on its great historic accomplishments in national development and defence.
She said under the close instruction of leaders of the two countries, the Vietnam-Laos cooperation has been expanding, bringing practical benefits to their people, despite the rapid and complicated developments in the world and regional situations. She highlighted increasingly trustful and close political and diplomatic ties, along with effective economic-security-defence-border cooperation, which contributed to ensuring political stability and social order and safety in each country. The two countries have always coordinated and supported each other at regional and international forums.
Phong wished the fraternal Lao people even greater achievements in the cause of national development and defence, and in implementing the Resolution of the 10th National Congress of the LPRP, towards a successful 11th National Congress of the LPRP./.
WB, Australia asked to help An Giang build reservoirs
The Mekong Delta province of An Giang has asked the World Bank (WB) and the Australian government to help build reservoirs in combination with irrigation infrastructure to serve production in the Long Xuyen quadrilateral sub-region.
The large-scale reservoirs are critical to the sub-region as they supply fresh water for local residents in the dry season and regulate water resources for agricultural production, Chairman of the An Giang provincial People's Committee Nguyen Thanh Binh told a working delegation led by WB Country Director in Vietnam Carolyn Turk and Ambassador of the Australian Embassy in Vietnam Robyn Mudie on December 1.
Binh proposed the WB and the Australian government help deal with land subsidence and river bank landslide and erosion, with priority on the relocation of households in areas vulnerable to erosion to safer places.
At the working session, Ambassador Mudie said the Australian government has provided the Mekong Delta region with 650 million USD to carry out sustainable economic development projects, including the Cao Lanh bridge in Dong Thap province as the largest project in ASEAN built with funds from the Australian government, thus promoting the socio-economic development of the region.
Mudie affirmed the Australian government, through the WB, will continue helping Mekong delta provinces, including An Giang, carry out water resource management and sustainable agricultural development projects.
WB Country Director in Vietnam Turk also affirmed the WB's support for Mekong Delta localities to cope with climate change, especially the matters relating clean water and river bank erosion.
Thanks to assistance from the Australian government and WB, An Giang has implemented programmes and projects, contributing to local socio-economic development and poverty reduction efforts.
An Giang is located in the Mekong Delta's key economic area, and the country's key agricultural producer, with main products like rice, tra fish and fruits.
The province has been affected by climate change in recent years such as prolonged drought in the dry season, heavy rain in the rainy season, especially river and canal bank landslide and erosion./.
VFF President extends congratulations on 45th National Day of Laos
President of the Vietnam Fatherland Front (VFF) Central Committee Tran Thanh Man has offered congratulations to the Lao Front for National Construction (LFNC) on the 45th National Day of Laos (December 2) and the 100th birth anniversary of late President Kaysone Phomvihane (December 13).
In the congratulatory message sent to Xaysomphone Phomvihane - Politburo member of the Lao People's Revolutionary Party (LPRP) and President of the LFNC, Man expressed his delight that over the last 45 years, under the LPRP's clear-sighted leadership and the LFNC's gathering of patriotic Lao people, the country has obtained a number of enormous successes in national construction and defence.
The two nations should be proud of the formation and development of their special and rare relationship, he noted.
The friendship and solidarity between the two Parties and the two States as well as the faithful and close-knit ties between the two peoples were built by late Presidents Ho Chi Minh and Kaysone Phomvihane, he wrote, adding that they have been treasured and nurtured by generations of the two countries' leaders and peoples.
The VFF President went on to say that President Kaysone Phomvihane is a great and close friend of the Vietnamese Party, State, and people, and he is also a bright moral example and a great revolutionary respected by people around the world.
Concluding the message, he wished the special friendship between Vietnam and Laos will be durable and sustainable forever./.
Deputy PM calls for greater efforts to eliminate AIDS by 2030
Deputy Prime Minister Truong Hoa Binh has asked localities to actively build and submit to authorities for approval plans on HIV/AIDS prevention and control to 2030, as well as solutions to ensure financing for the task.
Addressing a meeting held by the Ministry of Health (MoH) in response to World AIDS Day on December 1 and to look back on Vietnam's achievements in fighting HIV/AIDS over the last 30 years, Binh said the health sector needs to bring into play all existing resources and promote the application of modern technologies.
Attention should be paid to expanding coverage and improving the quality of medical examinations and treatment, consultation, and testing for HIV, he stressed.
The sector was asked to focus on interconnections in medical examinations and treatment, towards creating the conditions necessary for people to access HIV preventive services, for high-risk groups to quickly access HIV testing services, and for those living with HIV to have early access to antiretroviral (ARV) treatmentand health insurance.
He called on social organisations and communities to actively and strongly participate in HIV/AIDS prevention activities, especially the provision of HIV/AIDS prevention and control services to target groups.
Government agencies need to help the Government study and build favourable mechanisms for the involvement of social organisations in fighting HIV/AIDS, Deputy PM Binh said.
He also called for more financial and technical assistance from foreign governments and international individuals and organisations for Vietnam's efforts.
He took the occasion to praise ministries, sectors, localities, media, individuals, organisations, and the business community for their efforts and contributions to the task.
Binh expressed his belief that Vietnam will achieve the goal of basically eliminating AIDS by 2030.
Vietnam is considered a bright spot in the world for HIV/AIDS prevention and control, and is one of four countries with the best HIV/AIDS treatment.
It is also one of the first countries in the world to have a specific Law on HIV/AIDS.
International support resources have been used effectively for many years.
Reports from the MoH show that Vietnam has kept the HIV infection rate in the community below 0.3 percent, as targeted in the National Strategy on HIV/AIDS Prevention and Control to 2020 with a Vision to 2030.
Regionally, Vietnam posted the largest decline in the number of new HIV infections in 2018 compared to 2010, of 64 percent.
The number of patients under treatment has increased rapidly over the years, with 159,984 HIV carriers undergoing treatment in 446 treatment facilities and 652 drug dispensing facilities as of September 30, 2020. Seventy-six percent of them have access to an ARV therapy programme.
In the national strategy for ending AIDS by 2030, Vietnam targets bringing the number of newly-detected infections to under 1,000 a year, while fatalities linked to HIV/AIDS are to be less than one per 100,000 people. HIV/AIDS will then no longer be a public health concern.
On the occasion of World AIDS Day, Party and State leaders conferred a Labour Order upon outstanding individuals and collectives in recognition of their significant contributions to fighting HIV/AIDS./.
Cambodia rolls out mass contact tracing
Cambodia on December 1 announced three new COVID-19 infections linked to a community transmission case detected on November 28, according to the country's Ministry of Health.
The new patients were all Cambodian nationals living in Phnom Penh capital city, including a seven-month-old child.
On November 29-30, nearly 4,670 people were tested for COVID-19, said the Health Ministry. Of the number, 17 tested positive for the novel coronavirus SARS-CoV-2 that causes COVID-19.
Ministry of Health spokeswoman Or Vandine said the ministry is conducting contact tracing to rush the testing of those who were in contact with the "November 28 community incident," across the country, especially in Phnom Penh and Siem Reap province.
Working groups have visited the locations in contact with the incident, according to the spokeswoman.
At present, Cambodia has two COVID-19 testing centres in Phnom Penh and Siem Reap, while two others are being built in Preah Sihanouk and Battambang provinces.
As of December 1 morning, the country had recorded 326 cases, with 304 recoveries. All of the 22 remaining patients are being treated at the Khmer-Soviet Friendship Hospital./.
Leaders congratulate Romania on Great Union Day
Party General Secretary and State President Nguyen Phu Trong on December 1 sent a message of congratulations to Romanian President Klaus Iohannis on the occasion of the 102nd anniversary of Romania's Great Union Day (December 1, 1918-2020).
Prime Minister Nguyen Xuan Phuc also cabled greetings to his Romanian counterpart Ludovic Orban.
The same day, Deputy Prime Minister and Foreign Minister Pham Binh Minh congratulated Romanian Minister of Foreign Affairs Bogdan Lucian Aurescu./
Source: VNA/VNN/VNS/SGGP/VOV/NDO/Dtinews/SGT/VIR