Vietnam faces challenges in fight against HIV/AIDS

The AIDS epidemic in Vietnam cannot be eliminated by 2030 if the country fails to reaffirm its commitment and show determination in rolling out innovative solutions to prevent the transmission of HIV.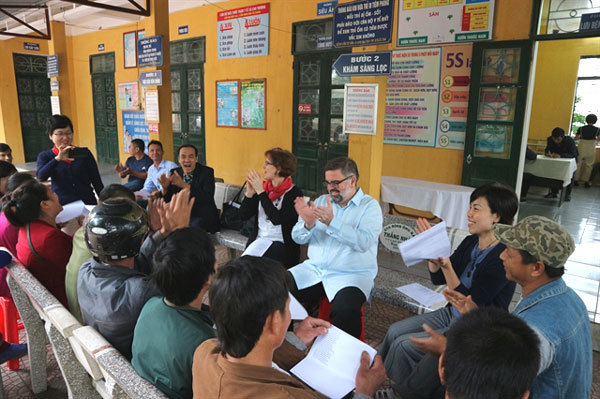 Eamonn Murphy (centre), UNAIDS officers and medical staff sing a song with patients receiving Methadone treatment at a health clinic in Tan Yen District, Bac Giang Province. According to the regional UNAIDS director, Vietnam managed to reduce new infections by 65 per cent between 2010 and 2018. — VNS Photo Khoa Thu
The message was delivered by Deputy Prime Minister Vu Duc Dam at the National Ceremony on World AIDS Day on December 1 in northern Bac Giang Province.
"In 2007, it sounded like a death sentence for anyone diagnosed with HIV," said Dam.
"Nowadays, thanks to the international community applying healthcare advances, people living with HIV can now live a normal life and even give birth to HIV-negative children."
As Vietnam is approaching the final stage in putting an end to AIDS as a public health threat in 2030, the lack of sustainable financial mechanisms for HIV/AIDS prevention and social awareness may create conditions for the epidemic to rebound.
"There are an estimated 50,000 HIV-positive people in Vietnam unaware of their status. We need the whole society's engagement in detecting HIV infections, offering appropriate treatments and ensuring privacy of HIV-infected people at healthcare stations to push back against AIDS," said Dam.
Changes and challenges
Eamonn Murphy, Regional Director of UNAIDS, Asia and the Pacific, stressed upon Việt Nam's significant achievements towards the 90-90-90 target set by the United Nations.
It aims to have 90 per cent of infected people knowing their status, 90 per cent of that group accessing sustained antiretroviral (ARV) therapy and 90 per cent of those treated patients having the virus suppressed.
According to Murphy, from 2010 to 2018, Vietnam managed to reduce new HIV infections by 65 per cent, recording the greatest leap in the Asia – Pacific region in controlling virus transmission.
This year marks the 20th anniversary of the ARV treatment programme in Vietnam.
Over the past two decades, the programme has continuously expanded its coverage to save many HIV-infected people.
Since March 2019, Vietnamese people living with HIV have switched to receiving ARV covered by social healthcare insurance, making Vietnam one of few countries allocating the social insurance fund to pay for the treatment.
Many innovative approaches have been adopted to introduce a wide range of treatment options and prevention choices including community led and self-testing, PrEP (pre-exposure prophylaxis) and opioid substitution therapy (OST).
"Acting together, Vietnam can remain at the forefront of the HIV response in the region, sharing how to leave no one behind and share its experience with the world. This is such a tremendous force for change for HIV but also to demonstrate what is possible for Universal Health Coverage and the Sustainable Development Goals," he said.
Since 2018, Vietnam has worked restlessly to promote the Undetectable=Untransmittable or U=U (K=K in Vietnamese) – a campaign which encourages people living with HIV to have continual ARV treatment to have their viral load suppressed and stop the virus from being passed on.
"U=U is a spiritual message of hope which tells HIV-infected people they can have a normal family and normal lifespan because of advances and if you stay adherent to the treatment," Murphy added.
Meanwhile, the gap in access among regions, existing social stigma, new types of drugs putting people at multiple risks of HIV as well as the rise of new infections among vulnerable groups including men having sex with men (MSM) are still setting barriers, hindering Vietnam from realising the goal of putting an end to AIDS by 2030.
"HIV/AIDS has dropped out of the headlines thanks to significant improvements in disease prevention and control," said Nguyen Hoang Long, head of the Department of HIV/AIDS Prevention and Control under the Ministry of Health.
"On the other hand, the less attention is dangerous because if we do not pay enough care, the epidemic may rise again."
According to Long, about 40 per cent of people living with HIV in Vietnam do not benefit from ARV. To accomplish the ambitious goal by 2030, the number of annual new infections in Vietnam has to not surpass 1,000. However, at present, each year, 10,000 new cases are reported.
"There is a huge gap which needs the collaboration of the whole society to close," he added. - VNS

A ceremony was held in the northern province of Bac Giang on December 1 in response to the National Action Month against HIV/AIDS and the World AIDS Day.

A national communication campaign for HIV/AIDS prevention, called K=K – (Không phát hiện = Không lây truyền) or U=U (Undetectable = Untransmittable), was launched at a ceremony on Tuesday at the Bach Mai General Hospital in Hanoi.