Vietnam consults experts on developing homegrown COVID-19 vaccines
The Ministry of Health in collaboration with the World Health Organisation organized a webinar on August 4 to consult experts on the evaluation of clinical research data and approval of vaccines against COVID-19 in emergency situations.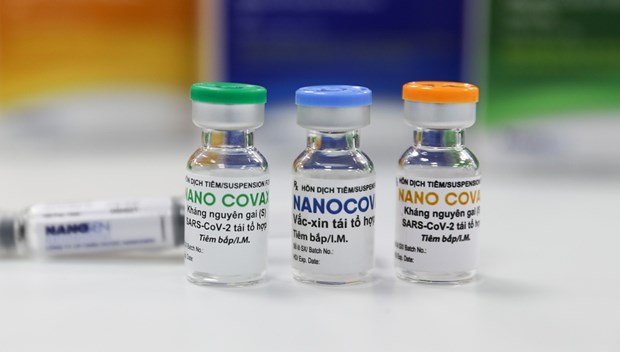 Homegrown vaccine Nano Covax 
This is the first meeting organized by the two sides, with the participation of the Republic of Korea's Ministry of Food and Drug Safety (MFDS) and domestic and foreign experts to assist Vietnam in developing clinical test plans in the third phase for made-in-Vietnam COVID-19 vaccines.
Deputy Health Minister Tran Van Thuan said that Vietnam currently has two vaccine candidates in the second and third phases of clinical trials, and is considering the approval of Nano Covax for emergency use.
However, due to lack of experience in this field, Vietnam wishes to learn from experience of experts from the WHO and MFDS and experts in vaccine research and clinical trials, Tuan added.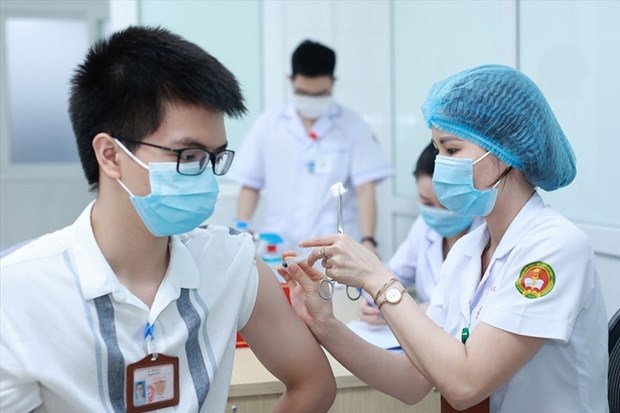 Volunteer gets jab of homegrown vaccine
Regarding the transfer of vaccine production technology, Nguyen Ngo Quang, deputy head of the Health Ministry's Department of Science, Technology and Training, said that the ministry has approved the clinical trial protocol for the ARCT-154 vaccine against COVID-19. The vaccine is manufactured using the mRNA technology purchased by a Vietnamese corporation from the United States. The research team plans to launch the clinical trial programme of this vaccine on August 8.
In addition, Vietnam has signed two contracts on the transfer of COVID-19 vaccine technologies with Russia and Japan that are being implemented.
A WHO representative recommended that Vietnam develop guidelines for licensing for circulation and emergency use of home-grown and imported vaccines.
Kidong Park, WHO Representative in Vietnam, affirmed that after this first meeting, the two sides will continue to have working sessions to help Vietnam improve its capacity of developing vaccines against COVID-19, speed up the process of developing regulations guiding the approval of vaccines and developing and expanding the application of vaccines in the country so as to quickly have vaccines to serve Vietnamese people and for export./.
Source: VNA