Vietnam Coast Guard strengthens patrols, prevents illegal entry and exit by sea
The Vietnam Coast Guard has actively monitored the field, strictly controlled and resolutely handled illegal entries on the sea routes in the context of Covid-19 epidemic.
Major General Tran Van Nam, Deputy Commander of Law, High Command of Vietnam Coast Guard told the Vietnam News Agency (VNA): Immediately after there were signs of the COVID-19 outbreak, the High Command of Vietnam Coast Guard has strengthened reconnaissance work, grasping the situation in all directions; in which, focusing on the Northeast and Southwest waters, particularly the key provinces such as Quang Ninh, Hai Phong, Thai Binh, Kien Giang and Ca Mau.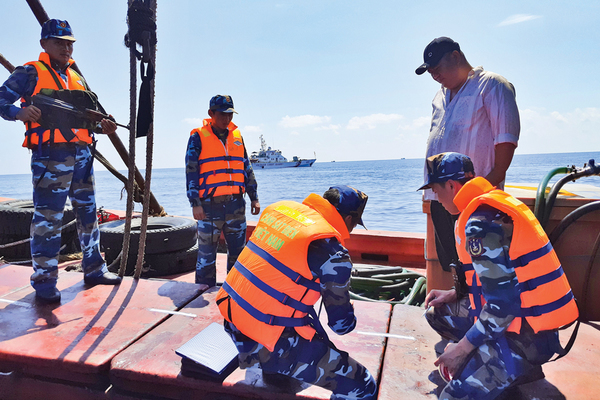 The functional force of the High Command of Coast Guard Region 4 sealed smuggled goods on a ship.
The Coast Guard force has determined that there may be cases of fishing vessels operating offshore transporting people illegally entering Vietnam from Indonesia and Malaysia. Therefore, the Coast Guard forces have strengthened patrol and control tasks, arranging forces and adding fleets to operate in sensitive waters, constantly patrolling in marine areas bordering neighboring countries to control and handle cases of illegal entry into Vietnam by sea.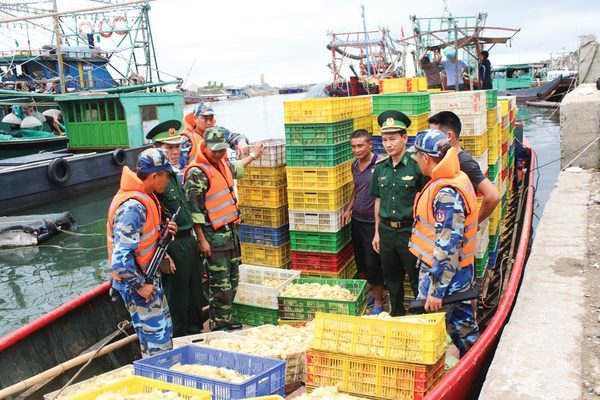 The Coast Guard coordinated with Border Guards to arrest and fine ships transporting poultry of unknown origin.
At the same time, the Coast Guard continued to strictly patrol, inspect and control the situation at sea, especially ships and boats that have signs of law violation. The crew members on board are strictly checked, according to the registered crew list.
The Coast Guard has also checked fishing vessels at ports to implement COVID-19 epidemic prevention and control measures, ensuring social distancing and ensuring that fishermen have to wear masks, fishing boats are equipped with antidote solutions and to instruct crew members to comply with regulations on prevention and control of COVID-19.
"All measures are carefully calculated and when there are signs of violation, we will take them to the anchorage, isolate them in a separate area, not allow entry, not allow directly go ashore. The Coast Guard also coordinates with the local port authority, Border Guard forces to conduct social distancing for seafarers at sea to avoid the COVID-19 infection (if any) to the community… ", Major General Tran Van Nam confirmed.
Hai Van