Vietnam Buddhist Sangha accepts online donations and support
In an effort to avoid gatherings amid the Covid-19 pandemic, the Buddhist Sangha of Vietnam (BSV) has told some pagodas to accept online donations and offerings via e-wallet.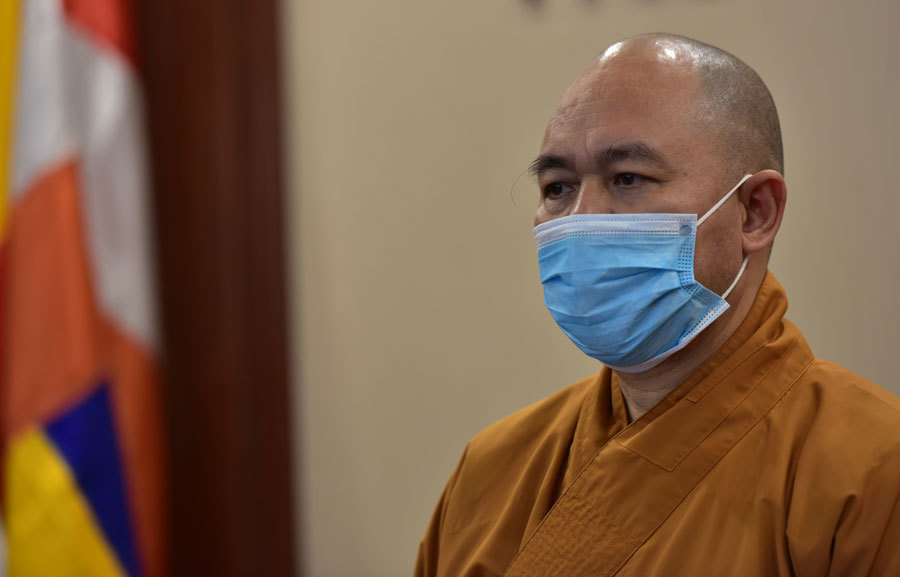 Most Venerable Thich Duc Thien, BSA's Vice President and General Secretary.
Most Venerable Thich Duc Thien, BSA's Vice President and General Secretary, on February 23 met with the press to explain the plan to allow people to offer donations and make offerings via e-wallet, which began during the Tet holiday.
In recent days, some pagodas have begun doing so. This has raised concern among Buddhists that this might be a scam in the 4.0 era. What do you think about this?
The Vietnam Buddhist Sangha has released documents guiding Buddhists and pagodas to have the anti-epidemic spirit at the highest level and ensure that spiritual needs are satisfied during the spring festival, which is a long standing traditional culture of Vietnamese people.
The Vietnam Buddhist Sangha implemented online Lunar New Year peace praying ceremony and many pagodas organized online prayers well.
Many pagodas plan to organize peace praying programs on the 15th day of the Lunar New Year. The Vietnam Buddhist Sangha, via its social network, has opened a portal to take registrations for online peace praying.
The Vietnam Buddhist Sangha believes that praying for peace is what everyone wishes for. Together with praying for peace, people may want to offer donations. This is voluntary.
In an effort to avoid gatherings, the Vietnam Buddhist Sangha decided to create conditions for Buddhists to offer donations via e-wallet. This has been piloted at some pagodas. To date, 12 pagodas have accepted online donations and offerings.
Some scammers could counterfeit pagodas' websites to get donations. What should be done to prevent this?
Accepting donations via an app is a method to prevent scams. E-wallet service providers will serve as the filter.
We plan to release a document to inform the executive boards about the decision to choose MoMo e-wallet. There are some bank accounts which are true accounts of pagodas, while others are counterfeit that need to be blocked.
Online offerings remain a new thing for worship facilities. Have there been any problems so far?
We are living in the 4.0 era and we won't make progress without renovation.
The Vietnam Buddhist Sangha plans to apply this method on a trial basis for three months before reviewing to decide whether to continue it.
I personally think that this will help to avoid gatherings and make offerings transparent. In the future, people will not be putting small change into the hands of statues. 
Tinh Le

Chuong (or Bell) Pagoda in the Red River Delta province of Hung Yen bears historical values of the land in northern Vietnam.

Linh Ung pagoda, one of three biggest and newest pagodas in Da Nang city, is only 10 km away from Da Nang centre to the northeast.