Underage labour investigation ordered after alleged torture of 14-year-old
Bac Ninh authorities on Monday ordered an investigation into underage labour in service and manufacturing units in the province following reports of alleged serious abuse of a 14-year-old boy in a restaurant in the northern province.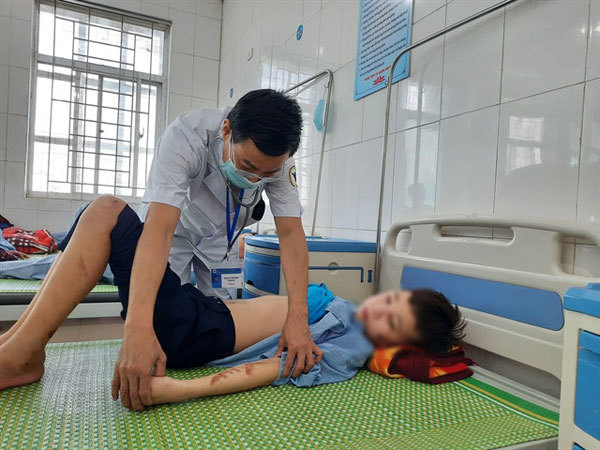 A doctor at Yen Phong District medical centre examines the 14-year-old.  VNA/VNS Photo Thanh Thuong
Bac Ninh police said that around 9pm Saturday last week, they were notified of a boy with "strange behaviour" in Lac Nhue Village, Thuy Hoa Commune, Yen Phong District.
At the Yen Phong District's police headquarters, the boy said he was originally from a rural part of the central province of Quang Ngai.
Back in September, he was brought to Yen Phong by his own older brother to work as 'helper' at a bánh xèo restaurant owned by 44-year-old Nguyen Thi Anh Tuyet from Quang Ngai Province, and her 45-year-old husband Ngo Thanh Vu from HCM City.
The child told police he was beaten so many times during work there that he decided to run away on Saturday.
After some questioning, police moved him to Yen Phong District medical centre to be examined and so far, his physical and mental conditions appears to be stable.
On Sunday, Yen Phong District ordered immediate search and temporarily detain Nguyen Thi Anh Tuyet for the act of "torturing others" under Criminal Law.
Voice of Vietnam newspaper noted that according to a worker at the restaurant, they had to work from 7am to 4am the next morning, and their living conditions were terrible.
They had to sleep on the cold ground without any beds and they had had no decent meals since working there, making do with the leftovers from customers.
It is reported that Tuyet herself is taking care of her baby, who is younger than 36 months old.
The police said the woman claimed her beating of the boy was because he was stealing money, and eating from the orders.
On Monday morning, representatives from Bac Ninh's labour and social affairs department have come to the medical centre to see the boy and present him with gifts.
A report will be sent to Bac Ninh People's Committee before December 25 this year, it said.  VNS

Children need to be protected from child labour more than ever due to the devastating impacts of the COVID-19 crisis, experts said during a virtual interactive panel discussion held in Hanoi last week.