Two Laotian men caught with 100,000 pills of synthetic drugs

Border guards operating in Dien Bien province have co-operated with their counterparts in Laos to successfully arrest two Laotian traffickers as they were in the process of transporting a large quantity of drugs into Vietnam.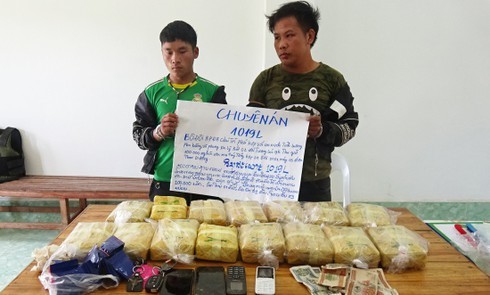 Two Laotian men are caught with 100,000 pills of synthetic drugs (Photo: Anh Dung/bienphong.com.vn)
The two Laotian suspects first raised the suspicions of police forces after attempting to enter Vietnam illegally on November 13 following their journey from Oudomxay province to Phonthong district.
After conducting a search of the suspects, police were able to seize 100,000 pills of synthetic drugs, a car, and a motorbike.
Upon questioning, the Laotian men told police that they had purchased the drugs in the notorious area known as the Golden Triangle. They had then brought the narcotics to Laos where they had planned to smuggle them into Dien Bien province, before transporting them to Lao Cai province for the purpose of selling them.
Local police are currently completing the necessary procedures ahead of handing the two suspects over to police forces in Laos. VOV

Investigative police in Dien Bien have arrested two suspects for their alleged involvement in a transnational drug trafficking ring, with 220 packs of heroin, weighing 77 kilograms, being seized.  

Drug trafficking around Vietnam's borders has become more complicated as the country has become a transit hub for traffickers.

Crimes related to drug dealing and trafficking had been on the rise in HCM City in recent years, said Đinh Thanh Nhàn, deputy head of HCMC Police.