Tropical low depression develops into storm
A tropical low-pressure system has developed into a storm, internationally named Koguma, becoming the second hitting the East Sea since the beginning of this year.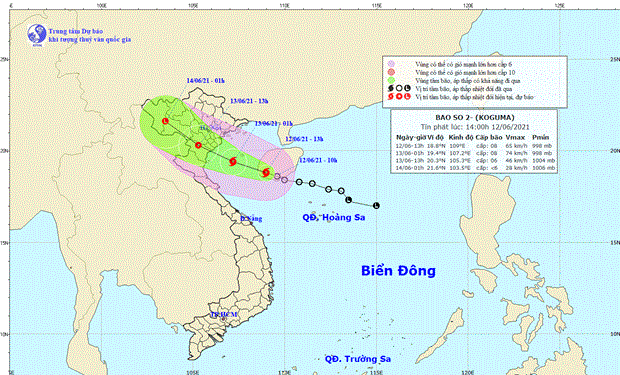 The position and direction of storm Koguma. (Source: nchmf.gov.vn)
At 1pm on June 12, the storm's eye was at around 18.8 degrees north latitude and 109.0 degrees east longitude. The strongest wind near its eye was 60-75 km per hour, according to the National Centre for Hydro-meteorological Forecasting (NCHMF).
The storm is forecast to move in the west-northwest direction at a speed of 15-20 km per hour.
At 1am on June 13, the storm is off the coasts from Hai Phong to Nghe An, with the strongest wind close to the storm's eye reaching level 8 (60-75km per hour), with gusts at level 10.
In the next 12 hours, the storm is forecast to keep the the west-northwest direction at a speed of 15-20km. It will make landfall and impact the northeastern and north-central localities before weakening into a tropical depression.
Under the influence of storm Koguma, provinces from Thanh Hoa to Thua Thien-Hue would experience medium to heavy rains between 80-150mm on June 13. Heavier rains, with up to 350mm was also predicted to hit the northen delta region and provinces of Hoa Binh, Son La, Phu Tho, Thanh Hoa-Quang Binh. Heavy rain in the northwest region is likely to last through June 14.
The Central Steering Committee for Natural Disaster Prevention and Control has held an urgent meeting on June 12 to direct agencies to prepare for the tropical low-pressure system.
Tran Quang Hoai, deputy head of the Central Steering Committee for Natural Disaster Prevention and Control, asked the Committee's office to collaborate with the Directorate of Fisheries and the Command of the Border Guards, to monitor ships operating in the affected area of the tropical depression, keeping regular communication with the owners of the vessels to handle incidents that might occur.
Vessels are instructed to move to a safe shelter and localities are requested to ban vessels from going out to sea if necessary.
Hoai told relevant agencies to ensure the safety of tourists on the islands; safety at aquaculture floating cages, dike works that are under construction. They are also directed to be ready to protect agricultural production, low-lying areas, urban areas, and industrial parks.
VNA

A storm with the international name of Choi-wan has appeared in the central Philippines.

About 12-14 storms could hit the East Sea this year, with around half expected to directly affect Vietnam's mainland, a meteorologist has said.