Traffic accidents in HCM City drop during peak period

HCM City saw a year-on-year reduction of 28 traffic road accidents, 30 deaths and six injuries during the peak traffic period from December 15 to January 30, according to the city's Road and Railway Traffic Police Unit (PC08).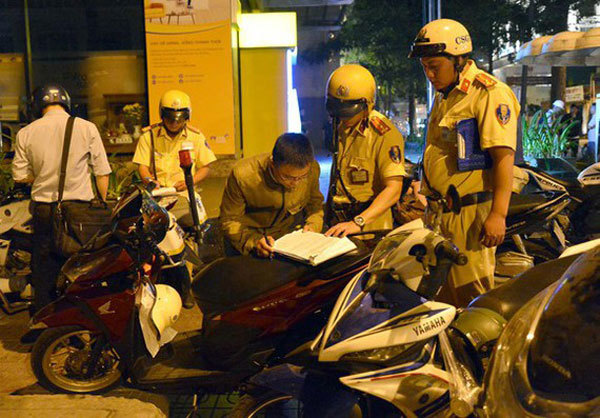 The number of traffic accidents, deaths and injuries fell in HCM City during the holiday period thanks to preventive measures. — Photo www.sggp.org.vn

The PC08 has announced that during the 45-day period the city recorded 64 traffic road accidents, causing 59 deaths and seven injuries.
The peak season includes multiple holidays such as Christmas, New Year's Day, and Tet (Lunar New Year) when the number of traffic accidents often rises.
Increased inspection and patrols were organised to detect and punish traffic law violators.
There were no reports of railway and inland waterway accidents during the period.
Around 56,230 traffic violations were discovered and fined during the period. Total fines collected stood at more than VND31.3 billion (US$1.35 million).
Traffic police temporarily held 303 cars, 6,310 motorbikes and 45 rudimentary vehicles that violated traffic laws.
More than 6,000 drivers had their driving licenses revoked and temporarily seized. Of the figure, there were 3,115 alcohol-related driving law violations, 10 violations of drivers using drugs, and 30 cases of fake number plates.
Since the beginning of this year, the city's traffic police have fined 1,747 people driving under the influence of alcohol and imposed penalties of nearly VND9.8 billion ($421,000) on violators. The violations included 65 cars, 1,681 motorbikes and one rudimentary vehicle. Traffic police revoked more than 1,380 driving licenses during that time. — VNS

HCM City hopes to reduce traffic accidents, fatalities and injuries by 5-10 per cent this year, People's Committee chairman and head of the city Traffic Safety Board, Nguyen Thanh Phong, told a workshop on Wednesday.

The HCM City Department of Transport is making plans to streamline traffic and ensure safety during the festive season in late 2019 and early 2020.

Nguyen Ngoc Tuong, deputy chief of the HCM City Traffic Safety Committee, talks  about the city's traffic situation and solutions to ensure traffic safety