Thu Duc City, districts in HCMC asked to assess pandemic risk every week
Thu Duc City and all districts in HCMC must assess their pandemic transmission risk in line with the Government's Resolution 128 on safely and flexibly living with the pandemic every week,
according to a document that the municipal Department of Health sent to district-level anti-Covid steering committees.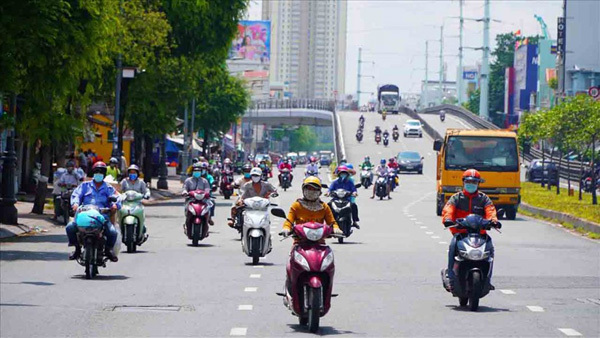 A street in HCMC is crowded after the city eased mobility restrictions. Thu Duc City and districts in HCMC must assess their pandemic transmission risk every week. - Photo: LDO
Districts must look at three criteria—the number of community-infected cases, the vaccination rate and the treatment capacity—to report their pandemic transmission risk every Friday, the local media reported.
The Government issued Resolution 128 on October 11 with four pandemic transmission risk levels—low, moderate, high and extremely high.
The anti-Covid steering committee of districts must report their risk and solutions for areas within their precincts that experience complicated pandemic situations to the municipal anti-Covid steering committee.
The municipal anti-Covid steering committee will publicize the pandemic transmission risk levels of districts on the city's Covid-19 portal and the Ministry of Health's portal.
Director of the HCMC Department of Health Tang Chi Thuong said the city had yet to fully achieve the new normal. It has basically brought the pandemic under control and downgraded its pandemic transmission risk from extremely high to high.
Once the city can further downgrade the risk to low, it can completely return to a new normal.
Source: Saigon Times

Although the fight against the Covid-19 pandemic in HCMC has shown positive results, the city will not be able to fully achieve new normal by November, said municipal chairman Phan Van Mai.

To effectively reopen the economy, HCM City has asked the Government to allow the city to apply its own regulations and a cooperation mechanism among localities.