Three sites under lockdown in HCM City after illegal entry COVID-19 case quarantined
A hotpot restaurant and a karaoke bar in HCM City have been locked down after a 23-year-old man tested positive for coronavirus, linked to a previously reported patient that entered Vietnam illegally on December 24.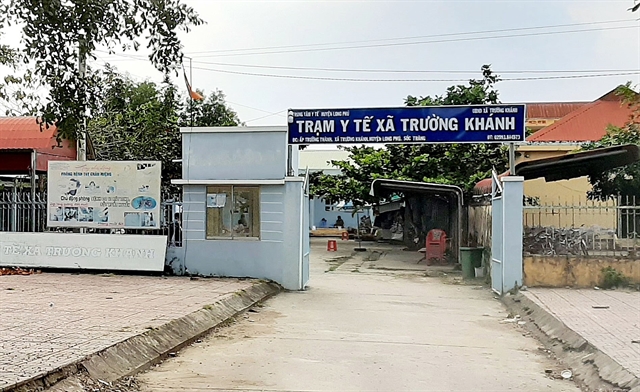 Passengers who hired the driver who transported a group of illegal entries into Việt Nam, including now two confirmed COVID-19 cases, in the southern provinces have been placed under quarantine for monitoring at Truong Khanh Commune medical station, Long Phu District, Soc Trang Province.
ABU restaurant, at 32/10 Bông Sao Street, Ward 5, District 8, and Su Su karaoke bar at 181 National Road 50, Ward 6, District 8, were closed and disinfection was carried out.
District 8's medical station is also asking those who have come to these places to report themselves to the nearest medical stations.
The latest case, Patient No.1,451, whose registered residence was in Sư Vạn Hạnh apartment building in District 5, was deemed to have been staying in Myanmar with Patient No.1,440, before their group comprising six other Vietnamese crossed over Thailand and Cambodia to illegally enter Việt Nam on the early morning of December 24 and avoided 14-day mandatory quarantine.
Sư Vạn Hạnh building has been under lockdown and tenants are asked not to leave their apartments, while local police officers have been deployed to guard the place.
Thirteen close contacts of the man, including his girlfriend, a motorbike taxi driver, and those who joined him at the restaurant and the karaoke venue, were placed under centralised quarantine and got tested.
Forty-eight second-hand contacts – those who have come into contact with the above 13 – were also asked to self-isolate at home.
Upon illegally entering Việt Nam at Long Bình border gate, An Phú District, An Giang Province, the two COVID-19 patients, in addition to three other Vietnamese citizens, hired a seven-seat car to return across the southern region.
An Giang Province has identified the driver on Monday, a 30-year-old man named M.V.T, residing in Vĩnh Lộc Commune, An Phú District.
Trần Hoà Hợp, Chairman of An Phú District People's Committee, said the local authorities found him while he was transporting passengers to a funeral.
After transporting the group entering Việt Nam illegally, the driver failed to disinfect his car and went on to transport a number of teachers and officials of Vĩnh Lộc Commune to be treated in hospitals in HCM City, Hợp said.
Eight of them had to be quarantined.
Another woman on the same ride is currently being quarantined at Sa Đéc Hospital, Đồng Tháp Province, while three others in the illegal entry case remain unaccounted for. 
One woman who reportedly got down from the car at Hậu Giang Province is suspected to be among the three and local authorities are calling for this woman to come forward.
Further epidemiological investigation is ongoing to prevent the spread of coronavirus in the community.
The police on Monday said they are compiling documents to prosecute the case of illegal entry and breaches of COVID-19 prevention and control regulations.
So far, all direct contacts of Patient No.1,440 have been negative for coronavirus in their first test.
Along with the man recently discovered to be infected in HCM City, Việt Nam on Monday reported nine imported new cases of COVID-19, all from Russia.
They are being quarantined in Khánh Hòa Province after landing at Cam Ranh International Airport on December 25.
The latest cases pushed the country's total caseload to 1,451, with 35 deaths and 1,318 recoveries following another 15 patients given the all-clear today. — VNS

Prime Minister Nguyen Xuan Phuc on December 27 night issued a dispatch requiring urgent tracing of those who had contact with COVID-19 patient No. 1440, thus preventing the spread of the coronavirus in community.