Teacher helps F0 students in COVID-19 pandemic
Late one night in August, Nguyen Minh Hoang, a teacher at a secondary school in HCM City, received a message from one of his students.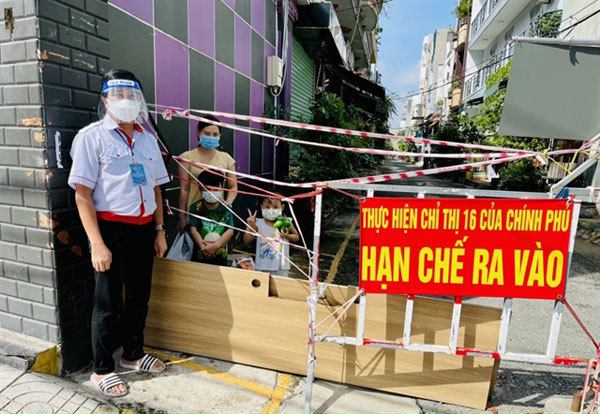 Nguyen Minh Hoang transports essentials such as medicine and food to F0 students of Vo Thanh Trang Secondary School in HCM City. Photos courtesy of Nguyen Minh Hoang
The message read: "Teacher, please help my family with the medicine for COVID-19 treatment. All five members of my family have become F0 and are home quarantining. Two people are over 65 years old with underlying diseases, one is a nine-year-old boy."
Hoang replied immediately: "I am here, don't panic." He asked for more information about the family members, prepared medicine for them and jumped on his motorbike to deliver the package.
When he arrived, Hoang guided the student on how to monitor his family's health and told the student to call him at any time if he needed more help.
"It's only ten kilometres from my house to the student's, but I only arrived at midnight as I had to find many different ways to travel due to the strict social distancing," Hoang said.
"Seeing my student's happy face when I arrived, I felt like all difficulties had passed," he said.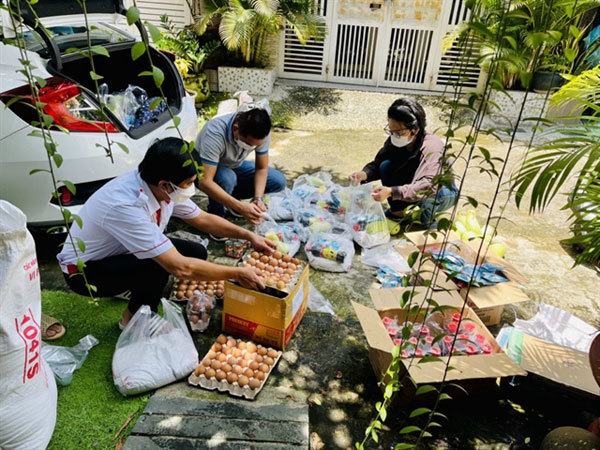 Hoang has spent his savings on food for those in need. 
Hoang teaches at Vo Thanh Trang Secondary School in HCM City's Tan Phu District. When the COVID pandemic forced schools to close, he volunteered to support people who needed help, spending his savings on food and medicine for those in need.
"Providing medicine for F0 patients, who are allowed to home-quarantine, is very urgent. I rush to give them whatever I can when I receive a call or message for help. It is hard work, but I am very happy," he said.
Hoang said since the end of May, when the outbreak occurred in the city, he temporarily put aside his work at school and became a frontline volunteer in the fight against COVID-19 in Go Vap District. He helped local people at vaccination sites, COVID-19 testing sites, and bought food for those in quarantine.
When the city applied stricter social distancing, he volunteered to work at checkpoints. In order to successfully complete this work, while minimising his exposure to COVID-19, he attended a training course and researched virus transmission to protect himself. This training and knowledge made him more confident in his charity work.
Hoang said there was a time when he received more than 20 messages asking for help. In some cases, he contacted a doctor for advice. 
When the new academic year began, Hoang volunteered again, this time to ship books for students to study online. He had to wake up at 5am and work through to 11pm to ensure that every student had enough learning tools to study.
Sharing the reasons for all his hard work, Hoang said he wanted to inspire students and provide them with some comfort through these tumultuous times, supporting them when they need it the most.
Hoang has been awarded a certificate of merit by Vo Thanh Trang Secondary School for his volunteer work in local pandemic prevention.
Source: Vietnam News

"The stories about my students who had an exam in the epicenter have given me more strength not to shrink back from difficulties in my life," Le Khanh Tuan, a lecturer of the Saigon University, writes in the following essay:

Truong Gia Binh, Chairman of the FPT Board of Management decided to open a school for 1,000 children who lost their parents to COVID-19.