Students drop out following exams fixing scandal
Dozens of university students have dropped out after investigations showed that they gained their places by cheating.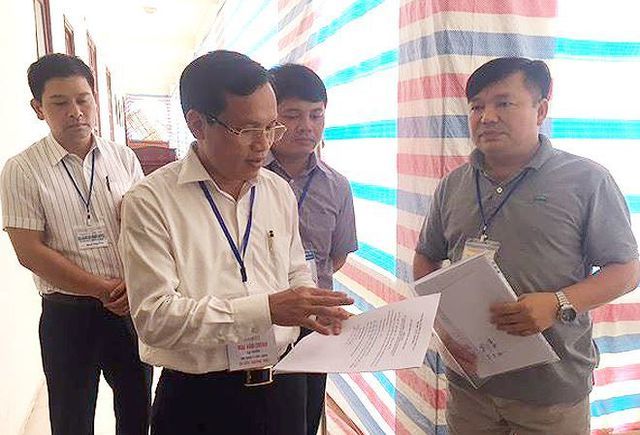 Head of the Authority of Examination and Quality Management under the Ministry of Education and Training, Mai Van Trinh (left) checks the preparation for the national final exams in Hoa Binh Province
With 27.75 points, a student from the northern province of Hoa Binh had the highest score among new students at Hanoi National University of Education in 2018. However, an on-going investigation into the shocking high school exam cheating in the province showed that she got just 12.9 points, with maths 4, history 5.75, geography 7, civic education 7, English 3.4, and literature 8.75. So her score was raised by 14.85 points.
In a ceremony held by the university to honour fresh year students with high score, the student said that she heard rumours about the exam cheating in her hometown but was confident and sure that she did the exams herself.
But she recently quit her studies after her name was in the list of students with modified exam score.
Another student from Hoa Binh who had the highest score of 28.2 points among newly admitted students to the Army Officer Training School 1 (also known as Tran Quoc Tuan University) in 2018 was recently found to have got just 1 point.
In the mark sheet announced last year with the highest scores given to each subject of 10, he got 9.2 for maths, 9.75 for physics, and 9.25 for chemistry. However, when his papers were remarked following the investigation, he was given just 1 point for maths, 0 for physics and 0 for chemistry.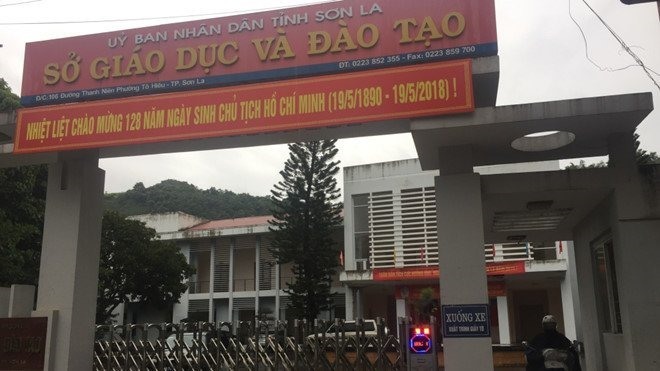 The office of Son La Province's Department of Education and Training. — baogiaothong.vn
A representative from Tran Quoc Tuan University told Dantri/Dtinews Newspaper on April 16 that he resigned his place when the investigation began.
Two more students from Hoa Binh Province who got the highest scores to be admitted to the Hanoi-based Military Academy of Logistics have also been found to have their scores raised by 14 and 18.8 points.
An official at the Military Academy of Logistics said that one of them have decided to drop out during the investigation while the other would also be dismissed.
The Ministry of Public Security have also dismissed 53 students from Hoa Binh and Son La provinces from the ministry-run schools after finding that they had their scores raised in the 2018 national final exams.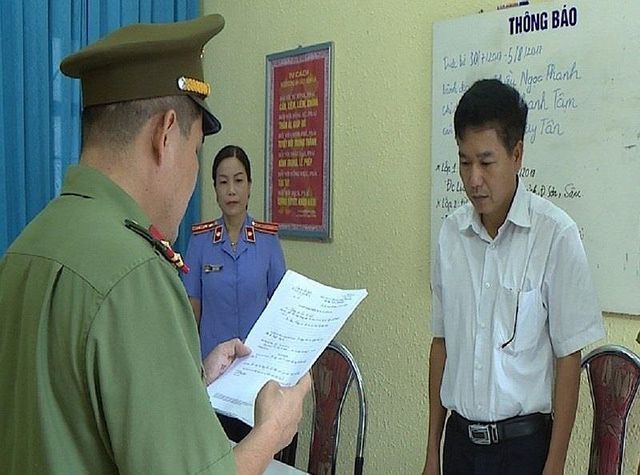 Police prosecute deputy director of Son La Provincial Department of Education and Training Tran Xuan Yen for involving in the exam cheating in the area.
In a recent meeting with local media about the issue, Head of the Department of Defense School Management, Tran Huu Phuc said that many students with highest scores to military schools did not turn up in 2018.
Investigations have shown that 64 pupils in Hoa Binh and dozens of others in some northern provinces of Son La and Ha Giang had their scores modified after taking the national high school examination last year.
Many pupils who had their scores modified are children or relatives of local officials.
Dozens of education officials were accused of taking advantage of their position to manipulate the multiple-choice test scores. All the modified test results will be dismissed. Dtinews