State strictly controls trading, transport of smuggled pigs

The General Department of Market Surveillance under the Ministry of Industry and Trade has requested its branches in some southern provinces strengthen inspection and control over the trading and transport of smuggled pigs.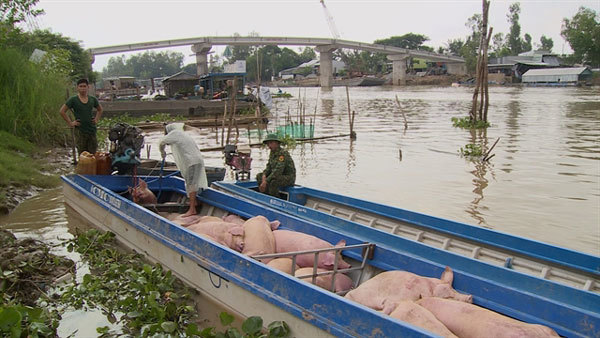 A boat of smuggled pigs from Cambodia to An Giang Province. State offices in some southern provinces are asked to strengthen control of trafficking and transport of smuggled pigs in those provinces. VNA/VNS Photo Cong Mao
These provinces are Kon Tum, Gia Lai, Dak Lak, Dak Nong, Binh Phuoc, Tay Ninh, Long An, Dong Thap, An Giang and Kien Giang.
The trading and transportation of smuggled pigs and products processed from the animals across the border between Vietnam and neighbouring countries continue to be a problem as African swine fever is still prevalent there.
In border areas, the department requests its branches in those provinces to coordinate with the Border Guard, Customs and Public Security to inspect, control and prevent trading and transportation for banned, smuggled, counterfeit and commercial fraud goods as well as smuggled pigs, chinhphu.vn reported.
In the domestic market, these departments must coordinate with the traffic police to check and prevent the trafficking and transport of those pigs.
They must also cooperate with the Department of Agriculture and Rural Development in inspecting and controlling wholesale markets and poultry slaughter centres to detect and strictly handle acts of trading products that are processed from smuggled and unknown-origin pigs and pigs not meeting veterinary hygiene and food safety requirements.
The departments strengthen the coordination with the communication agencies to inform business organisations and individuals in the localities about regulations on food safety and the harm of using and trading smuggled and unknown-origin pigs. VNS

Local pig farmers desperately wanted to recover their pig herds amid the pig undersupply and price upsurge on the local market, but existing conditions are not favorable for the effort.  

The Ministry of Industry and Trade over the past few months has proposed solutions to the prime minister to stabilize the local market in the lead up to the upcoming Tet holiday early next year.

The strong demand in China for pigs, due to its year-long struggle against African swine fever, has caused local pig prices to surge over the past week. However, the local market is also facing a pig undersupply.