State employee in HCM City arrested for alleged child molestation

A male State employee working at the HCMC Social Support Center has been detained for allegedly molesting two children living at the center, reported the local media.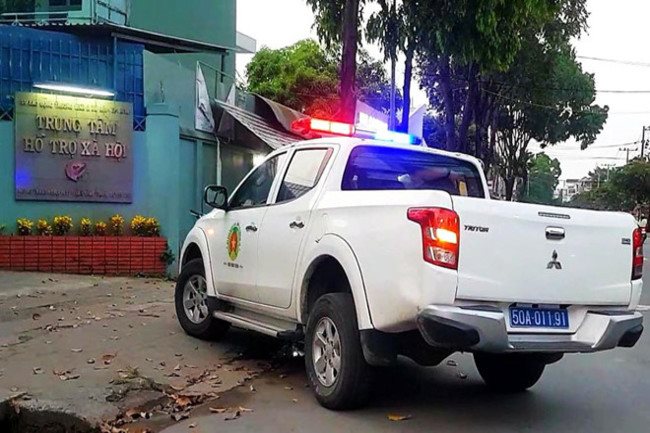 A police car is parked in front of the HCMC Social Support Center in Binh Thanh District on November 17, 2019. It was reportedly used to transport Nguyen Tien Dung to the center to assist with the investigation - PHOTO: THANH NIEN ONLINE
Investigators in HCMC's Binh Thanh District on November 17 issued a warrant for the arrest of Nguyen Tien Dung, an employee at the center's education counseling and application management division, under the HCMC Department of Labor, Invalids and Social Affairs, according to a representative of Binh Thanh Police Agency.
Aside from detaining Dung, the police have questioned various individuals.
Relatives of the victims had denounced Dung to the local police. According to their statements, K.A. and K.D., who were found wandering the streets in May, had been brought to the center for further care and education. However, neither of them wanted to remain at the center.
On learning that the two teenagers wished to either return to their homes or continue living on the streets, Dung found ways to approach the girls and allegedly sexually abused them. After that, Dung gave them cigarettes, soft drinks and boiled water to cook instant noodles and promised to take steps to let them go home or attend school soon.
At a local police station, Dung confessed that he had molested the girls.
Earlier, the leader of the municipal labor, invalids and social affairs department had chaired an urgent meeting at the center to discuss Dung's case. At the meeting, Dung reportedly admitted to his crimes. Apart from the two named victims, he also molested L.T.K.T, 15, and lured T.B.N, 12.
The center on November 17 issued a decision to suspend Dung from work for 15 days while it considers disciplinary measures, in line with prevailing regulations. SGT

The Ho Chi Minh City People's Court on Wednesday upheld the 18-month sentence for the former deputy director of Danang City People's Procuracy, Nguyen Huu Linh who was accused of sexually abusing children under 16.  

HCM City People's Committee has proposed to set up a special child protection force amid the rising number of child abuse cases.