Startup upcycles tarps to make backpacks
A durable recycled backpack made of used tarp and selling for VND890,000 (US$38.6) is the signature product of Dòng Dòng, a new brand name in sustainable fashion in HCM City.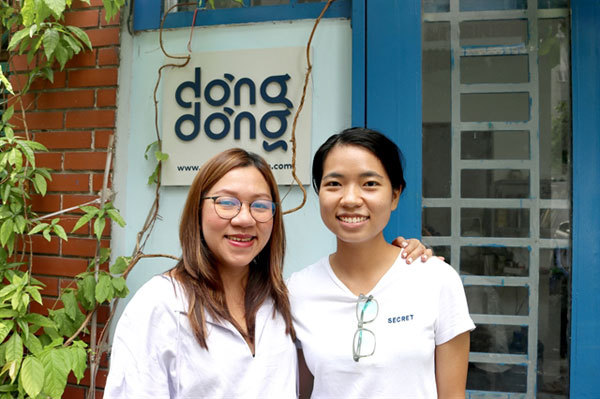 Dong Dong co-founders Kieu Anh (left) and Tu Quan. VNS Photo Hoang Nhu Nhu
"This idea suddenly came to us when we recognised that people used lots of plastic tarps in advertising and coverings, but there were no solutions to reuse or recycle it," said Tran Kieu Anh, a co-founder of Dòng Dòng.
Dòng Dòng was started three years ago by Kieu Anh, Thao Trang and Tu Quan who wanted to create useful and remarkable things.
All of the products are completely handmade. 
The group collects materials that were once used as awnings and truck tarps around HCM City. However, the used tarps are not always available so they spend a great deal of time looking for raw materials. 
Recycled material such as tarps and waterproof pads of old aprons account for 80 per cent of the backpack. The other components such as straps, zippers, and tags are new.
No two products share the exact same pattern and colour palette at Dòng Dòng even though they are made from the same kind of tarp.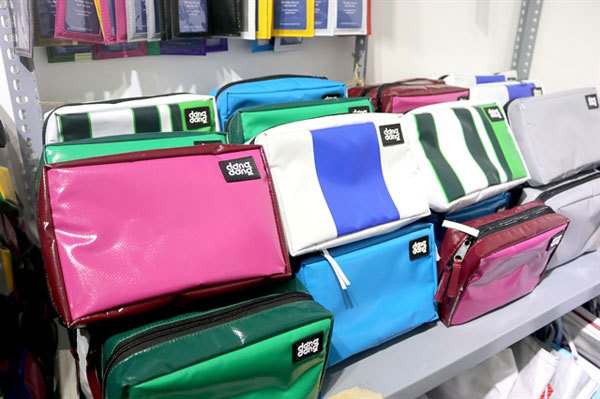 A colourful pencil case is a popular choice for students because of its reasonable price and trendy design.  VNS Photo Hoang Nhu Nhu
Each design is made according to the colour of the tarps collected.
"No one in the world has sewn tarps. We are the first. So, we had to face various obstacles because of lack of references," Anh said. 
"I once tried sending tarps and designs to textile factories. However, the product did not meet our standards. So, we decided to do it on our own, which means it definitely takes much more effort to finish one," she said.
Tu Quan, the co-founder of Dòng Dòng who is in charge of business activities, said: "The biggest burden is how to avoid the conflict between the criteria to be Fashionable and Useful and Sustainable. We don't encourage people to buy more because it goes against the sustainable factor."
"However, we also need a wider customer network. So, we developed more types of products to meet all the needs of people." 
In the near future, Dòng Dòng will have a trading programme for customers that will allow people to exchange their items with others. By doing this, both parties will be able to try new kinds of products without buying a new one.
The price of each backpack is a bit higher than other Vietnamese brands. 
"Each brand has different production methods and targeted customers. Therefore, we cannot do it on a large scale," said Quan.
Dòng Dòng has two main product lines: backpacks and accessories. Each accessory has a price under VND300,000 (US$13). 
The main customers of Dòng Dòng are office workers who care about eco-fashion. They do not find it difficult to pay the price for a unique and environmentally friendly product.
Dòng Dòng is also a popular choice for foreigners who live in Vietnam.
"Through Dòng Dòng, we also somehow want to change people's views about recycled products. It is not recycling. It is up-cycling. People are buying a new, interesting backpack that is made from recycled tarps rather than a recycled one," Quan said.
Dòng Dòng has trendy designs that are environmentally friendly and sustainable. All of those factors combine well to form a special, creative product of the Vietnamese people.
Customers can shop online at the Dòng Dòng official fanpage and offline at their consignment stores in HCM City, Da Nang and Hanoi.  
VNS

Young designer Le Ngoc Ha Thu has taken first prize in the menswear category at the Redress Design Award 2020, which is the world's largest sustainable fashion design competition and hosted by Redress in Hong Kong in September.

For Nguyen Thi Xuan Hang, a plastic straw was the one that broke the camel's back.