Solidarity not stigma needed to fight COVID-19 pandemic
More than a year after being infected with SARS-CoV-2 and recovering from COVID-19, the woman known as Patient 14 in Vietnam can't get over what she experienced.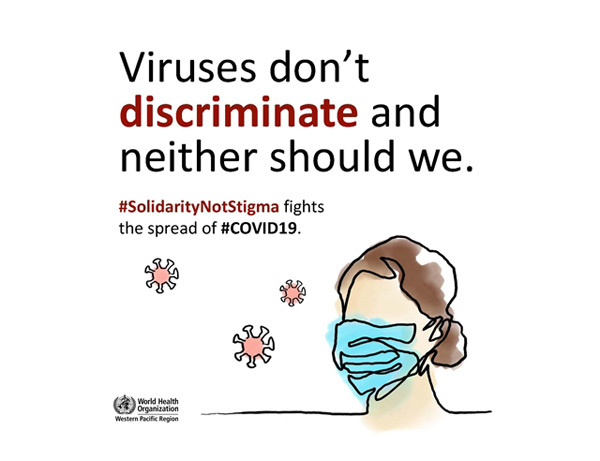 Photo courtesy of the World Health Organization.
"Almost everyone accused me of spreading the disease to my village. Everyone including my relatives kept away from me and said bad words to me," the woman from Son Loi Commune, Binh Xuyen District in the northern province of Vinh Phuc said.
Many people told her that she was so irresponsible towards the community for partly causing a 14-day lockdown of the commune from February 13, 2020.
"I did not know what to say but apologise," she said.
Son Loi Commune was the first COVID-19 cluster in Vietnam when the pandemic hit the country early last year.
At that time, COVID-19 patients and residents greatly feared the new and largely unknown disease.
Their fear rose when they saw reports about the increasing number of COVID-19 deaths in China's Wuhan City at that time.
Fear and worry can tear communities apart and begin dividing the world into 'us' and 'them'. That's how stigma starts.
The patient from Vinh Phuc said that she did not accuse the girl who infected her with the coronavirus as she understood she was also suffering from public outrage and discrimination.
"She apologised to me but I told her that it was not her fault or my fault, it wasn't anyone's fault as no one intended to get the virus," she said.
In her neighbourhood, SARS-CoV-2 positive people were seen as "different from others" as were medical workers who took care of the COVID-19 patients. So were their family members.
A medical worker of Binh Xuyen District said discrimination from her neighbours and acquaintances was worse than the hardships of her job.
Some medical workers reassured themselves that as people kept away from them, the risk of infection would reduce.
Time has passed and Vietnam is now facing the fourth wave of the COVID-19 pandemic. The fight against COVID-19 is now tougher than ever with new variants of SARS-CoV-2, increasing the number of infections in industrial zones and crowded cities. 
However, things have changed greatly as we have learnt a lot about the virus. We have accumulated experience to trace and identify suspected cases to stop the virus from spreading. We have experience treating and dealing with COVID-19 cases. We are well aware that solidarity can help us win in the fight against the pandemic like in the three previous waves.
But, sadly, the stigma against COVID-19 patients remains.
Early last month, a group of 12th graders in Bac Ninh Province tested positive for SARS-CoV-2 after serving food and drinks at a wedding party in Mao Dien District, Thuan Thanh District.
One of the students said that he agreed to serve the wedding party to get VND230,000 (less than US$10) as his family faced financial difficulties.
As soon as he learned people positive for SARS-CoV-2 had attended the party, he and his friends submitted health declarations at the local healthcare centre and were taken to a quarantine area.
However, his personal information including his name, age, his parents and his house address were publicised regularly via the local loudspeaker system.
"Many villagers said that just to earn some money, we brought the disease to the village," he said.
"Villagers criticised not only me but also my parents," he said.
"When I returned home, I didn't dare to go around my village," he added.
A woman in Hanoi's Cau Giay District said that when she was suspected to be infected with the virus and taken to a quarantine centre in an ambulance, right after she showed up at her building's entrance, there was a group of people waiting, taking photos and videos of her.
"For the first time in my life, I felt that I was an A-list celebrity. Just kidding," she said. "Honestly, they made me feel like I was a criminal," she said, noting that at that time, she had just had contact with a confirmed COVID-19 case and was not confirmed as infected yet.
According to the World Health Organization, stigma and discrimination towards one person is a risk for all people.
Evidence shows that stigma due to coronavirus leads to a reduction in people seeking medical care or testing and a reduction in people adhering to interventions like self-isolation.
This can lead to cases not being reported and more people being exposed which makes responding to outbreaks more difficult.
Viruses don't discriminate and neither should we. 
Responsible communications
To help authorities quickly trace, identify and contact people who are vulnerable to COVID-19 exposure, people positive for the virus in Vietnam are required to provide their personal information, travel itinerary and contact history.
In cases where there is a high possibility of a disease cluster, a COVID-19 patient's travel and contact history are made public via mass media so people who went to certain places at certain times related to the travel history could be informed and then, contact authorities for health declaration and testing.
The information is mostly announced by provinces/cities' Centres of Diseases Control based on what patients report. The information is first publicised on mass media and then goes viral on social networks, drawing much public attention as it is useful to curb the disease spreading in the community.
However, in some cases, rumours and modified stories have superseded the original information. 
As a result, many COVID-19 patients had to suffer not only illness but also stress, discrimination, rumours, accusations and public outrage.
Seeing the disadvantages of such communications, the Ministry of Information and Communication recently asked the Ministry of Health to adjust what kinds of information about COVID-19 patients it publishes.
The health ministry and relevant agencies have agreed to publicise less detailed identity information and travel and contact history of COVID-19 patients.
Only places where SARS-CoV-2 positive cases went to will be made public so people who went there at certain times can take measures to protect themselves and others.
The change has been in place since late last month and has been praised by many people.
Better late than never, the change could help ensure the privacy rights of COVID-19 patients and reduce public stigma against them.
VNS

Along with the 5K message, Vietnam is strictly implementing three counterattacks: large-scale testing; implementation of a vaccine strategy; and application of technology for Covid-19 tracing.

Ngo Van Minh, a teacher at Archimedes Academy, a secndary school in Hanoi, has raised VND230 million from selling maize and running an online class to buy medical equipment for use in Bac Giang, the current Covid epicenter.