Soldiers protect southern border from drugs

Drug trafficking around Vietnam's borders has become more complicated as the country has become a transit hub for traffickers.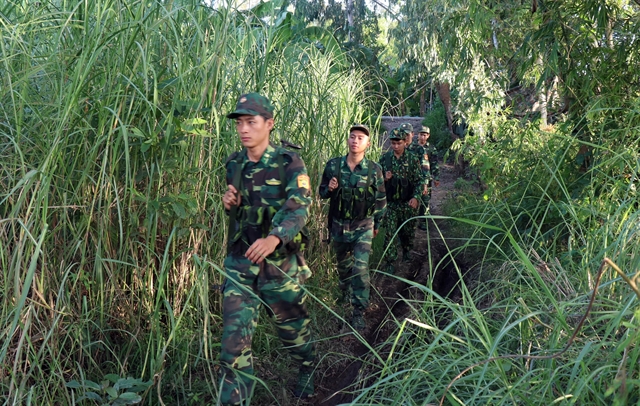 Soldiers at the Vĩnh Xương International Border Gate on An Giang Province patrol a border route. 
Lieutenant Colonel Vũ Trọng Tuệ still remembers one of his first investigations into drug trafficking as a member of the Southern Border Guard Soldiers' Department of Drug and Crime Prevention.
It was almost 10 years ago when the Southern Border Guard Soldiers team learned some traffickers planned to transport drugs in a seven-seat car and decided to chase after the criminals, after two prior failed attempts to apprehend the group.
In April 2010, in Ninh Thuận Province the traffickers realised they were being followed and suddenly changed direction towards Phan Rang City.
No matter how crowded National Highway No 1 was, the traffickers drove very fast, sometimes at 100km per hour and shot at the soldiers, Lieutenant Colonel Tuệ recalled.
The criminals drove for 30km and abandoned the car when encountering a road without an exit in Bảo An Ward, Phan Rang.
It was not until 1pm the next day that the soldiers found where the traffickers were hiding, arrested them and seized 20 bricks of heroin. Two police officers and one sniffer dog were injured in the firefight with the criminals.
For Lieutenant Colonel Tuệ and his colleagues, the case coded 909C was a difficult one as the team had failed to catch the traffickers on their first two attempts.
No matter how difficult it was, the team did not give up; they never do.
Colonel Nguyễn Trường Thọ, investigation assistant of the team, said case 909C taught soldiers lessons on selecting the right time to attempt to strike, preparation and working with other units.
Hot spots of drug trafficking
Drug trafficking around Việt Nam's borders has become more complicated as the country has become a transit hub for traffickers.
According to United Nations Office on Drugs and Crime, 80 per cent of drugs brought into Việt Nam are bound for another country.
Border guard soldiers in the south have to be vigilant at all times to protect the border from local and foreign drug traffickers.
The number of drug trafficking cases at the end of 2018 and in the first months of 2019 in southern localities has reportedly risen, especially after northern and central localities stepped up a crackdown on drug traffickers.
More and more drug traffickers have fled to the south and Cambodia to produce synthetic drugs, set up drug trafficking rings and transport drugs from Cambodia to Việt Nam for local consumption or to ship elsewhere.
Forty provinces and cities in the south share more than 1,100km border with Cambodia and have nearly 50 international borders. 
That makes the fight against drug trafficking tough for southern border guard soldiers.
According to the Southern Border Guard Soldiers' Department of Drug and Crime Prevention, in the first six months of this year, border guard soldiers nationwide tackled 482 drug-related cases involving 746 criminals and seized more than 2.1 kg of drugs. The number of cases increased by 142 per cent compared to the same period last year.
On the Việt Nam-Cambodia border, 60 people were arrested in 32 cases, with more than 129kg of drugs of different types seized.
Major General Nguyễn Hoài Phương, deputy commander of the Southern Border Guard Soldiers, said drug trafficking was predicted to get more complicated with more hot spots in the south.
Cities, big trade centres and transport links between Cambodia and Vietnamese southern provinces facilitate large numbers of people and goods crossing the border.
This had become a big challenge for border authorities, he said.
The Southern Border Guard Soldiers' Department of Drug and Crime Prevention is a leading agency in the fight against drug trafficking in the south.
Colonel Nguyễn Trọng Việt, deputy head of the department, said drug traffickers were dangerous and had experience of fleeing authorities, and some were even armed.
"The investigation is complicated and requires soldiers to spend time and effort. With professional skills, the border guard soldiers must be careful and follow laws because drug trafficking cases across borders involve foreign factors," he said.
After identifying suspects, the soldiers report to the department and start an investigation if approved. The soldiers work with agencies to probe how drugs are transported, set up plans and select the right time to catch the traffickers.
Over the past 10 years, the team has tackled about 200 cases, arresting more than 400 criminals and seizing drugs and other exhibits including petrol, natural resources, guns and explosives.
On May 24, 2018, the team worked with HCM City's police to arrest 10 drug traffickers and seized 39 bricks of heroin, 26kg of meth and more than 100,000 synthetic drug tablets.
In March this year, the team worked with police and customs to arrest 11 traffickers transporting 300kg of meth and expanded investigation to seize 276kg of meth to be transported to a third country.
The fight against drug traffickers is never easy and many soldiers have shed blood in the battle. Since the team was established in 2009, six soldiers have died on duty and hundreds of others have been injured.
According to Lieutenant Colonel Nghiêm Nam Phong, deputy head of the department's investigation group No1, the soldiers need to be not only determined and brave but also creative. The most dangerous time is when the investigators secretly follow the traffickers and wait for an opportunity to arrest them.
"They need to be not only skilful at their professional skills but also brave enough to overcome challenges and not succumb to temptations such as bribes from the criminals." VNS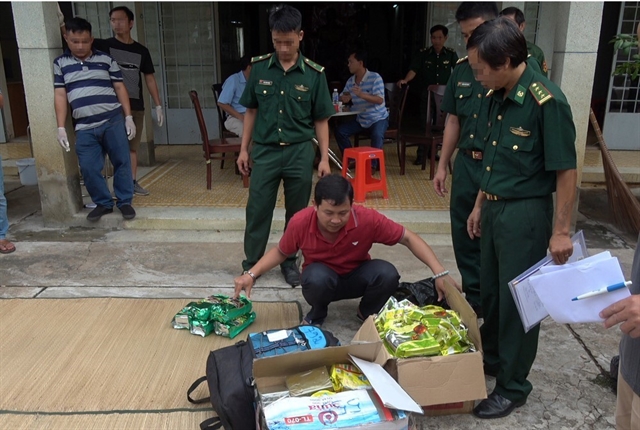 Soldiers arrest a trafficker and drugs in May 2019.