Soc Trang admits failure to uncover giant fake fuel ring

Officials of the Mekong Delta province of Soc Trang have admitted their failure to uncover a major fake gasoline manufacturing and trading ring led by local trader Trinh Suong, 50, chairman and director of My Hung Co., Ltd.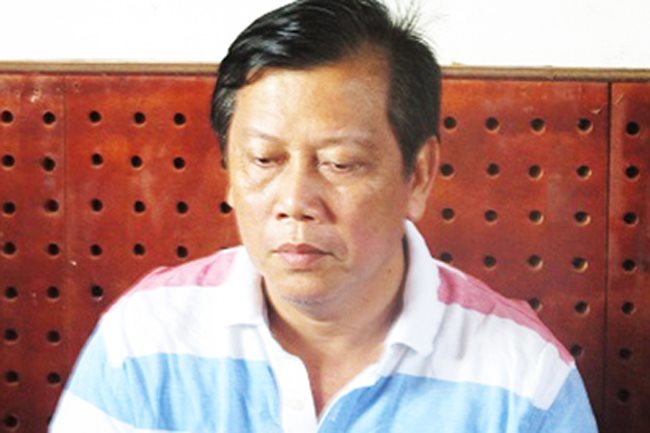 Major fuel trader Trinh Suong, chairman and director of My Hung Co., Ltd, in the Mekong Delta province of Soc Trang, is being held in police custody for allegedly producing and trading fake fuels – PHOTO: POLICE
Earlier today, the Department of Information and Telecommunications held a press conference to discuss the ring. The event was chaired by the province's vice chairman Le Van Hieu, with leaders of some departments and agencies also in attendance.
A reporter of Tuoi Tre newspaper said that Suong was a known oil and gas tycoon, and insiders had long suspected his company of illegal business practices.
The reporter asked why the competent authorities of Soc Trang were unaware of the ring for so long, voicing doubt about their negligence.
In response, Vu Thi Hieu Dong, director of the provincial Department of Science and Technology, said that authorities had carried out checks and inspections at many gas stations, in line with prevailing procedures.
"We examined My Hung Company in particular but did not find any irregularities. The standard review method is to take samples according to regulations and send them to a lab in Can Tho City for testing," she said, noting that there was no cover-up for local businesses, including filling stations owned by Suong.
The province's deputy chairman, Le Van Hieu, said that the case was serious, and that even though local authorities had conducted inspections, they had not discovered violations. He referred to this failure as "the management shortcoming of our province."
Hieu added that the Ministry of Public Security is carrying out further investigations, while the authority of Soc Trang is coordinating with the police. If any agencies or officials are found to have committed violations, they will be held accountable.
Following Suong's arrest, a number of local gas stations have run into problems, according to Vo Van Chieu, director of the provincial Department of Industry and Trade.
Some stations have closed down, but the department is helping them sign contracts with other fuel wholesalers to deal with the abrupt fuel shortfall.
Speaking to reporters on the sidelines of a National Assembly session in Hanoi today, Minister of Industry and Trade Tran Tuan Anh stressed that the ministry is reviewing the regulations and clarifying responsibilities of officials involved in the case.
During the police raids between May 28 and June 2, individuals at six large fuel depots owned by Suong were caught mixing solvents with colorants to produce adulterated fuels at six locations in HCMC, Can Tho City and Hau Giang and Soc Trang provinces.
Investigators seized some 50 kilograms of colorants and more than three million liters of solvents, of which 2.1 million liters had been turned into fake fuels.
So far, investigators have initiated criminal proceedings and detained 23 people involved in the production and trade of fake fuels. SGT