Schools in central region try to overcome difficulties after devastating floods
Looking at a corner of the school, Hoang Thi Duyet, principal of Hien Ninh Primary School feels happy that the lawns and flowers in the school yard have bloomed again after the historic floods that lashed the region two months ago.
She said this was thanks to the school's staff.
"I still remember the first day I went to school about two weeks after the flash floods. I witnessed a scene I have never seen before: The mud and sludge was high up the walls. Dozens of library books were submerged in water. A vast amount of desks, text books and other equipment had been submerged in flood water," said Duyet.
"They were like a pile of scrap in the classrooms and covered in mud," she told Vietnam News Agency.
Nobody thought the flood waters would be so deep.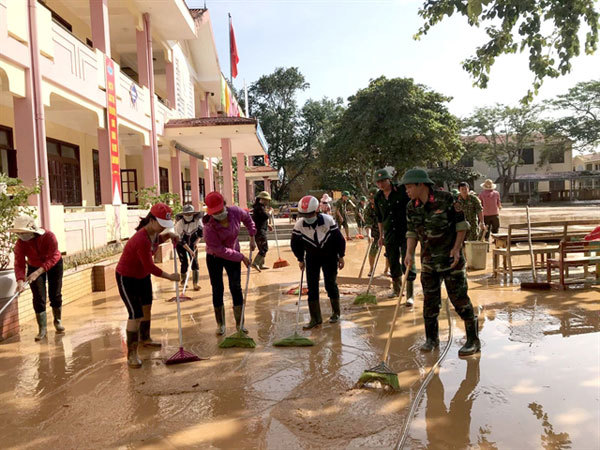 Teachers and soldiers clean up mud at Hien Ninh Primary School, Quang Binh Province, when floods hit the region two months ago. 
Children's education was severely set back due to schools being flooded, access roads blocked and homes destroyed.
Children also lost school books and uniforms when their homes were damaged in the floods.
Teachers are working tirelessly to clean up, but much of the school's contents are still soaked. In the school grounds, hundreds of books have been laid to dry in the sun.
During the floods, difficulties and losses are common, but many teachers have to leave their housework to go to school to clean classrooms in order to welcome students back as soon as possible, according to the principal.
"Many teachers' houses were submerged 1 to 2 metres deep in water," she said.
"The love for the job, the love for children and the responsibility has helped teachers overcome difficulties. The first was to clean the classrooms, furniture and we picked up items that were still usable."
Now, all schools in Quang Ninh District are returning to normal.
In the first day of school after the flood, teachers have to know the number of students at class, their circumstances and not let students stay home due to difficulties from floods.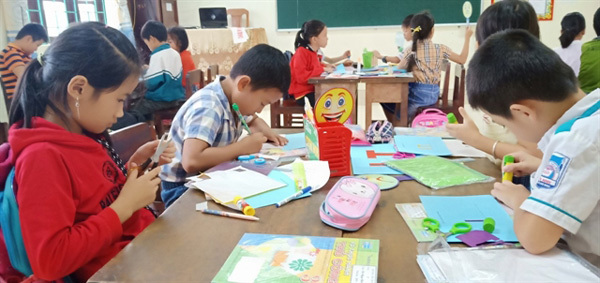 Students at an art class. 
Leaders of many schools such as An Ninh Secondary School, Hien Ninh Primary School, Gia Ninh Kindergarten and representatives of students' parents came to each student's home to encourage disadvantaged children, call for support from organisations and individuals to help families who suffered heavy losses.
"We had to teach on both Saturday and Sunday to help students review their knowledge and also to keep up with the education department's programme as their study had been interrupted by floods," said Tu Cong Khanh, principal of An Ninh Secondary School.
"The school also allocates part of the school's budget to help teachers' families that have been severely affected by the floods.
Thanks to the solidarity and determination of each teacher, classes can return to normal and so far have caught up with the teaching progress like other schools."
"In difficulties, we can see the feelings of colleagues for each other. They share meals, gifts and clothes from the relief packages," Duyet said, adding that but schools still need more support in order to have enough equipment for teaching that was destroyed during floods.
According to provincial statistics, about 3,000 classrooms of 334 schools across the province were affected by flooding and thousands of pieces of equipment, books and school supplies were damaged.
The total damage of the education sector in these historic floods was estimated at over VND370 billion (US$15.95 million).
Le Quang Thuy, deputy head of Education and Training Office in Quang Ninh District, said that soldiers, police officers, members of the youth union and teachers worked to clean schools.
"After a week of flooding, students can back to school. It is a joy for both teachers and students."
"The education sector will use saved funds from cutting costs of other sector's activities and other support from organisations and individuals to buy teaching equipment for schools that were badly damaged in the flood," said Dinh Quy Nhan, director of the provincial Education and Training Department.
"The sharing, encouragement and material and spiritual support of the agencies, organisations and individuals has helped students return to school after the floods. All our efforts are for the students."  VNS

Dau Thi Lien tried to find something usable in the rubble, but there wasn't much left except for some books, clothes and a table and some chairs, all covered in mud.

Storm Molave, which hit central Vietnam on Wednesday, blew the roofs off or damaged 84,600 houses in the central provinces of Thua Thien-Hue, Quang Nam, Quang Ngai and Da Nang City, and left 24 people injured and two others missing.