Salt workers struggle under the harsh sun

Salt workers in Chau Ha Village have put up with intense sunshine over the last few days to filter seawater to make salt.
Southern salt workers earn their living under heat spells
Salt prices fall, workers abandon Sa Huynh salt field
Hot weather to return to Northern, Central regions
Vietnam suffers extreme heat
Farmers collect salt under the baking sun. — Photo thanhnien.vn
The work is very hard, but it offers extra income to residents of Thach Chau Commune, Loc Ha District in the central province of Ha Tinh.
In midday's scorching heat, the roads are empty. But Chau Ha salt marsh is crowded with more than 150 salt workers who are wrapped up in their work.
To make salt, they must go to the field at this time.
Phan Thi Thanh, 88, carefully covers every inch of her skin to block out the sunlight. She uses a shovel to scoop up the pile of salt that was gathered earlier.
Thanh told the Thanh Niên (Young People) newspaper that she followed her parents to work on the salt marsh when she was young and has worked until now.
The workers start by preparing the field – bringing seawater, drying the sand, soaking the sand and then filtering the seawater. Then they scoop it up to the drying yard. After the water crystallises into salt, it is piled up and taken back home.
The process must be done continuously in sunlight.
"The job is very hard because people must work under the harsh sun all day. But I must try to do it to earn a living," said Thanh.
With a face darkened by the sun, Pham Thi Lan, 68, was exhausted after scooping sand into the filter well.
Lan has done the job since she was 17. Two years ago her husband worked alongside her. But now he is sick so Lan must do it alone.
Salt is sold at VND150,000 (US$6.5) per quintal. Each worker can collect at most two quintals per day.
Old people's job
Having spent more than half their lives on the salt marsh, Le Xuan Muu, 68, and his wife have adapted to working in hot weather.
"Because of the hard work and our old age, sometimes we have cramps and fever. We have to call the doctor," said Muu.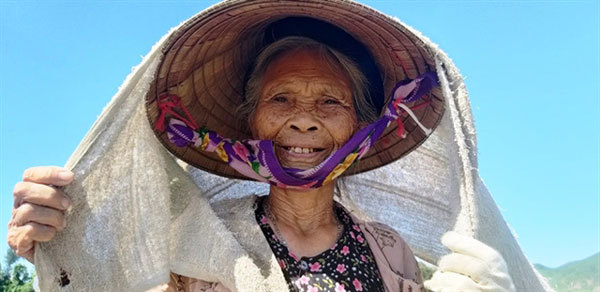 Phan Thi Thanh, a salt worker, wraps up carefully to prevent sunburn and heatstroke. — Photo thanhnien.vn
The couple intended to quit their jobs, but they wouldn't know what to do instead.
Muu said that to cope with severe hot weather, local residents have tricks.
When going to the field, besides wearing thick clothes, each worker brings about four or five litres of water or some milk. After working for about 30 minutes, they have a rest, drinking water or milk to regain their strength.
No young people can be seen around the Chau Ha salt marsh.
Pham Van Duc, 32, a salt worker, said at present, salt production was considered the work of old people. Young people preferred working abroad or going to southern provinces to find jobs.
Le Van Thong, chairman of the Thach Chau Commune People's Committee, told the Thanh Niên (Young People) that as many as 120 households in Chau Ha Village made salt in this traditional way.
There isn't anyone regularly buying the salt, so profits are unstable.
"The job brings in less money than others, but it still helps local residents have a little more, and it is a way to maintain the traditional work," said Thong.
VNS