Roundabout near Ben Thanh Market to become public square

The former Quach Thi Trang Roundabout in front of the landmark Ben Thanh Market in downtown HCMC, coupled with Le Loi Boulevard and Nguyen Hue pedestrian street, will undergo renovation and become a public square.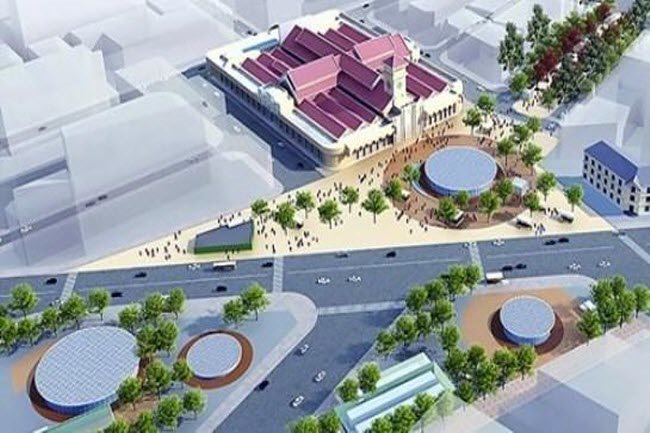 An artist's impression of the public square in front of the Ben Thanh Market in HCMC's District 1 – PHOTO: HCMC URBAN RAILWAY MANAGEMENT BOARD
The municipal government passed a plan on November 27 to select the best design for the underground site at the Ben Thanh station for the city's new metro line No. 1 project, which is under construction.
The public square, located on the former Quang Thi Trang Roundabout, is expected to be the highlight of the area, and also link Pham Hong Thai with Ham Nghi Street.
Earlier, the city's government launched a competition to choose the best design for the public square, the Ben Thanh underground commercial center underneath the square, as well as along Le Loi Street from the Ben Thanh Market to the Opera House.
Of note, consulting firms submitting designs for the square were advised to follow the earlier work performed by Spanish consulting firm Idom Ingeniería Consultoria S.A, which had thoroughly studied and presented a proper design for the pedestrian space in downtown HCMC.
The Ben Thanh underground commercial center will include four below-ground areas. The first, which will link to the underground space along Le Loi Street, will house the station's square and a shopping center. The three others will be used as the metro line's platform and technical room.
Additionally, the underground project along Le Loi Street from the Ben Thanh station to the Opera House will function as a shopping center. SGT

Foreign and domestic consulting firms have been welcomed to submit designs for the underground space of the Ben Thanh station in District 1 as part of a competition recently approved by the HCMC government.

The HCM City Department of Traffic will suspend projects or revoke construction permits for units that repeatedly violate regulations related to construction works on roads.