Roadmap to 'new normal' state to be issued before September 15
The Ministry of Health is working on guidance on the roadmap to return to the "new normal" and reopen the economy, scheduled to be issued by September 15.
According to the National Steering Committee for Covid-19 Prevention and Control, the number of new cases of Covid-19 infection in the community during the past week decreased compared to the previous week, with a reduction of up to 60% in the central city of Da Nang and 27% in the southern province of Binh Duong.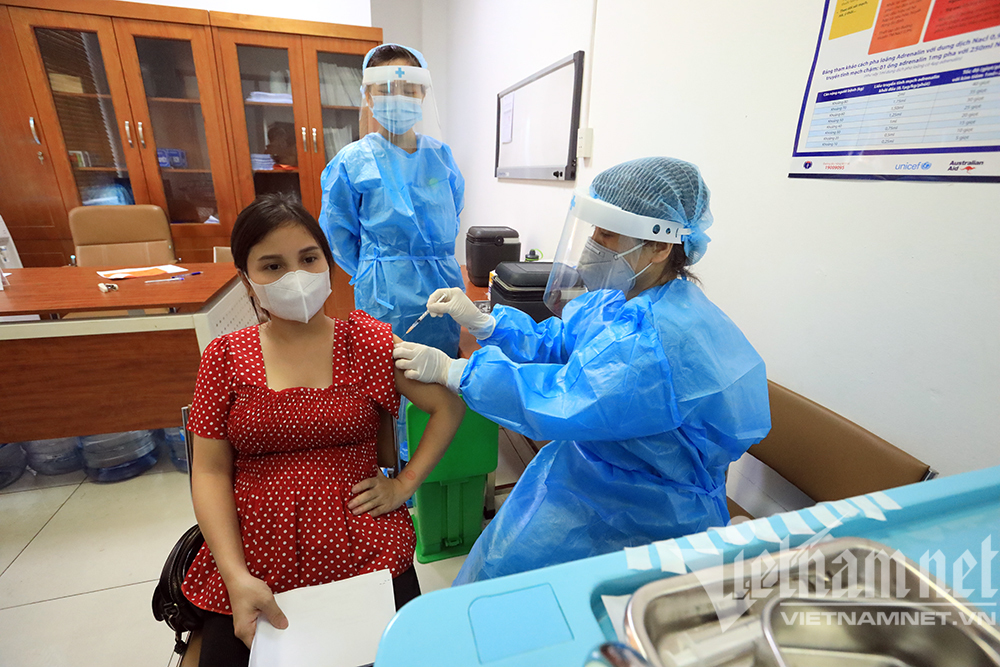 Localities are promoting vaccinations to create herd immunity and return to the new normal state.
Based on epidemic control criteria, the Steering Committee divided the 23 pandemic-hit provinces and cities into three groups.
The first group (good control of pandemic) includes eight provinces: Hau Giang, Bac Lieu, Vinh Long, Phu Yen, Ben Tre, Tra Vinh, Soc Trang, and Ca Mau.
Group two includes 12 provinces on the roadmap to meet the epidemic control criteria, including: Can Tho, Long An, Tien Giang, Dong Nai, Dong Thap, Hanoi, Khanh Hoa, Da Nang, West Ninh, Binh Phuoc, An Giang, Ba Ria-Vung Tau.
Group 3 includes three provinces that need to make efforts and implement drastic measures to prevent and control the epidemic: Ho Chi Minh City, Binh Duong, Kien Giang.
The number of recovered patients by September 10 was 338,000 and 231,426 patients were under treatment. The mortality rate has decreased markedly. As many as 28 provinces have reported no deaths so far.
The average number of deaths per day decreased by 30% nationwide last week, with 30% down for Ho Chi Minh City, Dong Nai (50%), Long An (30%), and Tien Giang (70%).
The epidemic situation in Ho Chi Minh City in the past week decreased markedly on two criteria: the number of infections in the community and the number of deaths. The city districts that have controlled the epidemic are District 7, Cu Chi and Can Gio. It is expected that in the near future, both the number of infections and the number of deaths will reduce. In Binh Duong, the number of new cases and deaths continued to drop last week.
In Hanoi, there will be some infection cases and outbreak clusters in the community. Therefore, the city is speeding up Covid-19 testing to detect infections in the community as early as possible.
In the past week, RT-PCR tests were conducted for 5.2 million people, an increase of 7.4% compared to the previous week, mainly in Hanoi and Ho Chi Minh City.
Compared with the previous week, the rate of positive cases to total tested people in the whole country fell from 1.9% to 1.6%. Particularly, the rate dropped from 3.7% to 1.4% in HCM City and from 2% to 0.5% in Long An and from 1.2% to 0.2% in Tien Giang province.
In Ho Chi Minh City and Binh Duong, Long An, Dong Nai provinces, people in red areas have been tested for the third time and the infection rate after three rounds of testing has decreased markedly. Almost no new cases were detected after five rounds of testing in District 7, Cu Chi, and Can Gio districts in Ho Chi Minh City.
To date, Vietnam has signed agreements and got commitments on vaccine supply with partners for a total of 159.97 million doses. The expected doses of Covid-19 vaccines to arrive in 2021 is about 138.4 million doses.
So far, Vietnam has received more than 34 million vaccine doses and more than 27 million doses have been administered. In HCM City, 896,835 people (13%) have got the second shot of vaccine and the number is 555,481 (10%) in Hanoi.
Currently, the Vietnamese Government is negotiating with some countries to buy 18.9 million vaccine doses, including 10 million doses with the Chinese Government, 5 million with the Cuban Government, and 3 million with the Polish Government.
Regarding social distancing, four provinces and cities continue to strengthen social distancing, including Ho Chi Minh City, Binh Duong, Dong Nai, Long An; and four provinces and cities continue social distancing, including Can Tho, Da Nang, Dong Thap and Tra Vinh.
Fifteen provinces and cities have eased social distancing measures in some areas, including: An Giang, Bac Lieu, Ba Ria Vung Tau, Binh Phuoc, Ca Mau, Hau Giang, Khanh Hoa, Kien Giang, Phu Yen, Soc Trang, and Tien Giang, Vinh Long, Hanoi, and Tay Ninh.
The Ministry of Health is working on guidelines on the roadmap to return to a new normal state and implement two socio-economic development activities to ensure safety for epidemic prevention and control based on the guidelines of the World Health Organization (WHO) and other international organizations and experiences of nearly 40 countries on models of "reopening" of the economy.
The draft will be commented by experts and is scheduled for issuance before September 15.
In the past week, an additional nearly 2 million people benefited from the support package under Resolution No. 68, with a total value of VND12,900. Ho Chi Minh City has spent over VND 6,000 billion to support over 4.93 million people.
Thu Hang

Continuing his talk with VietNamNet, Dr. Nguyen Duc Kien, Head of Economic Advisory Group to the Prime Minister, said that the "new normal" is to open for businesses and workforce as the people have been in harsh conditions.

Businesses all want to resume economic activities but experts say the reopening of the economy must be done with a specific roadmap and that haste will lead to failure.