Reducing working time in compliance with modern trend: VGCL

The Viet Nam General Confederation of Labour (VGCL) has requested the drafters of the revised Labour Code maintain the proposal to cut working time from 48 hours per week to 44 hours per week.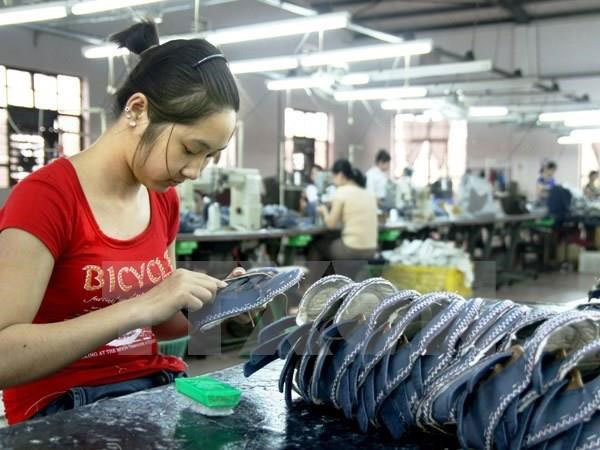 The Viet Nam General Confederation of Labour proposed reducing working time to balance the benefit of employers and workers.—VNA/VNS Photo
On 29 May, the draft text was tabled in the National Assembly, and is under review. Among the amendments is a proposal to reduce working time from 48 hours per week to 44 hours per week, which has attracted diverse public comments.
Enterprises and employers have said reducing the working week would harm industry and the economy, since such regulation will reduce export value.
They also said countries in the region have much higher overtime hours than Vietnam.
Speaking at a meeting of the VGCL on Monday in Hanoi, Ngo Duy Hieu, Vice President of VGCL, however, reducing working hours is a progressive trend of mankind.
"The need for increasing productivity has to go along with maintaining worker's health, their ability for labour power reproduction and giving time for workers to take care of their families and to take part in social activities," Hieu said.
Currently, Vietnam's basic working hours are 48 hours a week, higher than many countries in the region and in the world.
Since 1999, Vietnam has put into practice a mechanism of 40 hours a week with State employees. However, this has not been applied for non-State sectors, creating inequality among the labour forces.
"Reducing working time will not only benefit the labourers, it will also create an incentive for businesses to improve their equipment, renovate their corporate governance and improve productivity," he said.
One more day off
The Ministry of Labour, Invalids and Social Affairs (MOLISA) initially suggested designating July 27, the Day for Wounded and Fallen Soldiers of Viet Nam, as a national public holiday. Then the proposal was withdrawn in May.
However, the VGCL proposed that the suggestion be kept unchanged in the revised law.
Currently, the number of holidays in Vietnam is fewer than other countries in the world and the region. Specifically, for Cambodia, it's is 28 days; for Brunei, it's 15 days; Indonesia, 16 days; Malaysia, 12 days; Myanmar, 14 days; Thailand, 16 days; while the total number of Vietnamese public holidays is 10, the same as the number of federal holidays in the US.
The Vietnam General Confederation of Labor is considering adding one or more days off for workers, like two for the New Year holidays, instead of one day as now.
VNS