Recent deaths raise alarm over unlicenced plastic surgery clinics in Vietnam

Two women died last week in HCM City after undergoing plastic surgery.
Vietnamese Health Ministry to investigate woman's death at beauty clinic
Probe ordered into two cosmetic surgery deaths
Ministry orders to inspect plastic surgery clinic in HCM City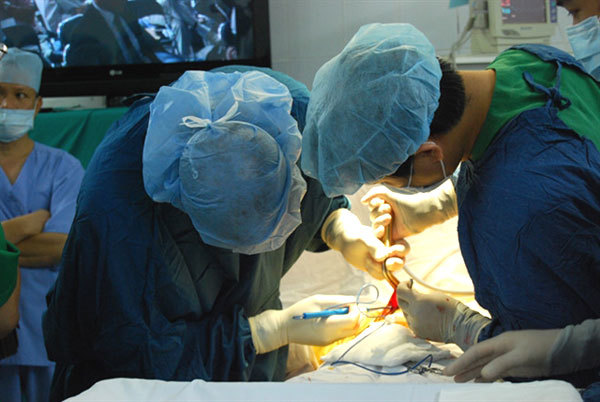 A breast enhancement surgery. Illustrative Photo news.zing.vn
The city's Department of Health has called the deaths serious medical incidents, raising concerns over the quality and oversight of plastic surgery clinics in the city.
On October 14, a 59-year-old Vietnamese-American woman died after getting a facelift at Kangnam Plastic Surgery Hospital in District 3.
On October 18, a 33-year-old woman died after a breast enhancement surgery.
The city's Department of Health has established a professional council to probe into the cases.
The problem isn't confined to HCM City though. In Hanoi, recently, a 28-year-old woman fainted and suffered convulsions after having abdominal liposuction at a plastic surgery clinic on Kim Nguu Street and had to be rushed to a nearby hospital.
According to the law, facilities offering surgeries to alter the body like nose jobs, breast enhancements, botox injections and liposuction must be granted licences and can be conducted at hospitals only.
Plastic surgery hospitals must meet strict requirements of local departments of health as complications can still occur even in licensed facilities as the ones mentioned above.
Authorities conduct unscheduled inspections to test doctors' capacity because surgeons must take classes to learn new knowledge every two years.
According to Nguyen Viet Cuong, chief inspectorate of Hanoi Department of Health, plastic surgery facilities must have a head doctor with at least 54 months of experience. Technical workers need training and licences from their local department of health.
Plastic surgery facilities must also meet requirements in terms of infrastructure, he said.
Dang Thi Xuan Huong, vice chairwoman of Vietnam Beauty Association, said as demand for plastic surgery had grown, beauty clinics had mushroomed. These clinics got licences for surgeries which do not alter the body but advertised nose jobs, breast enhancements and other surgeries.
"These centres do not have doctors but only technical workers who are trained for a few months before doing real things. The customers are women who are lured by advertisements and willing to undergo plastic surgeries that may lead to risky complications," she said.
This fact may result from the loose management of authorities. Plastic surgery clinics do not care about consequences and conduct surgeries for profits. Meanwhile, customers can not check whether the centres are licensed, according to Huong.
Professor Le Gia Vinh, vice chairman and general secretary of Vietnam Medical Association, said many women want to be more beautiful quickly and cheap, so they choose unlicensed or low-quality facilities, leading to serious complications.
"Those who are willing to conduct plastic surgeries should choose facilities with modern equipment and skilful surgeons and not go to nail and eyebrow salons to avoid unexpected consequences," Professor Vinh said. VNS