Rebuilding homes is also rebuilding lives
Four storms, including typhoons Molave and Goni, triggered floods and landslides that devastated central provinces in Vietnam from October to December, with 249 people either killed or missing and 11,700 houses damaged or destroyed.
People in hard-hit mountainous areas have been recovering from the historic floods and landslides to ready themselves for a new year of hope, with plentiful support coming from local and central governments. 
Ho Van Duong from Tăk Pát Village in Nam Tra My District, Quang Nam Province, has been building a temporary shelter on a plot of land not his own, after his house and all his property were swept away during the recent flooding and landslides that struck Vietnam's central region.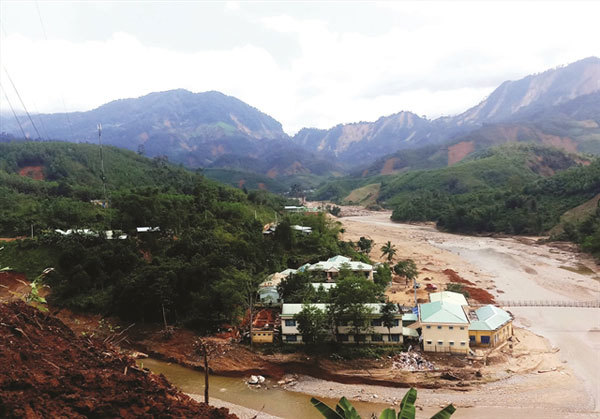 HAVOC WROUGHT: Some buildings still stand in central Quang Nam Province but so many have been damaged, some beyond repair. Photo courtesy of Quang Nam Newspaper
Duong and the eight members of his three-generation family were evacuated when the area was hit by tropical storms Molave and Goni and then landslides.
He and his family have been waiting for a new land allocation and support from local authorities to build a new house, as his village by the Xoan River is now no more.
Quang Nam Province has reserved total funds of VND3.8 billion (US$165,000) to help 40 families in Nam Tra My District resettle into new houses, and also provided 156 tonnes of rice.
The funds are expected to help households recover after the historic floods in anticipation of the coming Lunar New Year festival which falls in mid-February next year.
"We were concerned about having to flee when the ground nearby started to erode," Duong said. "My family had little hope and empty hands while heavy rains poured down and landslides ruined the area. But we are now able to build a new house on a plot of land safe from landslides, with assistance from local authorities."
The district of Nam Tra My has been clearing areas in Tra Leng and Tra Don communes to resettle the shaken villagers of Tăk Pát prior to Tet, according to the district people's committee.
Ho Van Man said his house in Tra Van Village in mountainous Phuoc Son District was completely destroyed by erosion last month; one of 26 dwellings to suffer a similar fate.
He and his family had to evacuate to houses of relatives or to communal houses, while food and other relief aid was provided by the community.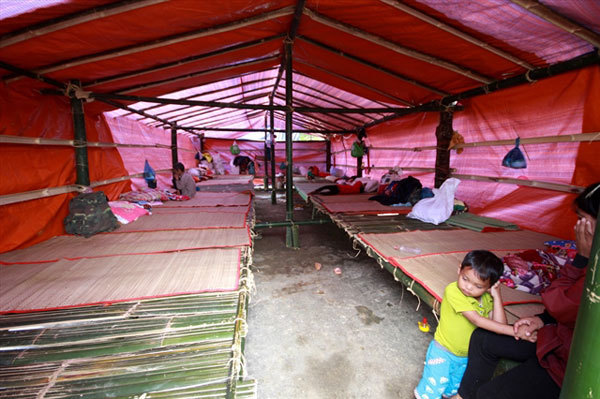 LIFE IN LIMBO: Temporary shelters house people in flooded areas of central Vietnam while they wait to return home, if their home is still there. Photo courtesy of Quang Nam Newspaper
"I felt hopeless, with nothing to my name after our house was buried," he said. "We only had the clothes we were wearing, while our paddy fields were devastated by the storms. But much-welcome aid came from the community and our neighbours, whose houses were not damaged."
"Local authorities and people brought food and other supplies to help us in our hour of need. We have now been seeking support and funds to build a new house and resettle our lives."
Businesses and local authorities have helped build 15 houses on community land for the most impoverished families, while temporary housing has been built for those not in such dire straits.
Children in Tra Van Village have returned to school, while sufficient food and supplies will allow villagers to get by for several months before they can return to farming.
Temporary shelters were built in Phuoc Thanh Commune, after 100 families had to stay at health centres or in communal administration buildings.
Ho Van Lung from Phuoc Loc Commune said one building of the communal administration has become home to 50 families since the floods and landslides.
Ho Van De and the remainder of his family, meanwhile, found shelter at a school in Tra Leng Commune, after his house and the housing of other families were lost in the floods.
Unfortunately De lost eight family members from the terrible landslides in November, while only three corpses were found.
"We now have nothing to lose," he said. "Everything has gone. All the villagers can hope for is good weather while rebuilding the village. Life must go on."
Recovery efforts have also been revved up in A Xan Commune in Tay Giang District, with dozens of houses being rebuilt.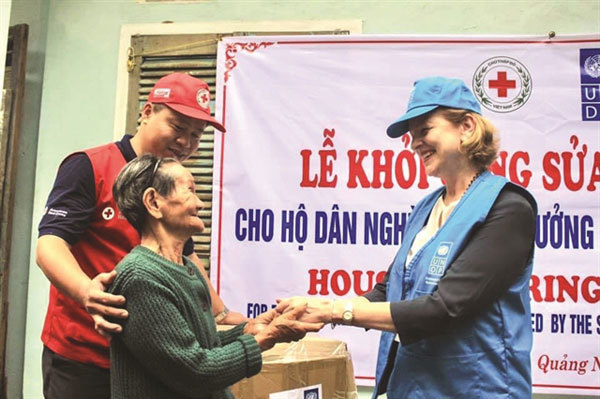 SUPPORT COMES: Caitlin Wiesen (right), UNDP Resident Representative in Vietnam, hands over emergency aid to a family in central Vietnam. Photo courtesy of UNDP
In neighbouring Thua Thien-Hue Province, 100 households and 100 poor students in mountainous A Luoi District have received assistance from the local border guard force.
Despite the heavy rains, search and rescue teams went out in search of victims of landslides at the Rao Trang 3 Hydropower Plant and were, in turn, lost in landslides themselves.
A total of VND80 billion (US$3.5 million) was also raised from organisations and individual donors to support flood and storm-affected areas in Quang Tri Province.
The Vietnam Insurance Corporation also reserved 2,500 health insurance cards for local people in flood-hit areas in 10 central provinces.
The Vietnam Motherland Front provided VND40 million for each house repair in the central region, from total funding of VND350 billion (US$15.2 million).
The Government previously allocated emergency funds of VND580 billion ($25.2 million) and 15,500 tonnes of rice to people in flood-stricken provinces.
The UK Government, meanwhile, announced it was donating 500,000 GB pounds (US$650,500) in support.
The United Nations Population Fund (UNFPA) in Vietnam made available US$540,000 to secure immediate support for women and girls in six provinces; while the United Nations Development Programme (UNDP) supplied part of its emergency assistance of US$400,000 to affected people and repaired 300 houses in the five hardest-hit provinces of Quang Binh, Quang Tri, Thua Thien-Hue, Quang Nam, and Quang Ngai.
The UNDP expects to leverage another $1 million for emergency response and recovery efforts.
Ho Van Lung in Phuoc Loc Village, Quang Nam, which was devastated by landslides, said houses need to be rebuilt first, as people want to feel safe with a roof over their heads before they return to farming.
Local authorities have been calling for joint efforts by businesses, communities, individual donors, and organisations in resettling people in new houses so they may celebrate Tet (Lunar New Year festival) and look forward to a better new year.  VNS
Hoai Nam 

Downpours in the central region will continue in coming days, heightening the risk of flash floods and landslides, heard a meeting of the Office of the permanent Central Steering Committee for Natural Disaster Prevention and Control on October 18.

Storm Molave, which hit central Vietnam on Wednesday, blew the roofs off or damaged 84,600 houses in the central provinces of Thua Thien-Hue, Quang Nam, Quang Ngai and Da Nang City, and left 24 people injured and two others missing.