Raw fish blood pudding challenge in northwestern Vietnam

For many visitors to the northwestern region, raw fish blood pudding can be a shock the first time. Only the bravest people and those who have strong gastrointestinal system may dare to try it.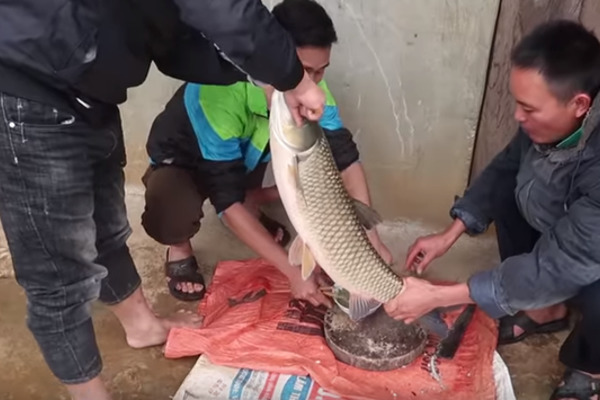 Grass carp of at least two kilos are chosen to make the dish
Although it is not a popular dish, raw fish blood pudding is usually prepared on some special occasions or to treat special guests. 
It took lots of time and steps to prepare the dish. Local people have some tips to treat the fishy smell and taste as well as to ensure that the stomach can accept it.
The first step is choosing the fish, which is usually grass carp of at least two kilos. The fish is cleaned and wiped to make sure that no water drops out while taking its blood. 
Before taking fish blood, local people carefully prepare crispy fried anabas which is considered the soul of the dish. Fresh anabas are steamed and have their flesh taken out, mixed with spices and then fried.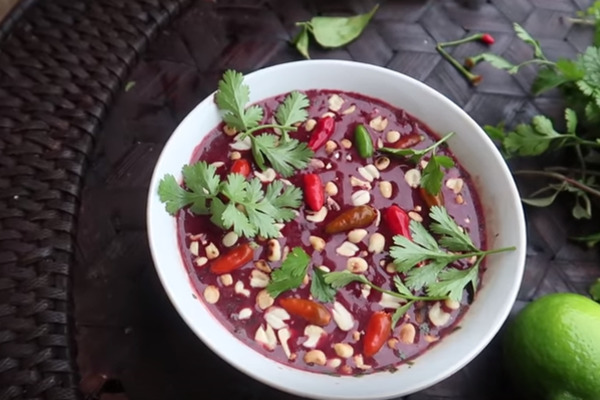 A bow of raw fish pudding
Then raw fish blood is poured onto the crispy fried anabas and then waited until it is congealed and ready to enjoy. 
Raw fish blood pudding is usually served with roasted peanuts, mint, coriander, lemon, red chilli, and especially corn wine.
Although the dish is considered a speciality in the northwestern mountainous area, many people have expressed horror in some video clips featuring people making and enjoying the dish on Youtube.
"Although raw blood pudding made from ducks, goats or pigs are common in Vietnam which I enjoyed a lot, I can never imagine people could eat raw fish blood," a Youtube account commented. "It looks yucky."
Doctors in Vietnam have also warned local people of health risks when eating raw blood pudding. Local hospitals have reported many cases in which people died from swine bacteria after eating raw blood pudding. Dtinews

The Sai Gon River runs through the country's most vibrant and dynamic city. The city is constantly evolving on this side of the river, which embraces the island in the middle. 

Among the dozens of Indian restaurants in Hanoi, Rasm Modern Indian Cuisine Restaurant, which has been open for three months now, offers a fresh style of Indian cooking.