Raising labour productivity is the key in development

Nguyen Bich Lam, director general of the General Department of Statistics, talks to Việt Nam News Agency about measures to improve labour productivity.
Vietnam deals with pressure to improve labour productivity
We need specific measures to raise labour productivity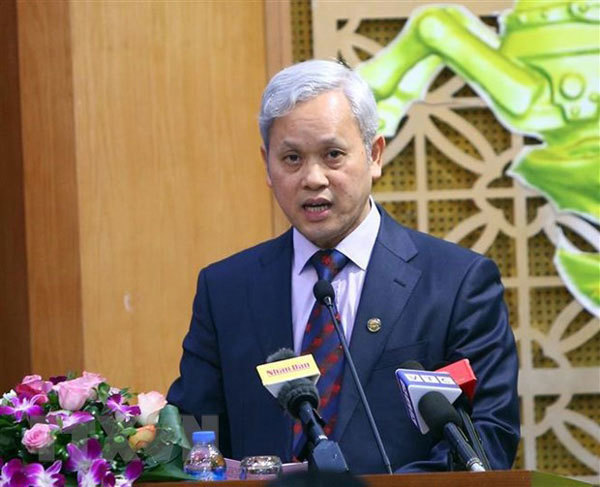 Nguyen Bich Lam. — VNA/VNS Photo
What are the impacts of social labour productivity on our national economy?
Social labour productivity is one of several criteria in any nation based on the GDP per worker, per annum. This formula conforms with international practice.
Vietnam's labour productivity has improved constantly in recent years with high speed compared to many ASEAN countries.
In 2018, Vietnam scored an economic growth rate of 7.08 per cent with its labour productivity per capita reaching VND102.2 million – equal to US$4.521 per capita.
Last year labour productivity increased by 6 per cent compared to 2017. As a result in the period 2016-18, Vietnam's labour productivity increased by 5.7 per cent - against that of 4.35 per cent in the period 2011-15.
For three years, Vietnam's GDP stood at 6.7 per cent on average.
Based on the Purchasing Power Parity (PPP) in 2011, Vietnam's labour productivity in the period from 2011-18 saw an increase of 4.8 per cent annually - a very encouraging figure compared to other ASEAN members like Singapore (1.4 per cent); Malaysia (2 per cent); Thailand (3.2 per cent); Indonesia (3.6 per cent), the Philippines (4.4 per cent).
In 2011, labour productivity of Singapore, Malaysia, Thailand, Indonesia and the Philippines was much higher than that of Vietnam however in 2018, these gaps were narrowed.
Vietnam's purchasing power saw an average increase of 4.8 per cent per annum - much higher than Singapore (1.4 per cent), Malaysia (2 per cent), Thailand (3.2 per cent), Indonesia (3.6 per cent) and the Philippines (4.4 per cent).
In that period, Vietnam's labour productivity was equal to $11,142 or about 7.3 per cent of that of Singapore, 19 per cent of Malaysia; 37 per cent of Thailand; 44.8 per cent of Indonesia and 55.9 per cent of the Philippines. Yet, Vietnam's labour productivity was 1.6 times higher than that of Cambodia.
What are the main reasons that Vietnam's labour productivity is so low?
There are many different reasons, including the slow switching of the national economy; low application of science and technology; poor working conditions; poor human resources management and others.
Vietnam's economic scope and scale is still small. Việt Nam's current GDP, if it is based on the Purchasing Power Parity, is only equal to that of India in 1973; China in 1978; Indonesia in 1982; South Korea in 199 and Thailand in 2001.
The method used to work out GDP per capita which is based on the labour productivity of working people throughout the year has made labour productivity much lower than that of many other countries.
We can't negate the quality of our human resources is still limited of which the percentage of the labour force with skills is still very low while the gap between occupational skill training and the labour market is still very big.
The process of urbanisation in Vietnam has occurred slowly. By 2018, just about 35.7 pe rcent of the population lives in urban areas.
How do you respond to the claims that Vietnamese policies in the course of switching from State economy to the market economy have led to the low labour productivity?
In my opinion, there are certain bottle necks in the course of switching from the command economy to the market economy. As a result, they have somehow slowed down the course of the country's economic restructuring as well as the growth model.
Meanwhile, the implementation of our legal system and policies as well as the State management capacity, face many challenges.
The majority of Vietnamese enterprises are small and medium and their financial capacity is still limited and so are their production management skills and competitiveness in the market economy.
What should we do to raise our labour productivity?
Labour productivity and employment are the two essential elements that impacts the GDP growth rate.
We are now living in an environment of free trade and the 4.0 Industrial Revolution. They present us with both positive and negative opportunities. To raise our labour productivity we should pursue sustainable economic development while implementing measures on institutions, policies and find solutions for the national economy and the enterprises.
Now the government should establish a National Productivity Commission. Meanwhile Vietnam should learn from Singapore, Japan and South Korea and then apply their findings in our actual conditions.
The Government should adopt policies to help economic entities to approach advanced science and technology and to re-structure their organisation to gain high labor productivity and each enterprise should employ between 100 and 299 workers.
I'm confident that achievements from the 4.0 Industrial Revolution are the foundation for Vietnamese enterprises to develop rapidly and to raise their labour productivity.

VNS