Quang Binh struggles with water shortage

Water shortages over the past three months have devastated residents of drought-plagued localities in central Quang Binh Province.
Drought, water shortages pose a big threat for Vietnam
Climate change: Quang Binh faces severe drought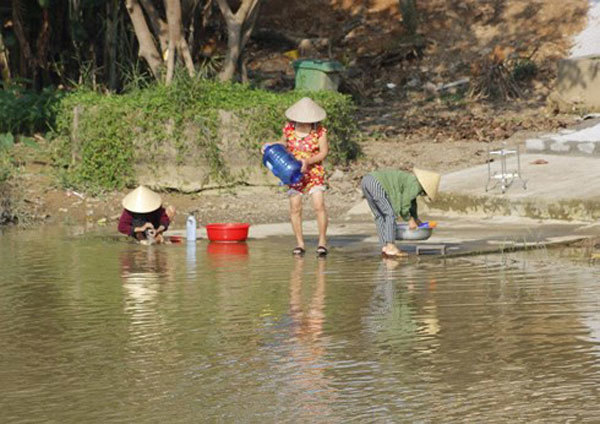 Local residents in Mai Thuy Commune, Quang Binh Province, take water from Kien Giang River for daily use. — Photo infonet.vn
Hundreds of households in Mai Thuy Commune, Le Thuy District, have had to use unhygienic water from wells and the Kien Giang River, online newspaper infonet.vn reported.
It is the most severe drought in the last 15 years.
Prolonged hot weather and increasing demand have left the two clean water supply facilities in the commune unable to meet demand.
The heat has also caused lowered water levels in rivers and many wells have begun to dry up.
"We have not had clean water for more than three months. Every day, my family has to use water from the well. Well water leaves a white layer in the pot after cooking. Previously, I took water samples for tests and they showed some substances such as zinc and lime," said Phan Thị Thanh, a resident of Mai Thuy Commune.
Phan Duy Tan, a local citizen, said many households hired people to drill wells with depths of several dozen metres but could not find groundwater.
"I spent tens of millions of dong to drill wells but can't find any water. I have to go other regions to ask for water or use water from the Kien Giang River," Tan said.
Chairman of Mai Thuy Commune's People's Committee, Phan Thanh Ha, said there are 1,600 households but the two local clean water supply works can only meet demand for about 400.
The local authority has to supply water for each village alternately and residents have to use water from other sources, he said.
The water level in Chau Xa reservoir dropped sharply, falling below dead storage. So clean water supply works do not have enough water to provide for people, according to Nguyen Van Vuong, head of Le Thuy District's Department of Agriculture and Rural Development.
VNS