Proposed ban on alcohol, air conditioning in HCMC restaurants withdrawn
The HCMC Food Safety Management Board has withdrawn its proposal to ban restaurants in HCMC from offering alcoholic drinks and using air conditioners in closed spaces when they resume dine-in services.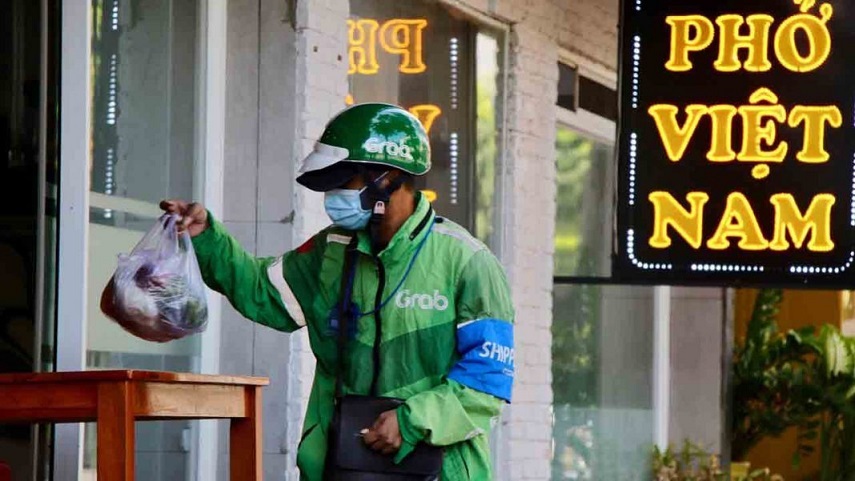 A delivery person picks up food at a pho restaurant in HCMC
Pham Khanh Phong Lan, head of the board, said today, October 27, that the board had submitted a plan to the municipal government with four criteria to assess whether restaurants were fit to restart indoor dining services, instead of six criteria as proposed earlier, the local media reported.
Specifically, restaurants must own a certificate showing they meet all food safety requirements and apply for a QR code at antoan-covid.tphcm.gov.vn.
They must have soap or hand sanitizers available for all employees, guests and delivery persons to use.
Depending on the Covid situation, restaurants will have to restrict the number of workers and guests.
In addition, all restaurant employees, guests, delivery persons and others would have to comply with anti-pandemic measures such as wearing face masks, washing hands, keeping a safe physical distance from each other and presenting a QR code showing their health declaration and vaccination status.
Lan said the ban on offering alcoholic drinks in restaurants, if approved, can only be applied for a short period. The HCMC government will decide to apply the ban depending on the developments of the pandemic.
On October 24, the HCMC Food Safety Management Board sent the city government a proposed plan detailing six criteria for restaurants.
Regarding the ban on alcoholic drinks, the board explained that guests drinking alcohol are more inclined to come into close contact with one another, posing a high risk of Covid transmission.
HCMC restaurants to shut before 9 p.m. when dine-in services reopen
The HCMC Department of Industry and Trade has proposed allowing restaurants and eateries to restart dine-in services provided that they shut before 9 p.m. and operate at 50% capacity.
Only those meeting the safety requirements will be allowed to offer dine-in services.
The department has also suggested banning them from offering alcoholic drinks, except for restaurants in District 7 and Thu Duc City, the local media reported.
Specific restaurants allowed to offer alcoholic drinks will be decided by the chairpersons of the District 7 and Thu Duc City governments.
The HCMC Food Safety Management Board will coordinate with the governments of districts and Thu Duc City to provide guidelines for catering service providers to comply with the safety requirements.
The municipal Department of Tourism will provide guidelines to restaurants inside hotels and tourist sites.
In addition, the Department of Health will be responsible for guiding restaurants and eateries to apply anti-pandemic measures.
The Department of Industry and Trade will work with cargo suppliers to ensure sufficient supply, cooperate with the relevant agencies to monitor the fight against the pandemic in production and business activities and promptly handle those failing to comply with anti-pandemic regulations.
Source: Saigon Times