Private preschool teachers struggle to earn living due to pandemic
Thousands of teachers at private kindergarten schools across the country are struggling to earn a living after nearly seven months of closure due to the COVID-19 pandemic.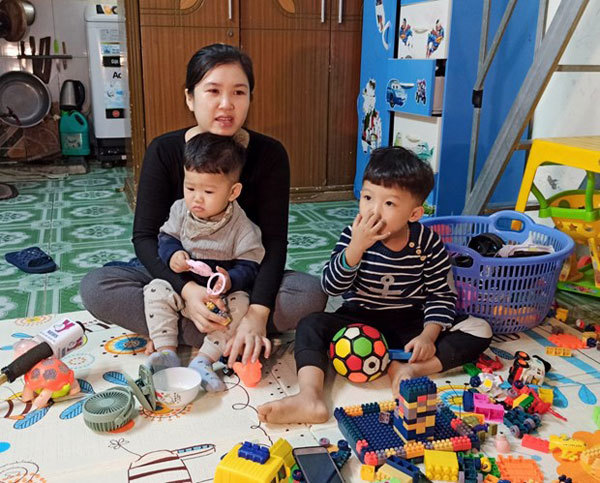 Dao Thi Minh Thuy and her two sons in her rented room in Trung Van Alley, Hanoi. —VNA/VNS Photo Pham Mai
Dao Thi Minh Thuy, of Trung Van Alley, Hanoi, is a teacher at To Ken Private Kindergarten School. She said she has not received any income since schools closed.
Thuy has already spent all of her savings to cover her daily expenses and bring up her two sons. Now she has to borrow money from her relatives to survive.
"Our lives have become more difficult. My husband, who worked at a local hotel, also lost his job due to the pandemic," Thuy said.
Thuy said her sons are young, two and four years old, so she has to stay in her rented room to take care of them. She can not get a temporary job to earn a living.
Nguyen Thi Thu Hong, a teacher of Anh Hong Private Kindergarten School, has also been out of work for over six months. She has just got a job at a hair salon.
"I have to earn living," she said.
She was very sad after deciding to work at the hair salon, Hong said.
"I love children and the work of a preschool teacher, but I have no choice," she said.
Thu Quynh, a teacher of TK Be Yeu Private Kindergarten School, of Hoang Mai District, said she is now working at a milk shop.
Quynh said she tried to wait until her school can re-open, but failed.
"I have to earn money to raise my children, I can't wait any more," she added.
She earns about VND7 million (US$309) per month from the job at the milk shop, she said.
The money is not much but it helps cover daily expenses, she said.
"However, from the bottom of my heart, I still want to work as a preschool teacher. I love my job so much," she said.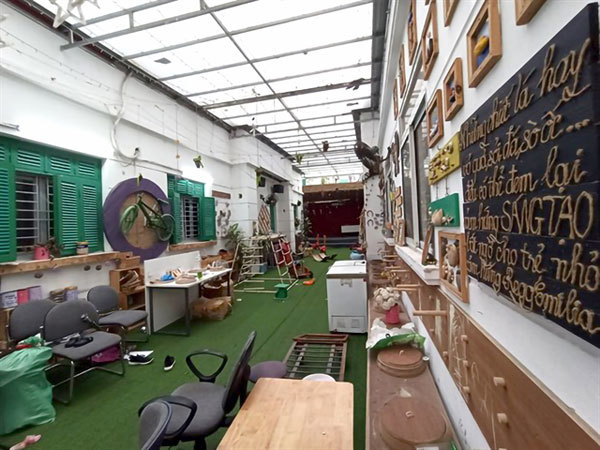 Private kindergarten schools have been closed for more than six months in Hanoi. —VNA/VNS Photo Pham Mai
Kindergarten schools dissolved
Tran Thanh Ha, the owner of TK Be Yeu Private Kindergarten School, said she has had to sell all her equipment and dissolve her school.
Ha said she has run out of money and can not continue paying over VND40 million ($1,770) each month to hire the infrastructure for the school.
"I had to borrow money from the bank to maintain the school over the past months," she said.
The debt she owes to the bank is in the hundreds of millions of dong.
"I can't afford more," she said.
"There is no way to make money to maintain the school anymore. I cried a lot when I decided to close the school that I established 13 years ago," she said.
Tran Thi Dau is the owner of two private kindergarten schools in Bien Hoa City, Dong Nai Province. She said she has had to find many ways to make money to maintain the schools.
"I run an online shop that sells candies, foods and school supplies to earn money," she said.
"I have tried hard to maintain the schools, however, if the schools will not be open in the next two months, I will have to dissolve one of them. I can't bear any more," she said.
Data from the Ministry of Education shows that 95.2 per cent of private preschool education institutions have had no revenue for at least six months, leading to 81.6 per cent of schools not being able to pay salaries for their teachers.
Minister Nguyen Kim Son said private preschool education institutions are currently responsible for educating 22.3 per cent of preschool-age children.
It is estimated that 90,500 employees are working in private institutions at more than 19,000 facilities across the country. 
However, due to the pandemic, many private preschools have been closed, leading to a lot of teachers moving on to other jobs. This risks leaving 1.2 million children of preschool age with no place to study, he said.
"This is not a small number," he said. 
Solutions
Deputy Minister Nguyen Thi Minh said the education ministry has worked with the other ministries and sectors to propose solutions to the Government to remove difficulties for teachers and private preschools.
The ministry has already proposed policies that maintain jobs and support managers and teachers at private preschools, she said.
Preferential credit policies should also be issued to private preschools so that they can repair facilities and purchase teaching equipment to resume their operations, she said.
Statistics from the ministry reveal that there are about 11,210 private preschools that need credit support policies to resume operations, she said.
Son said the ministry has also proposed a package of VND800 billion (US$35.3 million) to help private preschools recover their operations after the pandemic.
Do Chi Nghia, a standing member of the Nation Assembly's Committee for Culture, Education, Youth and Adolescents, said the Government, the education ministry and other ministries have issued policies to support teachers of private preschools.
Ha, the owner of TK Be Yeu Private Kindergarten School, said, "This is really good news for teachers and private preschool owners."
Ha hopes that the Government will soon approve these policies so that the support packages can be used to restore school operations and teachers can continue with their vocation.
Source: Vietnam News

Faced with financial difficulties due to the COVID-19 pandemic, the owners of many private kindergartens are putting their schools up for sale.

Most schools in HCM City are now ready to accept students back, and are making vital preparations to reopen after the months-long closure due to COVID-19.