Prime Minister requests policy to support children orphaned in the pandemic
Prime Minister Pham Minh Chinh has asked the Ministry of Labor, War Invalids and Social Affairs and local authorities to count the number of children who became orphans in the Covid-19 epidemic and propose policies to support them.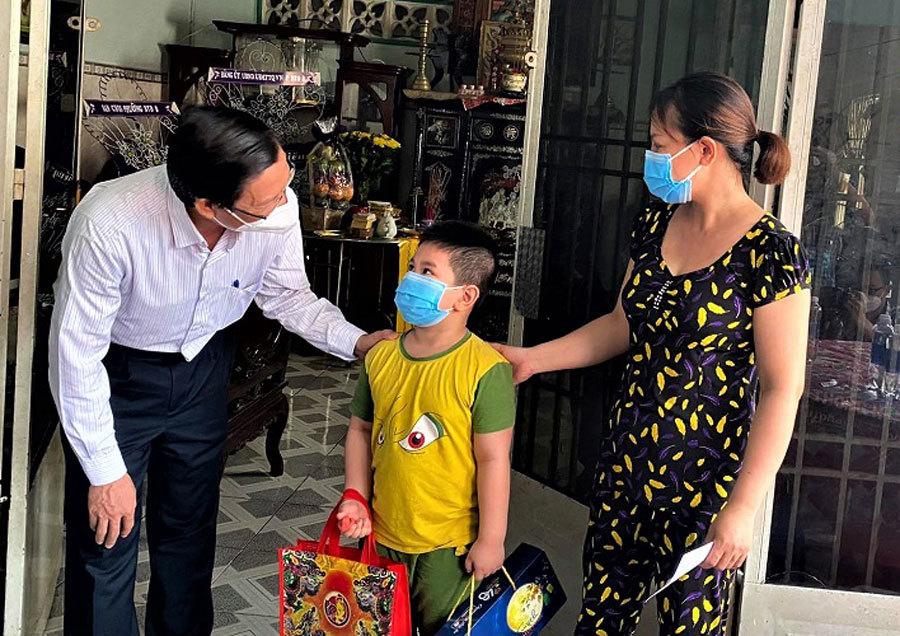 HCM City Chairman Phan Van Mai talks with an orphan in Binh Tan district on September 20. Photo: DX
According to the Ho Chi Minh City Department of Education and Training, in the 4th outbreak, over 1,500 students lost their parents, including more than 490 primary school students, 580 secondary school children, and the rest high school students. But the figure may be much higher in reality when considering the children not included in the education system.
Earlier, the Ministry of Labor, Invalids and Social Affairs asked localities nationwide to quickly design solutions to care for children orphaned by COVID-19.
In a document sent to centrally-run cities and provinces, the ministry stressed that the complicated developments of COVID-19, especially the fourth wave of outbreaks, in many localities, have left over 1,000 children orphans.
The Ministry, along with the National Committee for Children, required the People's Committees of provinces and cities to give alternative care for those children in line with the Law on Children and other regulations, prioritizing the family-based alternative care to ensure their highest interest. Nursing facilities will be considered the last choice.
Localities, especially those with large numbers of children orphaned by COVID-19, were also requested to issue their own policies and plans to give immediate and long-term support and care for the children, while giving them legal assistance to ensure their rights and interest and protect them from being abused.
The move aimed to make sure that all children orphaned by COVID-19 will receive all necessary support to overcome this tough and challenging time, and receive care and love.
FPT Group, a technology giant in Vietnam, announced that the company would establish a school to raise over 1,000 children whose parents died of Covid-19. The school will operate for the next 20 years and FPT will commit to spending at least VND80 billion ($3.5 million) each year on it. Students will be trained up to college level and even higher if they want. The urban complex FPT City Da Nang is set to be the location for the school including accommodations.
Under Government's Decrees 20/2021/ND-CP, orphans aged under 4 years old receive monthly financial support of about VND900,000 while older children get VND 540,000 monthly.
Children whose mothers had Covid-19 or those whose parents/guardians died of Covid-19, with financial difficulties will receive VND 2 million each from the National Fund for Vietnamese Children as Minister of Labor, War Invalids and Social Affairs Dao Ngoc Dung has decided.
According to the Ministry of Justice, on October 23, Ho Chi Minh City will hold a ceremony to hand over adopted children to 91 families from European countries.
This was approved by the Government and the Ministry of Justice has coordinated with other ministries and agencies, the People's Committee of Ho Chi Minh City and 22 cities and provinces where the adopted children are from and the embassies of countries like France, Italy, Spain, Ireland m, Sweden, Norway, Germany, and Luxembourg to implement this program.
The Ministry of Justice believes that this is a task that shows the humanity, efforts and commitment of the Government and competent agencies of Vietnam in ensuring that children are adopted and given proper care and a family environment in the best interests of the children.
Thu Hang

HCM City Chairman Phan Van Mai said the city will issue a support policy for children who have lost their parents due to Covid-19.
Since the Covid-19 epidemic broke out in HCM City in late April, 1,517 students, including nearly 500 primary school students, have become orphans.