Primary schools and teachers not ready for new general education curriculum

The new general education programme issued by the Ministry of Education and Training at the end of last year will be applied for the 2020-21 school year.
 But preparations for the major transition are lagging behind schedule and with teachers unprepared for the new curriculum, it may already be too late to ensure a smooth transition.
Teacher shortages hinder new curriculum
Quality physical education at schools difficult to obtain without more funds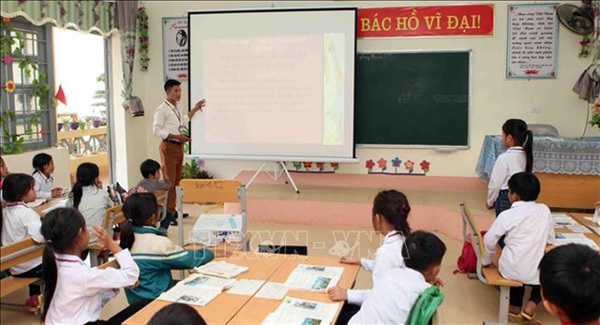 Primary school teachers have not yet been trained in the content of the new general education curriculum. VNA/VNS Photo
The new curriculum, which focuses on developing student competence through activities, is divided into two phases. The first phase is general education and stretches from grade one to grade nine. Phase two is vocational training from grade 10 to grade 12.
In the 2020-21 school year, students in grade one will begin the new curriculum, Tin Tức (News) newspaper reported.
Nguyen Thuc Sinh, deputy head of the Primary Education, Education and Training Department in Phu Tho Province, said the province needed more teachers to implement the new programme, especially in English and computer science and technology.
Students at the primary school level are required to take lessons in Vietnamese, maths, a foreign language, lifestyle and ethics, nature and society, history and geography, science, computer science and technology, physical education and arts.
Computer science and technology is a new subject at this level.
One of the goals of the new programme is to reduce pressure on students and focus on developing capabilities and values. But without proper training, it would be difficult for teachers to change teaching methods, Sinh said.
Before the new school year, teachers will have to attend a refresher course on the new educational programme, but Sinh said they had not yet received documents and other resources needed to prepare for the change.
"So far, I have not received any information about the documents or the course for teachers to prepare for implementation of the new curriculum in the new school year," Nguyen Thi Hong Hanh, a teacher from Hanoi's Vo Thi Sau Primary School, told Việt Nam News.
Nguyen Quang Vinh from HCM City's Education and Training Department agreed with Sinh, saying the plan required the documents to be sent by March 15 but they were not available yet.
"The education ministry has assigned key pedagogy universities to write training documents," Vinh said. "I agree. But I think the pedagogical teachers need practical experience in primary school teaching in order to design the suitable documents well."
According to Professor Do Duc Thai, the head creator of the maths programme, most teachers do not yet understand the content they will be required to teach.
Teachers still rely heavily on textbooks during lessons, but the new curriculum requires them to develop their existing knowledge in order to have better quality classes, he said.
According to Sinh, the ministry needs to have online documents to help teachers understand the general orientation of the curriculum.
Professor Nguyen Minh Thuyet, the programme's chief editor, said the ministry had assigned a number of top pedagogical universities, including Ha Noi Pedagogical University to set up a teacher training programme and create documents for the refresher courses.
Deputy education minister Nguyen Huu Do also said teacher training should be strengthened and schools should quickly improve infrastructure to meet the demands of the new programme.
The new curriculum requires students to take two classes per day or at least six classes per week. A standard classroom will have 35 students at the primary school level.
More than 80 per cent of primary school students across the country have two classes per day, according to the education ministry.
Another barrier to a smooth transition is poor school infrastructure. Many schools in Hanoi do not meet the requirements of the new programme, national radio broadcaster Voice of Vietnam reported.
Hong Son Primary School in Hanoi's My Duc District has 18 classrooms, but the number needed to serve all of its students under the new plan is 20.
"According to the new education programme, schools must have enough classrooms to ensure all students have two classes a day," said Nguyen Huu Tuan, principal of Hong Son Primary School. "However, the current number of classrooms cannot meet the requirements. We also lack classrooms designed for specific subjects such as foreign languages, computer science and technology, physical education and arts."
Nguyen Quoc Binh, principal of Le Quy Don Secondary-High School in Nam Tu Liem District, said his school also did not have enough classrooms and lacks rooms designed for specific subjects.
"There is not much time left to prepare for the new programme," Binh said. "The education ministry needs to co-ordinate with other ministries to help schools have adequate facilities for upcoming education innovations."
VNS