Poverty still a major concern for Vietnamese people: PAPI report

Nearly a quarter of 14,138 randomly-selected citizens across 63 provinces and cities in Vietnam said poverty was their greatest issue of concern last year.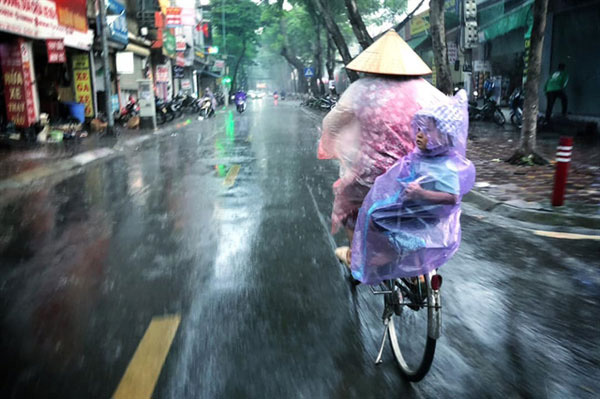 A Hanoi street. Poverty was one of the biggest concerns of Vietnamese people in 2019. 
The respondents were interviewed for the 2019 Provincial Governance and Public Administration Performance Index (PAPI), the results of which were released on Tuesday.
The findings indicate that more citizens without the safety net in the form of social insurance consider poverty to be a pressing issue and are mainly concerned about the lack of certainty that they will have sufficient resources for the future.
These concerns are likely to be amplified in the coming months with many having been hit hard by the COVID-19 crisis.
The unprecedented US$2.6 billion social protection package adopted by the National Assembly that is expected to benefit more than 10 per cent of the population should help address some of these concerns.
Other most important issues facing the country from citizens' perspective in 2019 were economic growth (the issue was voiced by 10.78 per cent of the respondents), the environment (8.85 per cent), employment (6.36 per cent), the East Sea dispute (nearly 6 per cent), roads (more than 5 per cent), corruption (4.53 per cent), law and order (3.57 per cent) and education (3.35 per cent).
The state of the environment has remained a significant public concern, the third most serious in 2019. This suggests the environment has become a mainstream issue among Vietnamese citizens.
This finding also underlines the importance of a prioritised public policy response to poor air and water quality. In the majority of provinces, citizens reported air quality has remained the same or degraded.
This year's PAPI report contains a special chapter on gender and leadership.
With elections for the National Assembly and People's Councils in 2021, the 2019 PAPI report explored whether voter bias was behind the low numbers of women elected relative to candidates nominated in past elections.
It found voters exhibited a strong bias against women in leadership roles, especially at village level – which is considered one of the most important levels of governance by citizens.
This bias was nearly three times greater than that faced by female National Assembly candidates.
Robyn Mudie, Australian Ambassador in Việt Nam said that the 2021 National Assembly and People's Council elections provided an opportunity for more women to be elected to legislative and leadership positions. Improving gender equality and women's empowerment was a key focus for Australia in Vietnam.
"The important findings on gender, leadership and the 2021 elections in the 2019 report underline that more work needs to be done to address bias against women being elected to leadership positions and ensuring electable female candidates are nominated to have an equal voice in the political arena and in shaping the nation's development," she said.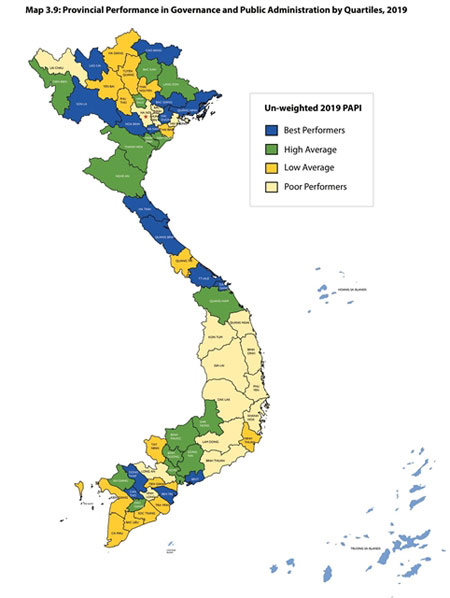 Extracted infographic from PAPI 2019 Report.
Speaking at the online launch of PAPI 2019, Caitlin Wiesen, UNDP Resident Representative in Vietnam, said one of the most important topics being discussed globally today was the wellbeing of people, the responsiveness of governments and public trust in government efforts in combating the COVID-19 pandemic.
"The Vietnamese Government has been praised by citizens and the international community for being anticipatory, agile and adaptive to effectively curb the outbreak," she said, adding that the strong leadership, rapid and transparent measures with priorities placed on public safety have been identified as key factors to boost public trust in the administration.
"The PAPI research is focused on the same governance principles. The PAPI index highlights the value of citizen engagement and their ability to assess provincial governance and public administration efficiency in responding to the needs and expectations of the people," she said.
As a policy monitoring tool that assesses citizen experiences and satisfaction with government performance, PAPI offers an overview of provinces' performance through measuring the satisfaction of their citizens – the public service users.  
In 2019, PAPI measured eight dimensions: participation at local levels, transparency, vertical accountability, control of corruption, public administrative procedures, public service delivery, environmental governance and e-government.
The southern province of Ben Tre was ranked top in the 2019 PAPI index with an aggregate dimensional performance score of 46.74, followed by Dong Thap Province (46.72), Quang Ninh (46.66) and Bac Giang (46.04).
Base on the aggregate scores, the 63 provinces and cities across Vietnam are divided into four groups including the 16 best performers, 16 high-average performers, 15 low-average performers and 16 poor performers.
Hanoi got only 41.53, Hai Phong 41.54 and Bac Ninh 42.08, making the three major localities poor performers, while HCM City stood among high-average performers with 43.79. Da Nang was still among best performers with a score of 44.99.
The full 2019 PAPI Report and more in-depth analysis of the findings are available at papi.org.vn.
PAPI is a collaboration between the Centre for Community Support and Development Studies (CECODES), the Centre for Research and Training of the Viet Nam Fatherland Front (VFF-CRT), the Real-Time Analytics and the United Nations Development Programme (UNDP).
Following the initial pilot in 2009 and a larger survey in 2010, the PAPI survey has been implemented nationwide each year since 2011. VNS

Vietnam is aiming to continue reducing poverty, prioritising poor mountainous regions and ethnic minority groups.

Helping poor households with sustainable livelihoods is a living testament to human rights.