Poor students to access the internet thanks to special programme
The COVID-19 pandemic has had many impacts socio-economic life, in which education is one of the most affected industries and the sector has implemented online teaching and learning to adapt to the new situation.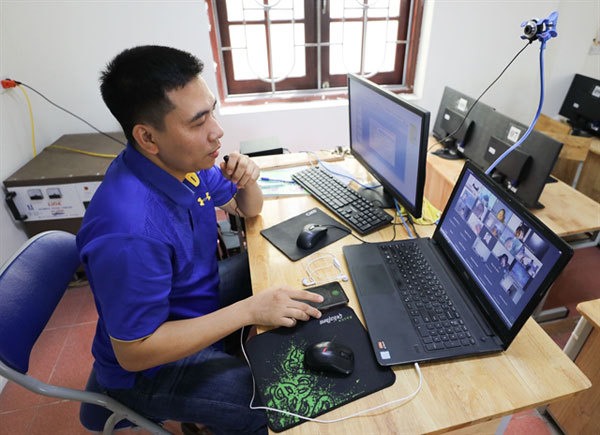 A teacher gives an online lesson at the Duong Quang Primary School in Gia Lam District, Hanoi. — VNA/VNS Photo Thanh Tung
An online ceremony to launch the programme "Sóng và máy tính cho em" (Internet connection and computers for students) chaired by Prime Minister Pham Minh Chinh on September 12 touched the community's hearts. It called for increased care for poor students who cannot afford computers as online learning becomes the "new normal".
The programme is to implement the Prime Minister's direction on prioritising and supporting disadvantaged students who lack online learning facilities. It ensures fairness in accessing new teaching and learning methods, thereby contributing to the development of a digital society.
In response to the PM's call, Hanoi immediately implemented a programme to support poor students.
Hanoi's programme has received support from different organisations, said chairwoman of the Hanoi Women's Union Le Kim Anh.
Specifically, the Vietnam Joint Stock Commercial Bank for Industry and Trade (Vietinbank) – Nam Thang Long Branch presented 25 laptops worth VND270 million (US$11,800); the Nam Tu Liem District Women's Union gave VND50 million ($2,100); the Ha Dong District Women's Union gave VND10 million ($440); and the Tay Ho District Women's Union presented 20 iPads worth VND42 million ($1,800) and other learning equipment.
Others districts' and towns' women's union have also presented 115 electronic devices including computers, laptops, iPads and smartphones to poor students in Quoc Oai, Ba Vi, Dan Phuong, Dong Anh and Gia Lam.
Anh said the union would encourage organisations, enterprises and individuals to support the programme with new or old electronic devices that are still in good condition. The devices will be given to poor students to help their online learning.
Especially, each worker of the union will also donate a part of their salary to the programme.
The Hanoi Women's Union organised a training course for parents to help their children in online learning.
Le Duc Thuan, director of the Ba Dinh District Education and Training Division, said in response to PM Chinh's programme, the division worked with the district red cross society to present 235 computers to poor students in the district.
Schools also joined the programme.
The Nguyen Tri Phuong Junior Secondary School in Ba Dinh District on September 14 launched a programme to help poor students at the school.
The school planned to buy 11 computers each worth VND7.1 million ($312) for poor students or whose parents are invalids and martyrs. Each of them will also receive VND2 million ($88) to install internet connections.
The school library will be equipped with eight new computers for students to use or borrow.
Pham Thi Huong Giang, principal of the school, said: "Seeing co-operation and support from the State leaders, enterprises and the community, the education sector feels it is not left behind."
"COVID-19 is a short-term enemy whereas poor education and poverty is a long-term enemy which need efforts of the whole society. I highly appreciate all people's help in connecting and donating computers to poor students," she said.
Nguyen Khac Tuan, a maths teacher at Vietschool Pandora Primary and Junior Secondary School in Hanoi told the Lao Động (Labour) newspaper that the programme was meaningful, but could face financial difficulties.
At present, the programme really needs co-operation of the whole society.
Besides funding for computers, enterprises could support poor students with software or data packages for internet use.
Tuan suggested enterprises work closely with localities to give proper support to students, not only when the new school year starts, but also in the long term.   
The work needs to be done regularly and continuously so that students in difficult circumstances could receive stable and long-term support for the road ahead, he said.
Le Thu Thao, a teacher of the Hoang Liet Junior Secondary School in Hoang Mai District in Hanoi, expressed her belief that the programme would help shorten the distance between different areas, especially remote mountainous areas.
Amid the fourth industrial revolution, students in remote areas would receive support from the programme, and online learning would no longer be a luxury, she said.
The "Sóng và máy tính cho em" (Internet connection and computers for students) aims that by the end of this year, the whole country would be connected to the internet. As many as one million poor students will be equipped with electronic devices for online learning. In the 2022-23 period, no poor students will lack computers for online learning.
Source: Vietnam News 

Prime Minister Pham Minh Chinh on September 12 launched a programme to provide computers and telecommunications services for students and pupils with difficult circumstances, especially those living in areas hit by the COVID-19 pandemic.