Lai Chau: Police launch legal proceedings against two officials on embezzlement charges

Police in the northern mountainous province of Lai Chau have launched legal proceedings against two officials from Sìn Hồ District's Department of Education and Training on embezzlement charges.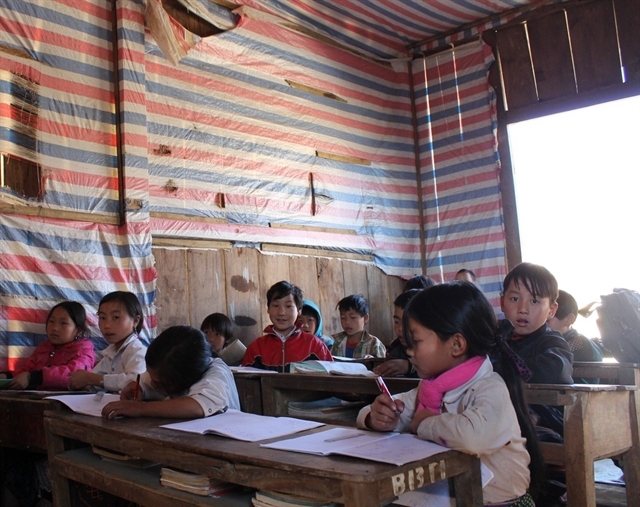 Ilustrative image. A makeshift class at Hồng Thu Commue in Lai Châu Province's Sìn Hồ District. — Photo giaoduc.net.vn
They are Nguyễn Thị Minh Liễu, 46, and Trần Thị Huệ, 47, residents of Sìn Hồ District's Sìn Hồ Town. They have been held in custody since October 15.
Liễu is the chief accountant while Huệ is the treasurer of the district's Department of Education and Training.
The amount of money embezzled by the two officials from 2017 to May 2019 is over VNĐ26.5 billion (US$1.1 million) and was used for personal spending. The source of money came from the supporting policy for poor students and regular expenses of the department.
Liễu is thought to be the mastermind and Huệ an accomplice.
According to Bùi Xuân Phong, deputy director of the provincial police department, the Investigation Police Agency is striving to clarify the embezzlement and appropriation of funds.
The agency would also expand investigations to verify the responsibilities of organisations and individuals involved in the incident.
Lê Thanh Dương, vice chairman of Sìn Hồ District's People's Committee told Vietnam News Agency reporters that the financial mismanagement and the fact that teachers and students couldn't receive payments on time had affected the prestige of the sector. The district authority and relevant agencies had to bear responsibility for such shortcomings.
He also said that as of Tuesday, all schools in the locality have received the money they were supposed to get over the past two years. — VNS

The Vietnam Mathematics Institute and experts disagree on the application of the multiple-choice mode for math exams, saying that it will harm education.

Ha Giang Province People's Court sentenced five people for allegedly cheating on the 2018 national high school exams at a first instance trial on Friday.