Police get tough on foreigners who violate traffic rules

The National Traffic Safety Committee has directed authorities in cities and provinces to strictly handle foreigners' traffic violations and ensure traffic safety on the roads.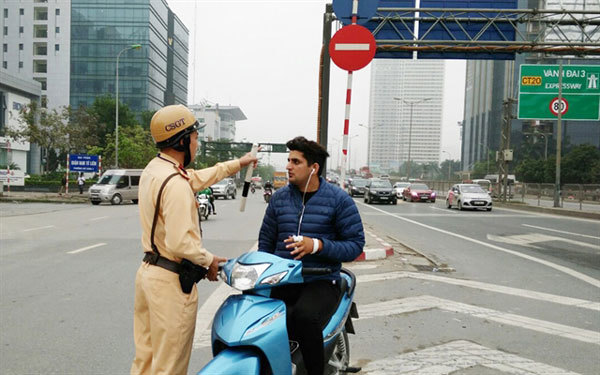 Information about traffic regulations will be disseminated among foreigners in an aim to reduce traffic accidents. — Photo: hanoimoi.com.vn
Authorities were directed to strengthen inspections and supervision of units that provide rental services for motorbikes.
Authorities will ensure that the Road Traffic Law will be strengthened and will raise awareness about observing the law on traffic safety.
The aim is to reduce the number of traffic accidents of foreigners living and working in Vietnam.
The traffic police force will also strictly handle violations.
At a meeting held on Friday, Nguyen Ngoc Tuong, deputy chief of the HCM City Traffic Safety Committee, said many foreigners often violated traffic rules such as not wearing helmets or driving in the wrong lane.
Major Dang Duc Minh said that foreigners violated traffic laws because they do not know the local regulations or roads.
Many vehicle rental companies only focus on profit and are willing to allow foreigners to rent vehicles even though they do not have a Vietnamese license or an international license.
Each year there are about 500 traffic accidents caused by foreigners in HCM City.
To handle the problems, the city's police force has disseminated information about the traffic law to English language centers and businesses with many expat workers, and vehicle rental units.
In addition, localities will also inspect tourist car rental businesses.
VNS