Oxygen producers ensure sufficient supply of medical oxygen
Oxygen plants in the south are stepping up production to meet domestic demand.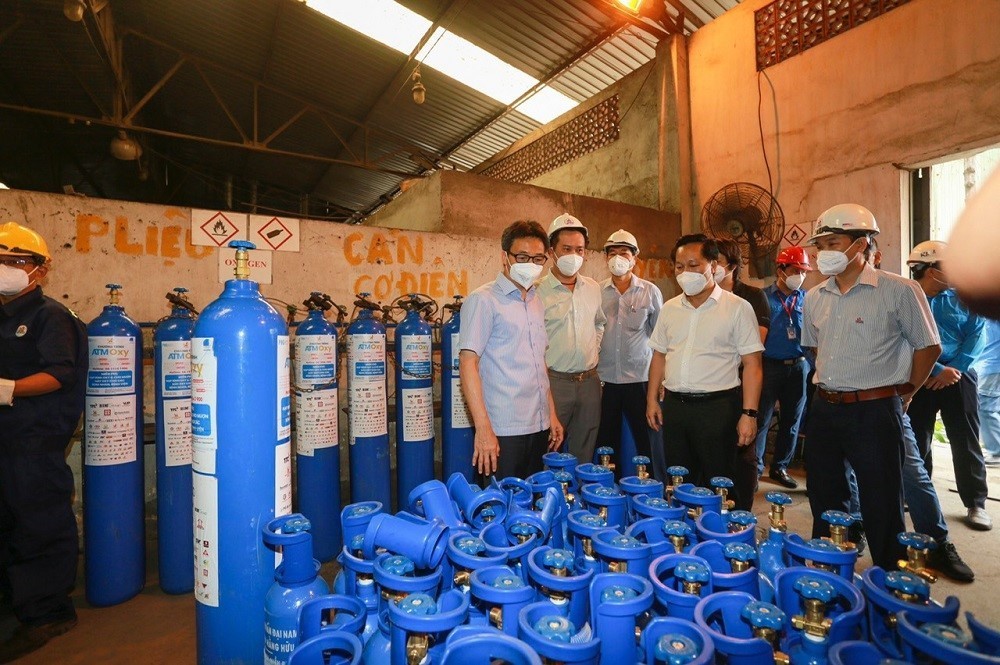 Le Buu Chau, director of the Bien Hoa Branch of Nippon Sanso Vietnam, said the plants of the company in Dong Nai and Ba Ria-Vung Tau can produce 250-270 tons of liquid oxygen a day, while reserves are 4,000 tons.
The company mostly provides medical oxygen to hospitals, especially in HCMC. It also provides oxygen to Long An, Binh Duong, Tay Ninh and some provinces in the southwest.
Prior to that, Nguyen Duc Son, Deputy Head of the Institute of Health and Environment, said at the working session at Nippon Sanso plant in Dong Nai, affirmed that the current medical oxygen production capacity is high enough to satisfy demand from hospitals and ICUs that treat severe Covid-19 cases.
Trinh Dinh Long, Plant Manager of Airwater Vietnam, said the plant puts out 40 tons of oxygen a day, most of which is provided to hospitals in District 4 and hospitals in Bien Hoa City.
Nguyen Van Viet from Linde Gas Vietnam said the plant is running at full capacity. Previously, the liquid oxygen output was 60-70 tons a day, but the current capacity is double that.
The company provides oxygen through intermediaries which have specialized tank trucks and pick up the oxygen every day. Previously, Linde Gas Vietnam only had one delivery truck, but it now has one more. The company is making every effort to satisfy the demand for oxygen to treat severe cases.
VietNamNet has identified six medical oxygen production companies in the south, including Nippon Sanso Vietnam, Air Liquide Vietnam, Linde Gas Vietnam, Dong Nai Oxygen, Sovigaz and Airwater Vietnam.
The companies have eight oxygen plants located in Dong Nai, Binh Duong, HCMC and Ba Ria-Vung Tau. The total liquid oxygen production capacity is 540 tons a day.
Meanwhile, there are seven oxygen plants in the north with the same total production capacity. Messer Hai Phong is the company with the highest production capacity and reserves.
There are three plants in the central region and Central Highlands.
The total liquid oxygen reserves by all these units is 15,500 tons. The units have been asked to increase production capacity, increase oxygen storage and improve distribution capacity.
During the TV Program 'people ask, city's leaders answer', a citizen raised questions about the supply of oxygen to Covid patients staying at home.
Nguyen Van Vinh Chau, Deputy Director of the Healthcare Department, acknowledged that the shortage occurred on the first days but the problem has been fixed. 
Tran Chung

Scientists from Hanoi University of Science and Technology (HUST) have designed and built a mobile oxygen and medical compressed air generator station to help the country fight COVID-19.

The Ministry of Health has alerted people not to buy or hoard ventilators, medical oxygen generators or oxygen cylinders as it will waste money,