Orphans to be given support to study until age of 18: HCMC chairman
HCM City Chairman Phan Van Mai said the city will issue a support policy for children who have lost their parents due to Covid-19.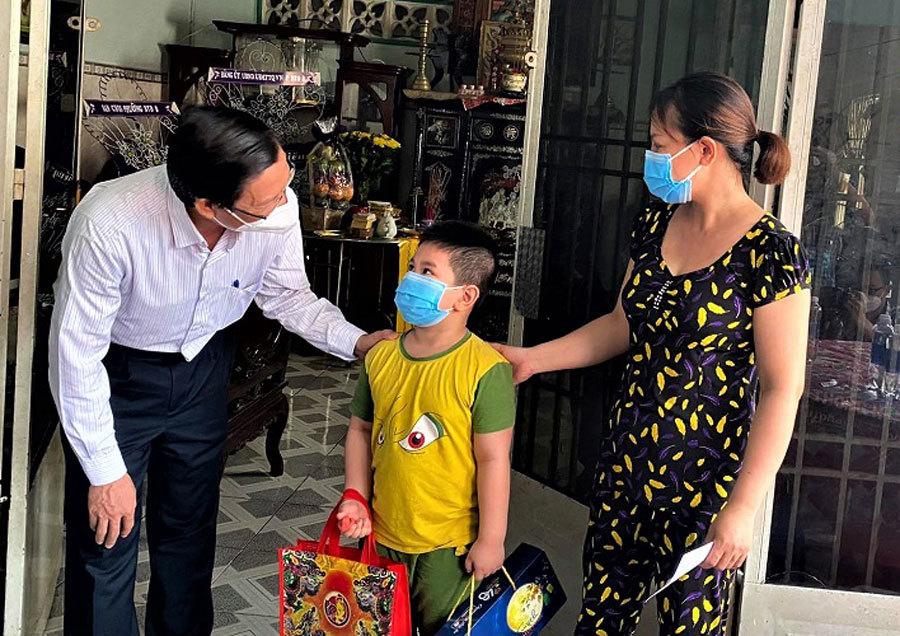 HCM City Chairman Phan Van Mai talks with an orphan in Binh Tan district on September 20. Photo: DX
The father of Phan Gia Phu, 6, passed away due to Covid-19. Phu's father was the head of a residential block in Binh Tri Dong ward, Binh Tan district. He joined the frontline force against the Covid-19 epidemic and was infected with the virus. His mother is a freelance worker, who used to work as a domestic helper. Phu has an older sister who has just graduated from high school.
The mother of Nguyen Huu Khanh, 11, and Nguyen Tuong Vy, 6, died from Covid-19. Their father passed away four years ago. The kids are living with their grandmother and uncle.
Eight members in the family of Le Nhat Hao, 13, contracted Covid-19, including his father, mother, grandmother and uncles. His mother and grandmother died of Covid-19. The mother died while pregnant with Hao's younger brother. The baby was saved and is being treated in an incubator at Hung Vuong Hospital. His father has been unemployed for two months and is also being treated for Covid-19.
Orphans whose parents died of Covid-19 in Binh Tan district were visited by HCM City Chairman Phan Van Mai on the occasion of the Mid-Autumn Festival on September 20.
As many as 1,517 children have had parents die of Covid-19 in HCM City, according to the local Department of Education and Training.
HCM City Chairman Phan Van Mai said that in September the city authorities would issue support policies for orphans and the elderly whose care-takers died of Covid-19.
The elderly who have no one to take care of them will be supported by local organizations, or will be sent to social protection centers.
For orphans, depending on their circumstances, the city government will have programs to sponsor, care for, or grant scholarships or send them to social protection centers to have better conditions to study until they are 18 years old.
Tran Chung
Since the Covid-19 epidemic broke out in HCM City in late April, 1,517 students, including nearly 500 primary school students, have become orphans.

Truong Gia Binh, Chairman of the FPT Board of Management decided to open a school for 1,000 children who lost their parents to COVID-19.