Northern border province struggles to stop people from working illegally in China

At the age of 71, Nong Ngoc S. had little rest as he took on the double duties of tending to the family's crops and his grandchildren.
Illegal labour migration to China rising in north Vietnam
Illegal Vietnamese workers in Thailand in danger of arrest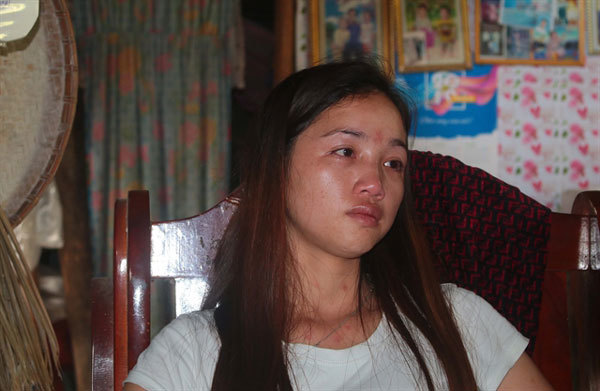 Nong Thi D., born in 1990, is still struggling to get her family back on track after her husband died in China when he was working there illegally. — VNA/VNS Photos Chu Hieu
Like many others in the border commune of Dam Thuy, Trung Khanh District of the northeastern mountainous province Cao Bang, S.'s son and his wife have left for work, mostly menial ones with low skills in neighbouring China without official permits, leaving behind feeble elders and little kids to take care of each other.
"Our household has just small patches of land for crops, which makes for a poor livelihood. Hearing people in the village talking about the abundant high-paying jobs in China, my son and his wife decided to cross the border to try their luck," S. said.
"Sometimes they would return within the day, sometimes they would stay there for 6 months to a whole year," he said.
The influx of Vietnamese workers crossing the border into China takes place mostly during the off-season, with local police statistics showing that at least 250 residents in Dam Thuy Commune – mostly between the ages of 20-40 – are working in China.
Tran Van D., 42, in Hung Long Village of Phuc Hoa District, said that for the past few days, the job situation has been in a bit of a lull, so he stayed home during the day and only came to the border gate at night to work as a porter.
His wife's work in China is more stable – she would leave in the early morning and return home at night.
The jobs available in China for Vietnamese are labour-intensive ones like construction, brick production, sugarcane cultivation or cutting down trees, picking fruits, loading or unloading goods – tasks already too familiar among the Vietnamese in rural areas.
However, D. said the payment is higher than in Vietnam, about VND180,000-200,000 (US$7.7-8.6) for a day's work.
According to Lieutenant Colonel Pham Van Nam at the Ta Lung border gate, most locals in Phuc Hoa District or border localities could easily obtain the entry and exit permit that is valid only for one day.
"But the number of those who bother to get this permit is low, and most workers choose to bypass the border authorities and cross the border illegally for numerous reasons, but the most frequent ones are because they live in remote areas or inland localities so travelling within the day is impossible, or simply because the locals live really close to the border – sometimes just a stream or a dirt path away, so there's no need to go all the way to the border gate," Nam said.
Some even went to China on tourist visas but stayed past the allowed date to work illegally there.
Cao Bang has a long border with China over mountainous terrain, with so many small trails that couldn't reasonably be covered or monitored 24/7 by local enforcement, he added.
According to the Cao Bang border guards, in the first three months of 2019 alone, 5,000 people went to China for work.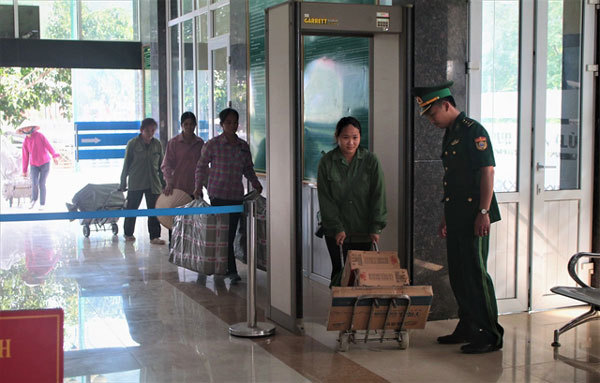 Vietnamese workers return home after working in China via the Ta Lung border gate in Phuc Hoa District of the northern mountainous province Cao Bang. 
High risk, little reward
The Vietnamese illegally working in China might earn higher wages but the additional income can barely justify the fraught risks associated with off-the-books works in a foreign country where they couldn't speak the language.
The stories of constant evasion of Chinese authorities, Vietnamese workers being scammed out of their salary by unscrupulous or toiling away in slavery-like working conditions with no protection against occupational hazards and accidents are all too frequent, but many are still deliberately ignoring all cautionary tales from their own neighbours and warnings from the authorities – sometimes because they had very little choice.
The family of Nong Thi D., born in 1990, a resident of Ban Mom Village in Dam Thuy Commune, is still struggling to overcome the death of her husband three years ago while working in China.
"With limited education, my husband is not qualified for a factory worker job, so during the idle time on the fields, he crossed to China to work on sugarcane farms or as transporter," D. said.
Barely a few months had passed since D.'s husband first got the job when a work accident claimed his life. All the procedures to bring his remains back from China cost the family a fortune, further burdening the now widowed D. with two young children and old parents.
Luong Van P., from Minh Long Commune of Ha Lang District, considered himself lucky to be able return home after nightmarish days in the 'promised land.'
At the end of 2018, he followed his relatives' attractive promise of a high-paying job where he could earn VND10-18 million a month, a dream salary for a rural worker like him, so he sold two pigs and three hundred kilos of rice to get the money to get into China.
P., with a group of other jobseekers were led by the traffickers to a trail in the mountains and told to lie there waiting until nightfall, then they crossed the river and walked through the forest for two days before reaching China's Guangdong Province.
In Guangdong, he was hired to work on a sugarcane farm. With no Chinese knowledge, P. only heard from another Vietnamese worker that the owner would pay them 60 yuan for a day, which didn't sound too bad until he experienced the heavy workload, the frequent overtime while the meals provided are barely enough to sustain the workers in these heavy-duty jobs.
His bad luck didn't end there as three months in, P. and 17 Vietnamese workers on the farm were arrested by Chinese authorities for nearly a month.
During detention, he only got one meal a day while all of his salary was confiscated.
When he was finally returned to the Vietnamese authorities, he had lost 12kg after four months in China together with all the misguided illusions of easy money there.
"From now on, I'd just work hard at home and won't even think of crossing to China anymore. It was miserable all round," P. said.
To curb the flow of illegal workers to China, Cao Bang police have organised multiple meetings with locals, raising awareness on the issue and urging households to encourage their family members who are illegally working in China to return home. For the first six months of this year, 247 sessions to propagate State policies and regulations have been held with the participation of more than 16,000 people in the province.
The local authorities have tried setting up official channels to send workers to China but to little avail.
Nguyen Van Tuan, head of labour office of Phuc Hoa District, said under a directive from the provincial authorities, the district once recruited and sent 23 workers to work in a wood factory in Guangdong Province.
"However, after 10 days, all of them asked to return to Vietnam. And the reasons were because they are not unskilled workers and lack industrial discipline," Tuan said, adding that since this was the first cross-border labour cooperation that the province has undertaken the implementation left room for improvement.
However, according to Tuan, these are just temporary measures and the provincial authorities need to focus more on long-term solutions, which means lifting socio-economic conditions in the remote border areas while creating a sufficient supply of stable, long-standing jobs for labourers in the province, to avoid locals risking their lives to work without permits in China.
Chu Hieu
VNS