Nha Trang seeks to ease city centre traffic

Authorities of the central city of Nha Trang, Khanh Hoa Province, plan to ban vehicles of more than 29 seats from entering city centre areas in order to mitigate traffic congestion.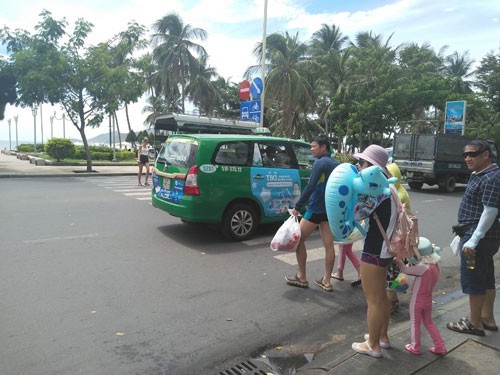 Tourists trying to cross a street in Nha Trang
Dao Cong Thien, vice chairman of the provincial people's committee has instructed the local Department of Transport to carry out the plan. 
Nha Trang City has seen a sharp rise in tourists, bringing a great number of vehicles to the city, particularly on weekends and holidays. This has put pressure on transport infrastructure.
At weekends, traffic jams for kilometres often happen on Tran Phu, which is mostly attributed to 45-seater coaches. In many cases, visitors find it hard to cross the road.
Lee Jung Min, a South Korean traveller, said that he was extremely scared to cross Tran Phu Street as he felt that vehicles were rushing at him.
Young volunteers have been arranged at hot traffic spots to help visitors to cross the road, but the situation has not improved much due to the high number of vehicles, especially at peak hours.
Nguyen Van Dan, director of Khanh Hoa Department of Transport, said transport infrastructure in the locality has not improved, while the number of newly-registered vehicles has sharply increased along with large flows of tourists.
Other streets such as Hung Vuong, Nguyen Thien Thuat and Nguyen Thi Minh Khai face the situation.
Dan added that local authorities will ban vehicles of more than 29 seats, including coaches operating on fixed routes, on some streets such as Tran Phu, Nguyen Thi Minh Khai and Van Don from 6:30 am to 8 am and from 4:30 pm to 6:30 pm.
The department would also consider measures on goods and passenger transit on city centre roads and open more parking lots in the city.
Nguoilaodong/Dtinews